Supremely Moist Marble Pound Cake topped with juicy strawberries! This one's a keeper.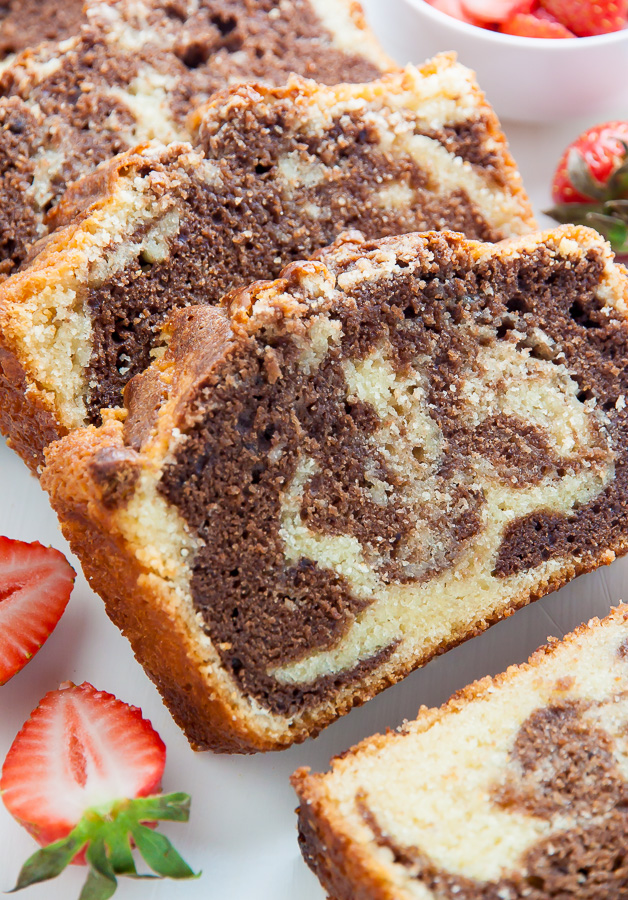 Marble Pound Cake Recipe
Raise your hand if you have a hard time choosing between chocolate and vanilla.
I know I do! So suffice it to say, I'm pretty pleased obsessed with this marble pound cake that beautifully features BOTH. I added macerated strawberries for a fresh pop of flavor (and color!), but this cake can definitely stand on its own, so if you'd rather make it sans fruit, feel free. Aren't options a beautiful thing?
Know what else it beautiful…? THIS ↓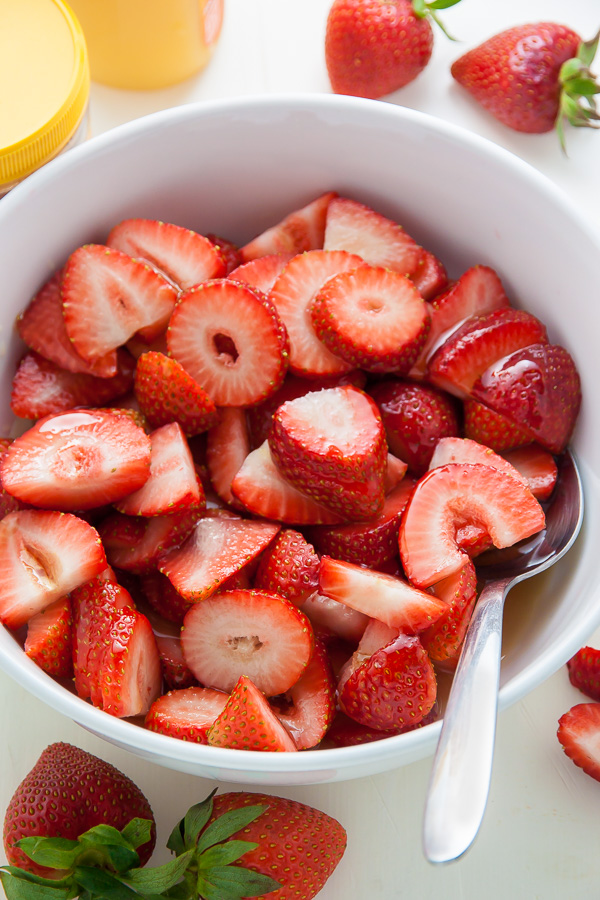 on top of this↓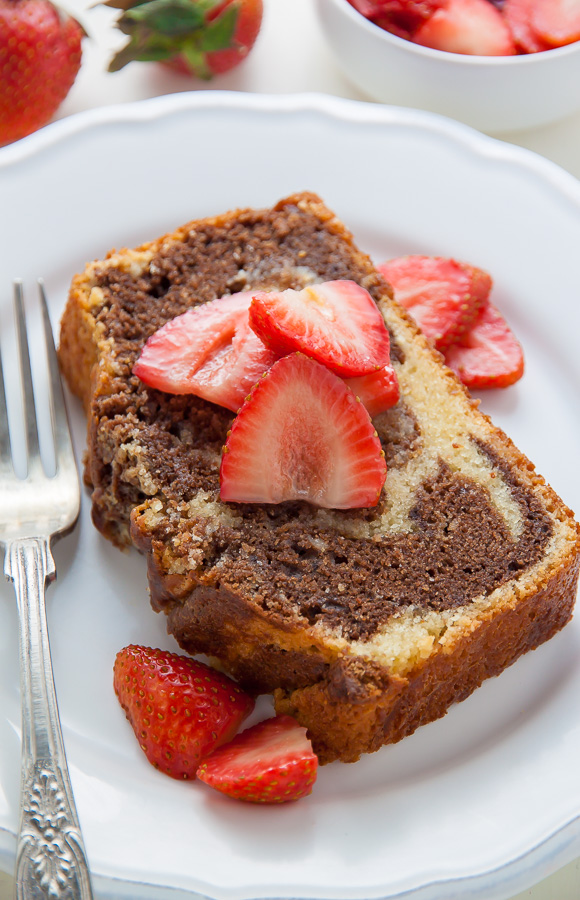 When we were in Germany I ate a slice of Mable pound cake almost every day. There was a little cafe a few blocks from our flat that had friendly staff, who kindly accepted my butchered German, and always got my order just right. Like many coffee shops, they had a giant glass case full of pastries, and I'm proud to say that during my 5 week visit, I tried them all at least once. My favorite? The humble Marble Pound Cake. So good with a double shot of espresso!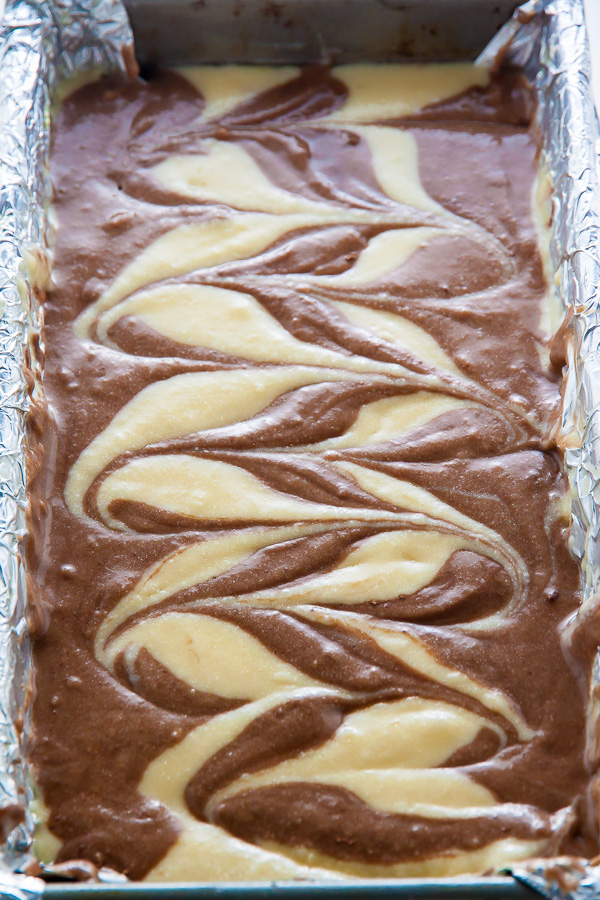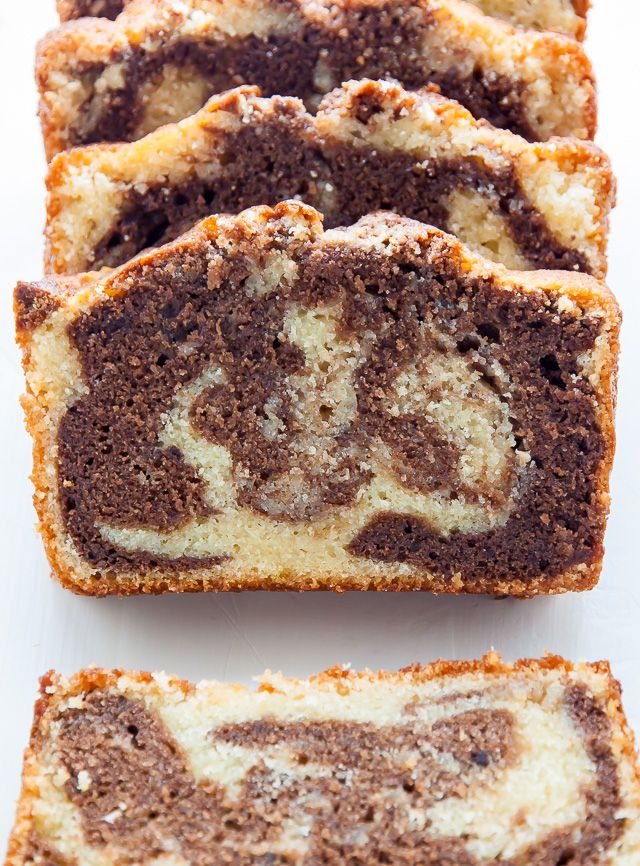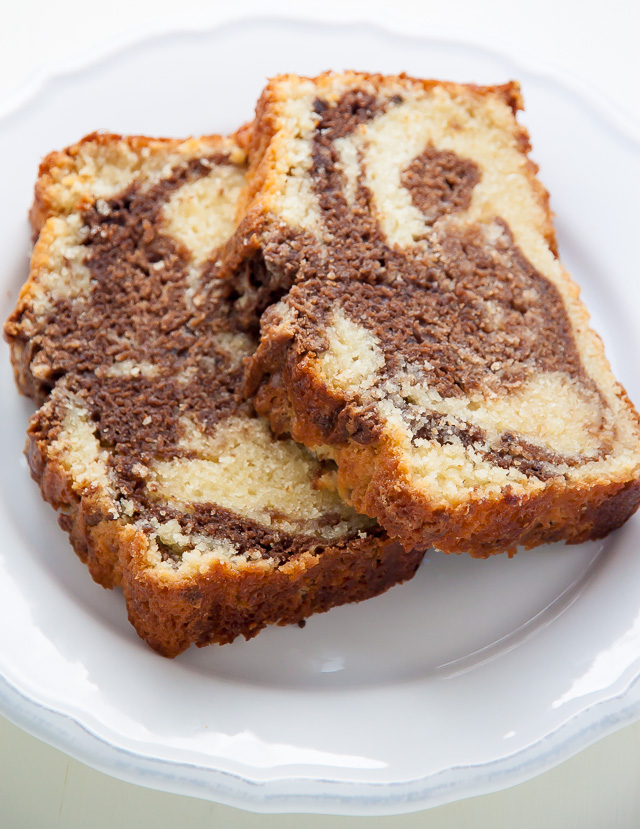 When I returned to New York, I got to work recreating a marble pound cake recipe of my own, which proved to be no easy feat. In fact, it took me exactly 4 tries to get this recipe just right! So please, for best results, I don't recommend any improvisations or changes to the recipe below. I've also jotted down some notes you may find helpful below 😉 As always, if I've missed anything, shout it out in the comments below and I'll be sure to respond.
Tips and Tricks for Recipe Success:
Make sure your butter is the right temperature before you begin beating it. It should be at room temperature, meaning it's soft enough that, when lightly pressed with your finger, it leaves an indentation in the stick of butter. I typically leave my butter on the counter for an hour or so to bring it to temperature, but if you're short on time, you can cut the cold stick of butter into into small cubes, which will help speed along the thawing process.
Your eggs, milk, and sour cream should also be at room temperature. Cold ingredients will not incorporate evenly, resulting in a dense/heavy cake, so be sure to take the extra step and bring them to room temperature. To quickly bring cold eggs to room temperature, simply place them in a bowl of warm water for 15 minutes.
Do not substitute all-purpose flour for cake flour; they're not the same thing. Cake flour is extra finely ground, which is what gives our marble pound cake its luscious texture. If you cannot find cake flour in your grocery store, buy it online, or make your own. To make your own, here's what you do: simply combine 3/4 cup +2 tablespoons all-purpose flour with 2 tablespoons of cornstarch, for every cup of cake flour called for. Sift this mixture a few times (you want it well combined) and that's it – you just made ready-to-use cake flour.
Be sure you don't pack your cake flour!
After 45 minutes, place a piece of aluminum foil over the top of the cake to reduce browning. This is optional.
Start checking your marble pound cake around the 50 minute mark, as all ovens run a little different, and you don't want to overbake yours.
The macerated strawberries are optional. If you do make them, they can be made up to 3 days in advance and stored in the fridge until needed.
Lastly, and I know this may sound like common sense, please be sure to read through the recipe – and ingredient list – fully, at least once.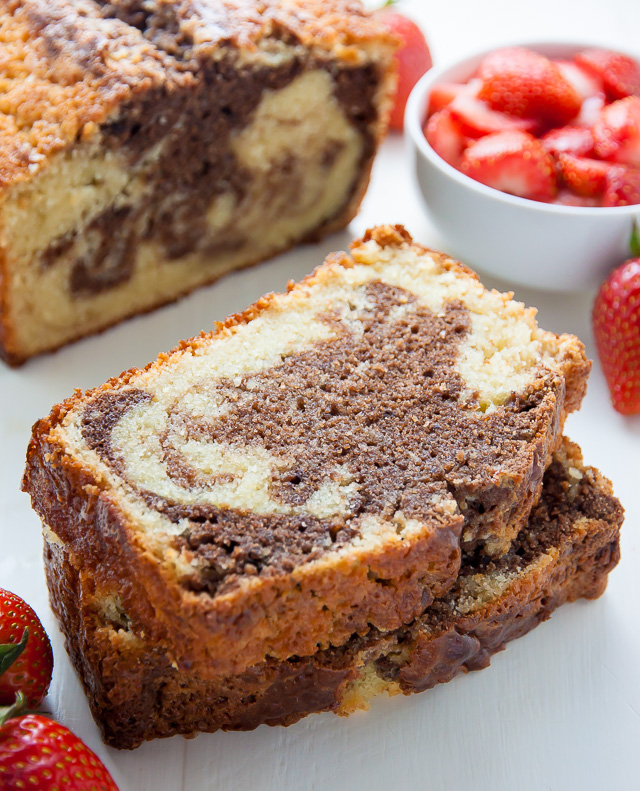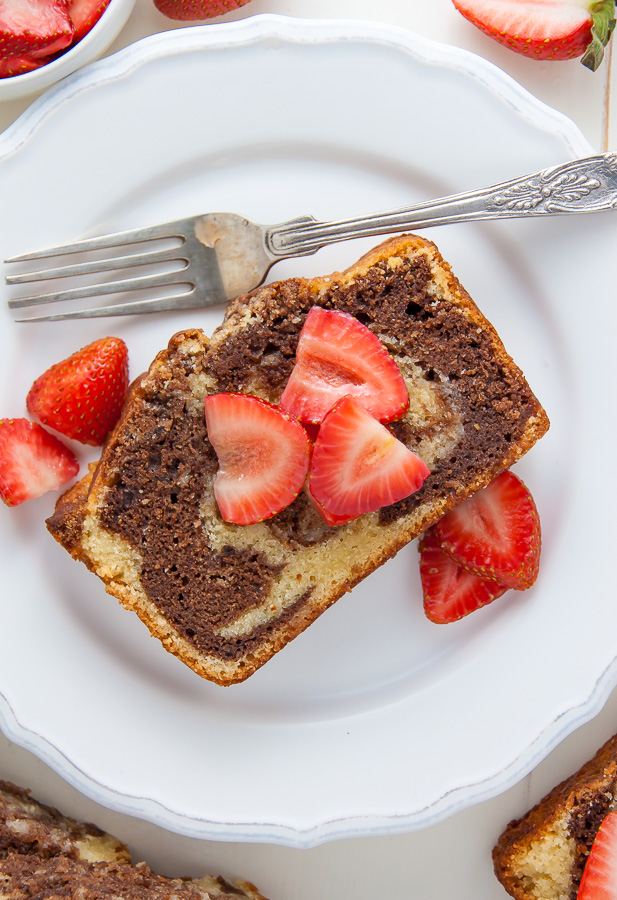 I'm no prophet, but I predict this recipe quickly working its way into your baking repertoire! I mean, how can you go wrong when chocolate, vanilla, and strawberries are involved?
Answer: You can't.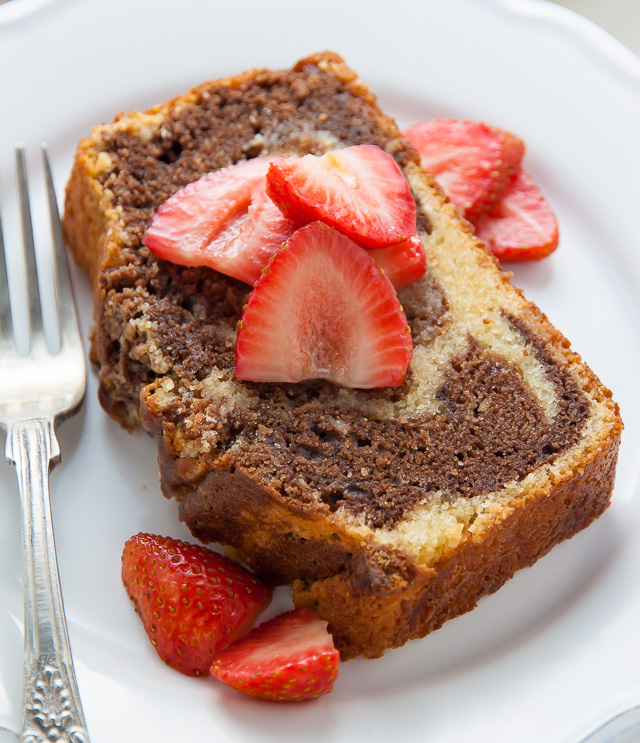 If you try this recipe, let me know! Leave a comment below and don't forget to snap a pic and tag it #bakerbynature on Instagram! Seeing your kitchen creations makes my day. ♥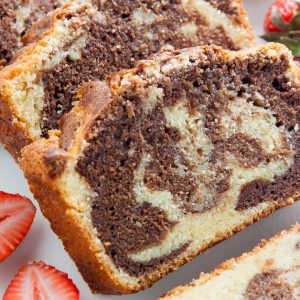 Marble Pound Cake with Macerated Strawberries
Supremely moist Marble Pound Cake topped with juicy strawberries!
Ingredients
For the Marble Pound Cake:
1 cup (2 sticks) unsalted butter, at room temperature
2 teaspoons vanilla extract
1 and 1/2 cups granulated sugar
1/2 cup light brown sugar, packed
5 large eggs, at room temperature
1 cup whole milk
1/3 cup full-fat sour cream
2 and 1/2 cups cake flour
1 1/2 teaspoons baking powder
1/4 teaspoon salt
1/4 cup unsweetened cocoa powder
For the Macerated Strawberries:
1 pound fresh strawberries
1 teaspoon vanilla extract
1 teaspoon orange zest
1/4 cup orange juice (preferably fresh squeezed)
1/2 cup orange blossom honey
Instructions
For the Marble Pound Cake:
Preheat oven to 350 degrees (F). Line a loaf pan with aluminum foil, allowing two of the sides to overlap. Spray pan generously with non-stick spray and set aside.

In a large bowl using a handheld electric mixer, or in the bowl of a stand mixer fitted with the paddle attachment, butter on low speed until smooth. Add in vanilla and both sugars and beat for one more minute on low speed before increasing the speed to medium; continue beating for 3-4 minutes, or until very light and fluffy (don't skimp on time here!). Beat in eggs, one at a time, beating well after each addition. Turn mixer off while you prepare your other ingredients.

In a small bowl combine the milk and sour cream; whisk smooth and set aside. In a medium-sized bowl combine the cake flour, baking powder, and salt; whisk smooth. With mixer on the lowest speed, slowly add the flour and sour cream mixture into the batter, beginning and ending with the flour, mixing just until everything is combined. Be sure not to overmix here! Your batter may be a little lumpy, but that's ok!

Using a measuring scoop, transfer 2 and 1/2 cups of the batter into a medium bowl. Add in the cocoa powder and whisk smooth. Alternately scoop vanilla and chocolate layers into your prepared pan. Use a large skewer (or chop stick) to gently twist through batters to obtain a marbled effect.

Bake in preheated oven for 1 hour, or until a toothpick inserted in the center of the cake comes out clean (or with just a few moist crumbs attached). Cool cake in pan, placed on top of a wire rack, for 10 minutes, before removing cake from pan to cool completely.
For the Macerated Strawberries:
Quickly pick over your strawberries, discarding any bad/moldy ones. Rinse the strawberries in a colander to remove any dirt, then gently pat dry. Hull the berries and slice them up; don't worry too much about making the slices perfectly identical. Transfer berries into a large bowl; add in the vanilla extract, orange zest, orange juice, and honey; stir gently to coat them. Cover bowl and refrigerate for at least 2 hours. Serve with pound cake.
Notes
Strawberries may be made, and stored in the fridge, up to 3 days in advance. For best results, follow this recipe exactly as written. To make your own cake flour, simply combine 3/4 cup +2 tablespoons all-purpose flour with 2 tablespoons of cornstarch, for every cup of cake flour called for.