Mozzarella Stuffed Rosemary and Parmesan Soft Pretzels! Made with a simple soft pretzel dough and loaded with fresh herbs and Italian cheese. You're going to love these soft pretzels with cheese inside!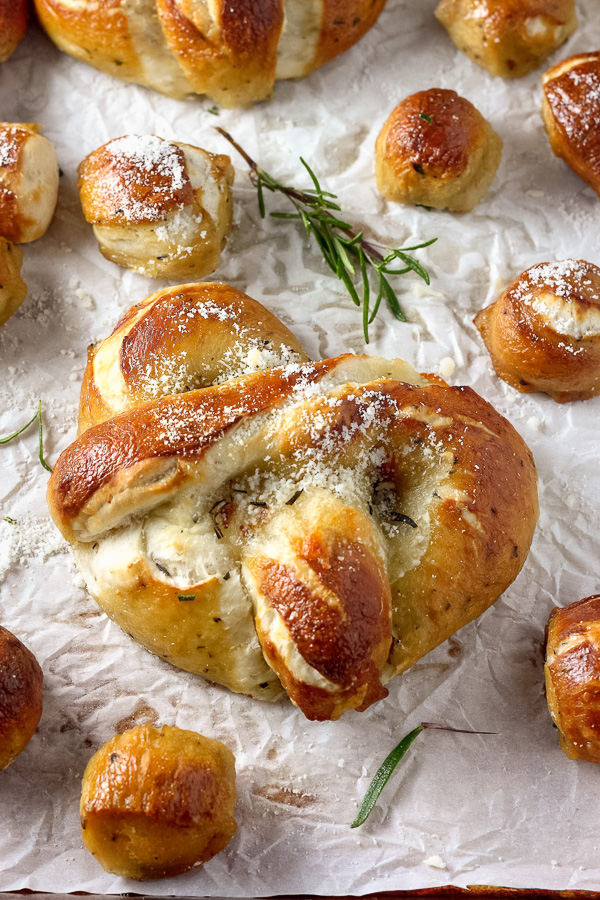 Rosemary and Parmesan Cheese Stuffed Pretzels
When I was in highschool, I basically lived at the mall. I worked at a restaurant and spent 99.9% of the money I made there on soft pretzels from the food court. Because let's be real, is there anything better than a soft and chewy soft pretzel? Especially one that's still warm from the oven?
Turns out the only thing better than a regular soft pretzel is a CHEESE STUFFED soft pretzel! And today's new pretzel recipe is made with not one, but two cheeses! And flavored with fresh rosemary, black pepper, garlic powder, and sea salt. So you know they're going to be flavorful and delicious!
How to make Soft Pretzel Dough
This homemade soft pretzel dough is made with yeast. But don't let that scare you off! Because working with yeast is easy once you know a few things!
Don't kill the yeast. You don't need hot water to activate the yeast. What you want is warm water. I usually just let my faucet run hot for 10 seconds or so, then measure out the amount needed and do the "touch test". If you're new to yeast – or cooking in general – a cheap kitchen thermometer is also a great way to guarantee your water is at the correct temperature.
Yeast reproduces best between 70° and 80° (F). This simply means if your house is pretty cold (and many are come Winter), crank on the stove for a few minutes – just to warm it up – and then let your dough rise in there. (Don't forget to turn the stove off before placing the dough inside to rise!) If your house happens to be too warm, find a cooler place for it to rise. I find my hallway closets are always cool. Whatever works, right?
Know what kind of yeast you need. There are two types of dry yeast: Active Dry Yeast and Rapid-Rise Yeast. Though there are some minor differences in shape and nutrients, Rapid-Rise Yeast is almost the same as Instant Yeast and Bread Machine Yeast. This is where things can get confusing…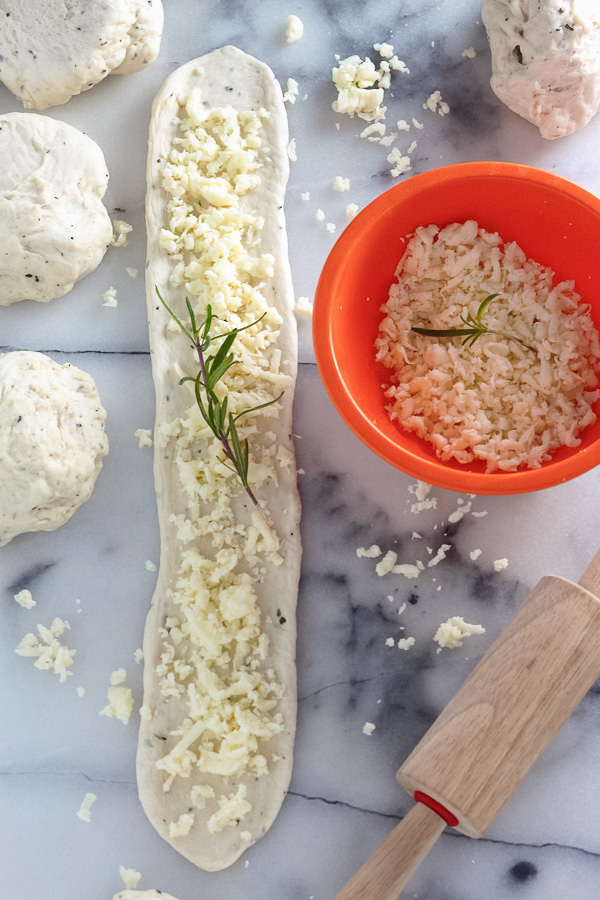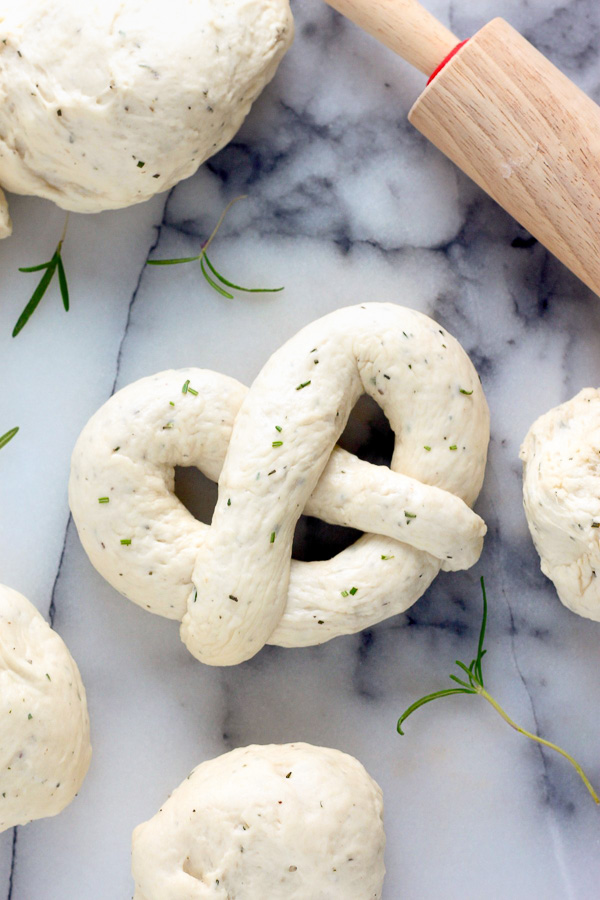 These two types of dry yeast can be used interchangeably – but there are some limitations. Bread Machine Yeast is faster-rising and is specially formulated to be used for bread machines; its texture is finely granulated to hydrate easily when combined with flour. Active Dry Yeast may also be used in bread machines, but the results may not be as consistent. When it comes to rapid-rise yeast, the real advantage is the rising time is half that of the Active Dry – and it only needs one rising. Some experts believe you sacrifice flavor and texture by speeding up the rising process (as the yeast does not have time to develop its flavor), but I am a huge fan. Rapid-Rise Yeast is also more potent than Active Dry Yeast, meaning it can be mixed in with your dry ingredients directly. In this recipe I use rapid-rise yeast.
In this recipe, the yeast is combined with hot water, sugar, and salt, then left in a warm place to rise for about 10 minutes. It's so simple!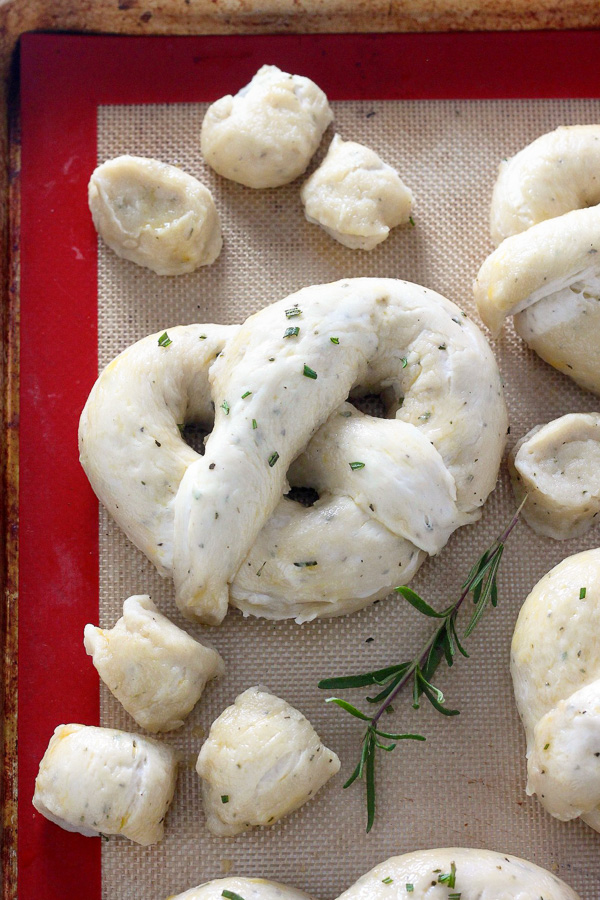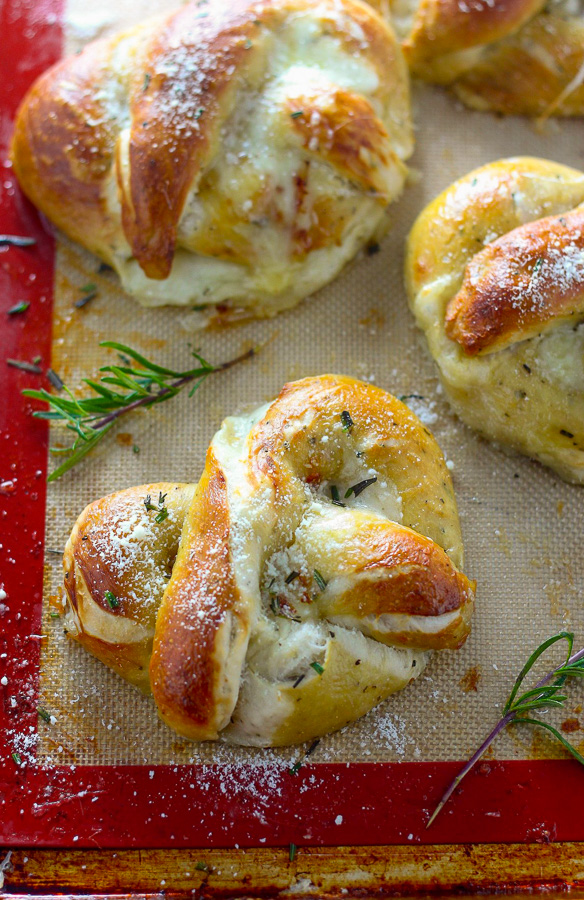 Soft Pretzel Fillings
These soft and chewy pretzels are stuffed with mozzarella, parmesan, and rosemary. It's very important to use fresh rosemary, as the dried variety won't add the same flavor to the dough. If you can't find fresh rosemary, I would suggest leaving it out.
For the cheese filling, I have two tips:
Combine the two cheeses in a bowl, then place the bowl in the freezer for 20 minutes. This trick helps the cheese melt slowly. Slow melting cheese equals less cheese leakage during the baking process.
Resist the temptation to overstuff your pretzels. I know this is hard to resist! I'm constantly fighting the urge m. But overstuffed pretzels will burst while baking. And once they burst the cheese will leak out. Womp womp.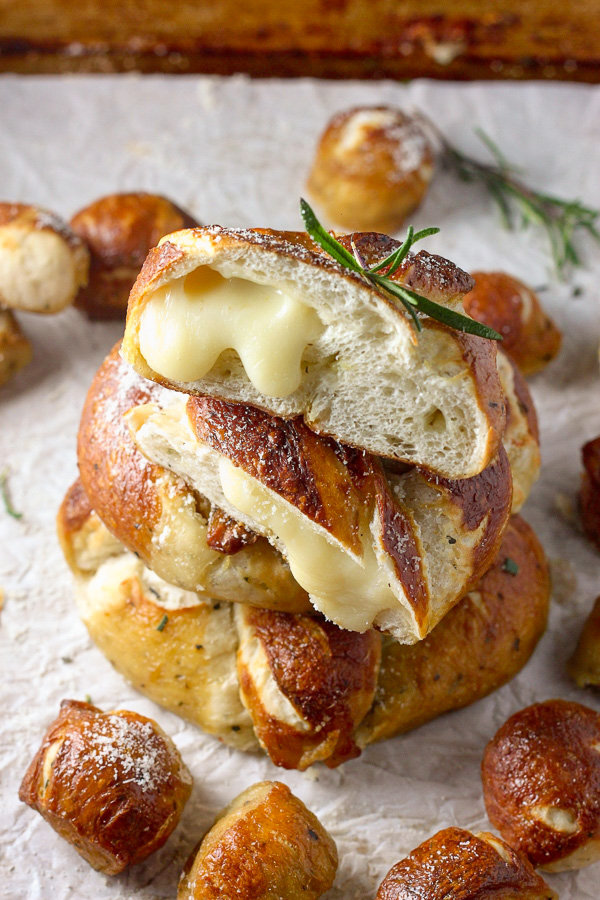 If your cheese does happen to leak out of a few pretzels, it's not the end of the world. I usually just fork it up and drizzle it on top of the pretzel. Improvising with hot gooey cheese isn't the worst way to spend a few minutes, ya know?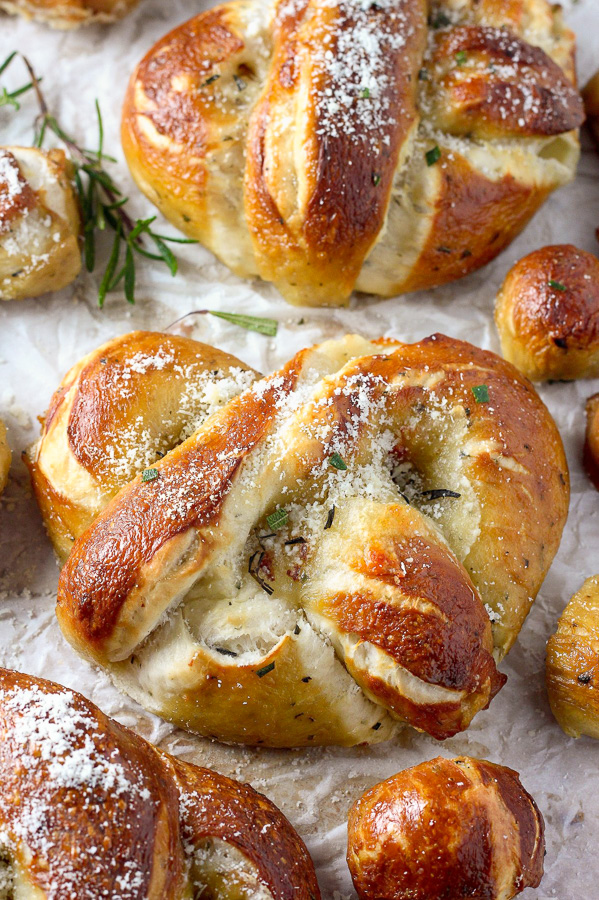 Be sure to bake the pretzels for the full 16 minutes. Sometimes I even bake mine a little longer. Because I like the outside to get really brown and toasty. The dough is so thick and soft that baking them for a few extra minutes will have no effect on the doughy interior.
Once removed from the oven, brush them with butter, and sprinkle with extra rosemary and parmesan cheese. Serve with honey mustard, marinara sauce, or just eat them plain!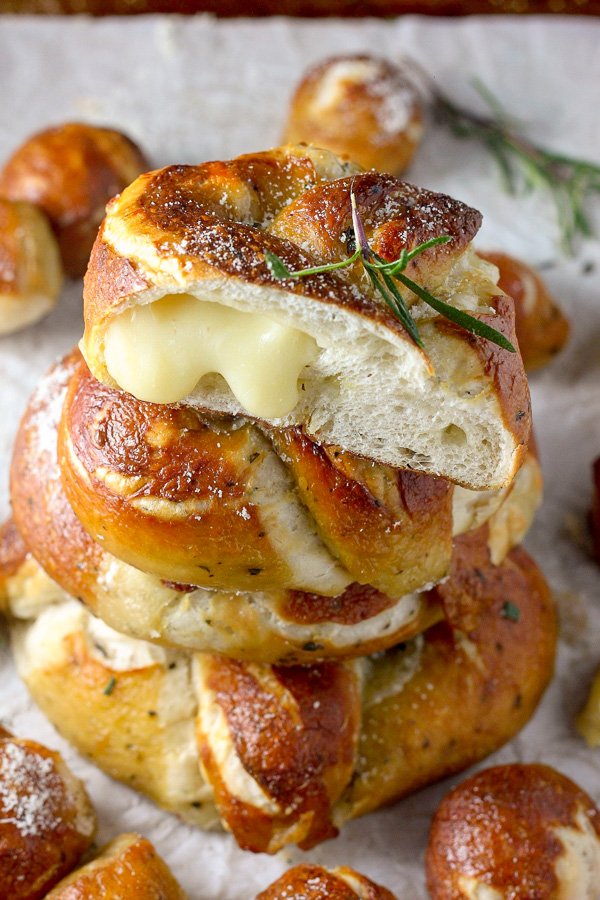 Bonus: these mozzarella stuffed rosemary and parmesan soft pretzels freeze like a dream!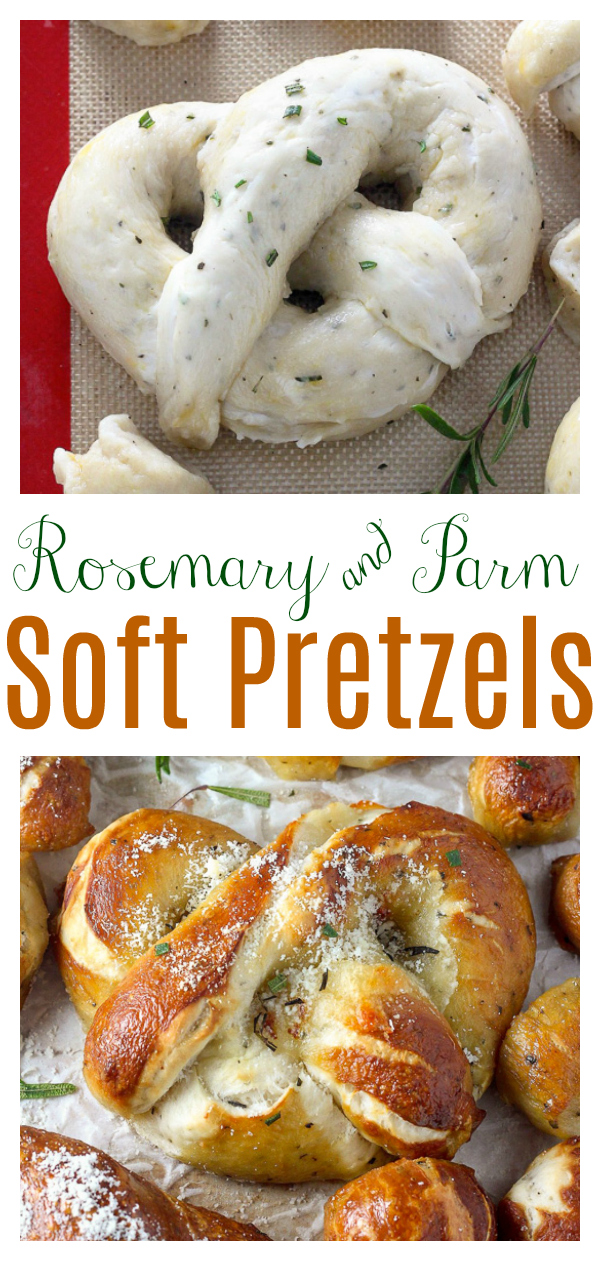 More Soft Pretzel Recipes: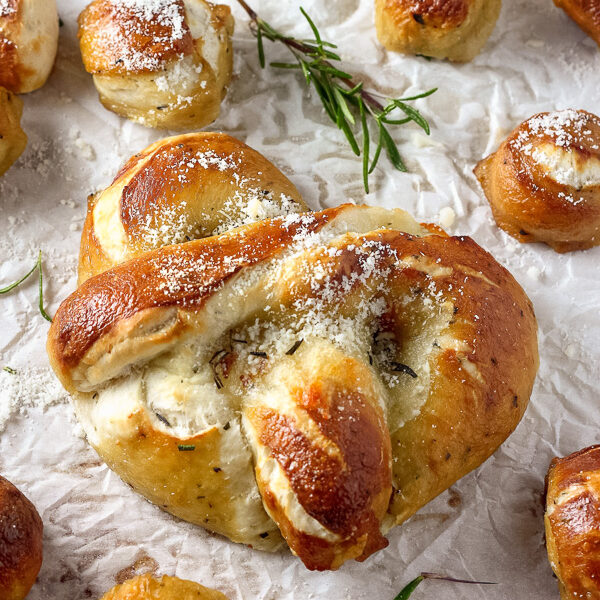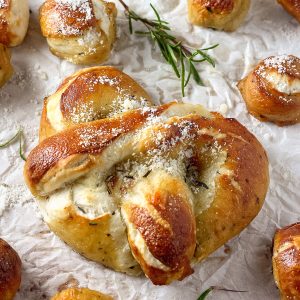 Mozzarella Stuffed Rosemary and Parmesan Soft Pretzels
Mozzarella Stuffed Rosemary and Parmesan Soft Pretzels! Made with a simple soft pretzel dough and loaded with fresh herbs and Italian cheese. You're going to love these soft pretzels with cheese inside!
Ingredients
For the Dough:
1 and 1/2 cups warm water (between 110-115 degrees F)
1 package Rapid Rise yeast
1 and 1/2 tablespoons sugar
1 and 3/4 teaspoons salt
2 tablespoons fresh rosemary, chopped
4 and 1/4 cups all-purpose flour
6 tablespoons unsalted butter, very soft
Cooking Liquid:
10 cups water
3/4 cup baking soda
Fillings:
1 cup mozzarella cheese, shredded
1/4 cup parmesan cheese, grated
Egg wash:
1 egg, beaten
1 tablespoon water
Toppings:
2 tablespoons melted butter (optional)
1/4 cup parmesan cheese, grated
1/2 tablespoon fresh rosemary
1/2 teaspoon garlic powder
1/2 teaspoon black pepper
Pinch of salt
Instructions
For the Dough:
Combine water, yeast, sugar, and salt in the bowl of a stand mixer fitted with the dough hook attachment. Let stand for 10 minutes, or until mixture begins to foam.

Add the rosemary, flour and butter and knead on medium-speed for 12 minutes.

Cover dough with a warm damp cloth and place in a warm area of your house to rise for an hour, or until dough has doubled in size.
Assembly and Cooking:
Combine the shredded mozzarella cheese and parmesan in a small bowl. Place the bowl in the freezer until needed.

Preheat oven to 425 degrees (F). Line two large baking sheets with parchment paper; set aside.

Add water and baking soda to a large pot or dutch oven; bring to a boil.
In the meantime...
Divide dough into 8 equal rounds.

Roll each round out into a 16" rope.

Roll each rope out so it's 4 inches wide.

Remove cheese from freezer. Add 2 tablespoons of cheese filling evenly along the rope.

Tightly roll the dough back into rope, jelly roll style, pinching the edges together.

Make a U shape with each rope of dough, holding the ends.

Cross the ends over each other, pinching ends onto the bottom of the dough.

Place pretzels - one at a time - into the boiling cooking liquid. Cook for 30 seconds each. Remove pretzels with a slotted spoon, allowing any excess water to drip back into the pot before transferring to prepared baking sheet.

Once all pretzels have been boiled, brush the tops of each with egg wash.

Place pan in the oven and bake for 16-18 minutes.

Allow pretzels to cool on the baking sheet for 5 minutes before touching.
If using the extra topping:
In a small bowl combine the cheese, rosemary, garlic powder, pepper, and salt. Brush the top of each pretzel with melted butter, then sprinkle on topping. Eat at once!