Perfect Pan-Seared Rib-Eye Filets are easier to cook at home than you may think! This wonderful cut of meat always makes a special meal. In this post I will show you exactly how to do it!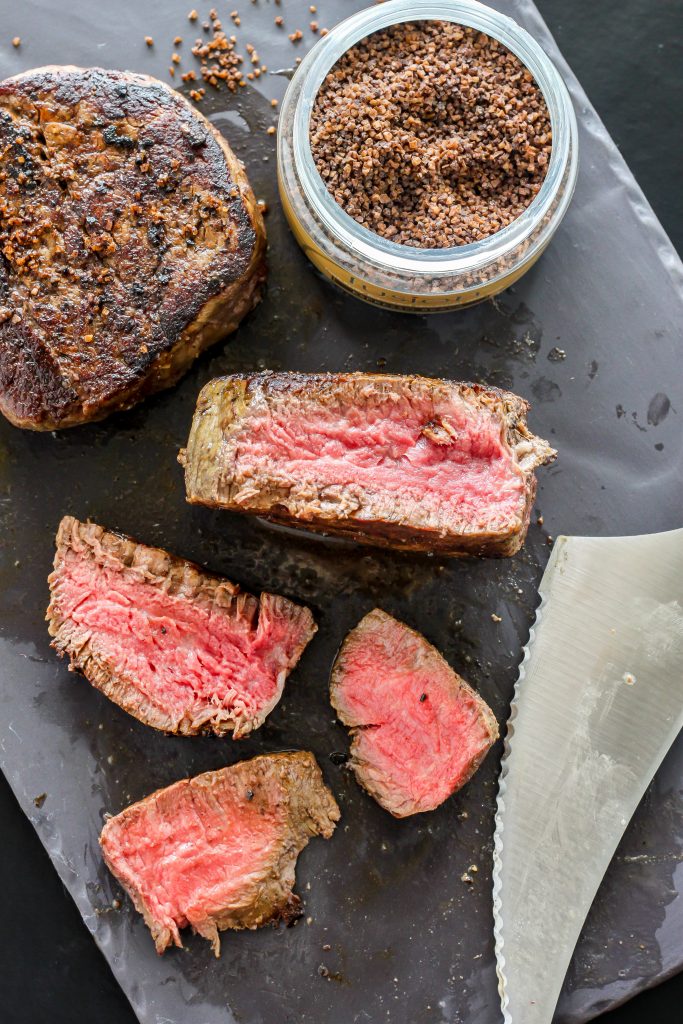 Pan Seared Ribeye Recipe
Happy Thursday, my friends! Today's recipe post is one for all the meat lovers out there. We're cooking beef, baby. More specifically, Rib-eye. The king of steaks! I've teamed up with Snake River Farms/Double R Ranch to show you exactly how to perfectly pan-sear a rib-eye at home.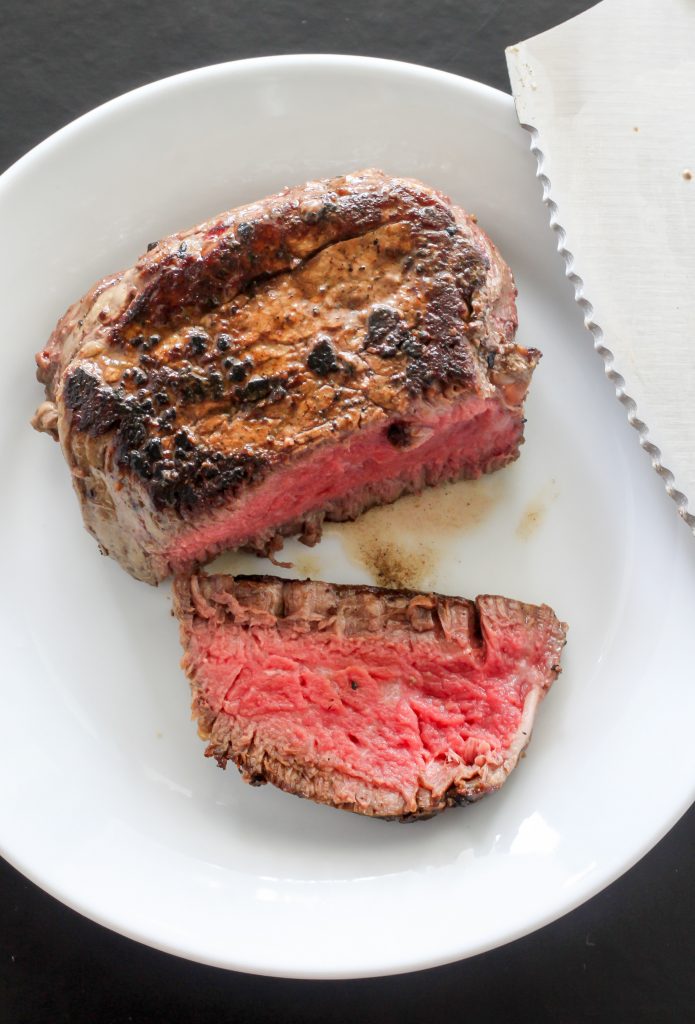 This is the best way to cook ribeye steak. So let's jump right on in!

Much like cooking perfectly seared scallops, many find searing a steak – especially an expensive one – at home intimidating. I'm here to bust that myth once and for all. YOU GOT THIS, my friend.
All you need is your meat, a little oil, salt (you've got to try this espresso salt!), and pepper. Oh, an a skillet! <—- Those ingredients will lead you to the land of perfectly seared steaks each and every time. If you need help picking out a skillet, I've included the link to the one I use and love at the bottom of this post – right before the recipe 🙂

Searing these steaks is an easy three-step process:
You'll heat the skillet in the oven at a very high temperature.
Once sufficiently heated, you'll (carefully) remove the skillet from the oven and place it over heat on the stove-top. You'll add your seasoned, lightly oiled steaks, and cook them briefly on each side. <——- Please make sure your pan is DRY here. You want to verrrrrrry lightly brush the steaks with oil. Adding oil to pan is a huge no-no and will result in your kitchen quickly filling with smoke. So take it easy on the oil, ok? 😉
The steaks return to the oven once more! A quick minute on each side should do.
And that's that! You'll want to let your steaks rest for a few minutes before cutting in.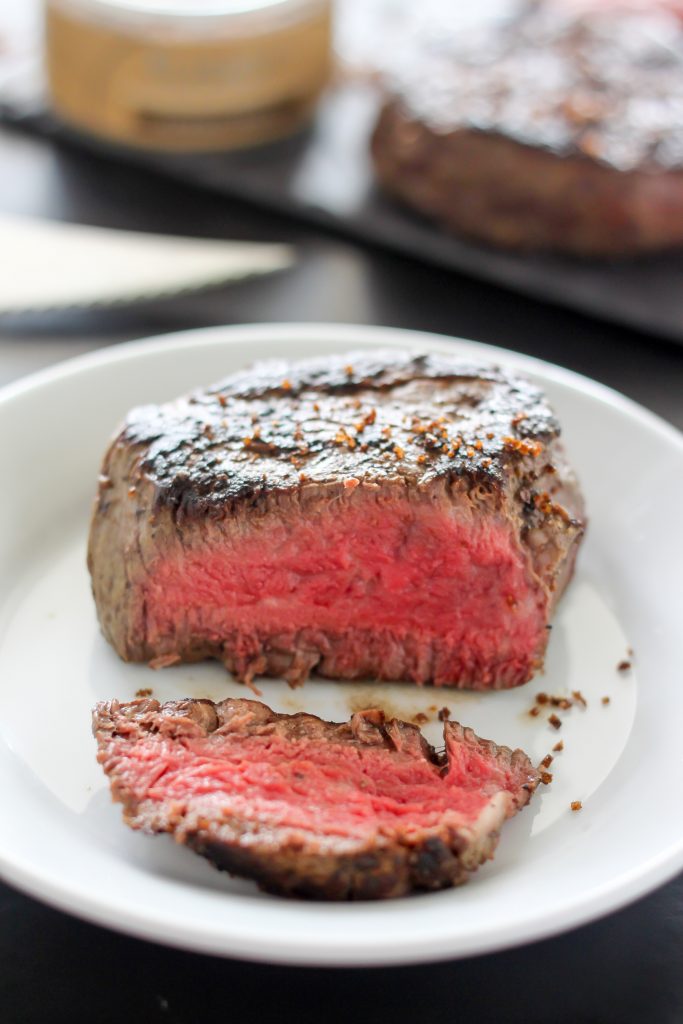 I have to tell you, these rib-eyes were one of the best, if not THE BEST, steaks I've ever had. In my life. And I have consumed many a steak!
I served these special steaks to my special mom alongside a rainbow veggie pasta salad and some lemon raspberry cupcakes. And guess what? I'll be sharing those recipes with you later today! So stay tuned and for now, enjoy the steak view 🙂 xoxo
More Steak Recipes: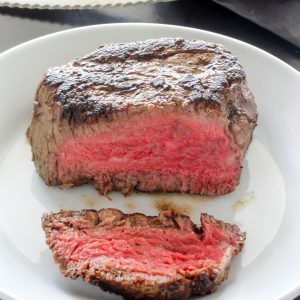 Perfectly Pan-Seared Rib-Eye Filets
Learn how to perfectly sear steak in a skillet!
Ingredients
For the Pan-Seared Rib-Eye Filets:
(2) 6oz rib-eye filets
1 tablespoon canola oil
Sea salt, to taste
Black pepper, to taste
Instructions
Place a cast-iron skillet in the oven; heat the oven to 500 degrees (F). Place the steaks on the counter and bring them to room temperature.

When the oven reaches temperature, very carefully remove the skillet from the oven and place it on the stove top over high-heat; heat for 5 minutes.

In the meantime... Brush both sides of the steak lightly with oil and sprinkle both sides with a generous pinch of salt and pepper.

Once the 5 minutes are up, place the steak in the middle of the hot, dry skillet. Cook for 1 minute without moving, then turn with tongs and cook another 1 minute. Place the pan straight into the oven for 2 minutes. Flip the steak and cook for another 1 minute. Remove the pan from the oven and cover with aluminum foil; allow the steaks to rest 5 minutes before slicing and serving.

This will give you a steak that's cooked medium rare.
Notes
Steak method adapted from Alton Brown/ The Food Network.