Prosciutto-Wrapped Four Cheese Stuffed Jalapeños! Oh man. I have such a weakness for these SUPER scrumptious, spicy, stuffed jalapeño peppers. Loaded with 4 cheeses, topped with a buttery cracker crumb, AND wrapped in Italian prosciutto – these are sure to be your new weakness, too.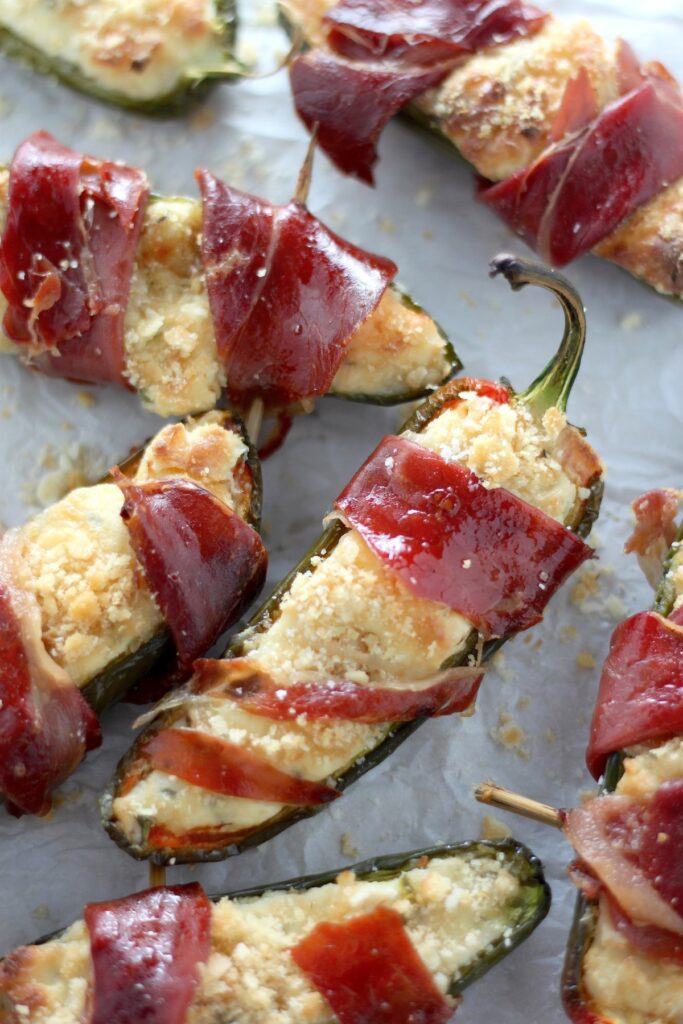 Prosciutto Wrapped Jalapeno Peppers
In our home, the holidays are all about the three F's. Family… friends… and FOOD.
Sparkly lights, the smell of fresh cut pine, and loads of presents are all just the tinsel on the tree. But the three F's… they're the real bread and butter of the holiday game.
Today we'll be focusing on the last F (FOOD… but I bet you knew that already!), and learning how to make an impressive – but easy – appetizer that's perfect for serving to your family and friends! See how I got all three F's in there!? Boom.
Let's get started!
Warning: Things are about to get SPICY!
The first step in getting your stuffed jalapeño on is grabbing your gorgeously green peppers, cutting them in half, and scrapping out those seeds. For this step I beg you to use gloves when removing the seeds (especially if you wear contact lenses). The peppers leave a spicy residue on your finger tips that will burn the heck out of your eyeballs. So please, gloves! If you don't own kitchen gloves, put a few pieces of saran wrap around your fingers.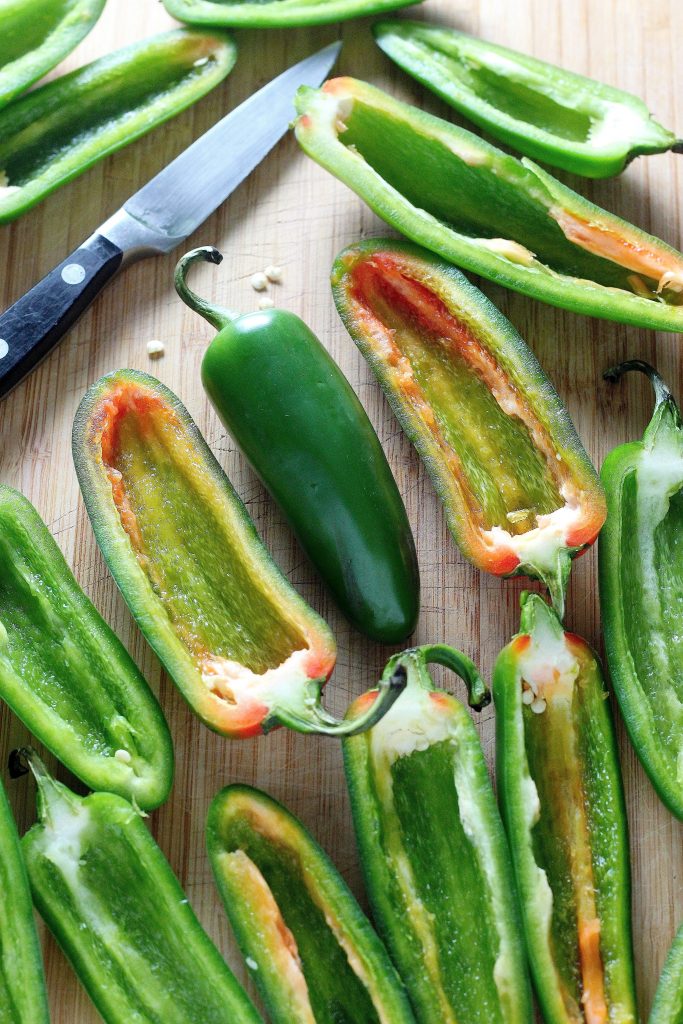 Once the peppers have been cut and deseeded, it's time to stuff them with cheese! Our four cheese blend is a mix of cream cheese, asiago, parmesan, and mozzarella! Italian cheese for life… you know!? The cream cheese and mozzarella help even out the spicy jalapeño heat while the parmesan and asiago add depth and flavor. It's all about balance 😉
Once the peppers have been stuffed with cheese, you're going to top them with a delightfully crunchy cracker crumb. For this step all you need to do is a grab a box of Town House Original Crackers and crumble them up! The crackers are already so light and buttery they don't need anything added for them to be awesome 🙂 I swipe up a few boxes every time we make a Target run!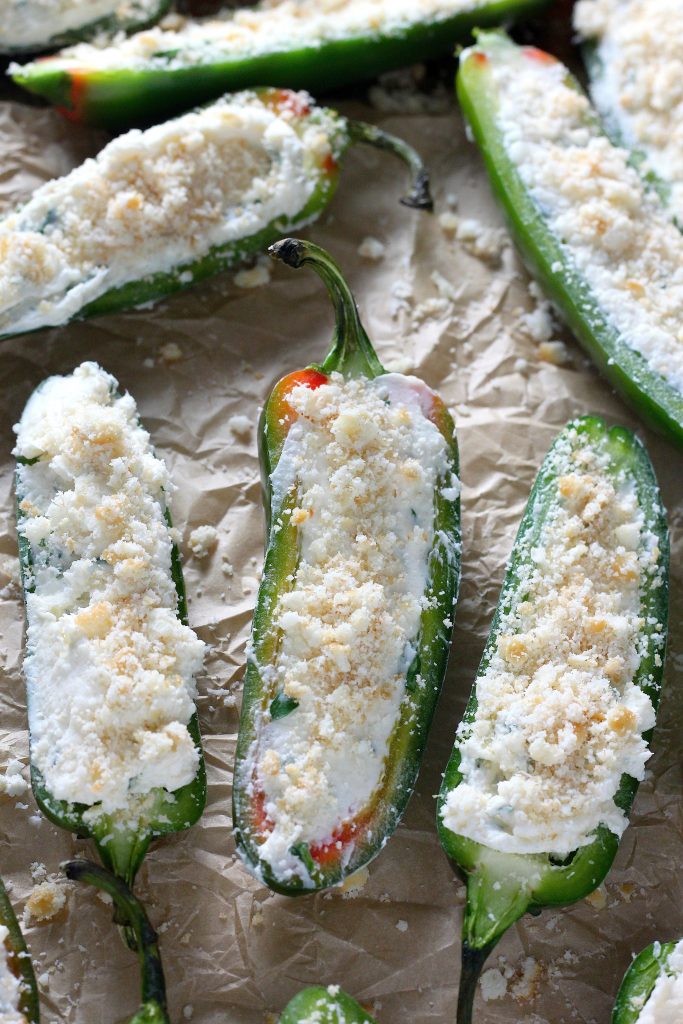 Lastly you're going to wrap each pepper with a slice of prosciutto! To me, bacon is good but prosciutto is GREAT. And in this recipe I just loooooove how the prosciutto bakes up nice and crispy. I'm getting excited just thinking about how good these prosciutto wrapped peppers taste!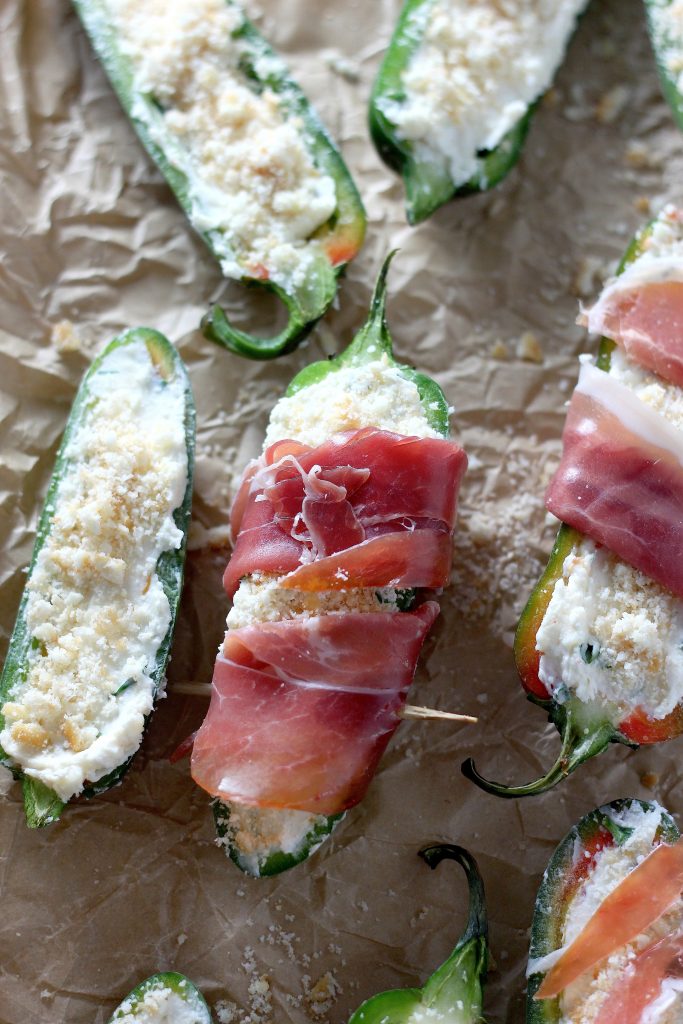 As far as assembly goes, this is a pretty effortless appetizer. I decided to be sly and set a timer the last time I made these and it took me exactly 14 minutes start to finish, including the snaps I shot. Not bad, right?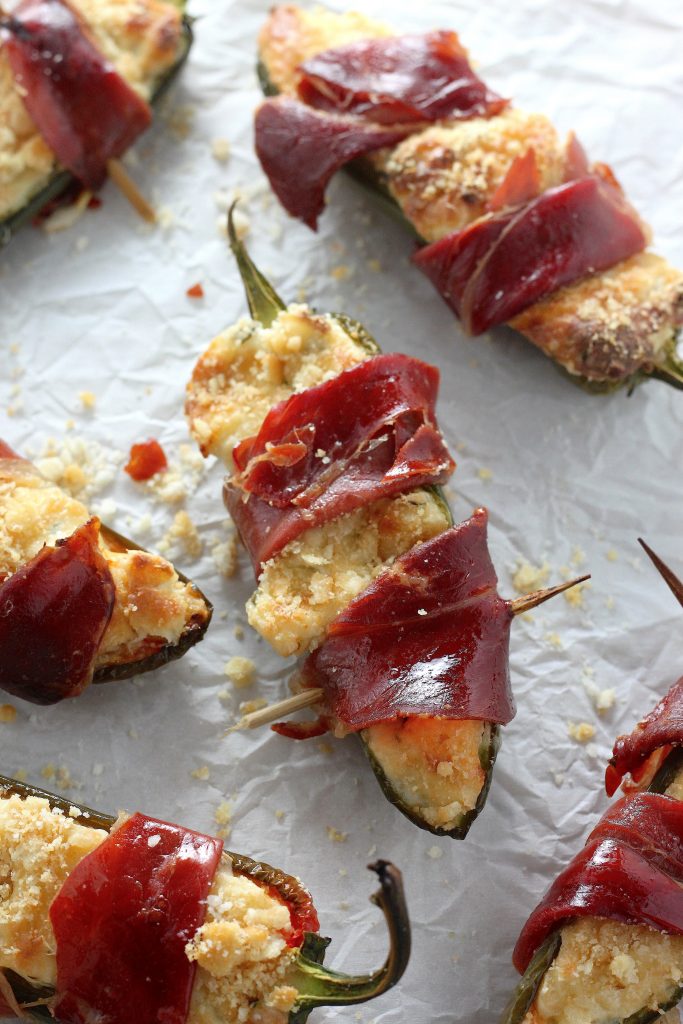 One thing to keep in mind! Take the cream cheese out of the fridge at least an hour before you plan to make the 4-cheese filling. This allows the cream cheese to soften, and makes combining the cheese SO much easier.
P.S. These peppers can be stuffed and placed in the fridge for up to 8 hours prior to baking. Hooray for make-ahead finger food!
The bake time on these babies is 40 minutes, and at 30 minutes you'll increase the heat from 350 to 400. This gets the cracker crumbs niiiice and crispy.
I hope you guys love these as much as we do! xoxo

More Jalapeno Recipes: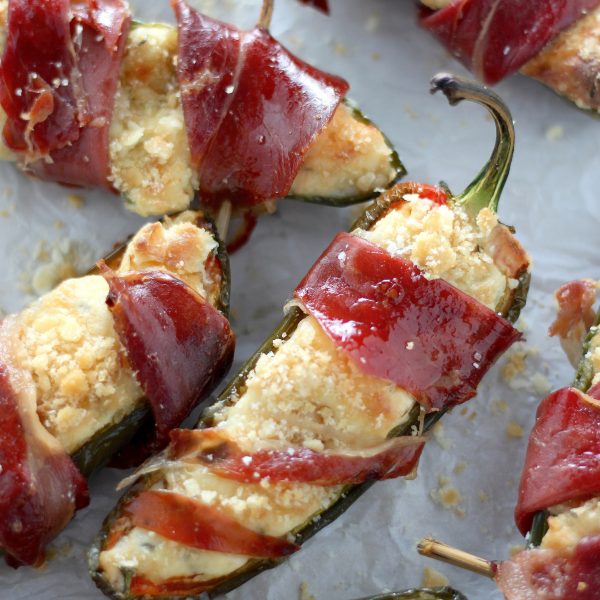 Prosciutto-Wrapped Four Cheese Stuffed Jalapeños
Ingredients
10 fresh jalapeño peppers
8 ounces cream cheese, at room temperature
3/4 cup shredded mozzarella cheese
1/4 cup parmesan cheese
1/4 cup asiago cheese
1 teaspoon garlic powder
3/4 teaspoon paprika
2 teaspoons fresh parsley, chopped
1/4 teaspoon salt
10 Town House Original crackers, crushed into small crumbs
20 slices prosciutto, thinly sliced
20 to othpicks
Instructions
Preheat oven to 350 degrees (F).

Line a large baking sheet with parchment paper (best for clean-up) or a silicone baking mat, then place an oven-safe cooling rack on top; set aside.

Using rubber gloves, cut the jalapeño peppers in half lengthwise, remove all of the seeds inner membranes; set aside.

Using a stand mixer fitted with the paddle attachment or a handheld mixer, beat the softened cream cheese, mozzarella cheese, parmesan, asiago, garlic powder, paprika, parsley, and salt together until well combined.

Place crackers in a small bowl; crush them into small crumbs; set aside.

Divide the filling equally among the jalapeño halves.

Sprinkle the tops of each pepper with some cracker crumbs.

Wrap each stuffed jalapeño with a slice of prosciutto and stick a toothpick through the center to secure it in place.

Place each pepper on the prepared baking sheet and bake for 30 minutes, then turn the heat up to 400 degrees for another 10 minutes.

Remove pan from the oven and serve at once.