The fluffiest mashed potatoes made with roasted garlic and caramelized onions.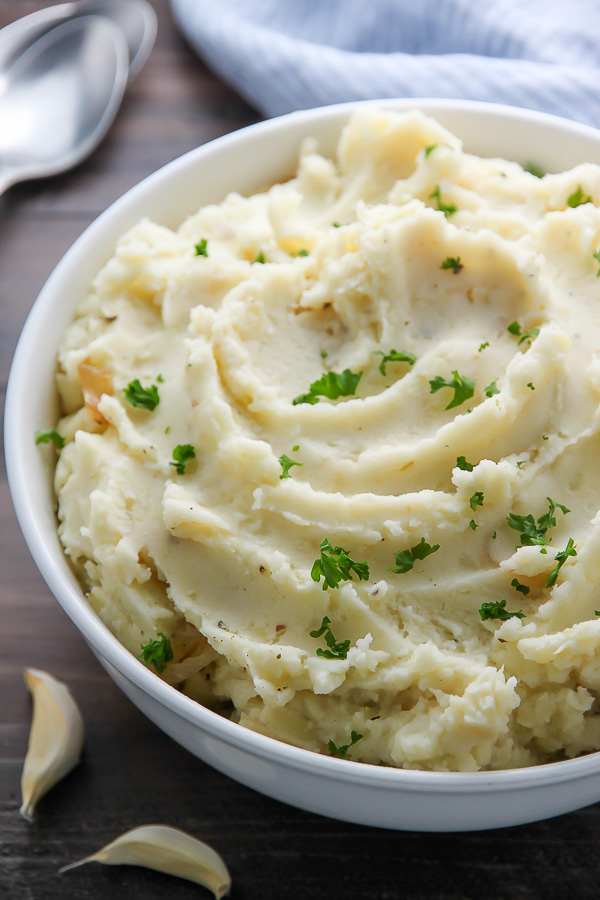 Hallo from Hamburg! After a bumpy 7 hour flight I am safe and sound in Germany. I'll be here for a month long adventure, so if you have any must-see (or let's be real… must-eat) recommendations for me, I'm all ears!
But enough of my travel rambling… today is all about these MUST-make mashed potatoes. I have a handful of potato recipes already on my blog (proof here, here, here, here, and here), but somehow, no plain mashed potato recipe?! Today, that changes!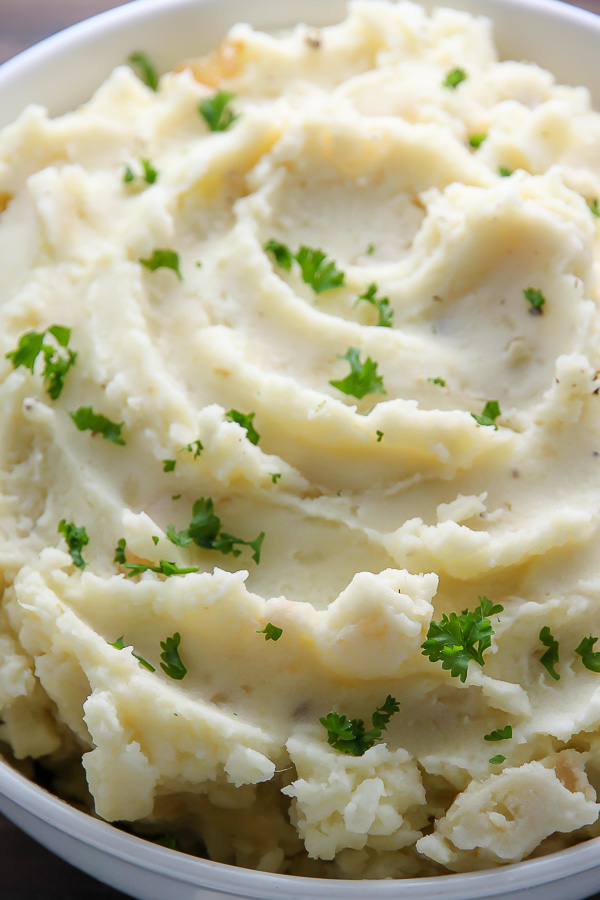 After all, who can resist a bowl of creamy mashed potatoes? ↓ Really… who?!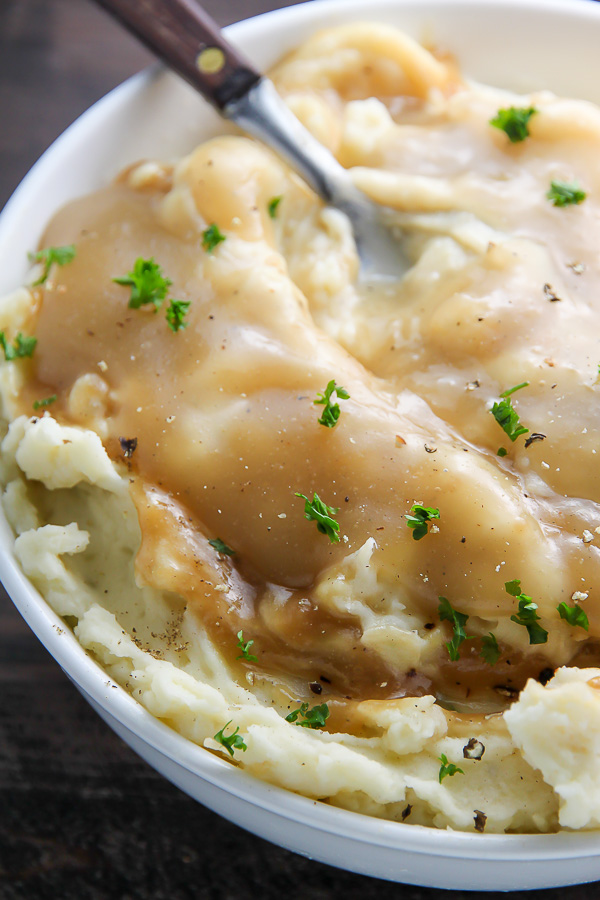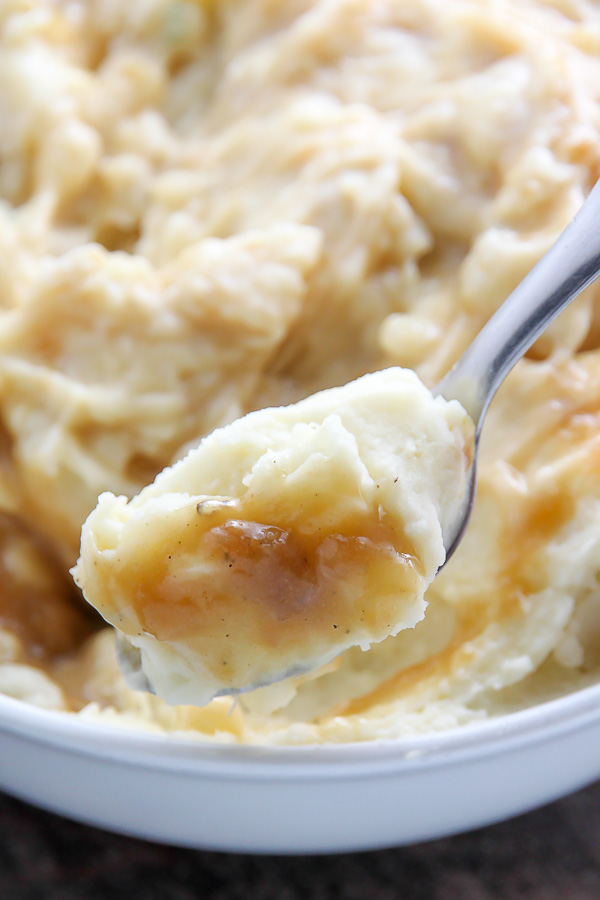 Confession: I don't even really like mashed potatoes (I know ← weird), but I love these mashed potatoes. I credit the roasted garlic and caramelized onions for that. So much flavor!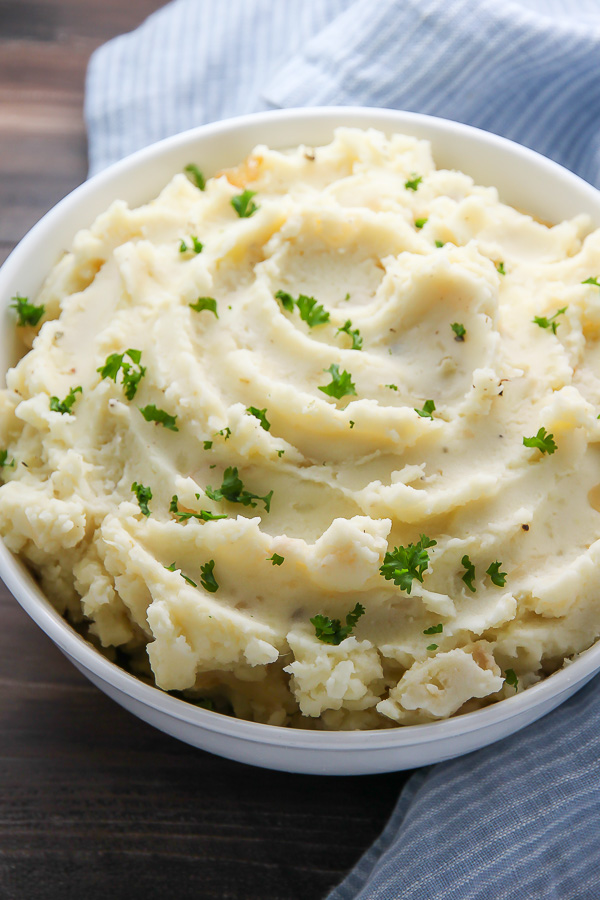 Roasting the garlic is an extremely simple step, but does take about 45 minutes, so be sure to plan for this time wise. You'll use two whole garlic bulbs for this recipe, which may sound like a lot at first, but don't hesitate to use the full amount. Roasted garlic is quite mellow compared to raw garlic, and has a sweet and creamy flavor that melts into the mashed potatoes without "taking over". I love roasted garlic so much I often roast a whole bulb just so I can snack on the warm cloves straight from the oven… seriously, you should give it a try!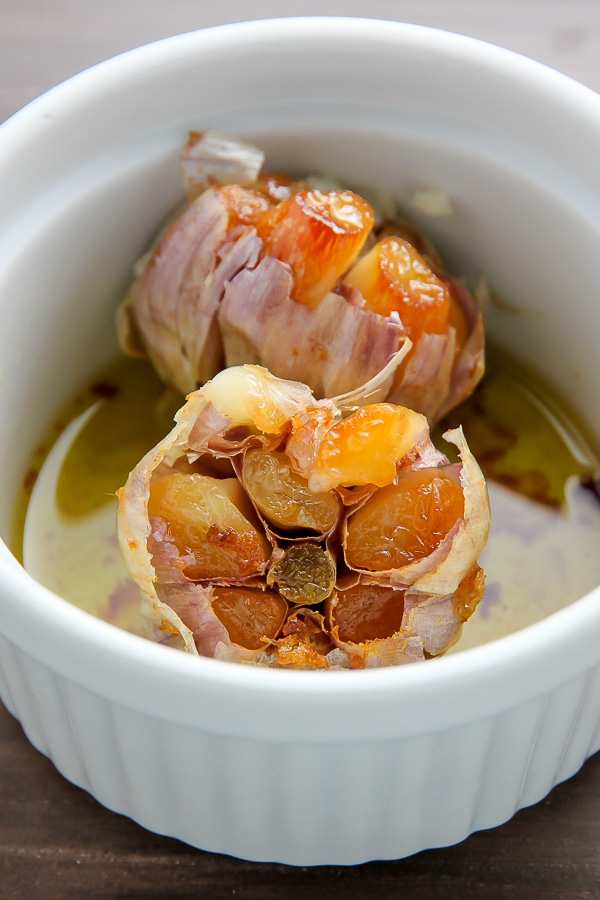 The caramelized onions are also an easy but time consuming step. The good news? Both the garlic and onions may be prepared ahead of time and stored in the fridge until needed. This will come in handy if you're short on time "the day of". Just be sure to bring these ingredients to "room temperature" before adding them in.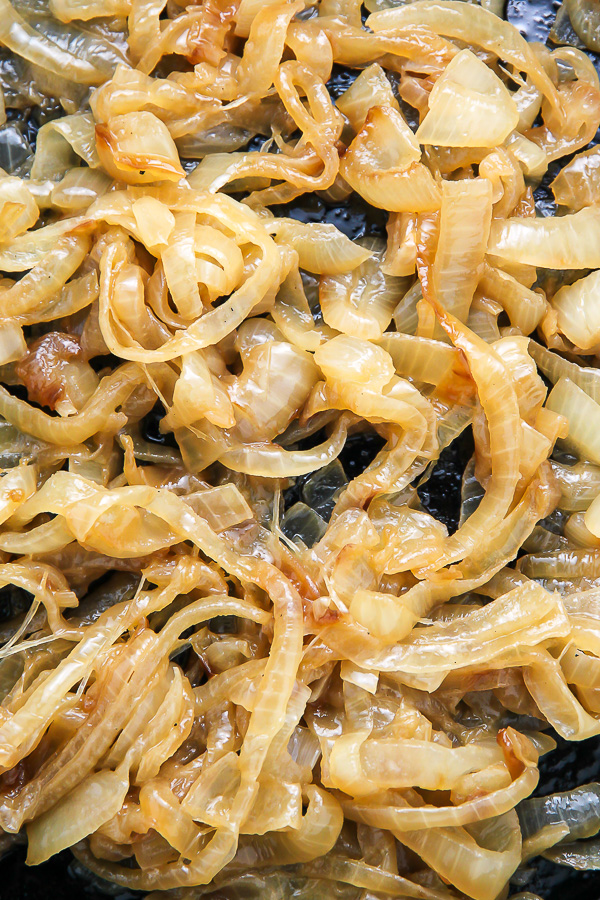 Mashed potatoes are the ultimate comfort food and a must on the holiday table! I hope you give this recipe a try.
If you try this recipe, let me know! Leave a comment below and don't forget to snap a pic and tag it #bakerbynature on instagram! Seeing your kitchen creations makes my day. ♥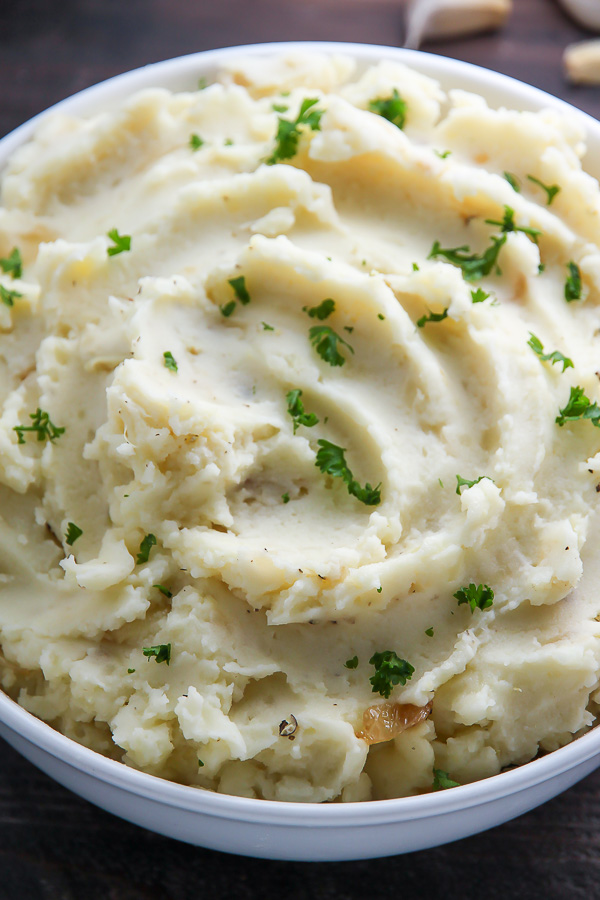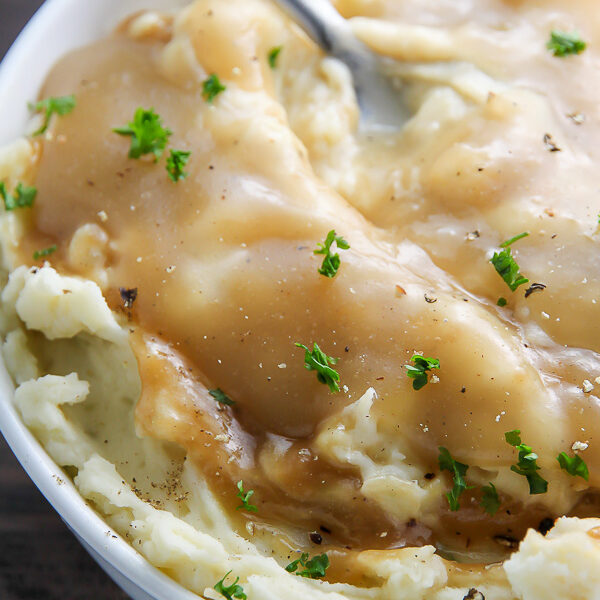 Roasted Garlic and Caramelized Onion Mashed Potatoes
Fluffy mashed potatoes with roasted garlic and caramelized onions.
Ingredients
2 whole garlic bulbs
3 teaspoons plus 3 tablespoons olive oil, divided
2 large yellow onions, thinly sliced
8 medium potatoes, peeled and quartered
1/2 cup butter, very soft
1/2 cup sour cream
1/3 cup grated Parmesan cheese
1/3 cup heavy cream
1 teaspoon salt
1/2 teaspoon pepper
Instructions
Preheat oven to 400 degrees (F). Remove excess papery skins from garlic bulbs and carefully slice off the top of the bulbs; place in a small oven-safe baking dish, drizzle with 3 teaspoons of olive oil. and wrap the bowl in heavy-duty foil. Bake for 40 minutes, or until the inner garlic cloves have softened. Set aside to cool.

Meanwhile, in a large skillet over medium-low heat, saute the onions in remaining 3 tablespoons of olive oil, stirring occasionally, for 25-30 minutes, or until golden brown. Transfer to a food processor or strong blender, cover, and process until blended; set aside.

Place potatoes in a large stockpot and cover with water; bring to a boil over high heat. Once at a rapid boil, reduce heat to medium-low, cover, and cook for 15 minutes, or until tender enough to pierce with a fork. Drain the potatoes well. Place potatoes in a large bowl; add in the roasted garlic cloves, butter, sour cream, cheese, heavy cream, salt, pepper and onion mix. Using a handheld electric mixer on low-speed, beat potatoes until light and fluffy. Taste and adjust salt and pepper as needed. Serve warm.
Notes
If you do not own a food processor, transfer the onions to a large cutting board and do your best to chop the caramelized onions into an "onion paste".
The garlic may be roasted ahead of time.
The onions may be caramelized ahead of time
To freeze: place completely cooled mashed potatoes in a freezer-safe container and freeze. When ready to eat, thaw in refrigerator overnight, then microwave, covered, on high in a microwave-safe bowl until heated through. Add a little cream if needed.