Golden, crunchy, and crisp sweet potato wedges are easy to make at home!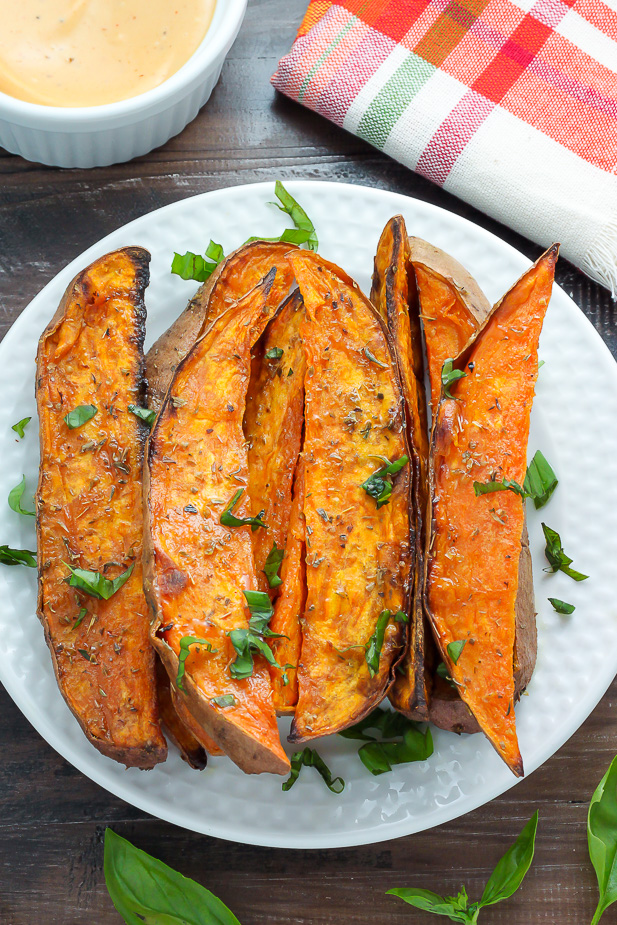 Sweet Potato Wedges
When it comes to real meals, our weekday menu is nothing fancy. Most nights I'm so exhausted from baking all day I just want to plop down on the couch, turn on the tube, and order take-out. Most nights I fight that urge. My secret weapon? Tried-and-true recipes, baby. There's nothing more comforting than cooking a recipe you know like the back of your hand.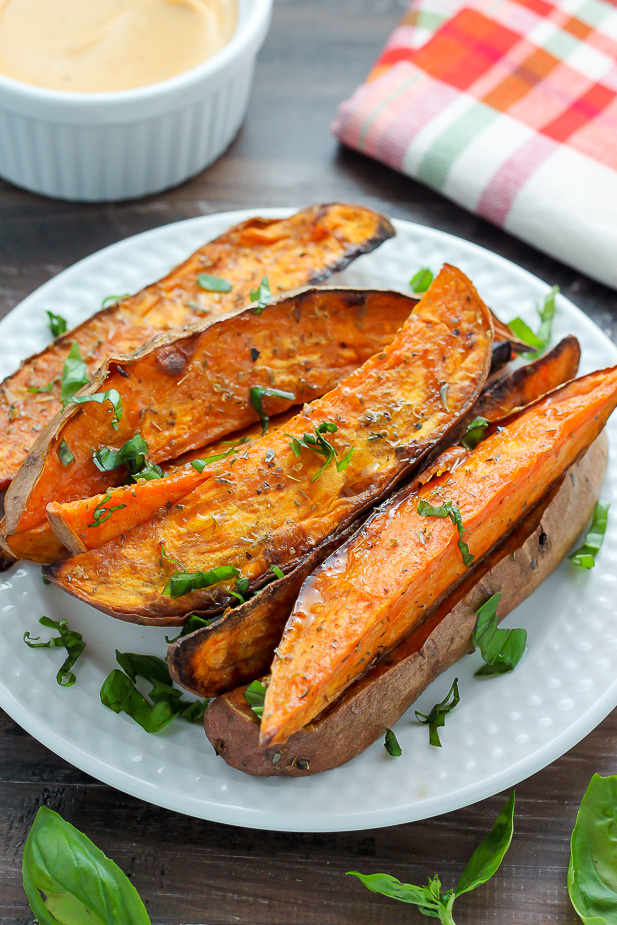 That's where these sweet potato wedges enter the picture!
When it comes to sweet potatoes, I'm a die-hard fan. Sweet potato fritters, croquettes, pancakes, fries, muffins, and quesadillas make me happy and hungry. Last week I was making these burgers for dinner and wanted an exciting side that was healthy and hearty. My brain instantly decided upon sweet potato fries, but as I was cutting the potatoes I made a split decision and cut them into thick wedges, instead.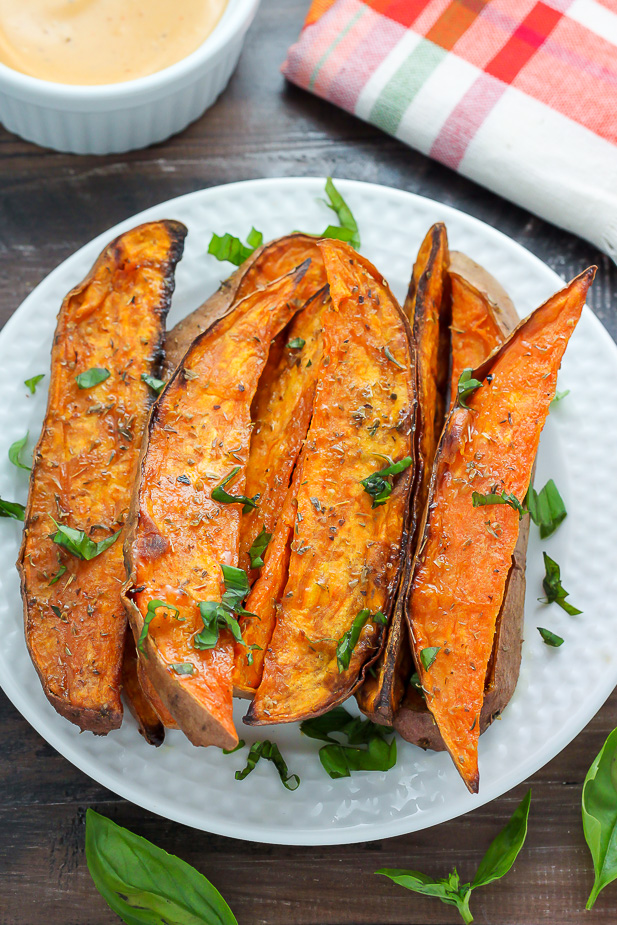 Best. Decision. Ever.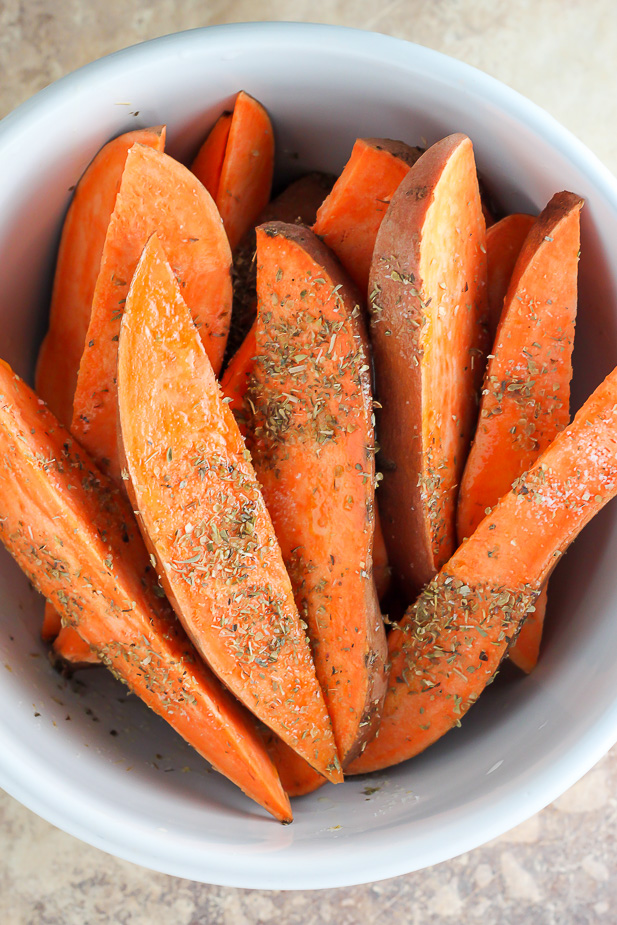 Baked Sweet Potato Wedges
This basic (but brilliant!) recipe requires very few ingredients, making it a minimalists dream come true! To make this irresistible snack you'll need sweet potatoes, olive oil, Italian seasoning, salt, black pepper, and a pinch of brown sugar. You'll also need a large baking sheet, some tinfoil, and a baking rack (this is what I use
). The assembly takes virtually no effort and should take less than 10 minutes. Perfect for nights you're in no mood to fuss with food.
How long do you bake sweet potatoes?
These sweet potato wedges do need to bake for 35 minutes, so keep that in mind when planning an "eat" time. If you're cooking something fast like chicken cutlets or burgers, I recommend prepping the wedges and popping them in the oven first, then working on the rest of the meal as they bake.
The wedges will bake on an oven-safe rack that's been placed over a large baking sheet lined foil. You'll bake them at 450 degrees (F) for 30 minutes. At this point you'll crank on the broiler (or increase the temperature to the broiler setting, depending on how your oven works) and let them bake for another 3-5 minutes. This step is what gets the outside layer SO crispy.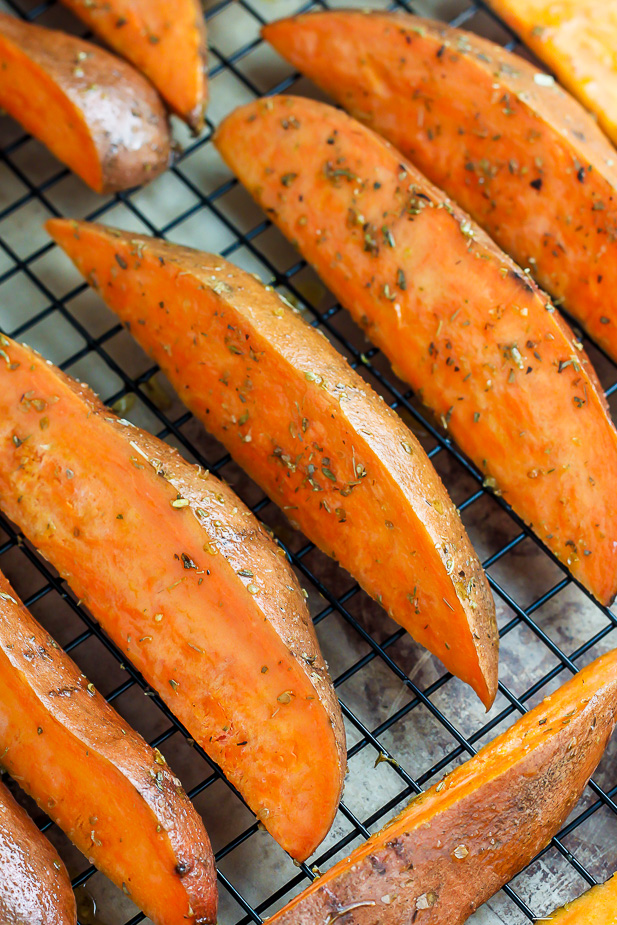 Tip: once the broiler is on the wedges will cook FAST. I recommend staying close by and keeping an eye on them. Once they look golden and crispy, pull them out. I typically leave them in for the full 5 minutes, but I like mine exxxxxxtra well done.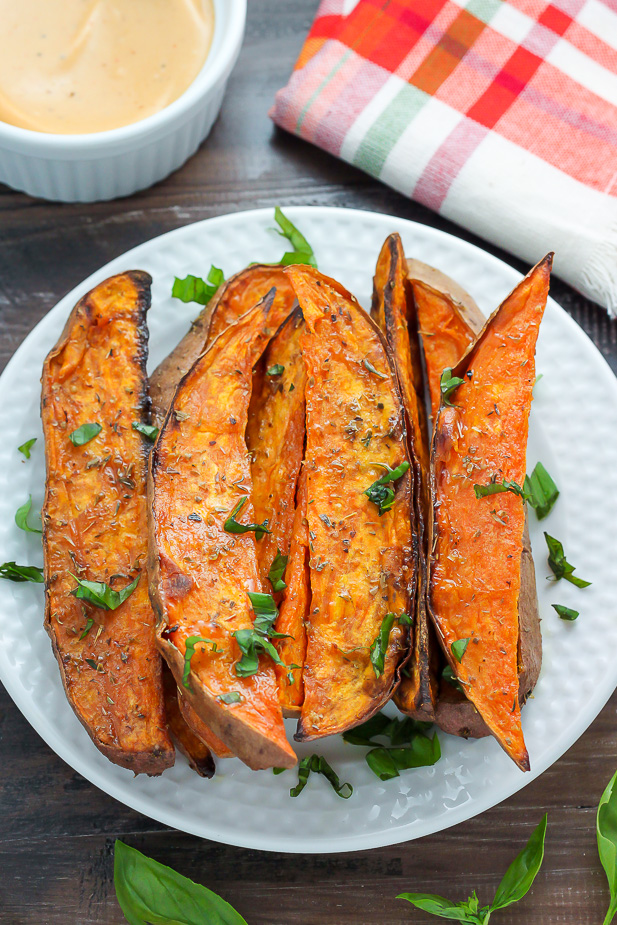 In an effort to really pump up the flavor I tossed these fries with a little grated Parmesan cheese and fresh basil from our garden ♥♥♥
These babies should come with a warning label: they are SO addicting! Hope you love them as much as we do 🙂 P.S. these wedges are also delicious with ketchup or chipotle mayo
.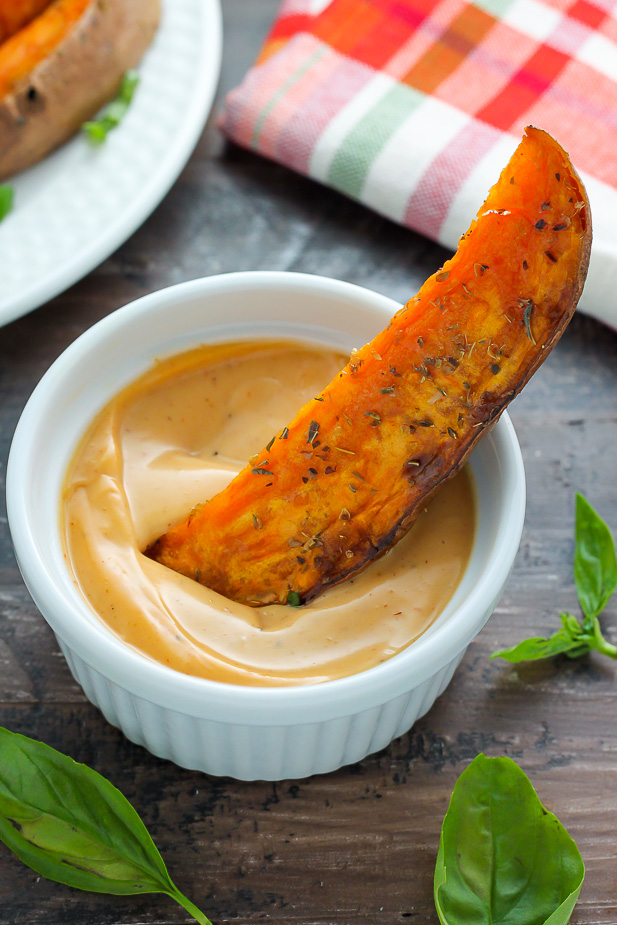 More Sweet Potato Recipes: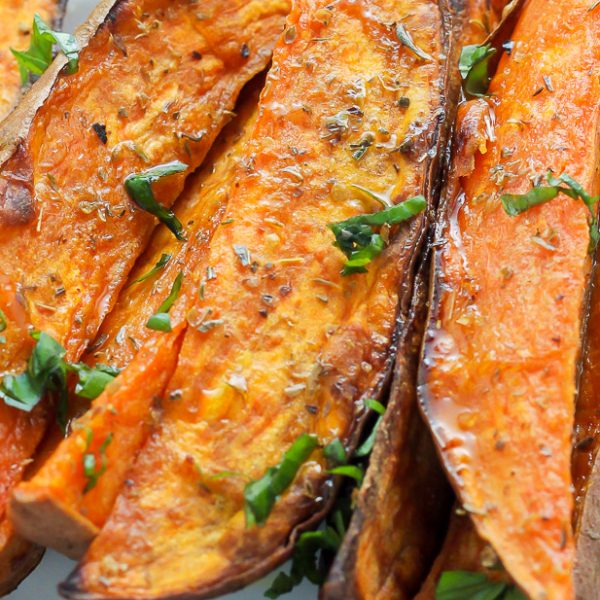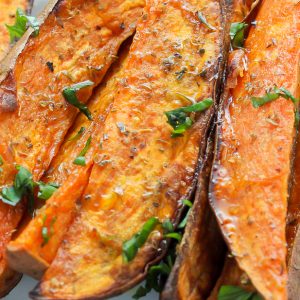 Extra Crispy Sweet Potato Wedges
Thick and crispy oven baked sweet potato wedges! A delicious snack or side.
Ingredients
2 large sweet potatoes, peeled (or unpeeled, if you like skin) and cut into wedges
3 tablespoons olive oil
1 teaspoons salt
3/4 teaspoon garlic powder
1/2 teaspoon sugar
1/2 tablespoon Italian seasoning
1/2 teaspoon black pepper
Instructions
Preheat oven to 450 degrees (F). Line a large baking sheet with tinfoil (shiny side up); place baking rack onto prepared baking sheet; set aside.

Peel the sweet potatoes (if preferred) and cut off the pointy ends. Slice the sweet potatoes in half (lengthwise), then cut each piece into wedges.

Place the sweet potato wedges in a large bowl, then add in the olive oil, salt, garlic powder, sugar, seasoning, and black pepper. Mix well, making sure each wedge is coated with oil and spices.

Arrange the sweet potato wedges in a single layer on the prepared baking sheet. Bake for 30 minutes, then turn on the broiler and bake for another 3-5 minutes, or until they're well browned and crispy. Keep an eye here - it's easy to burn when the broiler is on!

Cool wedges on pan for 5 minutes, then serve at once!
Notes
The baking times listed above are approximate; it depends how thick you cut the sweet potato wedges. For best results, try to cut the wedges evenly; this will help them cook at about the same rate. Double recipe as needed, but only bake one tray at a time.