Soft batch Salted Caramel Stuffed Snickerdoodles!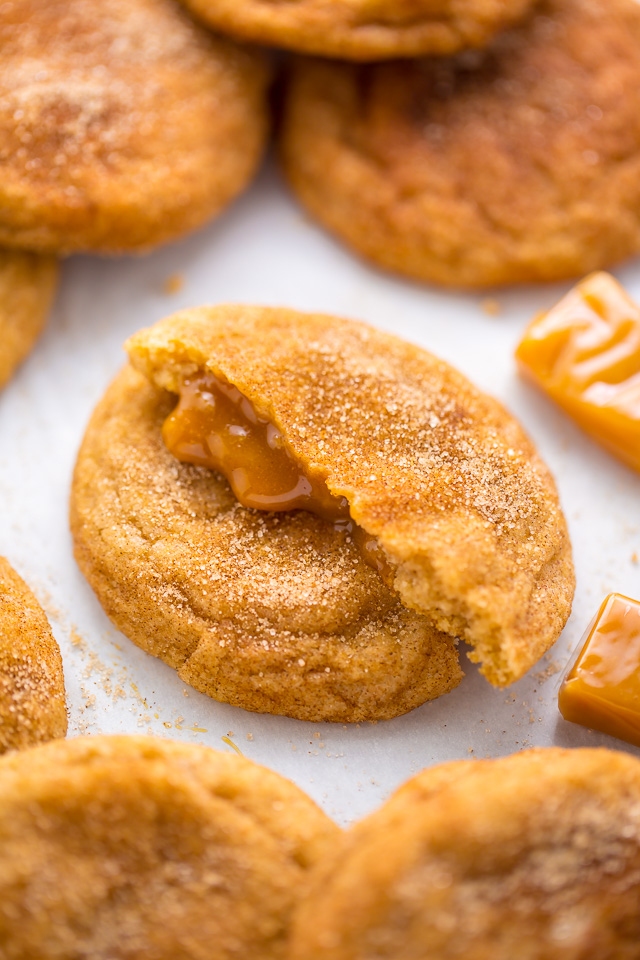 Salted Caramel Snickerdoodles
If you know me, you know I'm a total sucker for salted caramel. Salted caramel sticky buns, salted caramel scones, salted caramel cupcakes… the list goes on and on! But my favorite way to sneak salted caramel into our lives? COOKIES!
Because, really, is there anything better than a cookie stuffed with gooey caramel?!
nope ↓↓↓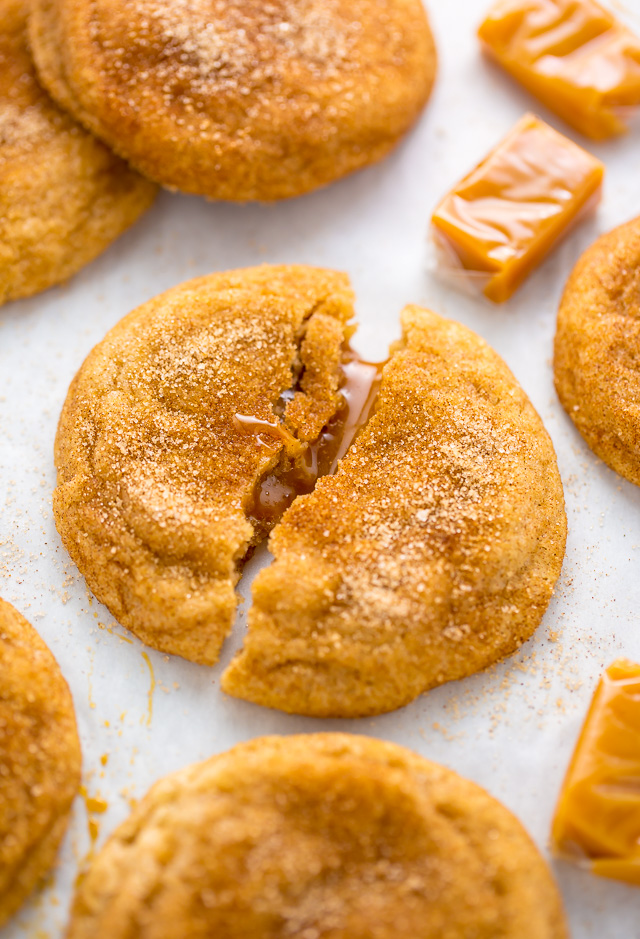 The best part? Baking these cookies is a breeze. Hallelujah the cookie dough requires NO chill time, and the cookies themselves only need to bake for 10 minutes. You know what that means, right? You could technically be sinking your teeth into a salted caramel stuffed snickerdoodle in less than 40 minutes. You're welcome 😉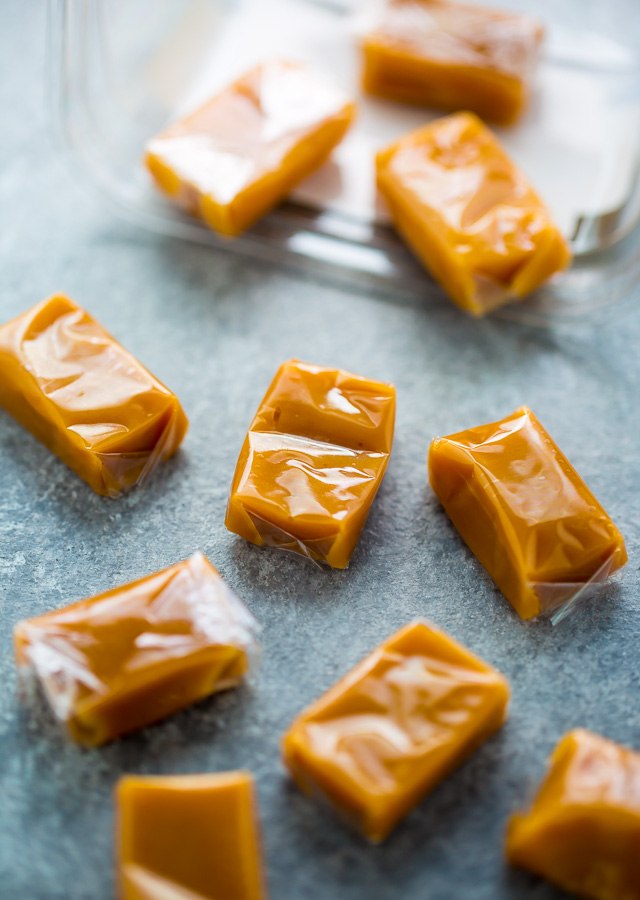 Tips and Tricks for Recipe Success:
You will need 24 pieces of salted caramel candy for this recipe. I love using these extremely affordable ($2.99!!!) Fleur De Sel Caramels from Trader Joe's because they're chewy and delicious. If you don't have access to a Trader Joe's, I recommend using a softer salted caramel that will melt nicely and keep a chewy texture even after the cookies have completely cooled.
You'll want to roll the soft caramel into a small ball and pop them in the freezer while you prep the cookie dough. This extra step helps ensure no caramel will escape the cookies during the baking process.
Cream of tartar is a must for these cookies! So be sure you have a jar on hand, and that it's not expired.
Don't over bake your salted caramel stuffed snickerdoodles. They only need 10 to 11 minutes in the oven. They will come out looking very soft, but don't fret – they firm up quite a bit as they cool.
These are soft batch style cookies, so while they have a little chew – thanks to the caramel filling – they are definitely more soft than chewy.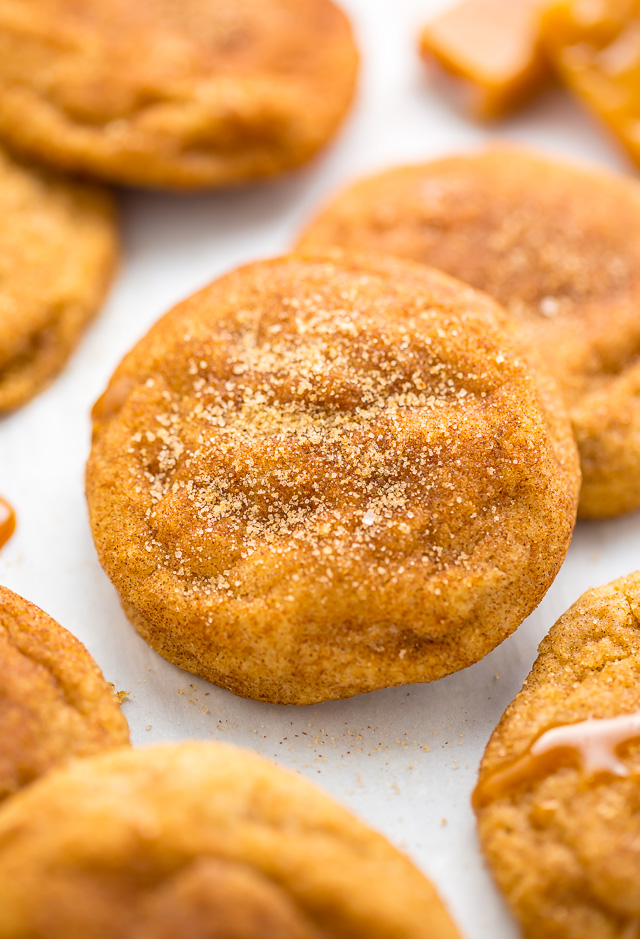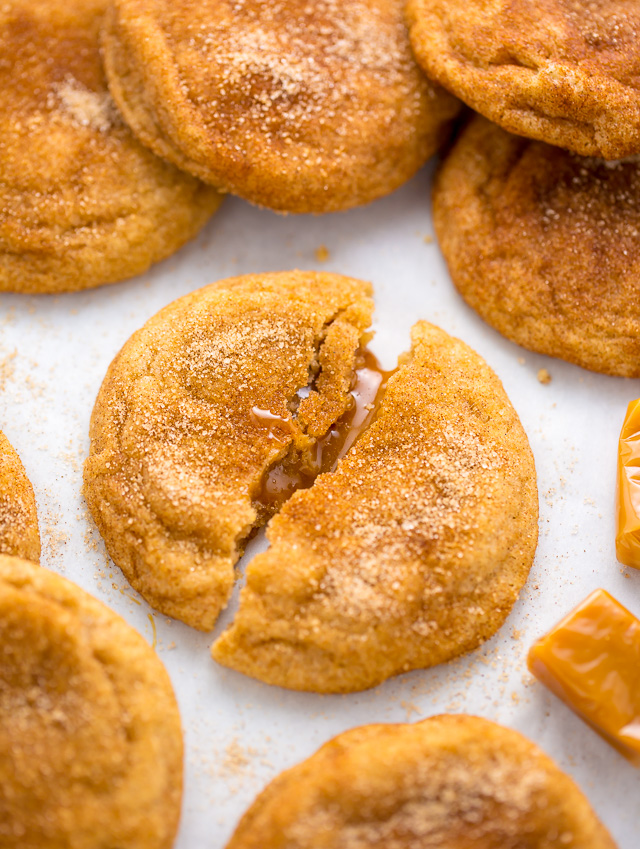 These salted caramel stuffed snickerdoodles are simple, impressive, and sinfully delicious.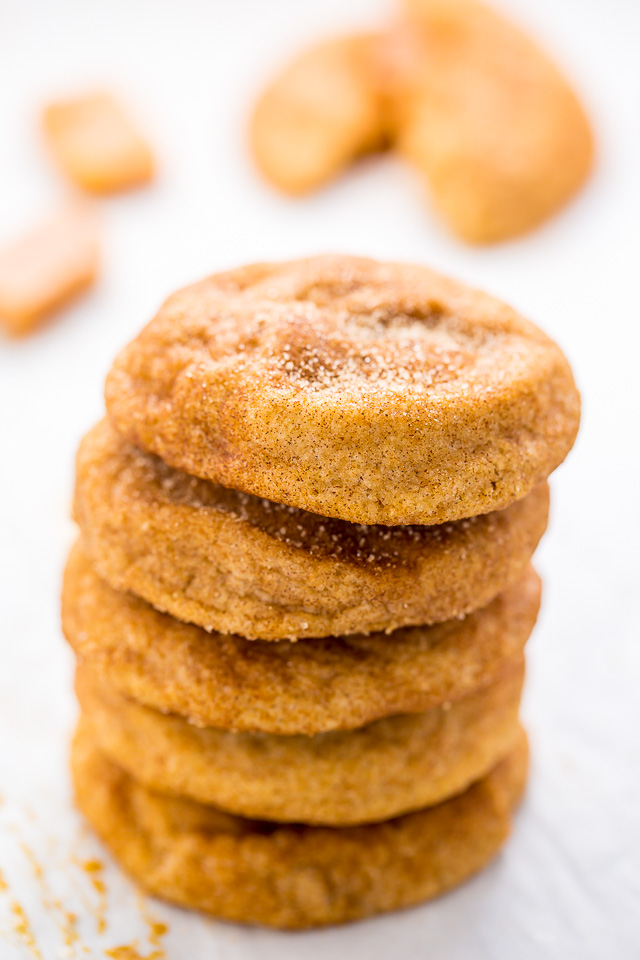 If you try this recipe, let me know what you think! Leave a comment below, and don't forget to snap a pic and tag it #bakerbynature on instagram! Seeing your creations makes my day ♥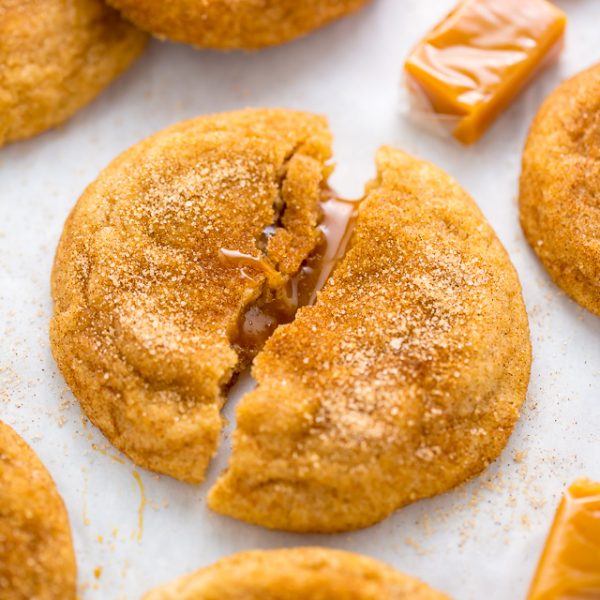 Salted Caramel Stuffed Snickerdoodles
Soft Batch Salted Caramel Stuffed Snickerdoodles are a must bake this holiday season!
Ingredients
For the salted caramel filling:
20 semi-soft salted caramel candies, unwrapped (see post for notes)
For the cinnamon sugar coating:
1/4 cup granulated sugar
3/4 teaspoon ground cinnamon
For the snickerdoodle cookie dough:
1 cup (2 sticks) unsalted butter, at room temperature
1 and 1/2 cups granulated sugar
1 large egg plus 1 egg yolk
2 teaspoons vanilla extract
2 and 1/2 cups all-purpose flour
1 and 3/4 teaspoons cream of tartar
1 teaspoon baking soda
2 teaspoons ground cinnamon
1/4 teaspoon salt
Instructions
For the salted caramel filling:
Unwrap caramels and roll each one into a small ball; place in the freezer while you prep the cookie dough.
For the cinnamon sugar topping:
In a small bowl combine the granulated sugar and cinnamon; set aside until needed.
For the snickerdoodle cookie dough:
Preheat oven to 375 degrees (F). Line two large baking sheets with parchment paper or silicon baking sheets; set aside.

In a large bowl using a hand-held mixer or using a stand mixer fitted with the paddle attachment, cream the butter on medium speed until completely smooth, about 1 minute. Add in the sugar and continue beating on medium speed until light and fluffy, about 2 minutes. Add in egg, yolk, and vanilla and beat smooth, scraping down the sides as needed. Set bowl aside.

In a medium-sized bowl whisk together the flour, cream of tartar, baking soda, cinnamon, and salt. Slowly add the dry ingredients to the wet ingredients, all at once, and stir the dough together using a rubber spatula. The dough will be quite thick. Stir just until combined - being sure not to over mix.

Using an ice cream scoop, melon baller, or measuring spoon, scoop out a tablespoon round of dough, roll it into a ball, and place on prepared baking sheet. Gently press the frozen caramel into the center, then top with another tablespoon sized round of dough, lightly pinching the edges closed to seal the caramel completely; repeat with all cookie dough. Roll the dough ball into the cinnamon sugar topping, then transfer them onto prepared baking sheet. Repeat with all cookie dough. Bake cookies, one tray at a time, for 10 to 11 minutes. The cookies will be set at the edges and very soft. Allow cookies to cool on the baking sheet for 10 minutes before serving warm or transferring to a wire rack to cool completely.