Bakery-Style Salted Caramel Apple Scones are the perfect Fall breakfast! So good with a cup of coffee.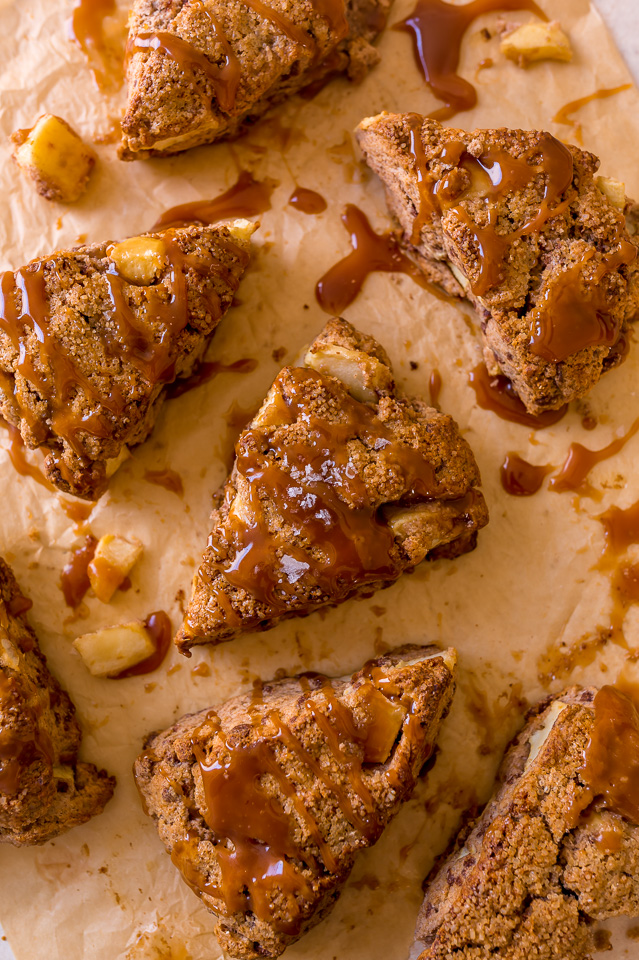 Caramel Apple Scone Recipe
This recipe is a Fall staple in our house. I mean, is there anything more welcoming than a warm batch of apple scones, scented with cinnamon, and drizzled with salted caramel sauce?
Answer: No.
What I really love about this recipe is how seriously simple it is to whip up! With minimal prep time, and only 20 minutes in the oven, you can have your very own batch of salted caramel apple scones in less than 40 minutes.
And trust me… you definitely want your very own batch of these beauties ↓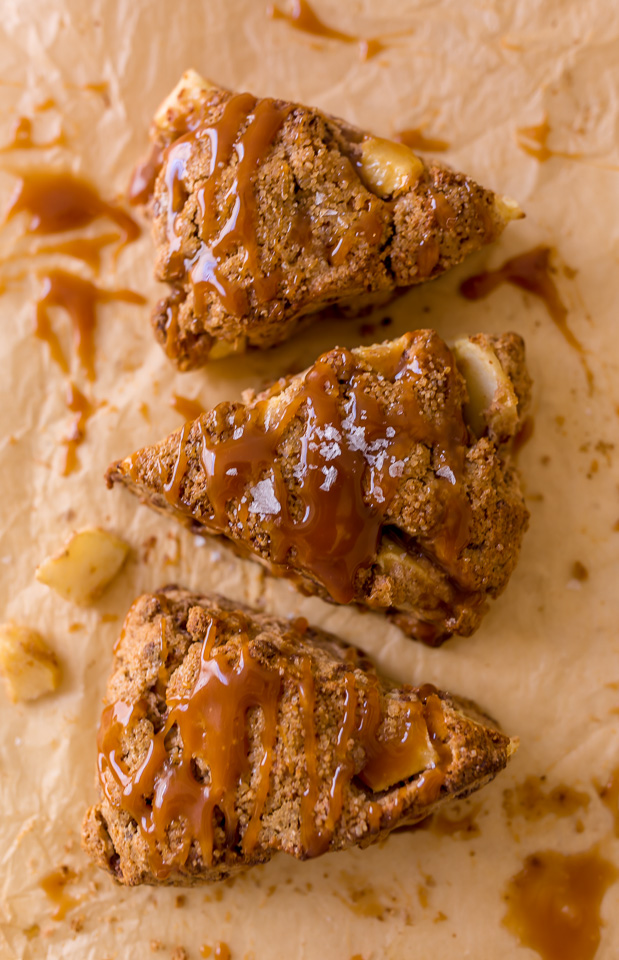 Easy Apple Scones with Salted Caramel
Tips and Tricks for Recipe Success:
Let's talk about salted caramel for a sec! You're going to need one cup of it for this recipe. You can make your own (check out my super easy 6-minute salted caramel sauce) or you can use your favorite store bought brand. Since the caramel sauce is drizzled on generously, I do suggest picking a brand (or recipe) you already know and love. Trader Joe's makes a wonderful Fleur de Sel caramel sauce, or if you're looking to splurge a little, Fran's Salted Caramel Sauce and Amoretti Natural Caramel Sauce are both well worth the money!
While I've added measurements for the spices in this recipe (cinnamon, ginger, and nutmeg), feel free to add a little more or less depending on how bold you want the scones to be flavored. I love cinnamon, so I always end up adding a full teaspoon, instead of the called for half teaspoon. Just be sure you don't add too much, since spices are meant to accent, not overwhelm.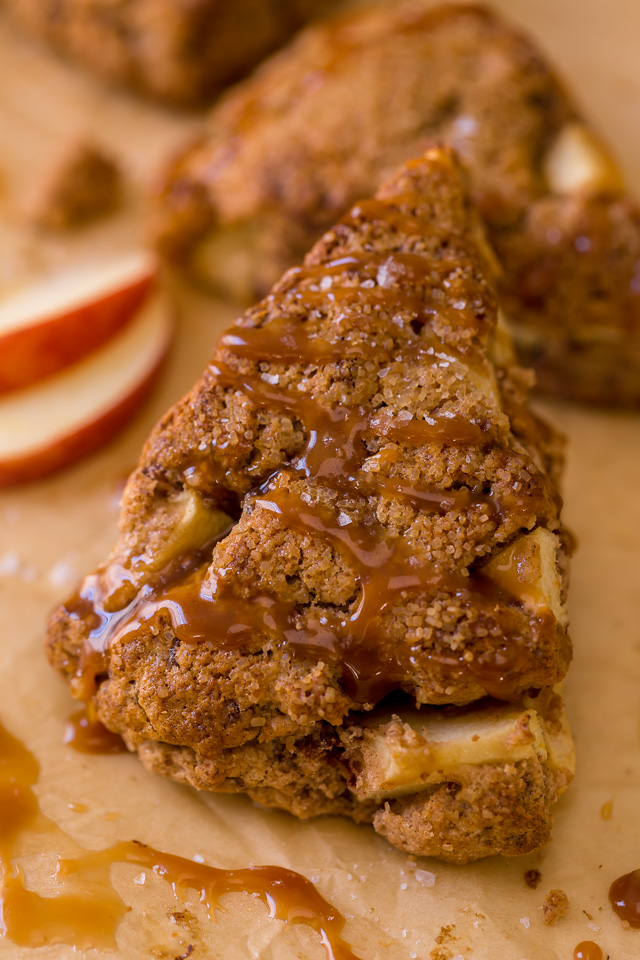 You'll need 3 medium apples for this recipe. When you go to pick out your apples, make sure they're firm and free of any mushy spots or worm holes. I love using two tart apples (like granny smith) and one sweeter apple (like jonagold or golden delicious), but you can use any apple variety you enjoy in baked goods.
Make sure your butter is extremely cold before beginning. I've said it before and I'll say it again: the key to tender, flaky, bakery style scones is COLD BUTTER.
When it's time to incorporate the butter into the dough, you should resist working with your hands if possible, since body heat will quickly melt the butter. Instead, use a pastry cutter or two forks. My favorite method is grating the butter into the dry ingredients, then quickly working it into the dough with two forks.
If you find your dough is warm or too sticky to manage, place it in the fridge or freezer for a few minutes to chill, then get back to work.
These salted caramel apple scones are best eaten the day they are made.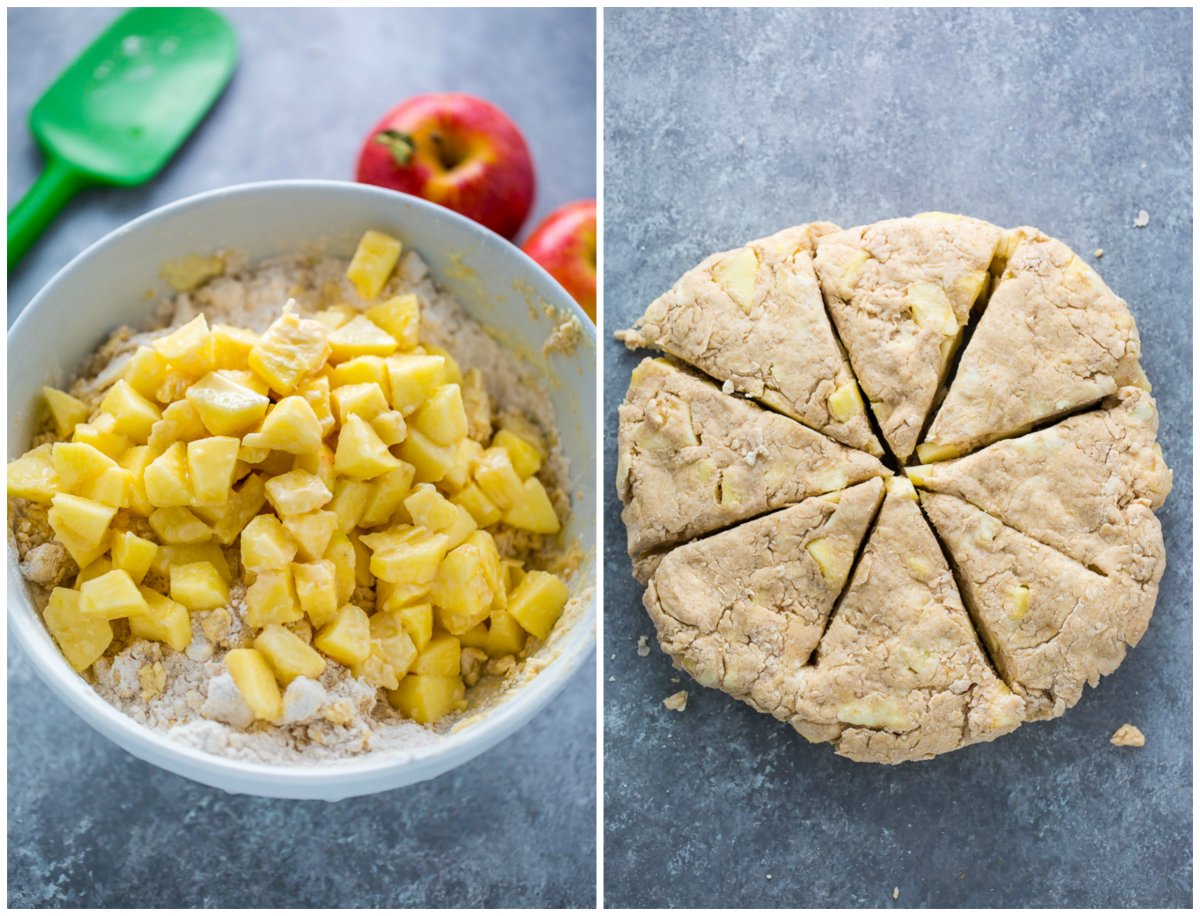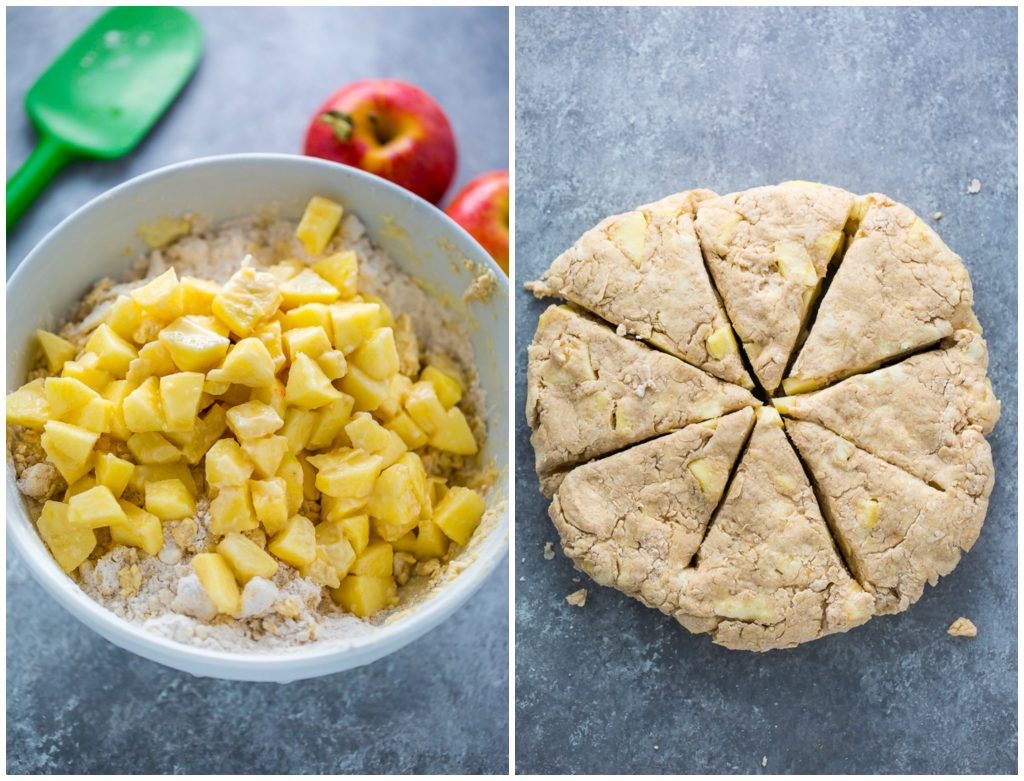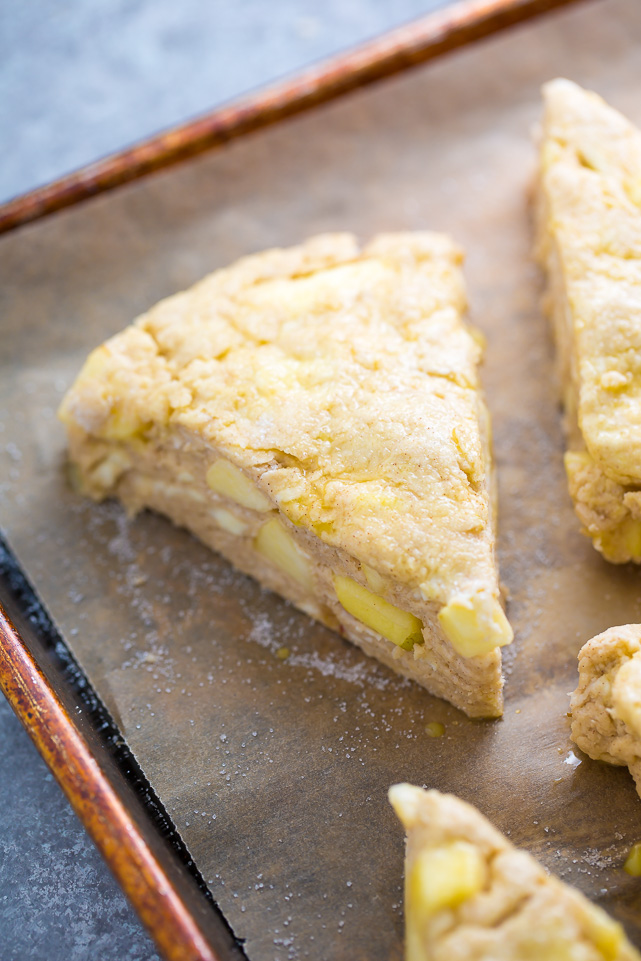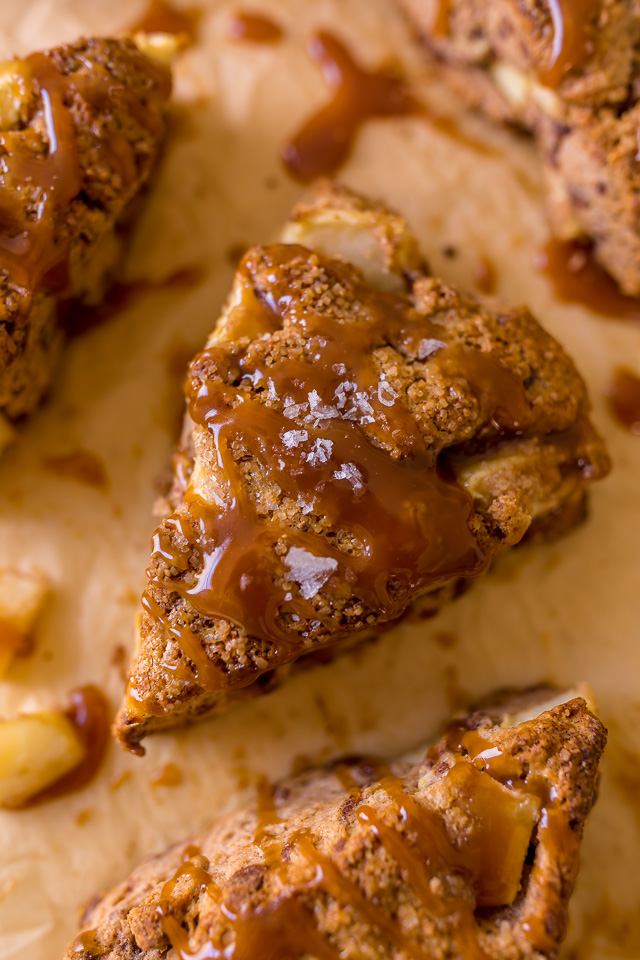 Grab some Fall apples and turn them into Salted Caramel Apple Scones! I love pairing them with a cup of tea (and a good book), but they're equally lovely with coffee or milk.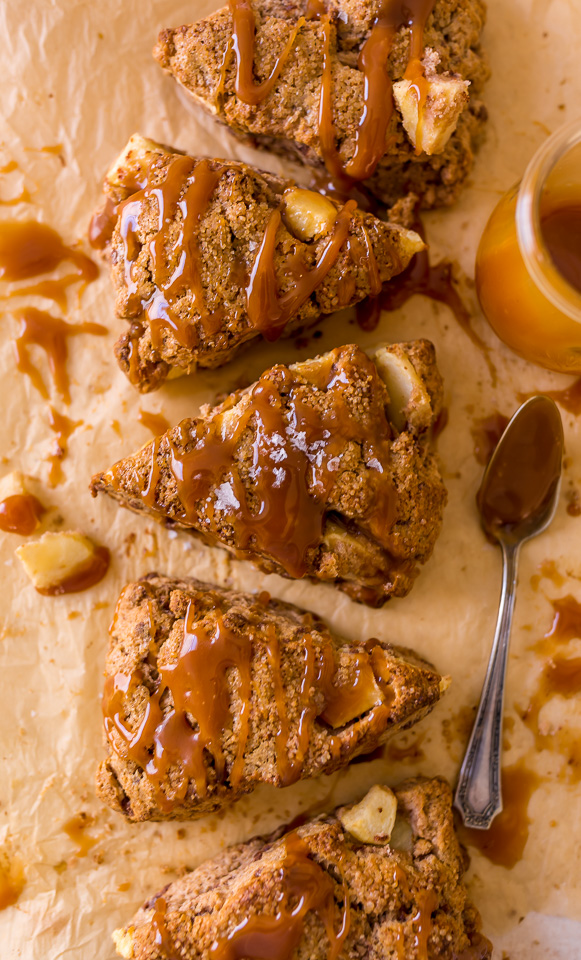 If you try this Fall Scones recipe, let me know what you think! Leave a comment below, and don't forget to snap a pic and tag it #bakerbynature on instagram! Seeing your creations makes my day ♥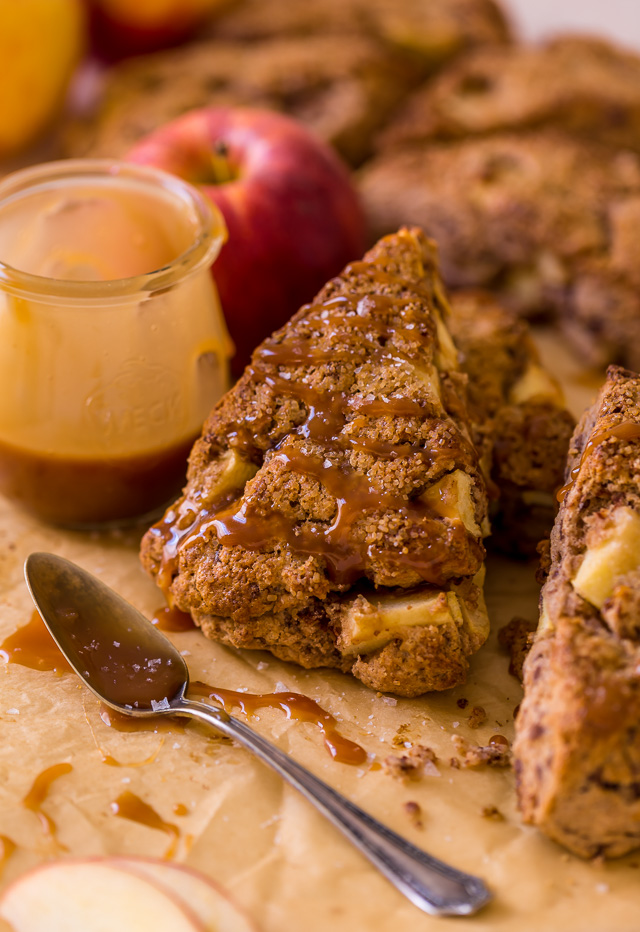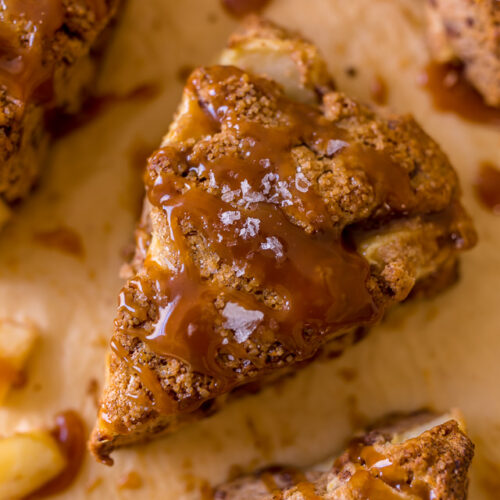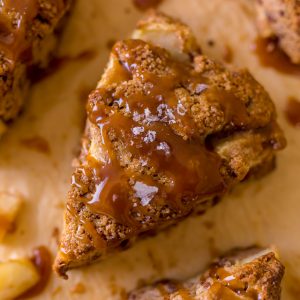 Salted Caramel Apple Scones
Salted Caramel Scones are the perfect Fall breakfast.
Ingredients
2 and 1/2 cups plus 1 tablespoon all-purpose flour, divided
1/2 teaspoon salt
1 tablespoon baking powder
1/2 teaspoon baking soda
1/4 cup light brown sugar, packed
1/2 teaspoon ground cinnamon
1/4 teaspoon ground ginger
1/4 teaspoon ground nutmeg
1 stick (4 ounces) unsalted butter, VERY cold and cut into tiny pieces
1 large egg, beaten
1/2 cup (full-fat) sour cream
2 tablespoons whole milk
2 tablespoons apple cider
2 medium apples, peeled, cored, and cut into bite-sized chunks (about 1 and 1/2 cups)
1 cup salted caramel sauce
Flaky sea salt, for sprinkling, optional
Instructions
Preheat oven to 400°(F). Line a large baking sheet with parchment paper or a non-stick baking mat; set aside. In a large bowl combine 2 and 1/2 cups of the flour, salt, baking powder, baking soda, brown sugar, cinnamon, ginger, and nutmeg; mix well, making sure no large clumps of brown sugar remain.

Cut the butter into small cubes then quickly work it into the mixture (using a pastry cutter or two forks) until it resembles a coarse meal; set aside.

In a small bowl, whisk together the egg, sour cream, and milk, then add to flour and butter mixture. In a small bowl combine apple cider and apple chunks, then add in the remaining tablespoon of flour and toss to coat. Gently fold the apple chunks, and any remaining flour, into dough with a spatula until just combined.

Pour the shaggy mixture out onto a clean, floured work surface and shape the dough (you will have to work/knead it quite a bit to get it together) into an 8-inch circle. Cut the dough into 8 wedges and carefully transfer them to the prepared sheet. Bake for 22-24 minutes, or until cooked through and the tops are golden brown. Drizzle with salted caramel sauce, sprinkle with sea salt (if using), and serve at once!