These Thick and Chewy White Chocolate Cranberry Cookies are a always a crowd-pleaser! Loaded with white chocolate chips and cranberries, they're sweet, slightly tart, and seriously delicious! Perfect for your holiday parties and Christmas cookie platters!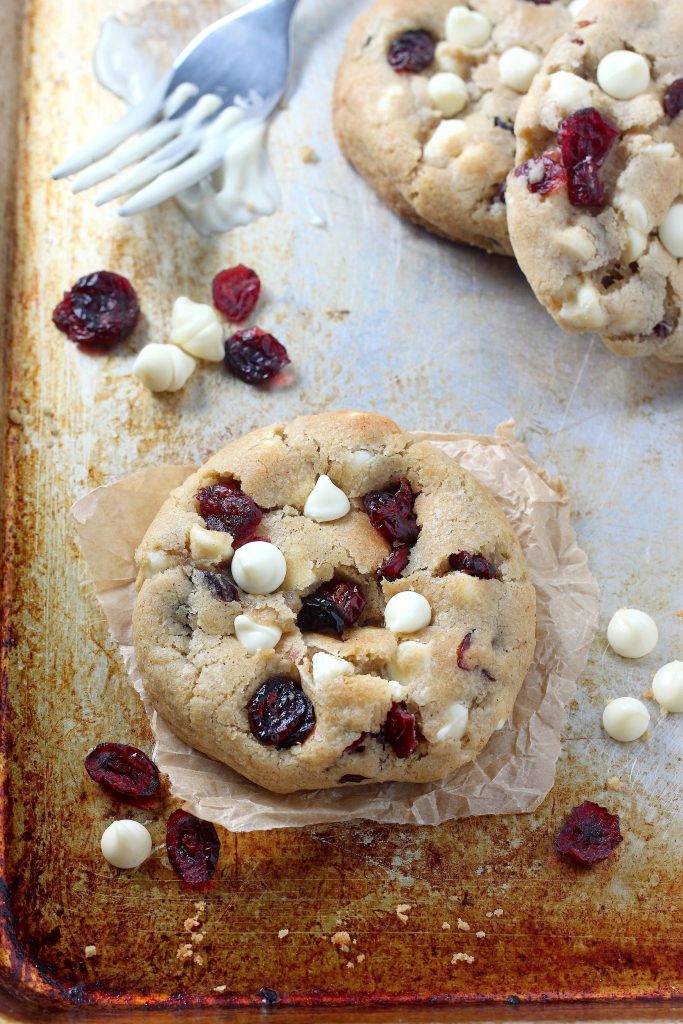 Cranberry White Chocolate Chip Cookies
Hello, Day 5 of Christmas in July!!! Today's new recipe is actually an old recipe that I revamped for you!
I published the recipe for these White Chocolate Cranberry Cookies almost 5 years ago! And almost instantly they became a reader favorite! And I know why you guys love them so much! THEY'RE INSANELY DELICIOUS!
So why make changes? Well, I've learned a lot in the past 5 years. I've grown as a baker and as a photographer and so sometimes I like to tweak an already good recipe and make it truly great.
And that's exactly what I did with these cookies!!! To be honest, the biggest changes are the photographs! They needed a makeover badly, and I had fun shooting all new pictures for these, including a few (hopefully) helpful step-by-steps! I also converted the recipe into grams, for all my international readers. And I altered the recipe just slightly, to add a pop of orange zest and make the cookies even chewier!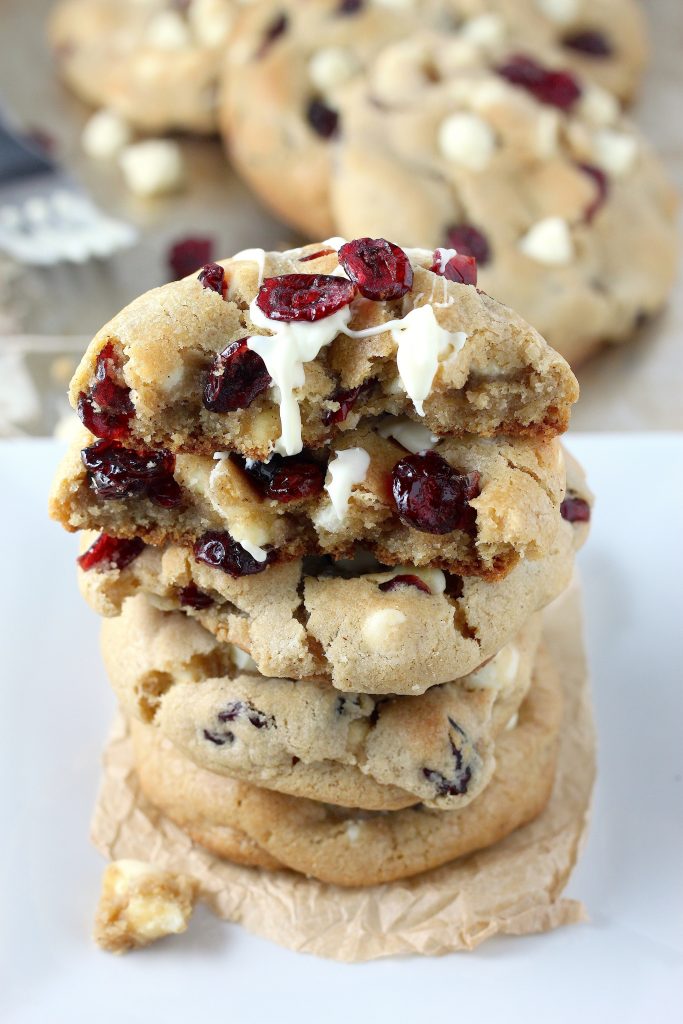 If you're currently craving these cookies, I have good news: they can be ready in about 30 minutes!
That's because dough for these cookies comes together quickly and easily. And the cookie dough doesn't require any chilling!!! The bake time is a short 9 to 10 minutes, meaning the longest part of this recipe is bringing your ingredients to room temperature!
What ingredients need to be at Room Temperature?
For best results, your eggs and egg yolk should be at room temp. You can speed this process up by placing your eggs in a bowl of warm water for about 10 minutes. Just be sure the water is warm, and not hot!
You'll also need your butter to be at room temperature. This means the butter should be solid, but soft enough that when you press into it lightly with your finger, it easily makes an indentation. Butter temperature is actually very crucial here, because if your butter is too soft your cookies will spread too much in the oven. And if it's too hard, your cookies won't quite spread enough. So be sure to have it at the right temperature before you get baking!
Unlike most recipes that call for you to preheat your oven to 350 degrees, this recipe calls for a slightly higher baking temperature of 375. This higher temp allows the exterior to cook quickly but the interior to stay nice and chewy.
Ingredients wise, these cookies call for basic pantry staples you probably already have on hand! You'll need all purpose flour, baking soda, and salt. Plus, butter, white sugar, brown sugar, vanilla extract, cinnamon, dried cranberries, and white chocolate chips. I add a pinch of orange zest, too. But you may omit it if you'd like!
How to Make Cranberry White Chocolate Chip Cookies
Preheat Oven: Remember, 375, not 350! This is also a good time to line flour baking sheets with parchment paper and set them aside so they're ready!
Make the Cookie Dough: You'll need an electric mixer to make it. A stand mixer fitted with a paddle attachment or a handheld electric mixer and a large bowl will do the job! Make sure you beat the butter, brown sugar, and granulated sugar until very fluffy before adding the egg and vanilla. This will take about 3 minutes. And make sure you don't pack your flour into the measuring cup when measuring! Either lightly spoon the flour into the measuring cup and then level it off with the back of a knife or weigh it.
Scoop and Roll: To make this step quick and easy, I highly suggest using a large cookie scoop, which is exactly 3 Tablespoons of dough. Using this will create the perfect sized cookie, and ensure similar shapes for your entire batch.
Bake: Place the cookie sheets into the oven, on the middle wrack, one at a time, and bake for 9 to 12 minutes. Or until the cookie dough balls have spread out a bit and are lightly browned on top. You want them to look slightly undercooked in the center, because they will continue to cook and firm up even after they leave the oven!
Decorate: If you want your cookies to look extra festive, make sure you have about a 3/4 cup extra of white chocolate chips and dried cranberries. You can press them into the warm cookies when they come out of the oven!
And Cool: Then allow the cookies to cool for a few minutes on the baking sheet before serving warm or placing on a cooling rack to cool completely.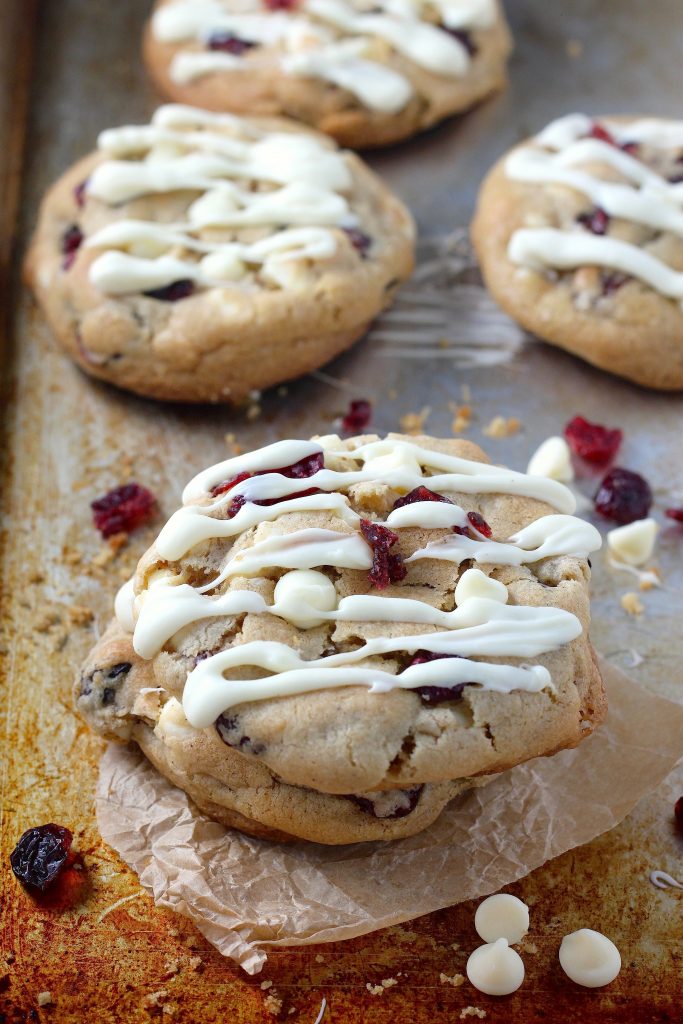 Can I freeze The Cookie Dough?
Yes! I always freeze the dough when I make these cookies! Actually, I almost always freeze the dough when I make any cookies. You can freeze all of it, or just a few!
To freeze, scoop and roll the dough as directed. Then, place the baking pan in the freezer and freeze until the cookie dough balls are solid. At that point, you can take the pan out of the freezer, pop the solid cookie dough balls into a freezer safe ziplock bag, then place them back in the freezer. Stored properly, these white chocolate cranberry cookies will keep in the freezer for two months!
How to bake Frozen Cookie Dough?
You'll bake the frozen cookie dough balls the same way as you would fresh cookie dough, but you'll increase the bake time by 2 or 3 minutes. They need a little longer in the oven because they're starting off from a frozen state.
If you love cookies that are super thick, crispy at the edges, and chewy in the center… THESE ARE THE COOKIES FOR YOU!
And although they're perfect as written, I wanted to offer one last suggestion before I go: add nuts! I've been known to toss a handful of chopped pistachios in the batter to create a festive red, white, and green holiday color palette. But chopped pecans are equally delicious! If you're a nut lovers (and aren't gifting these to anyone with an allergy!), I highly suggest giving it a try!
More White Chocolate Cranberry Recipes: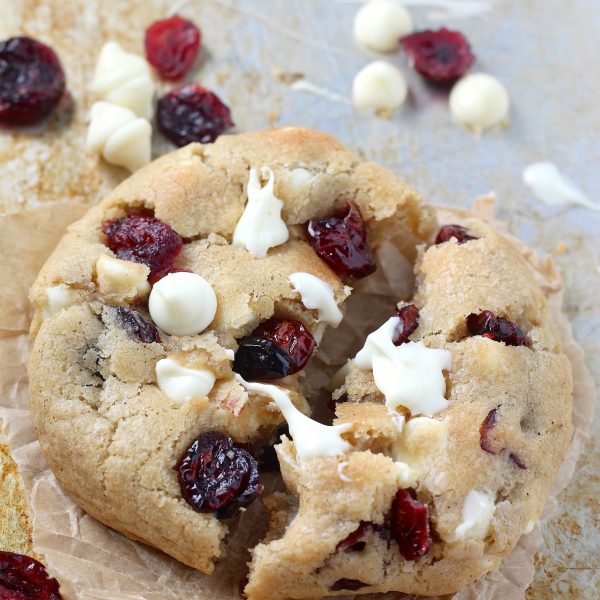 Thick and Chewy White Chocolate Cranberry Cookies
These Thick and Chewy White Chocolate Cranberry Cookies are perfect for Christmas!!! Loaded with chewy cranberries and white chocolate chips, these cookies are always a crowd-pleaser! 
Ingredients
2 and 1/2 cups all-purpose flour
1 teaspoon baking soda
1/2 teaspoon salt
1/8 teaspoon cinnamon
1 cup unsalted butter, at room temperature
3/4 cup dark brown sugar, packed
3/4 cup granulated sugar
1 teaspoon orange zest (optional)
1 Tablespoon pure vanilla extract
2 large eggs, at room temperature
2 cups white chocolate chips
1 cup dried cranberries, chopped
Instructions
Preheat oven to 375 degrees (F). Line 2 large baking sheets with parchment paper and set aside.

In a large bowl add the flour, baking soda, salt, and cinnamon. Whisk well to combine and set aside. 

In a large bowl using an electric handheld mixer, or in the bowl of a stand mixer fitted with the paddle attachment, add the butter, both sugars, vanilla, and orange zest. Beat on medium speed, scraping down the sides and bottom of the bowl as needed, for bout 2 minutes, or until light in color and fluffy in texture. 

Turn the mixer off again and use a rubber spatula to scrape the bottom and side of the bowl. This extra step ensures to batter missed getting incorporated. If you notice large pockets of wet ingredients, turn the mixer back on and mix for another 30 seconds or so. 

Add the eggs, one at a time, beating well after each addition.

Turn the mixer off and let the mixture rest for 5 minutes.

Using a strong rubber spatula or wooden spoon, add in the flour in thirds, mixing slowly and stirring only until the flour begins to disappear. Do not over mix or your cookies will be dry!

Finally, fold in the white chocolate chips and dried cranberries.

Using a large cookie scoop, scoop out about 3 tablespoons worth of cookies dough and roll it into a ball. Place cookie dough balls on prepared baking sheets, leaving at least 1" of room in between each cookie for inevitable spreading.

Continue this process until all the dough has been rolled. Place baking sheets in preheated oven and bake for 9 to 11 minutes, or until golden at the edges but still soft in the middle. Let cookies cool for 10 minutes on the sheet before transferring to a wire wrack to cool completely.