If you love white chocolate chips and snickerdoodles, these cookies are for you!!! So soft, chewy, and loaded with holiday flavor! The perfect snickerdoodle cookie for your holiday cookie platters!
White Chocolate Chip Snickerdoodle Cookies
I'm having the best time in Germany so far! It snowed a ton yesterday and once it calmed down we walked and walked through the chilly streets – peppermint hot cocoas in hand – taking in the quiet Winter beauty. The feeling after a fresh snowfall is pure magic. Besides loosing all feeling in our fingers and toes (brrrrrr!), the day was perfection.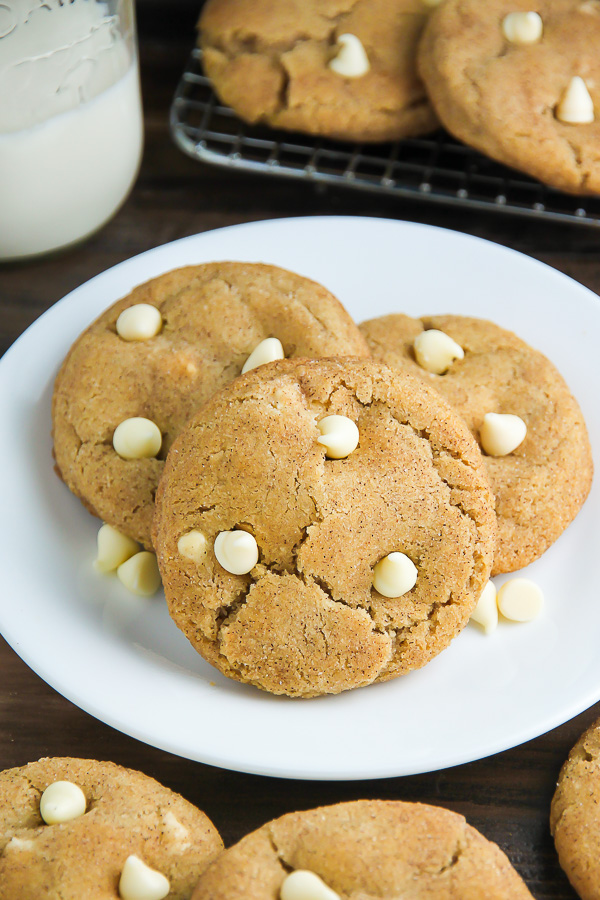 ↑↑↑ The only thing that could have made it better? Coming home to these cookies.
It's been way too long since I've shared a plate of cookies with you. 30 days too long! To make up for all those cookie-less days, I've made you soft and chewy snickerdoodles. Covered in cinnamon sugar and loaded with creamy white chocolate chips. These cookies are sweet as can be!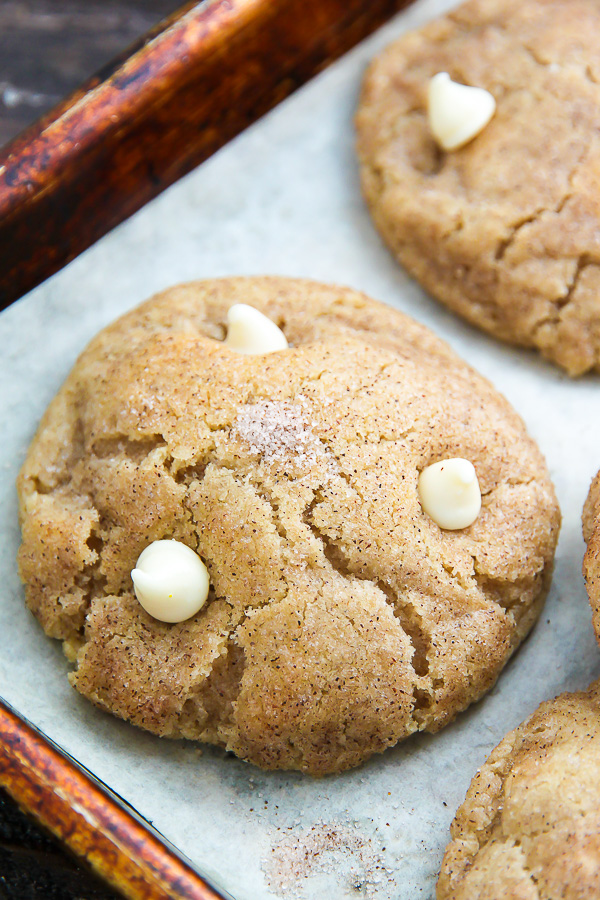 How to Make Snickerdoodles
I'm a huge fan of quick and simple cookie recipes, and hallelujah, this recipe is both! This snickerdoodle recipe includes no daunting or tricky steps, and the dough requires NO chilling (!!!), making it a great recipe for avid and novice bakers alike.
For the dough you'll need softened butter, granulated sugar, one egg and one egg yolk, vanilla extract, flour, cream of tartar, baking soda, cinnamon, and salt.
You'll also need 2 whole cups of white chocolate chips. Confession: I daydream about white chocolate chips. ↓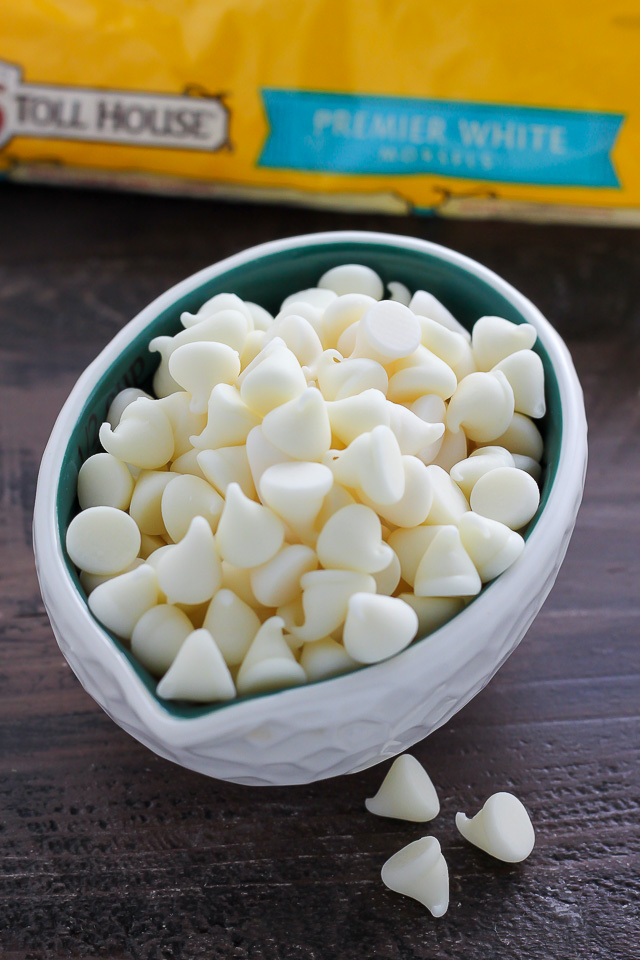 In an ideal world I'd eat thick and chewy white chocolate peanut butter blondies for breakfast, white chocolate reese's pieces peanut butter chip cookies for lunch, white chocolate cranberry scones for dinner, and a salted caramel white chocolate latte for dessert. A girl can dream, right?!
But I digress. Once you've added the white chocolate chips to the cookie dough, you're ready to roll – literally! For these snickerdoodles you're going to roll the dough into one and a half tablespoon sized balls and roll each ball in cinnamon sugar.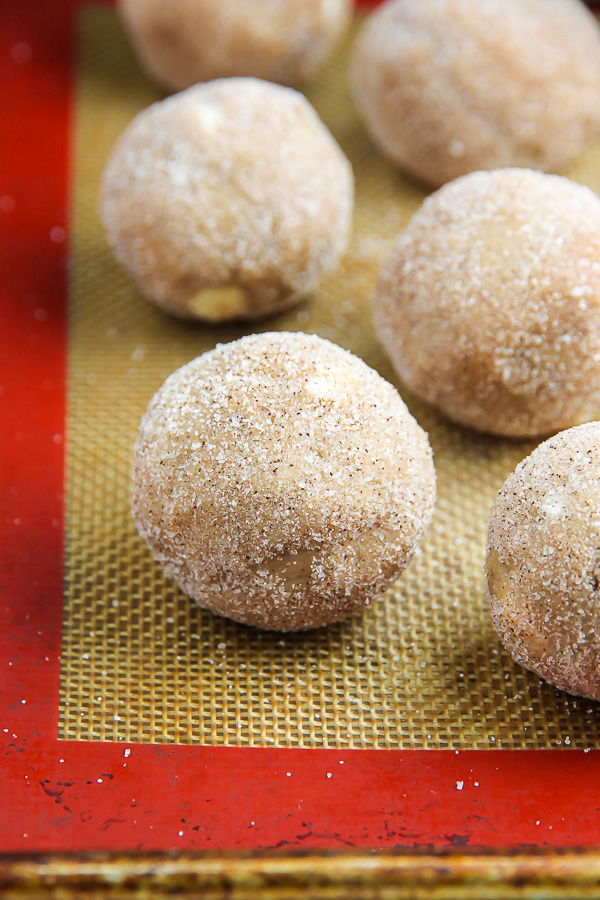 The snickerdoodles should only take 9-10 minutes to bake, depending on your oven. Be sure you don't over bake them! When you pull them from the oven they should be set at the edges, but still a little soft in the centers. The cookies will cool on the tray, and firm up in the process.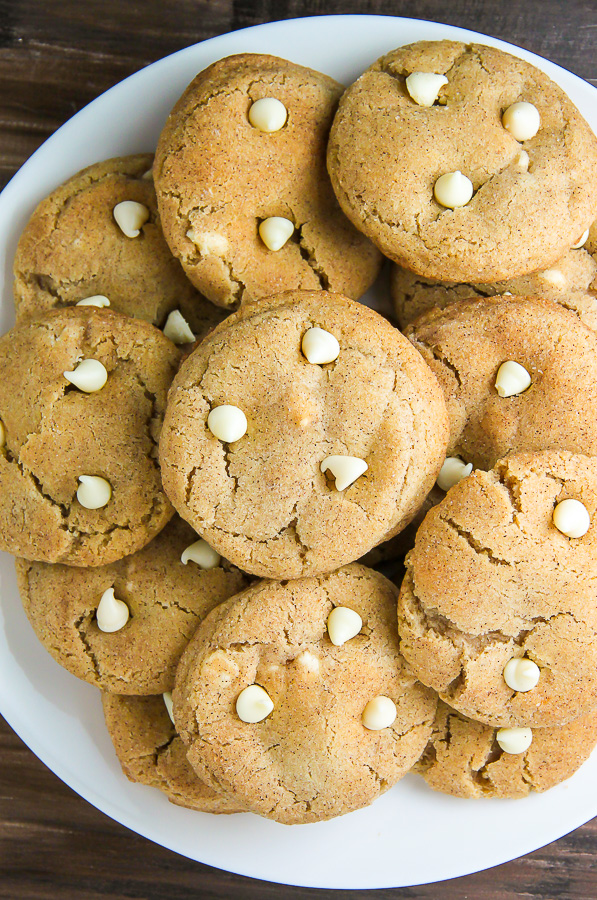 A sweet and simple snickerdoodle recipe that only takes 25 minutes start to finish! ← Be warned, these are addicting! Preheat your oven, bust out the cinnamon sugar, and get ready for your home to smell amazing.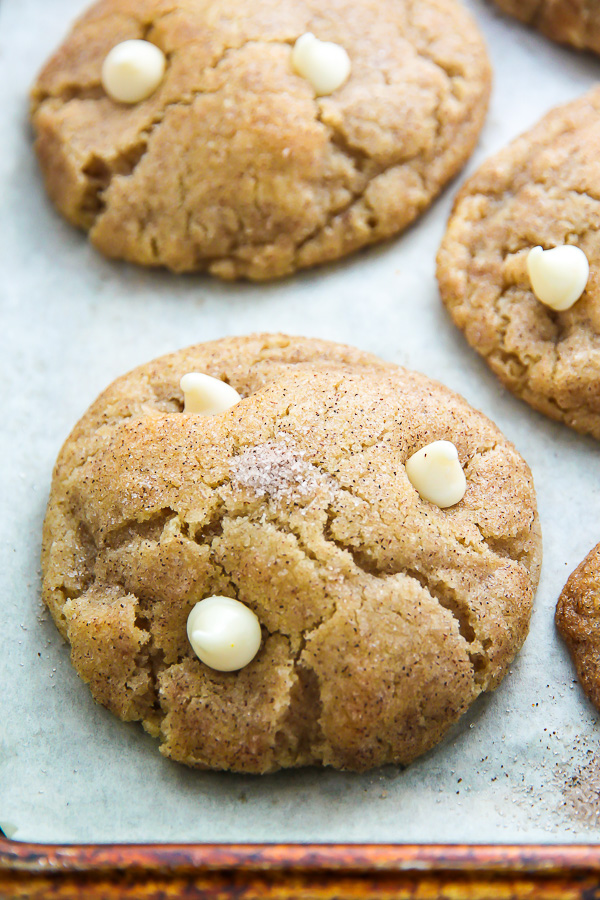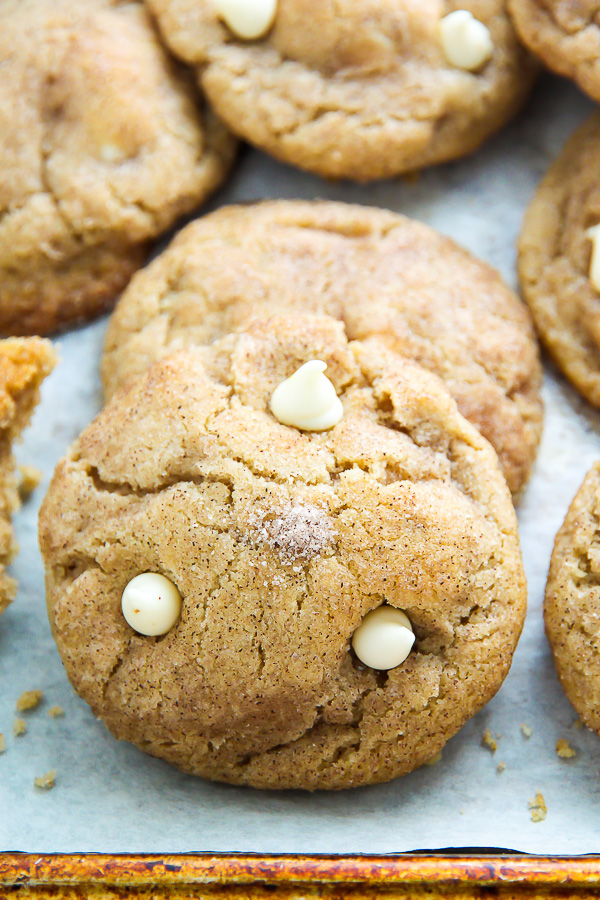 If you try this recipe, let me know! Leave a comment below and don't forget to snap a pic and tag it #bakerbynature on instagram! Seeing your kitchen creations makes my day. ♥
More Snickerdoodle Recipes: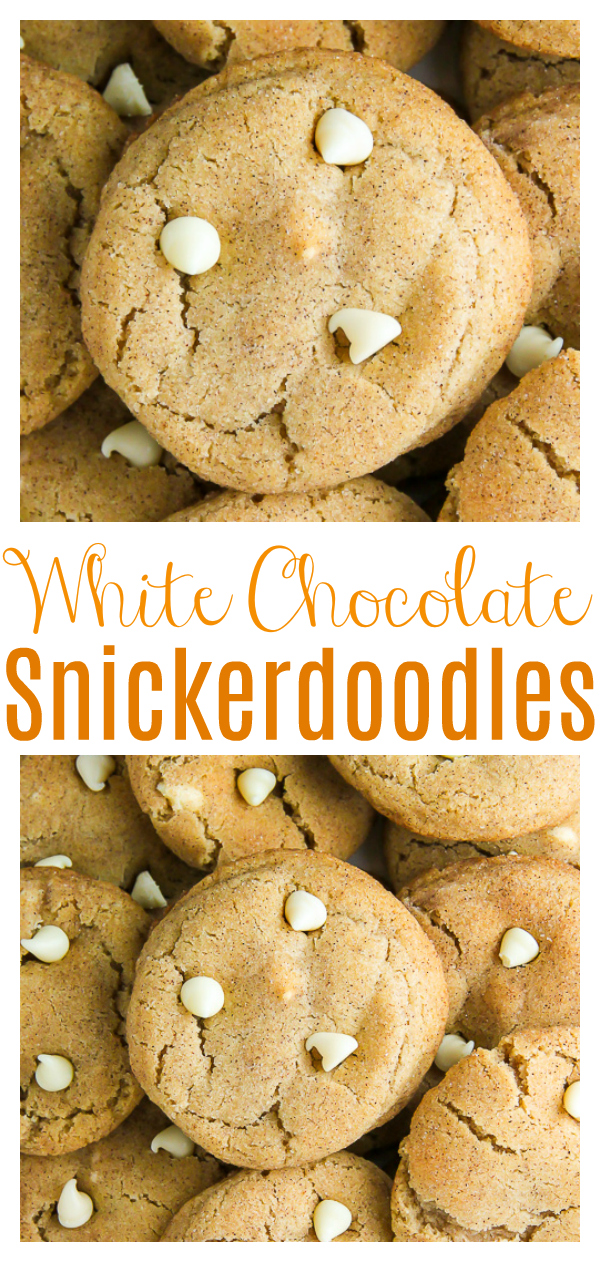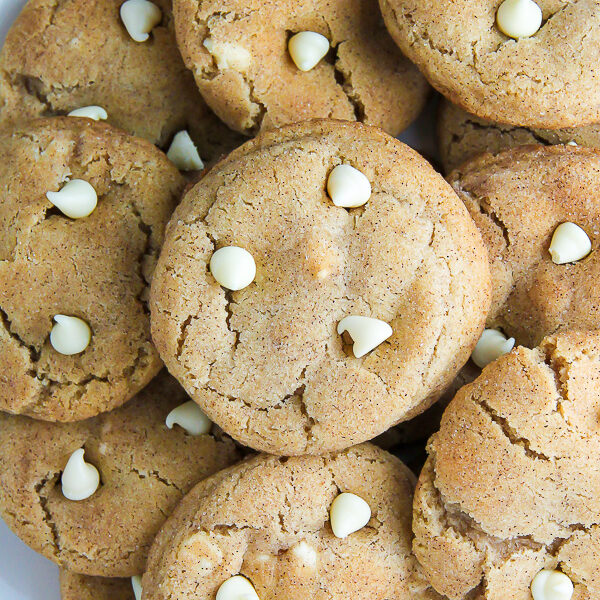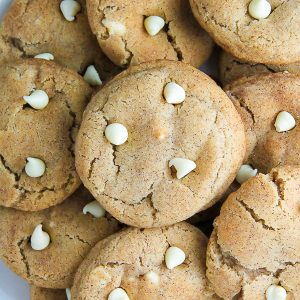 White Chocolate Chip Snickerdoodles
If you love white chocolate chips and snickerdoodles, these cookies are for you!!! So soft, chewy, and loaded with holiday flavor! The perfect snickerdoodle cookie for your holiday cookie platters!
Ingredients
For the cinnamon sugar coating:
1/3 cup granulated sugar
1 teaspoon cinnamon
For the snickerdoodle cookie dough:
1 cup (2 sticks) unsalted butter, at room temperature
1 and 1/2 cups granulated sugar
1 large egg plus 1 egg yolk
1 and 1/2 teaspoons vanilla extract
2 and 1/2 cups all-purpose flour
1 and 3/4 teaspoons cream of tartar
1 teaspoon baking soda
2 teaspoons ground cinnamon
1/4 teaspoon salt
2 cups white chocolate chips
Instructions
For the cinnamon sugar topping:
In a small bowl combine the granulated sugar and cinnamon; set aside until needed.
For the snickerdoodle cookie dough:
Preheat oven to 375 degrees (F). Line two large baking sheets with parchment paper or silicon baking sheets; set aside.

In a large bowl using a hand-held mixer or using a stand mixer fitted with the paddle attachment, cream the butter on medium speed until completely smooth, about 1 minute. Add in the sugar and continue beating on medium speed until light and fluffy, about 2 minutes. Add in egg, yolk, and vanilla and beat smooth, scraping down the sides as needed. Set bowl aside.

In a medium-sized bowl whisk together the flour, cream of tartar, baking soda, cinnamon, and salt. Slowly add the dry ingredients to the wet ingredients, all at once, and stir the dough together using a rubber spatula. Stir in the white chocolate chips. The dough will be quite thick. Stir just until combined - being sure not to over mix.

Using an ice cream scoop, melon baller, or measuring spoon, take one and a half sized tablespoons of dough from the bowl and roll it into a ball. Roll the dough ball into the cinnamon sugar topping, then transfer the ball onto prepared baking sheet. Repeat with all cookie dough. Bake cookies, one tray at a time, for 9-10 minutes. The cookies will be set at the edges and very soft. While they are still very warm, lightly press down a few white chocolate chips on top, if desired. Allow cookies to cool on the baking sheet for 10 minutes before serving warm or transferring to a wire rack to cool completely.
Notes
1) Cookies will stay fresh for 5 days when stored in an airtight container at room temperature. 2) These cookies freeze great! You can freeze the baked cookies for up to 2 months. You can also freeze the rolled cookie dough balls for 2 months. When you bake the frozen cookie dough balls, add 2 minutes to the called for bake time.