This decadent Apple Pie French Toast is always a crowd-pleaser! And it's SO much easier than baking a real apple pie.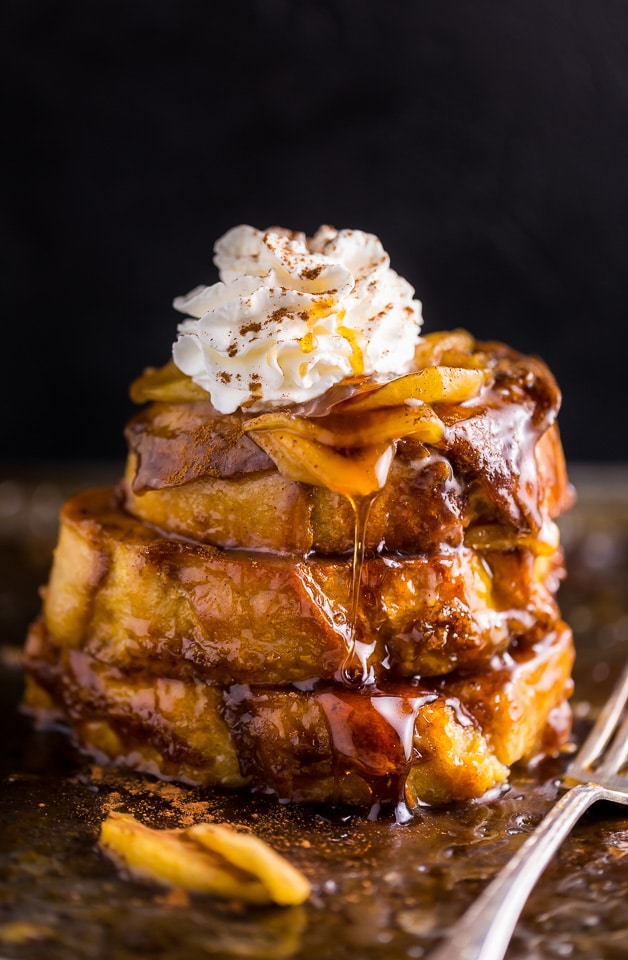 Apple French Toast Recipe
Over the weekend I asked you on Instagram stories which recipe you'd like to see next: french toast or biscotti. In the beginning, it was a close race, but by the end of the day, french toast won. And by a landslide! Over 70% of you voted for this breakfast treat (you are my kind of people!), so without further ado, I present you with APPLE PIE FRENCH TOAST!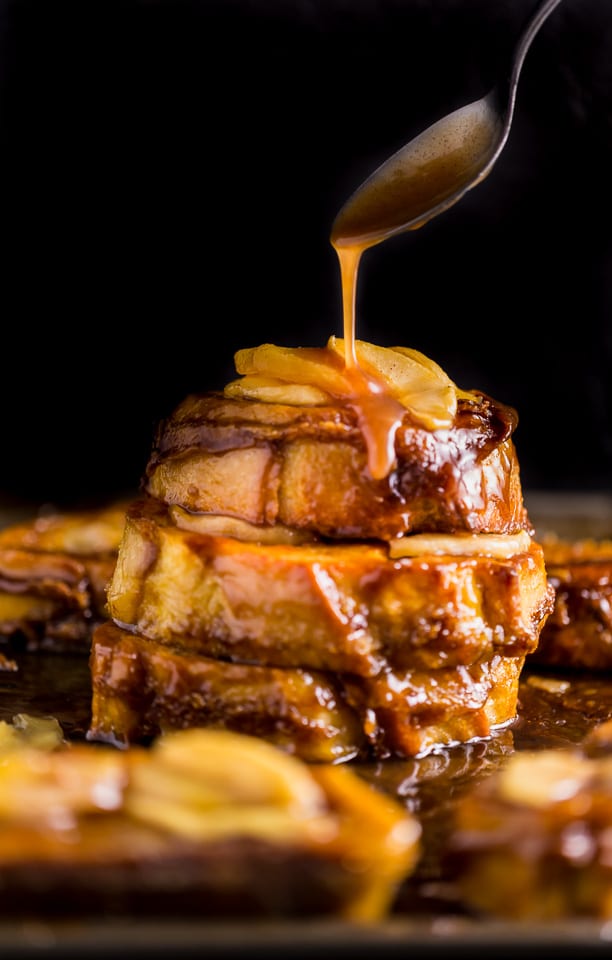 And if you voted for the biscotti, fret not my cookie loving friend! I'm sharing that recipe tomorrow. So everyone wins! But for now, let's get back to this french toast situation. Because it deserves our undivided attention 😉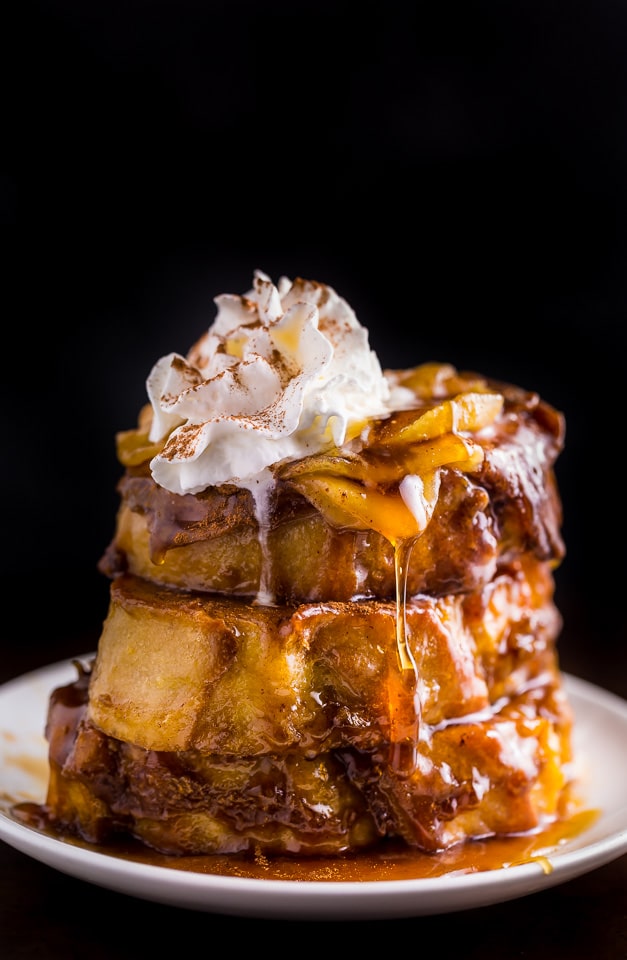 Tips and Tricks for Recipe Success:
My favorite apples to bake with are jonagold, honeycrisp, granny smith, braeburn, and pink lady. You can use all one variety, or mix it up and a use an assortment.
For best results, I suggest using French bread for this recipe, but if you can't find it, brioche is a good substitute. I don't recommend using sliced sandwich bread, because it's very thin and will get soggy as it soaks overnight.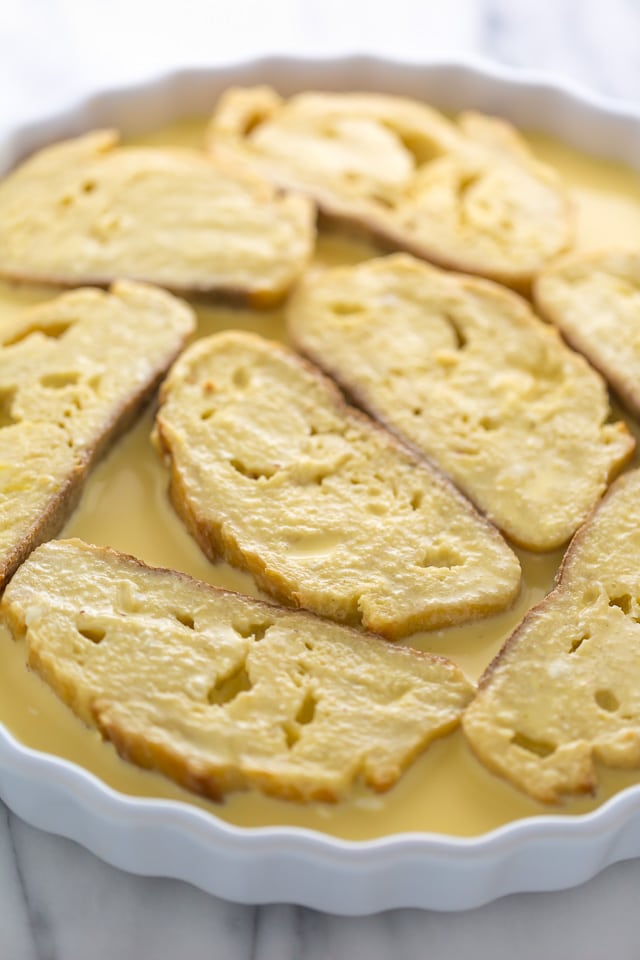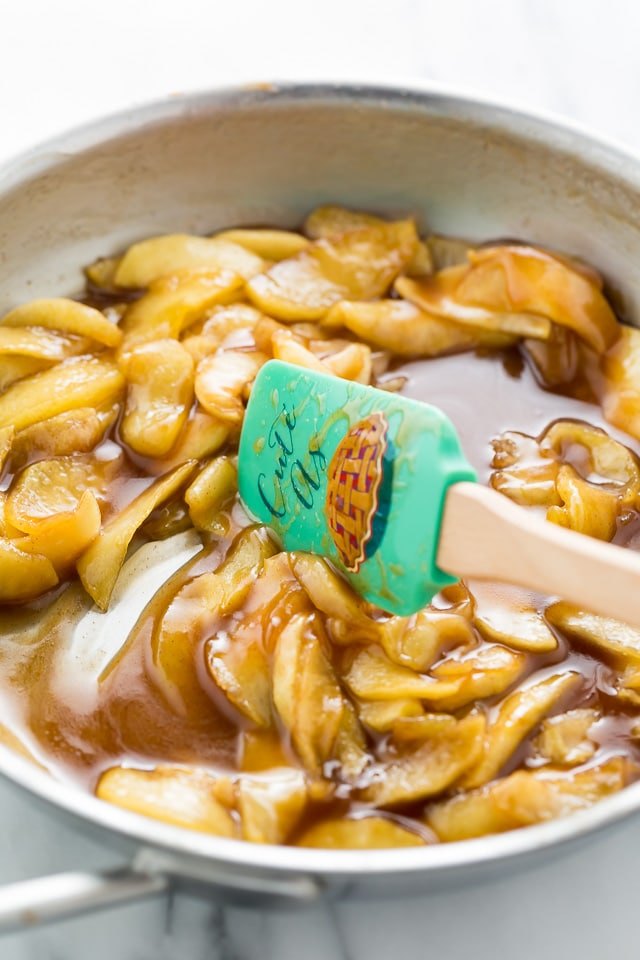 You can make 80% of this recipe ahead of time, which is perfect for busy hosts! This glass 3 Qt Baking Dish with Lid is perfect for this recipe! The super sturdy raised lid makes it easy to assemble and store stress free. And that's not a sponsored statement! I just really love it.
Once baked, this apple pie french toast is best served right away.
For an extremely decadent treat, serve with vanilla ice cream or a dollop of whipped cream!
More French Toast Recipes:
We're hosting holiday brunch this year, and you know this apple pie french toast is on the menu! Along with pecan pie french toast and cranberry cinnamon whisky sours 😉 I literally CANNOT WAIT!
If you try this recipe for Apple Pie French Toast, let me know what you think! Leave a comment below, and don't forget to snap a pic and tag it #bakerbynature on instagram! Seeing your creations makes my day.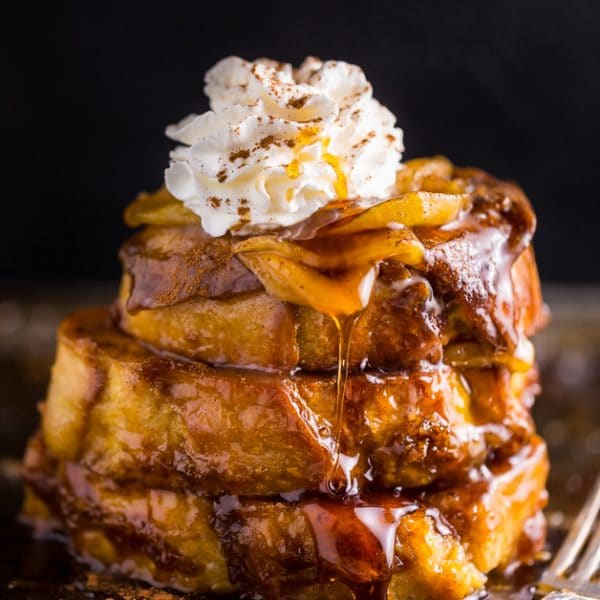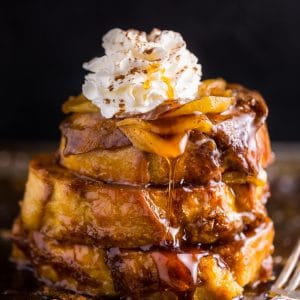 Apple Pie French Toast
This decadent Apple Pie French Toast is a holiday favorite!
Ingredients
For the French Toast:
3/4 cup (170g/6 ounces) whole milk
3/4 cup (170g/6 ounces) heavy cream
8 large eggs, at room temperature
1 tablespoon vanilla extract
1 loaf French bread, cut into 8 slices
6 tablespoons (85g/3 ounces) unsalted butter
1 cup (213g/7 and 1/2 ounces) light brown sugar, packed
1/2 cup (156g/5 and 1/2 ounces) pure maple syrup
1/2 teaspoon ground cinnamon
1/4 teaspoon salt
For the Apple Pie Topping:
5 baking apples, peeled, cored, and thinly sliced
1 teaspoon lemon juice
3 tablespoons (43g/1 and 1/2 ounces) unsalted butter
1/4 teaspoon salt
1/4 cup (50g/1 and 3/4 ounces) granulated sugar
1/4 cup (53g/1 and 7/8 ounces) light brown sugar
2 teaspoons ground cinnamon
1 tablespoon cornstarch
Instructions
For the French Toast:
In a large mixing bowl, combine the milk, heavy cream, eggs, and vanilla; beat well and set aside.

Arrange sliced bread in a large shallow bowl. Pour the liquid mixture over the bread, making sure each piece has been covered. Wrap the bowl tightly with plastic wrap and refrigerate for at least 6 hours, or overnight.

30 minutes before you're ready to bake, preheat oven to 350°F (177°C).

In a small saucepan over medium heat, melt the butter. Remove pan from heat and whisk in the brown sugar, maple syrup, cinnamon, and salt.

Spread this mixture evenly across the bottom of a 3-quart casserole dish. Carefully arrange the soaked bread on top, leaving any excess liquid behind.

Bake for 35 minutes, or until the bread is golden brown and the syrup mixture is bubbling.
While the french toast bakes, make your apple pie topping.
For the Apple Pie Topping:
In a large mixing bowl, combine the sliced apples with the lemon juice and toss well to coat. Set aside.

In a large saucepan over medium heat, melt the butter. Add the apples, salt, and both sugars and, using a silicon spatula, mix well to combine. Cook, stirring occasionally, until the apples are soft and have begun to release some of their juices, about 8 to 10 minutes. Add in the cinnamon and cornstarch, mix well, and allow mixture to thicken, about 2 minutes. Remove from heat.
To Serve:
Top each piece of french toast with a generous scoop of the apple pie topping and, if desired, a scoop of ice cream or whipped cream. Serve warm!