Fluffy Apple Pie Doughnuts are the ULTIMATE Fall treat! And so darn good with a cup of coffee.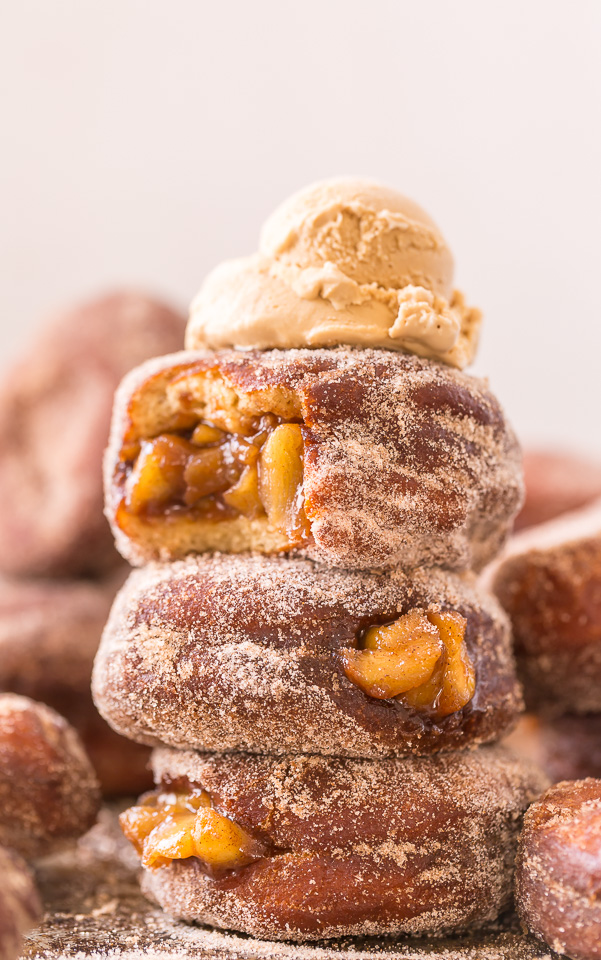 Apple Donut Recipe
Yesterday I awoke with a fierce craving for apple pie, but sadly, not enough butter in my fridge to make my foolproof all-butter pie crust. Which in our house, is a MUST if we're making pie.
And while I could have easily thrown on some shoes and ran out to stock up on butter, I decided against it and whipped up these EPIC apple donuts instead!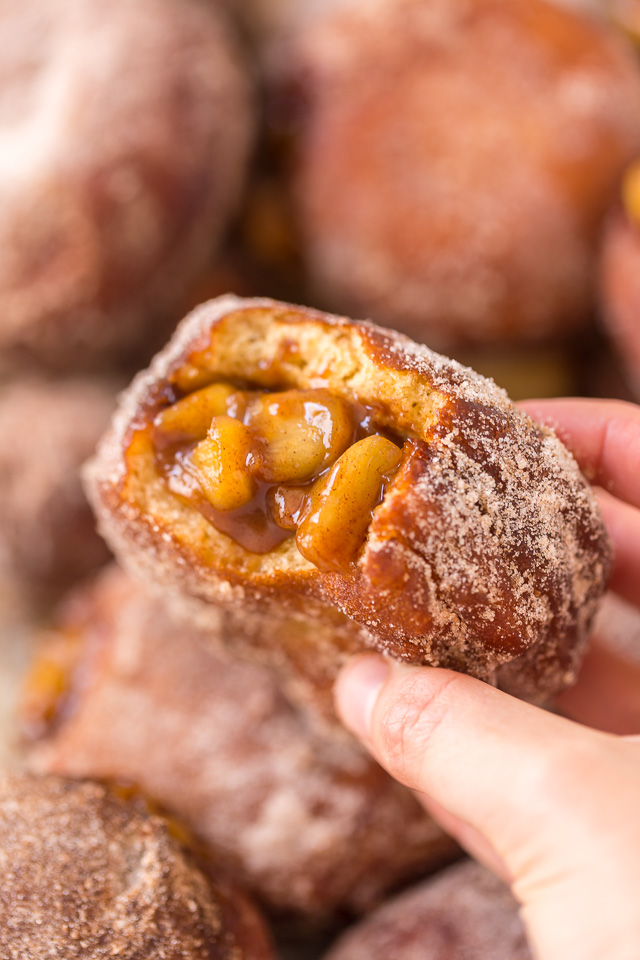 BEST DECISION EVER!!! The filling tastes exactly like apple pie. And it smells so good when it's cooking you'll be tempted to stop there and just eat it with a spoon. But trust me: you don't want to do that.
Because then you'd miss out on the fluffy brown butter apple cider donuts which house the filling! And obviously you do not want to miss out on these cinnamon sugar coated beauties ↓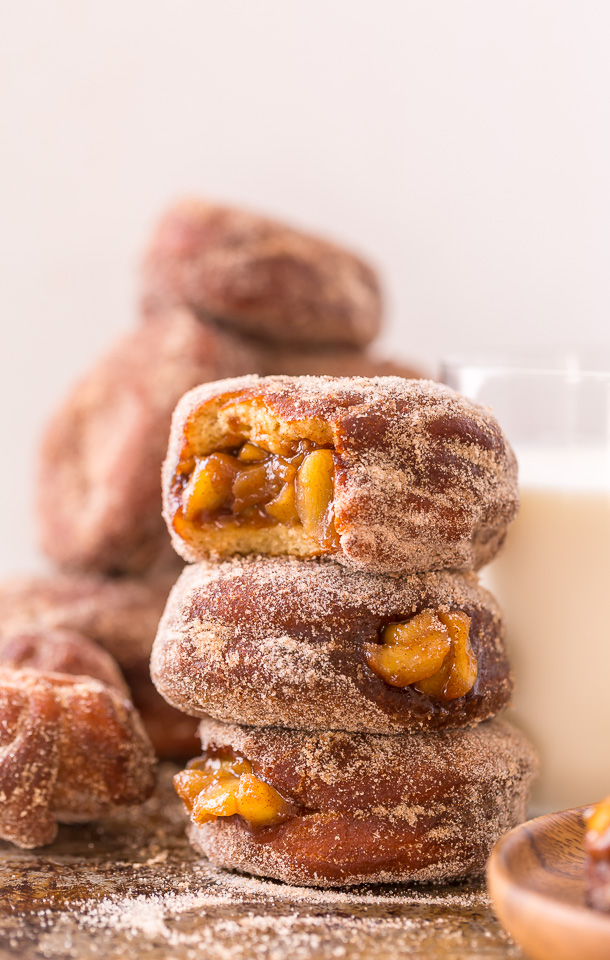 Tips and Tricks for Recipe Success: 
Because yeast does not last forever, you'll want to make sure yours is fresh and not expired. Active yeast will dissolve completely into the warm water and start bubbling after a few minutes. If this doesn't happen, your yeast is inactive and you'll need to start over with fresh yeast.
When you first add the yeast the mixture will look like this…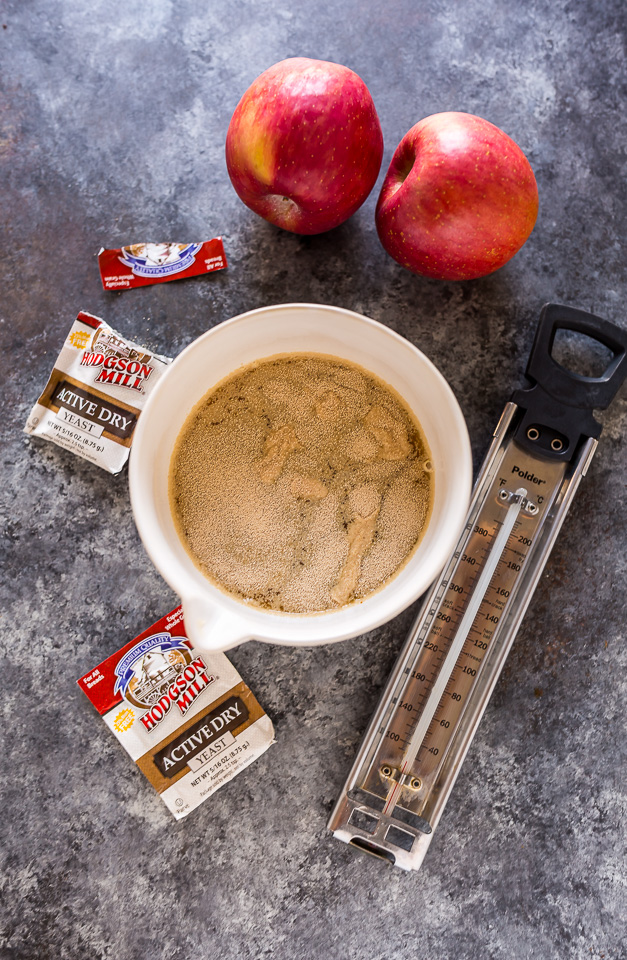 But after a few minutes, it'll bubble up and look something like this ↓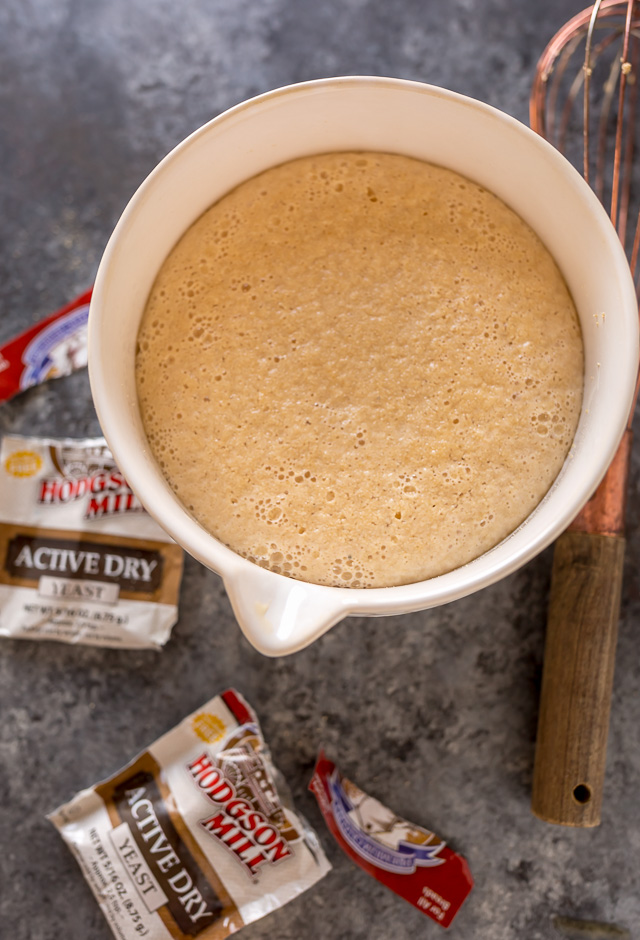 Like most yeasted doughnut recipes, this recipe requires two rises. The first rise will be the most dramatic! Your dough will start out looking quite shaggy…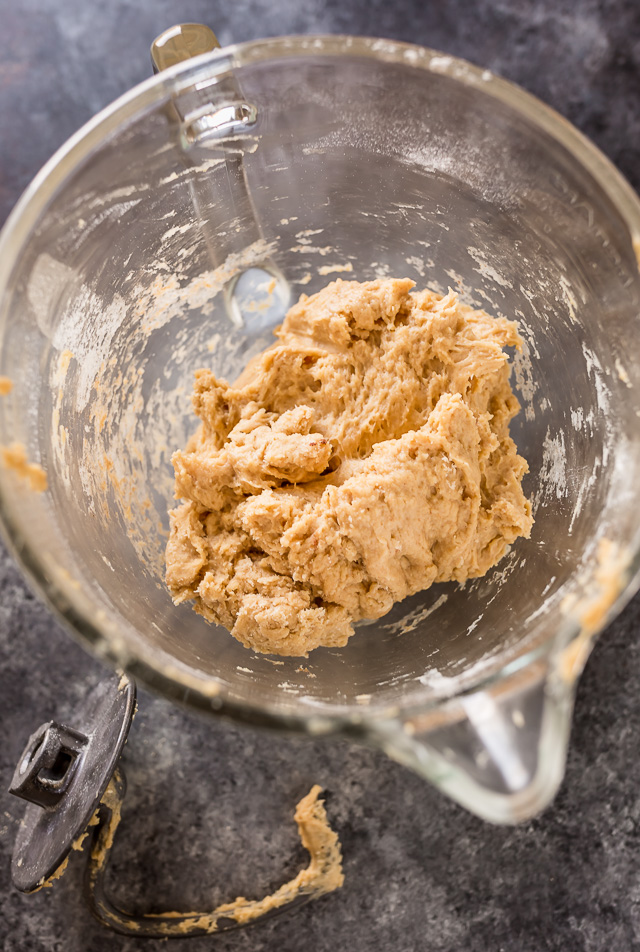 But after an hour, it'll almost triple in size!!!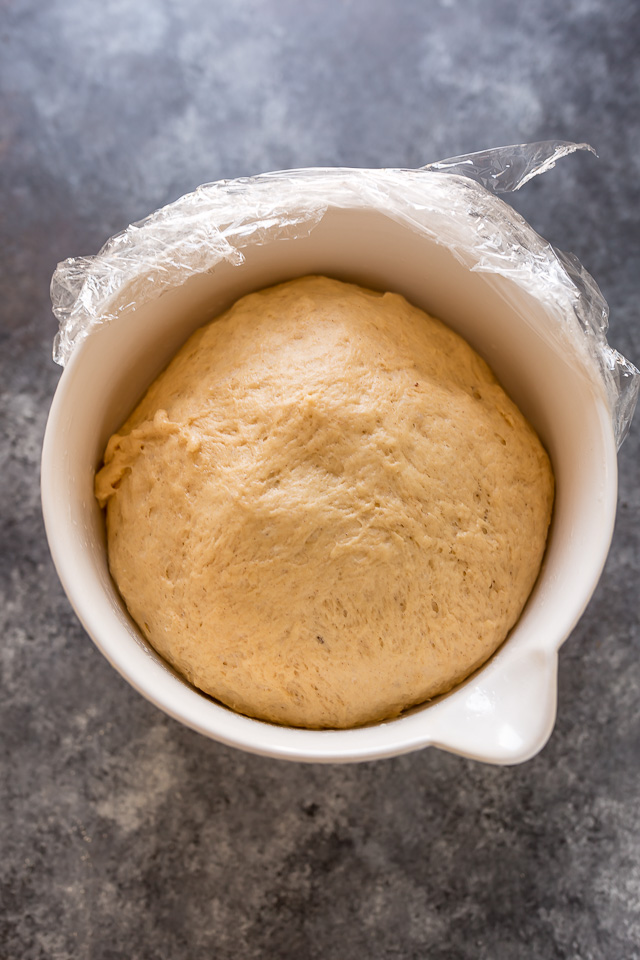 Then you'll punch the dough down, give it a quick knead, and roll it out.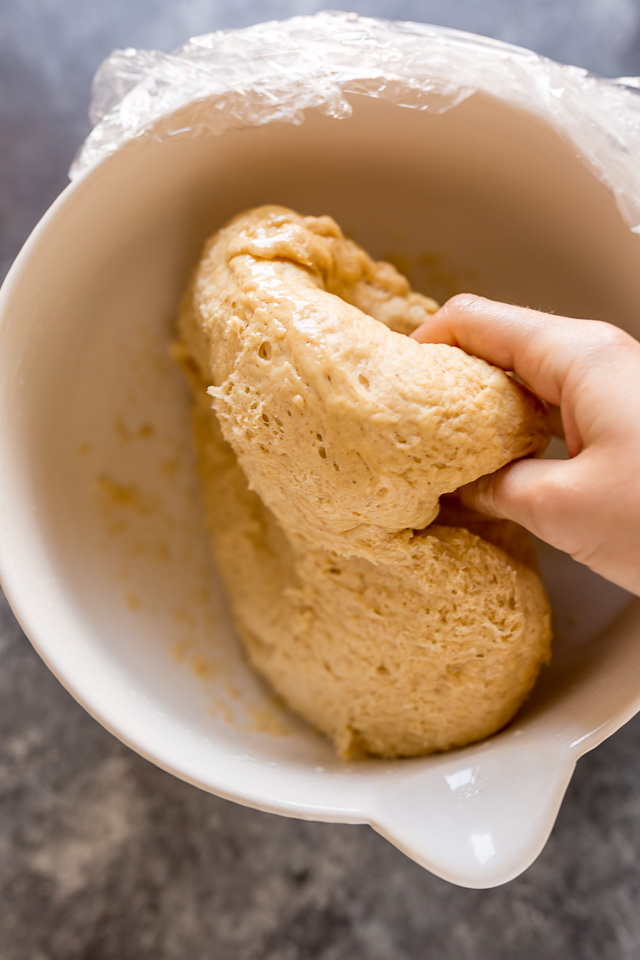 After that you'll roll the dough out and cut it into rounds. I use this cutter to do the job.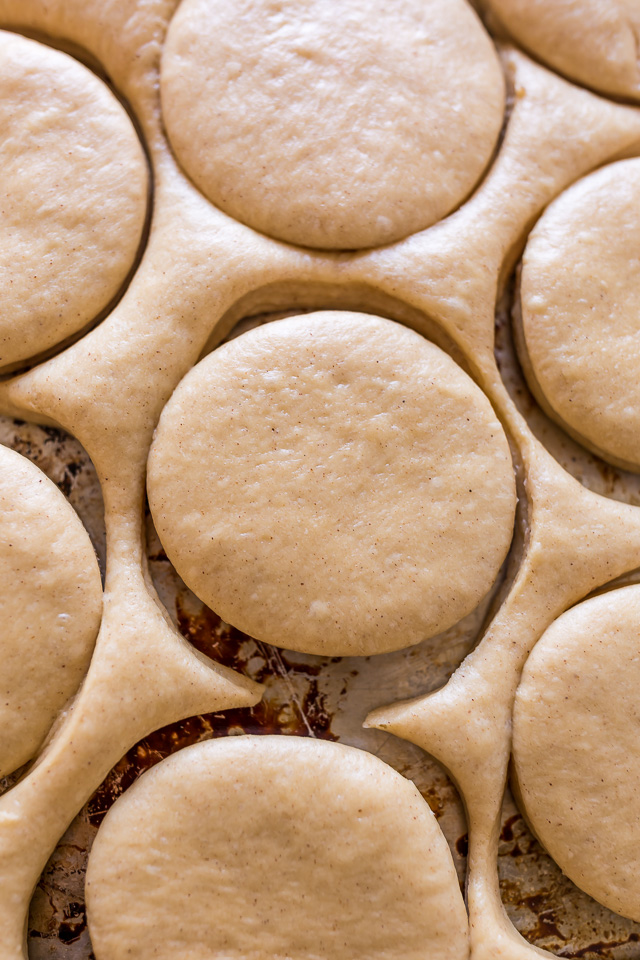 Once the doughnuts have been cut, you'll place them on a lightly oiled baking sheet and loosely cover them with plastic wrap. Then set them aside for another hour. They will almost double in size!!!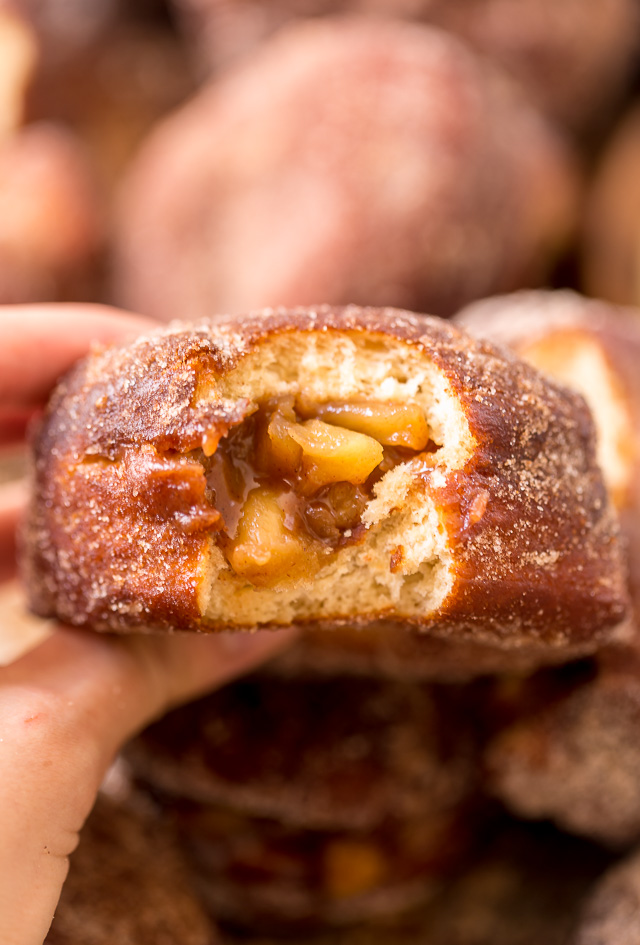 Ok, just a few more things!!!
This recipe calls for apple cider, NOT apple cider vinegar. I know that's probably a n0-brainer for most, but the two products are VERY different and I've had a few folks make this mistake in the past, so I'm being extra cautious. You'll find apple cider in the beverage section of most grocery stores. Apple juice will not work as a substitute.
You'll want to rise your dough in a warm area of your home. If your home is on the cooler side, place the bowl somewhere naturally warmer, like the top of you fridge or in a slightly warm, but turned off, oven. If your home is on the warmer side, your dough may raise a little more quickly than expected.
Use a cooking thermometer to accurately determine the temperature of liquids you're using in the recipe. For this recipe you'll want warm cider that's between 110 and 115 degrees (F). Yeast is a living organism. If the liquid in which the yeast is dissolved is too hot, it will kill the yeast cells; if it's too cold, the yeast will remain dormant and won't raise the dough. I bought my candy thermometer for 7 bucks. Worth every-single-penny, my friends!
The thermometer mentioned above will also help you control the oil temperature. For best results, you'll want to keep the oil between 360 and 365 degrees.
You'll get about 12 doughnuts from this recipe, but this will vary depending on the size cutter you use. And whether or not you re-roll the scraps. I suggest using the scraps for doughnut holes!
The apple pie filling comes together quite quickly, so no need to plan ahead too much time wise. I just recommend letting it cool to room temperature before putting it in the piping bag.
I used my finger to make a hole in the side of each doughnut (fancy, I know) and then used a piping bag and wide round tip to fill them. Easier than you might think! And fun. Messy, but fun.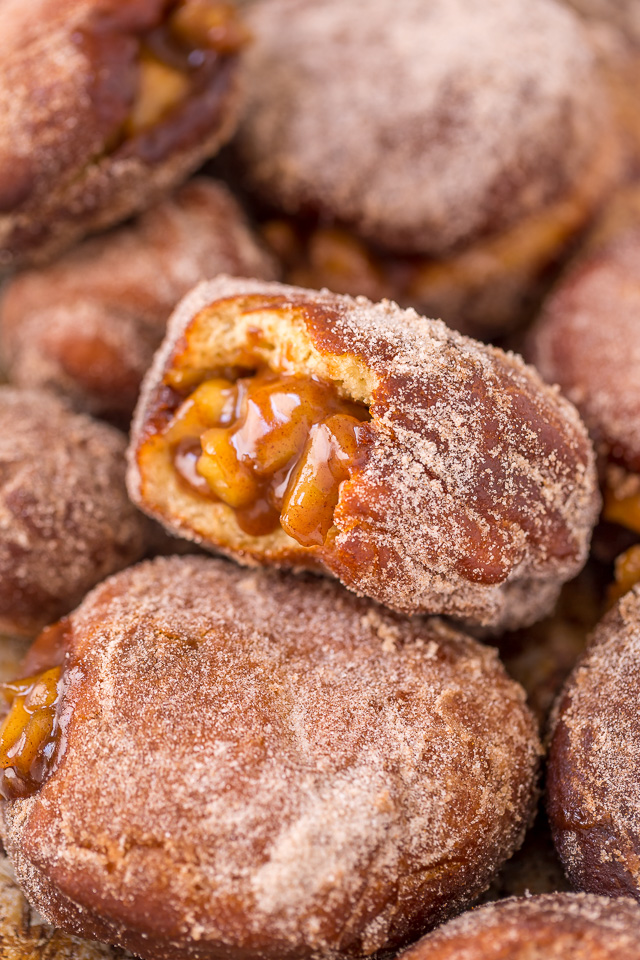 Delicious on their own, but INSANE with a scoop of salted caramel ice cream on top!!! Of course vanilla ice cream will work, too 🙂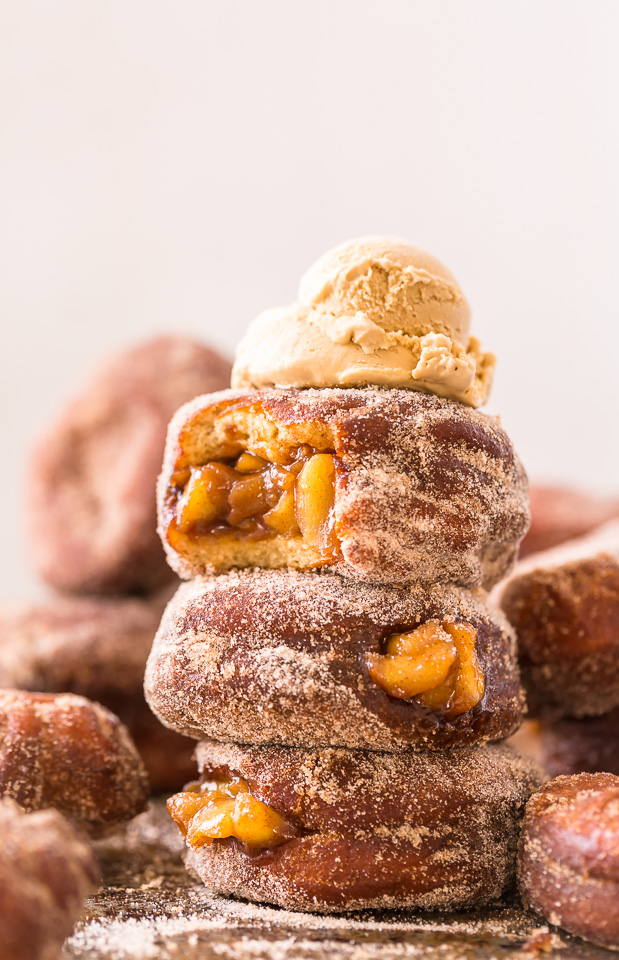 More Apple Recipes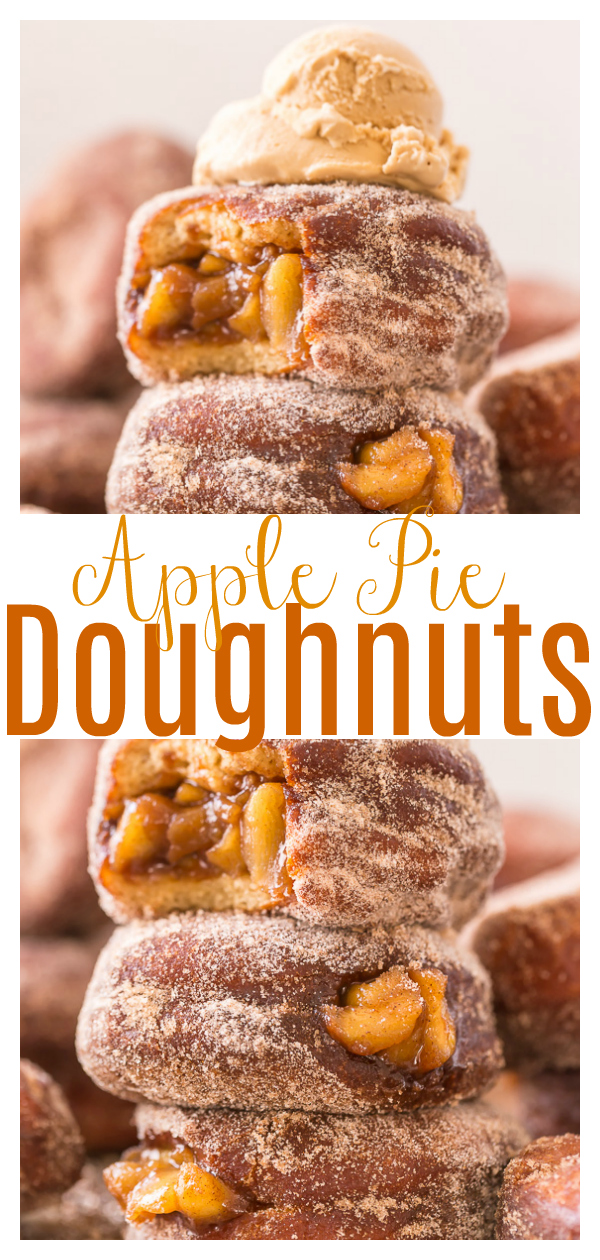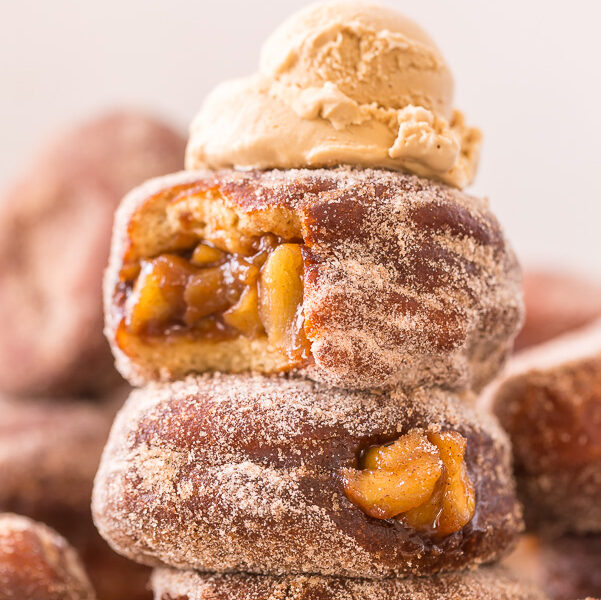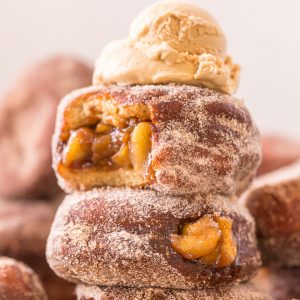 Apple Pie Doughnuts
Fat and fluffy Apple Pie Doughnuts are coated in cinnamon sugar! So good with a cup of coffee. 
Ingredients
For the Doughnuts:
2 packages (1/4 ounce each) active dry yeast
1 cup warm apple cider (110° to 115° F)
6 tablespoons unsalted butter, melted until browned
1/3 cup granulated sugar
1 large egg plus 1 egg yolk, at room temperature
2 Tablespoons whole milk
3/4 teaspoon salt
1/2 teaspoon ground nutmeg
1 teaspoon ground cinnamon
3 and 3/4 cups all-purpose flour, divided
3 cups frying oil, (I used refined coconut oil, but you may use canola or vegetable oil)
For the Apple Pie Filling:
5 large apples, peeled, cored, and diced
3 and 1/2 tablespoons unsalted butter
1/4 teaspoon salt
1/4 cup white sugar
1/3 cup light brown sugar, packed
2 teaspoons ground cinnamon
2 and 1/2 tablespoons apple cider
1/2 tablespoon all-purpose flour
For the Cinnamon Sugar Coating: 
1 cup granulated sugar
1 Tablespoon cinnamon
Instructions
For the Doughnuts:
In a small bowl combine the yeast and warm cider; set aside until it foams up, about 5 minutes.

In the bowl of a stand mixer fitted with the hook attachment, combine the melted butter and sugar, and - using a silicon whisk - mix until well combined. Whisk in the egg, egg yolk, milk, salt, nutmeg, cinnamon, yeast mixture, and 3 cups of flour, and beat on medium-low speed until smooth. Beat in remaining flour just until a soft ball of dough forms around the hook. Don't knead the dough yet! 

Transfer the dough to a large, lightly greased bowl, turning once to coat the top. Cover tightly with saran wrap and set aside to rise in a warm area until it appears to have tripled in size, about 1 hour.

Gently punch the dough down and turn it out onto a lightly floured work surface. Knead the dough into a smooth ball, about 7-8 times, or until it's uniform in texture.

Using a rolling pin, roll the dough out into a large rectangle, approximately 1/2 inch thick. Using a lightly floured round dough cutter, cut an equal amount of circles from the rectangle. 

Transfer the cut doughnuts to a large, lightly greased baking sheet, spacing them an inch a part (they will rise). Cover pan lightly with saran wrap and set aside for 45 minutes to an hour, or until the doughnuts have almost doubled in size. 

When ready to fry, heat oil in a large, heavy bottomed pot, to 360°(F). Fry doughnuts, a few at a time, for 1-2 minutes on each side, or until golden brown. 

Quickly roll the warm doughnuts in the cinnamon sugar and set aside. 
For the Apple Pie Filling:
Peel, core, and dice the apples. Set aside. 

In a large skillet over medium-heat, melt the butter and continue cooking until it's a light golden color; about 3 minutes. Add in the apples, salt, and both sugars. Cook, stirring occasionally, until apples are completely softened, about 10 minutes. Add in the cinnamon and apple cider and continue cooking until apples are soft and sticky, 1 to 2 more minutes. Stir in flour, mix well, and allow mixture to thicken; about 30 seconds. Remove from heat and set aside until needed. 
For the Cinnamon Sugar Coating:
In a medium-sized shallow bowl, combine the granulated sugar and cinnamon and set aside until needed. 
Assembly:
Scrape the apple pie filling into a pastry bag fitted with a round tip and set aside.

Using the back of a small spoon (or your finger) make a small hole on the side of each doughnut.

Carefully fit the nozzle of the bag into a doughnut and squeeze until you see the center begin to puff up. Repeat with all doughnuts. 

Donuts are best served the day they are made, but will keep for 24 hours.