Rosemary, Parmesan, and Ham Scones are perfect for breakfast or brunch! A great recipe if you have extra ham and cheese you need to use up… or an abundance of rosemary! Everyone loves these savory scones!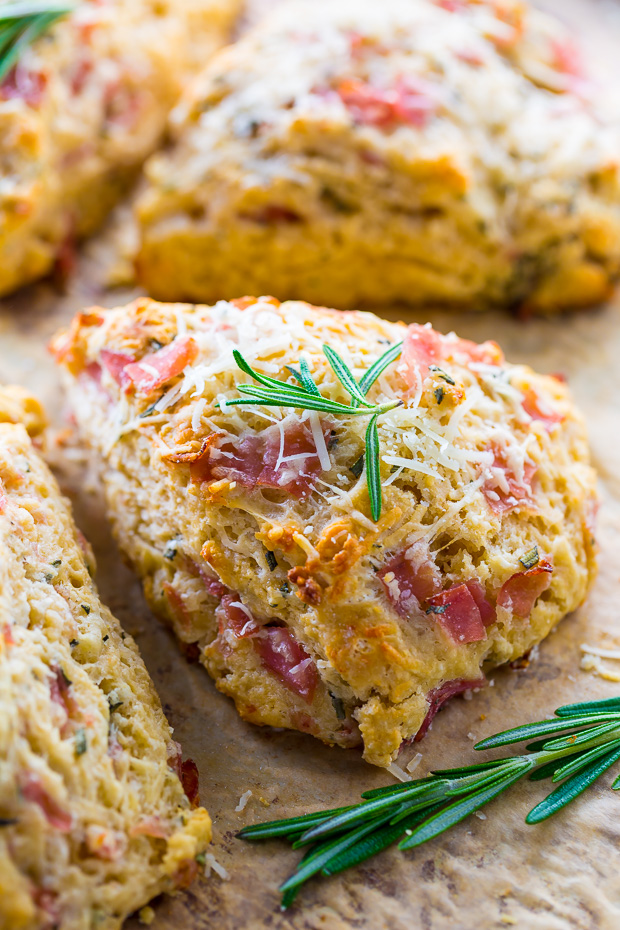 Rosemary Parmesan and Ham Scone Recipe
The older I get, the more I appreciate breakfast. It doesn't have to be anything fancy, and most mornings a slice of avocado toast and a cup of coffee will suffice. It's less about the food and more about taking a moment to stop and enjoy life before "the day" begins. Does that make sense?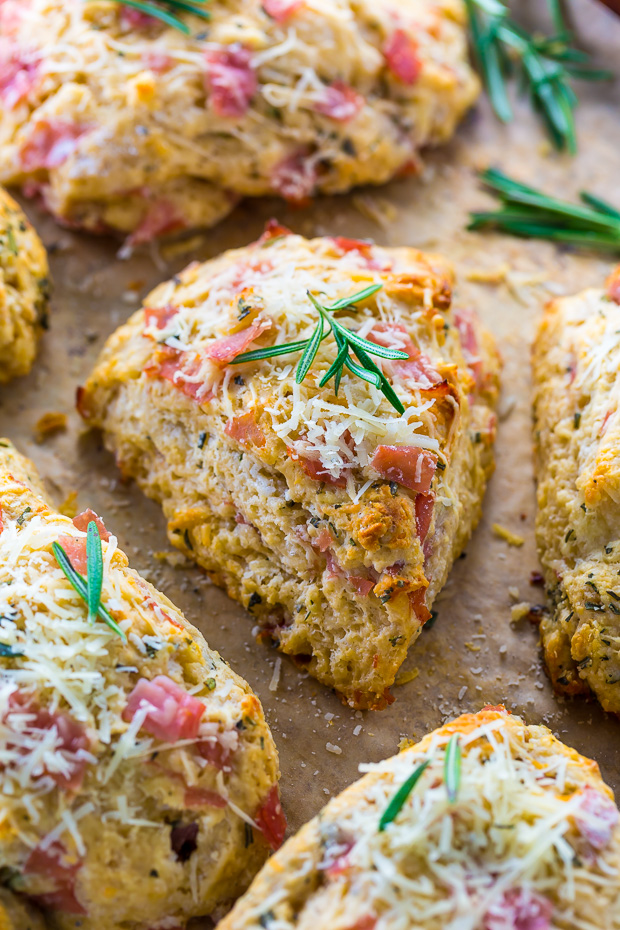 After an especially hectic week, I decided to make us an extra special breakfast to savor and share. I love these Rosemary, Parmesan, and Ham Scones for a million reasons, but here are the top 5:
They're make ahead and freezer friendly!
Each bite is exploding with flavor! If you love rosemary and parmesan, you're going to LOVE these savory scones. (You'll also love these fluffy rosemary parmesan biscuits!)
You can eat them for breakfast… brunch… or dinner! Don't you just love options?
They're sturdy enough to be packaged up and gifted. I'm not the only one who gifts scones, right?
They're adaptable! If you're not into ham, try using bacon instead. Not a fan of rosemary? Use chives! Not into Parmesan? Go ahead and use cheddar! I think you get my point.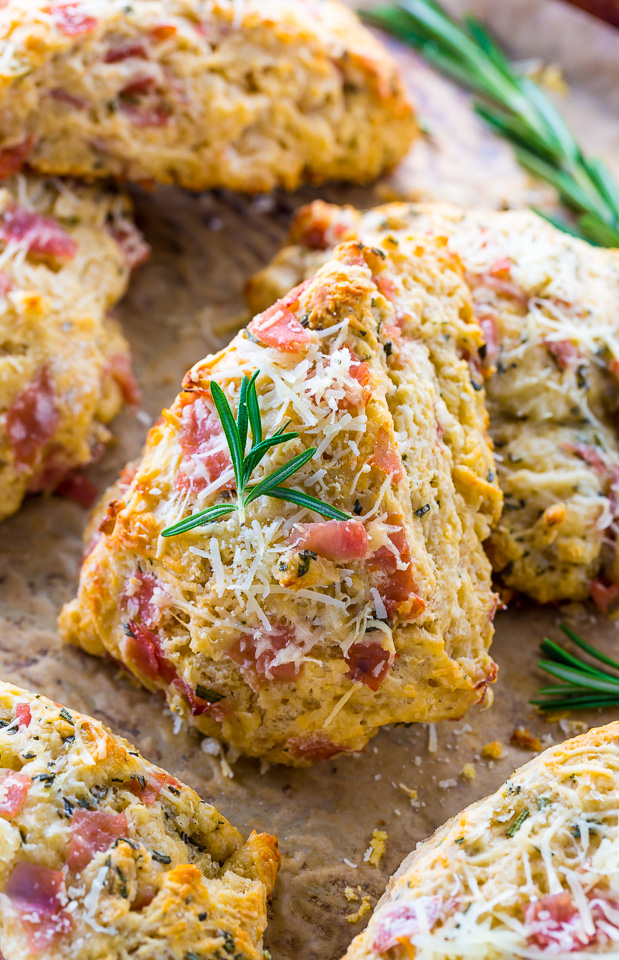 True story: I made these scones for a small brunch gathering last week and every single person in attendance asked me for the recipe! That's actually when I knew I had to make them again. If my friends rave over something, it's kind of my cue to run to the kitchen and make it for you. I also didn't mind getting to taste them again 😉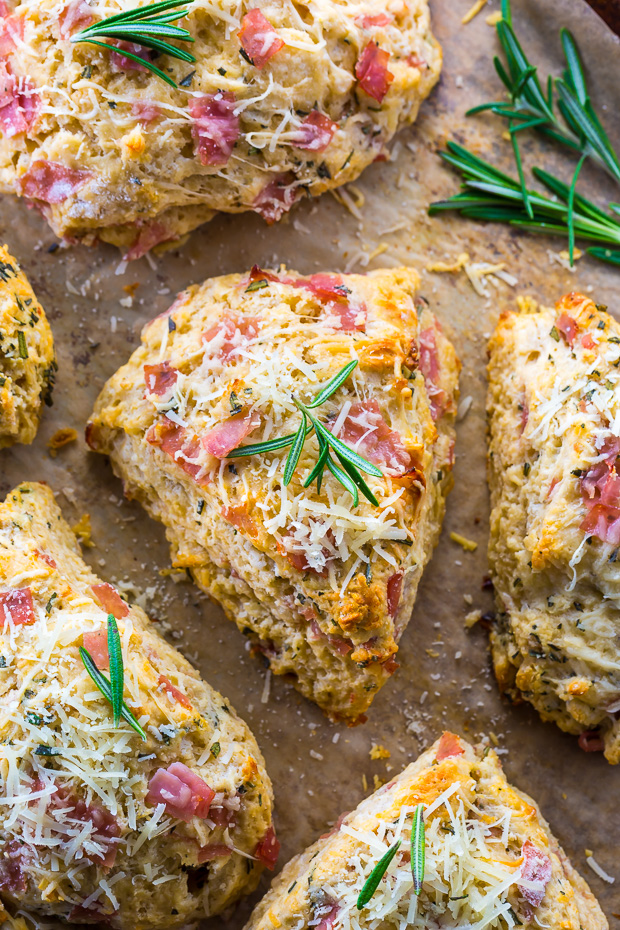 Tips and Tricks for Recipe Success:
The most important rule in the scone baking game? COLD BUTTER! I go as far as to suggest you pop your stick of butter in the freezer for a few minutes before you cut it up. Cold butter = flaky scones. Which is what we want, of course!
Use fresh rosemary! Dried rosemary just doesn't work in this recipe.
I suggest buying a block of Parmesan cheese and grating it yourself. Fresh grated cheese yields the best texture and flavor.
For the ham, I just bought lunch meat and chopped it into small bits. If you have leftover ham from Easter, I think you could use it in this recipe! Just be sure you finely chop it.
If you'd like your scones to look like the ones you see in my photos, sprinkle a little extra ham and cheese on top right before baking.

For more Savory Scone Recipes, Check Out:
If you try this recipe for Rosemary, Parmesan, and Ham Scones, let me know what you think! Leave a comment below, and don't forget to snap a pic and tag it #bakerbynature on instagram! Seeing your creations makes my day ♥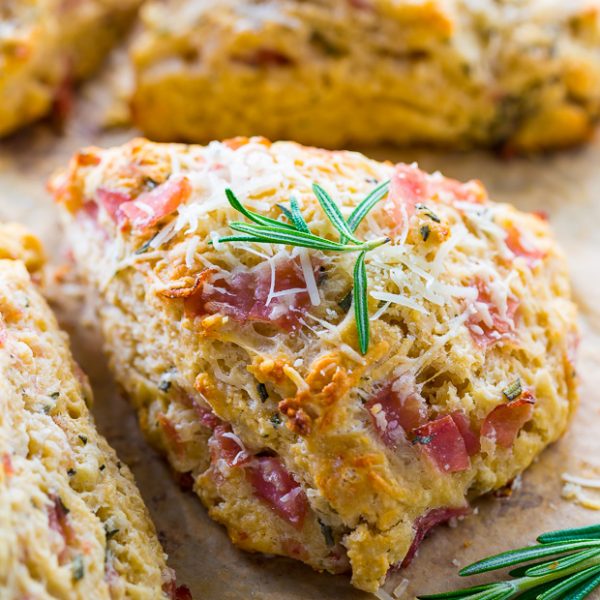 Rosemary, Parmesan, and Ham Scones
Rosemary, Parmesan, and Ham Scones are perfect for breakfast or brunch!
Ingredients
2 and 1/2 cups all-purpose flour (not packed)
1/2 teaspoon salt
1 tablespoon baking powder
1/2 teaspoon baking soda
1/3 cup light brown sugar, packed
1 stick (4 ounces) unsalted butter, VERY cold and cut into tiny pieces
1 large egg, at room temperature
3/4 cup plus 2 tablespoons whole milk (full-fat)
4 ounces Parmesan cheese, shredded
4 ounces ham, diced
1/4 cup fresh rosemary, chopped
Instructions
Preheat oven to 400°(F). Line a large baking sheet with parchment paper; set aside.

In a large bowl add the flour, salt, baking powder, baking soda, and brown sugar; mix well to combine. Cut the butter into small cubes then quickly work it into the mixture (using your fingers, two forks, or a pastry cutter) until it resembles a coarse meal. Set aside. In a small bowl whisk together the egg and milk, beating well to combine. Add the liquid mixture to dry and use a fork to stir everything together until just moistened.

Add in the Parmesan cheese, ham, and rosemary and gently fold them into dough with a spatula.

Pour the shaggy dough out onto a clean, floured work surface and shape the dough into an 8-inch circle. Cut the dough into 8 wedges and carefully transfer to the prepared sheet.

Bake for 18-20 minutes, or until the tops are lightly golden brown.

Cool for 5 minutes on the tray, then serve warm.
Notes
Add a little extra ham and cheese on top of each scone before baking if you'd like yours to look like mine do in the photos.
These scones are best eaten the day they are baked.
You can flash freeze the baked scones for up to 2 months.
You can cut and freeze the scone dough for 2 months. Add a minute or two onto the bake time if baking from a frozen state.