Better than the bakery Blackberries and Cream Donuts! So fluffy, fruity, and full of flavor! Perfect for a special breakfast at home!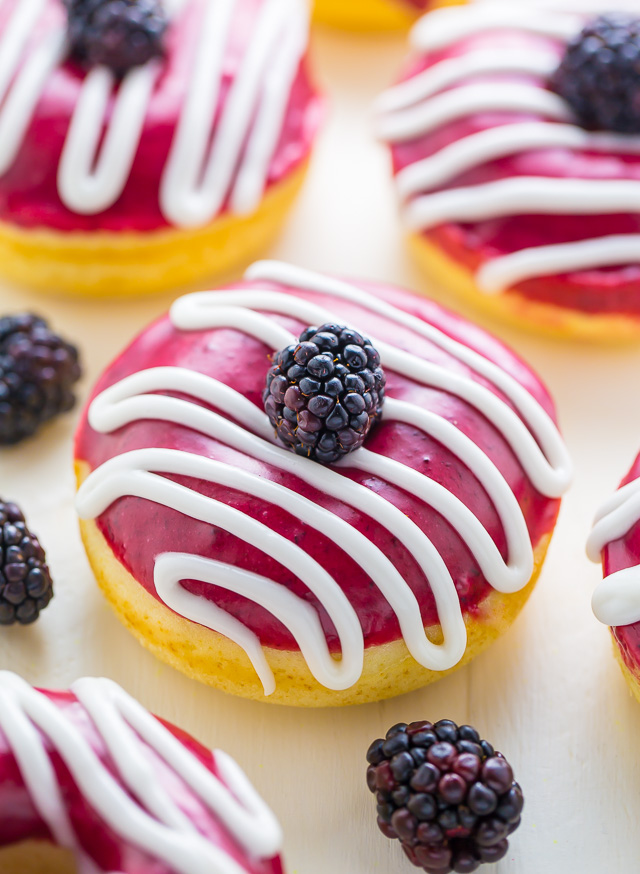 Blackberry Donuts
Say hello to the most beautiful donuts I've ever baked !
AKA blackberries and cream donuts! On top of being total eye candy these donuts are fun to make, ready in less than an hour, and SUPER delicious. They're the total package! And you can use fresh or frozen blackberries, meaning you can make these anytime of year!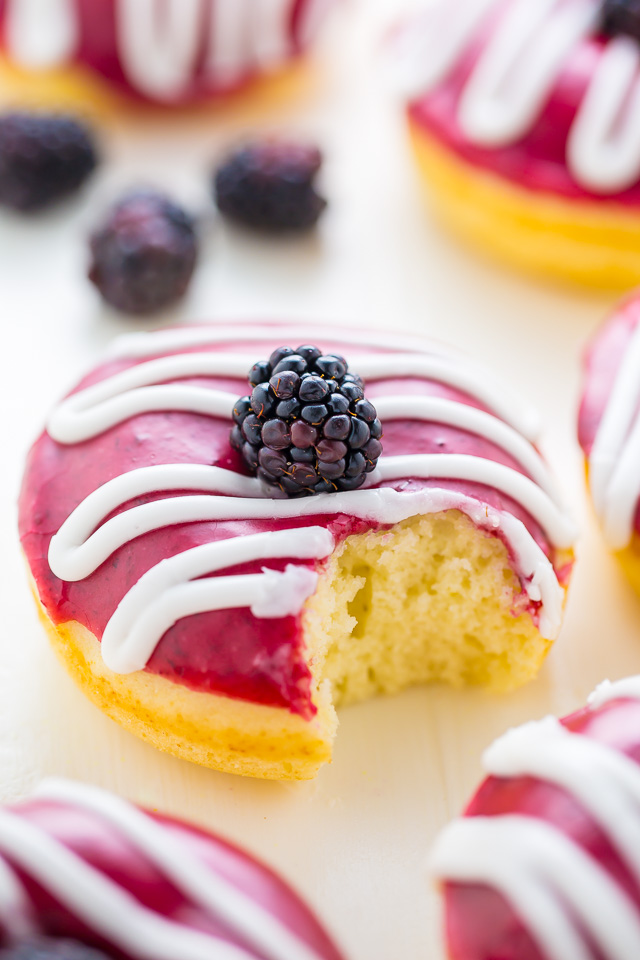 Tips and Tricks for Recipe Success:
I suggest making the blackberry puree first, so it can cool while you bake the donuts. While the blackberry puree is definitely the most complicated part of this recipe, it's not hard at all. Just be sure you stir frequently as it reduces. You want the berries to completely cook down into a thick reduction.
You'll need a fine-mesh strainer for this recipe! You'll place the strainer over a small bowl and push the puree though. You're only going to use the liquid in the bowl. You should have about 1/4 cup of liquid in your bowl. Discard any seeds/large chunks left in the strainer.
A donut pan is required for this recipe. If you don't own one, you can click here to check out the amazing (and very affordable) one I've been using for the past 5 years!
Be sure to generously grease your donut pan with butter and flour or non-stick spray. If you're using spray, I suggest using one that is made specifically for baking, since they typically have flour in them, which helps the donuts come out of the mold effortlessly. Be sure to grease every little nook and cranny.
The donut batter is pretty thick, so it can be spooned into the pan, or you can pour it into a ziplock baggie, snip of the end, and pipe it into the molds.
Don't over bake you donuts! Over baked donuts come out of the oven tough and dense… not moist and fluffy as they should be. Set a timer for 10 minutes and keep an eye on them. Once they've risen and slightly spring back when touched, they're done!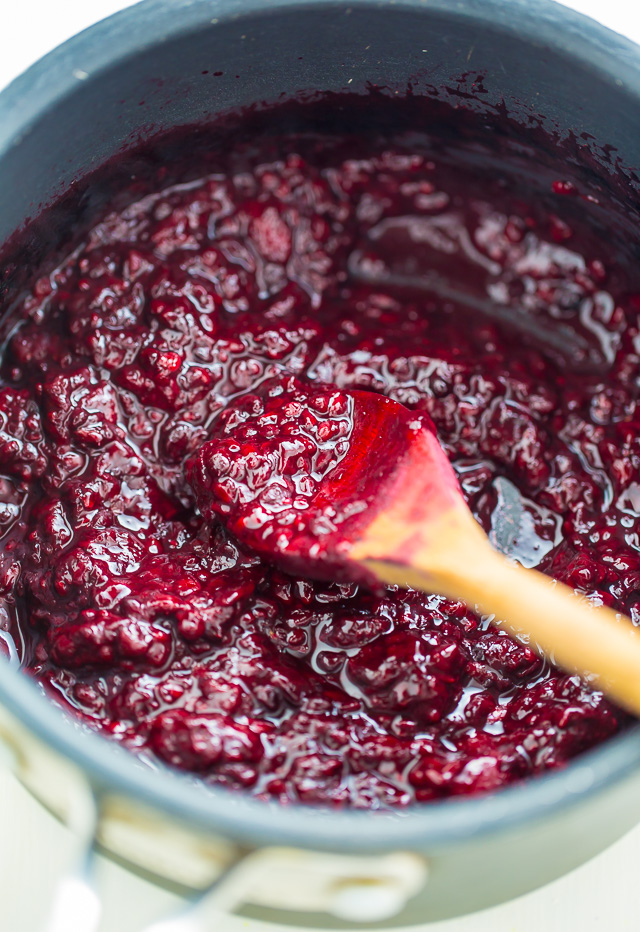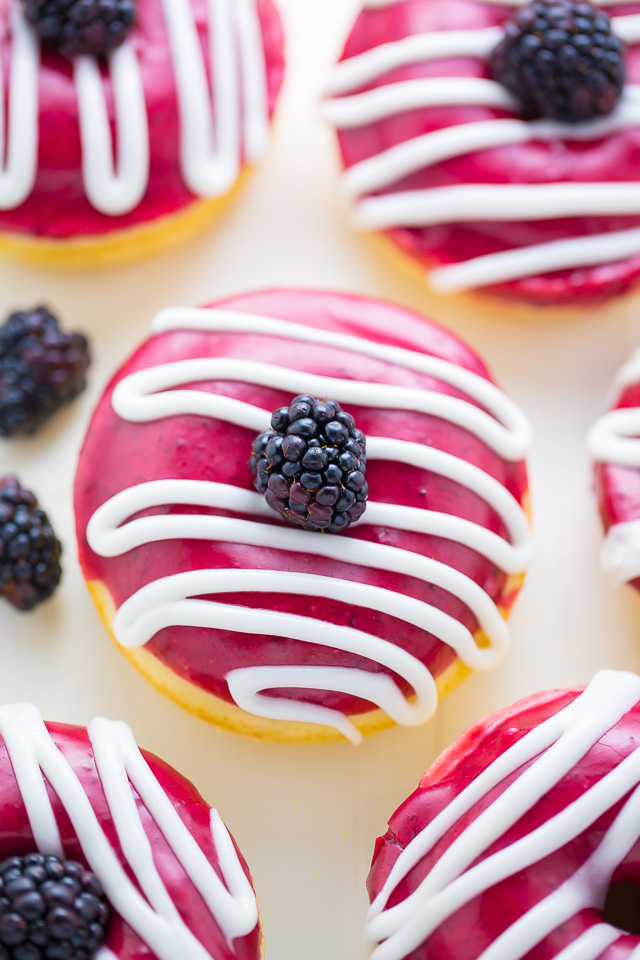 And that's it! Are you ready to get baking?
These donuts are a blackberry lovers dream come true! Bake up a batch today 😉
More Blackberry Recipes:
If you try this recipe, let me know! Leave a comment below and don't forget to snap a pic and tag it #bakerbynature on instagram! Seeing your kitchen creations makes my day.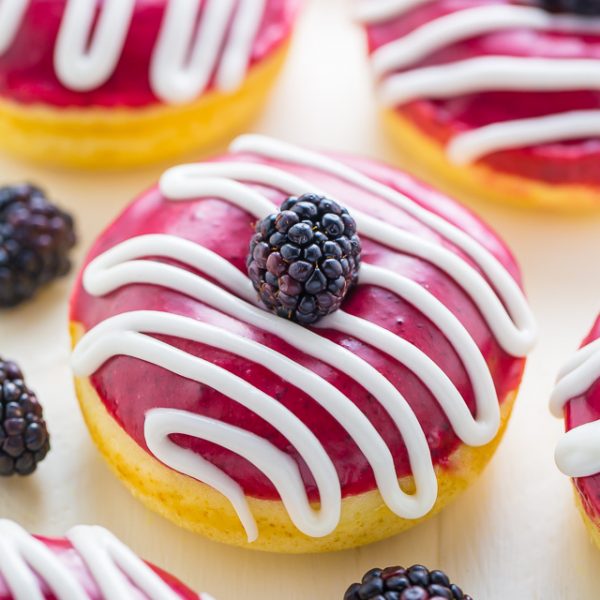 Blackberries and Cream Donuts
Baked, not fried, these beautiful blackberries and cream donuts are a must bake this Summer!
Ingredients
For the Blackberry Glaze:
1 and 1/2 cups fresh or frozen blackberries, if using frozen, do not thaw
1 tablespoon fresh lemon juice
3 cups confectioners' sugar
1 tablespoon heavy cream
1/8 teaspoon salt
For the Cream Drizzle:
1 cup confectioners' sugar
3 tablespoons heavy cream, more if needed
For the Donuts:
2 and 1/2 tablespoons unsalted butter, melted
1/2 cup granulated sugar
1 large egg, at room temperature
1 cup plus 2 tablespoons all-purpose flour
1 teaspoon baking powder
1/4 teaspoon salt
1/2 cup whole milk
Instructions
For the Blackberry Glaze:
In a small saucepan combine blackberries and lemon juice; bring to a simmer over medium heat and cook, stirring constantly and gently smashing the berries smooth, until thickened into a deep, dark blackberry reduction, about 10 to 12 minutes. Remove from heat. Place a fine-mesh strainer over a small bowl and push the puree though, leaving any seeds/large chunks behind. Allow mixture to cool at least 10 minutes before using.

Transfer blackberry puree to a large bowl. Add in the confectioners' sugar, heavy cream, and salt and whisk smooth. If the glaze appears too thin, add in a little more confectioners' sugar; if the glaze appears too thick add in a little more cream.
For the Cream Drizzle:
In a small bowl combine the confectioners' sugar and heavy cream, whisk smooth. Add more cream if needed to reach proper consistency. It should hold its shape but be thin enough to drizzle.
For the Donuts:
Preheat oven to 350 degrees (F). Generously grease a 6-mold donut pan and set aside.

In a large bowl combine melted butter and sugar; whisk well to combine. Beat in the egg and set aside. In a separate bowl combine the flour, baking powder, and salt. Add the dry mixture into the wet mixture and stir just until combined. Whisk in the milk until combined. Be sure not to over mix your batter or the donuts will come out dry! Divide the batter evenly among the prepared molds (you may scoop the batter with a spoon or you may pour it into a ziplock bag, snip off one end, and pipe it into the molds). Bake for 10 minutes, or until the donuts have risen and spring back lightly when pressed. Cool donuts in the pan for 10 minutes before transferring to a cooling rack.
Assembly:
Dip each donut in the blackberry glaze; set aside. Pour cream drizzle into a ziplock bag and snip off a very small piece of one corner. Drizzle the cream glaze in a zigzag pattern over the top of each donut. Place a blackberry in the center of each donut and serve!