Thick and chewy, these Brown Butter Chocolate Chip Snickerdoodles are the ultimate holiday cookie!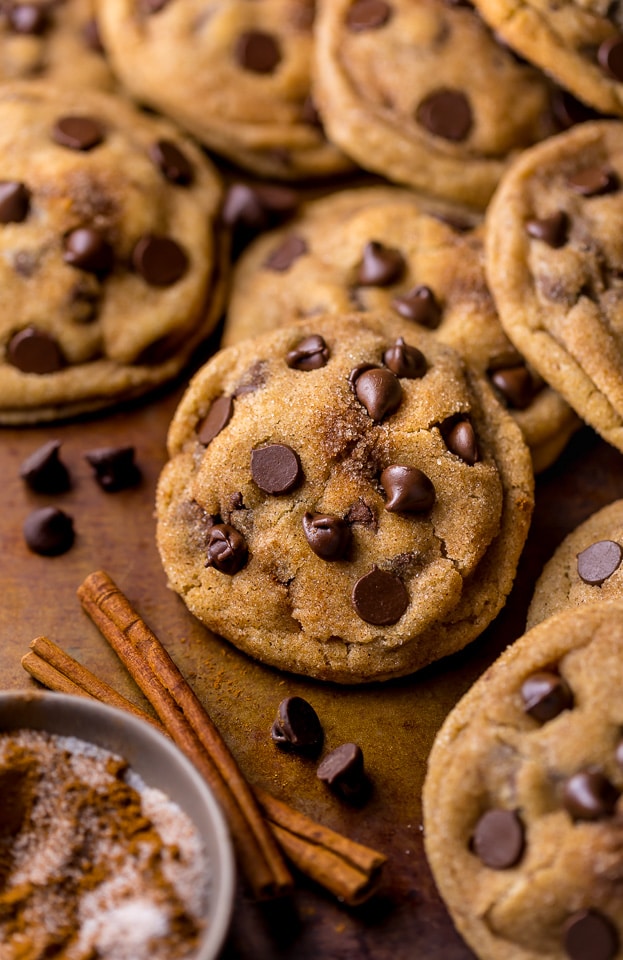 Chocolate Chip Snickerdoodles
I've been on a cookie kick lately, and with Christmas just weeks away, I see no end in sight! So get ready for an explosion of new cookie recipes. And stock up on butter, sugar, eggs, and flour while you're at it! Because you'll certainly need them if you want to keep up 😉
And today's recipe for brown butter chocolate chip snickerdoodles requires all of those ingredients, plus cream of tartar, baking soda, salt, cinnamon, and chocolate chips!
Only 9 ingredients and you're on your way to eating this ↓
Snickerdoodle Cookie Recipe
Tips and Tricks for Recipe Success:
First of all, allow me to ask you a question: do you know how to brown butter? If you do, feel free to skip this lecture. But if you don't, I've got you covered! Browning butter is insanely simple and I'm going to walk you through each step! To brown butter you'll need a skillet or saute pan, butter, and a little patience. You'll melt the butter as normal, then continue to cook it over medium heat – stirring occasionally – until it reaches a golden brown color. Watch your butter closely as it browns, because it can burn easily! Once it's nice and golden brown, remove it from the heat and pour it into a heatproof bowl – being sure to scrape all of the golden bits off the bottom of the pan. And that's it! Easy, right?
Because the brown butter must come back to room temperature before using it in the cookie dough, you'll want to plan ahead time wise. It will take about 2 hours.
The good news? Although the butter must chill, the cookie dough does not! You can just roll and bake.
These cookies only need 9 to 10 minutes to bake, depending on your oven. So be sure you don't over bake them! When you pull them from the oven they should be set at the edges, but still a little soft in the centers. The cookies will firm up as they cool.
For extra chocolatey cookies, press a few chocolate chips on top as soon as they come out of the oven.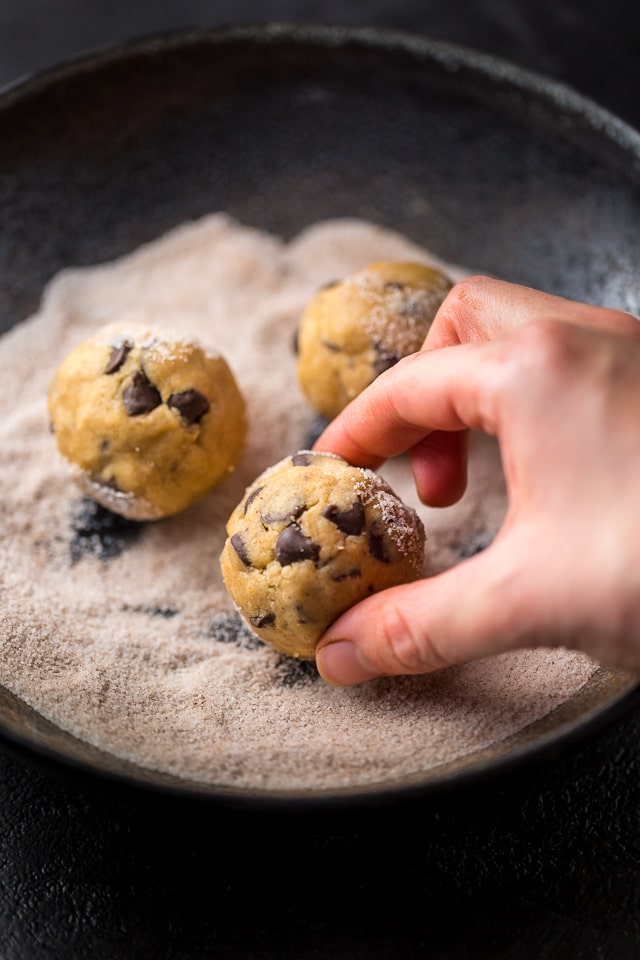 While these cookies are delicious on their own, they're extra enjoyable with a warm Winter beverage like cocoa, coffee, or chai tea! You know… for dunking 😉 Enjoy!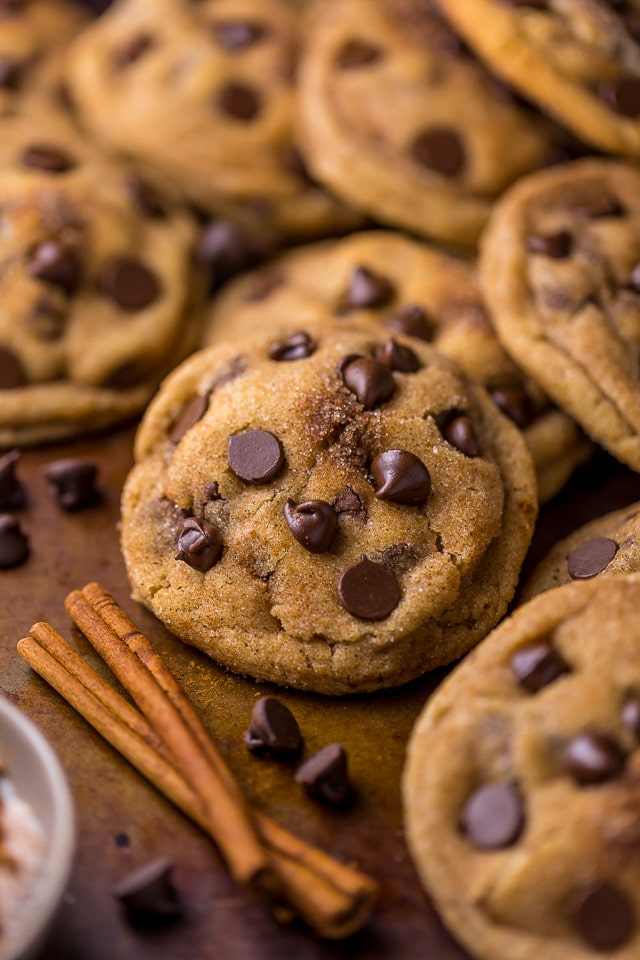 And I'll see you tomorrow with a brand new breakfast recipe! (Hint: PANCAKES).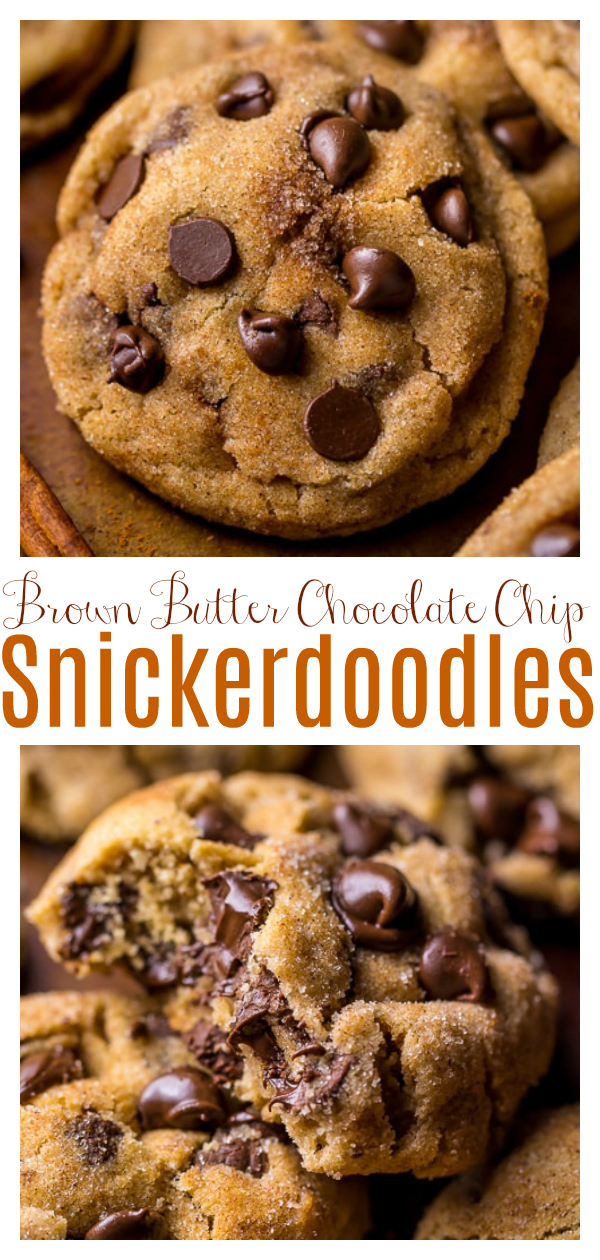 More Snickerdoodle Recipes:
If you try this recipe for Brown Butter Chocolate Chip Snickerdoodle Recipe, let me know! Leave a comment below and don't forget to snap a pic and tag it #bakerbynature on instagram! Seeing your kitchen creations makes my day. ♥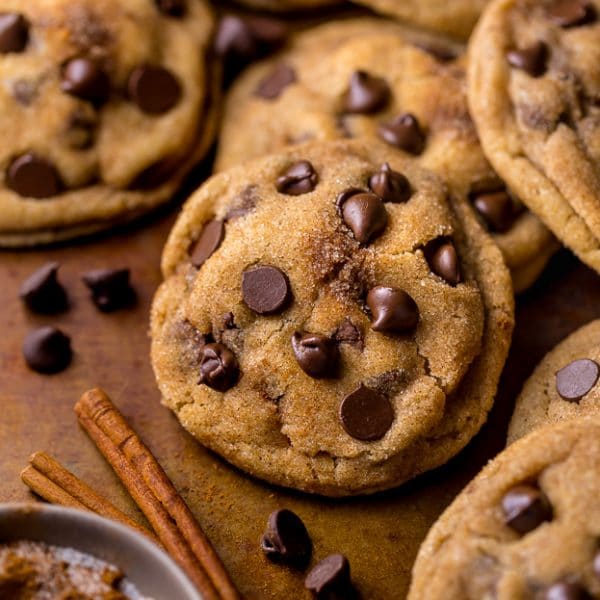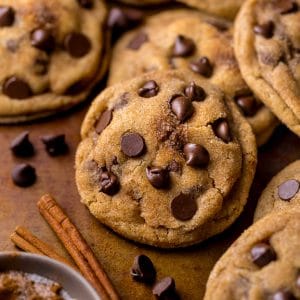 Brown Butter Chocolate Chip Snickerdoodles
Thick and chewy, These Brown Butter Chocolate Chip Snickerdoodles are the ultimate holiday cookie!
Ingredients
For the Cinnamon Sugar Coating:
1/3 cup (74g/2 and 5/8 ounces) granulated sugar
1 teaspoon cinnamon
For the Chocolate Chip Snickerdoodle Cookie Dough:
1 cup (227g/8 ounces) unsalted butter, melted until browned, then brought back to room temperature
1/2 cup granulated sugar
1 cup light brown sugar, packed
1 large egg plus 1 egg yolk, at room temperature
1 teaspoon vanilla extract
2 and 1/3 cups all-purpose flour
1 teaspoon cornstarch
2 teaspoons cream of tartar
1 teaspoon baking soda
2 and 1/2 teaspoons ground cinnamon
1/4 teaspoon salt
2 cups (340g/12 ounces) semi-sweet chocolate chips
Instructions
For the Cinnamon Sugar Coating:
In a small bowl, combine the granulated sugar and cinnamon; set aside until needed.
For the Snickerdoodle Cookie Dough:
Cut the butter in tablespoons and place them in a heavy saucepan over medium heat. Once the butter has melted, reduce the heat to low and continue cooking, until the solids sink to the bottom of the pan and turn golden brown, about 10 minutes. Remove from heat, pour browned butter into a small bowl, cover, and refrigerate until solidified, about 2 hours.

Preheat oven to 375°F (129°C). Line two large baking sheets with parchment paper and set them aside.

In the bowl of a stand mixer fitted with the paddle attachment, or in a large bowl using a hand-held electric mixer, beat the butter on medium speed until completely smooth, about 1 minute. Add in both sugars and continue beating until light and fluffy, about 2 minutes. Add in the egg, egg yolk, and vanilla and beat smooth, scraping down the sides as needed.

In a medium mixing bowl, whisk together the flour, cornstarch, cream of tartar, baking soda, cinnamon, and salt. With the mixer on low speed, gradually add the dry ingredients to the wet ingredients, mixing just until the dry ingredients are incorporated. Beat in the chocolate chips. Be sure not to over mix the dough!

Using an ice cream scoop, melon baller, or measuring spoon, scoop out one and a half sized tablespoons of dough from the bowl and roll it into a ball. Roll the dough in the cinnamon sugar topping, then transfer the ball onto a prepared baking sheet. Repeat with all cookie dough.

Bake cookies, one tray at a time, for 9-10 minutes, or until they're set at the edges but still soft in the center. Allow cookies to cool on the baking sheet placed on top of a wire rack for 10 minutes before serving warm, or transferring to a wire rack to cool completely.