Brown Butter Chocolate M&M Oatmeal Cookies are thick, chewy, and doesn't require any chilling! Meaning you could be eating them in less than 30 minutes. Loaded with oats, chocolate chunks, and colorful M&M candies, these are always a huge hit!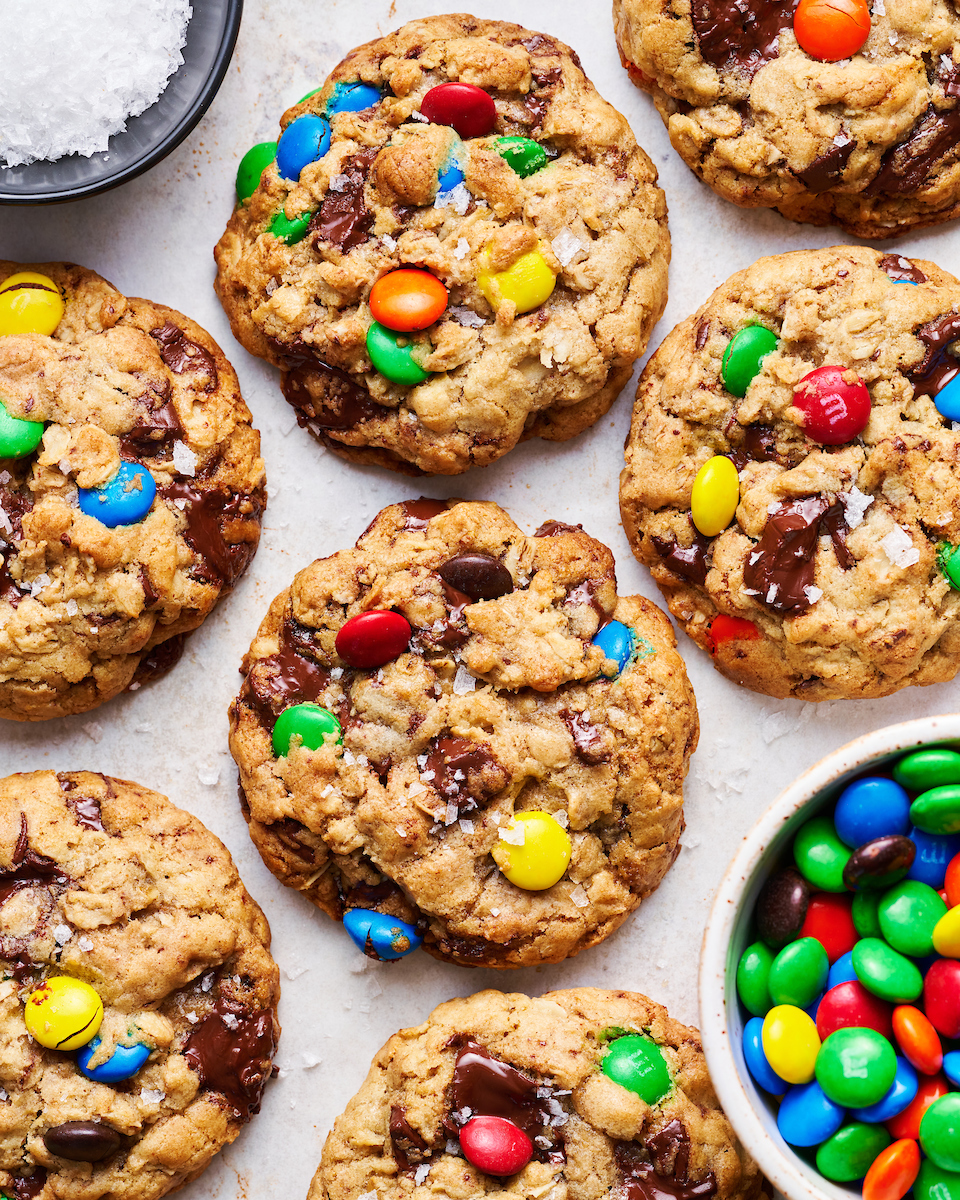 M&M Oatmeal Cookies
Say hello to the cookies I CANNOT stop making! I swear, these cookies have fueled me through writing a cookbook, birthing a baby, and many a late night feeding sessions with said baby. At this point, I feel like I'm in a serious relationship with these cookies… and that I'm cheating on them if I don't make them at least once a week.
And I just couldn't keep this love affair a secret. Obviously I had to share them with you! So that you can thank me/curse me for becoming equally obsessed. Because YOU will become obsessed. Trust me!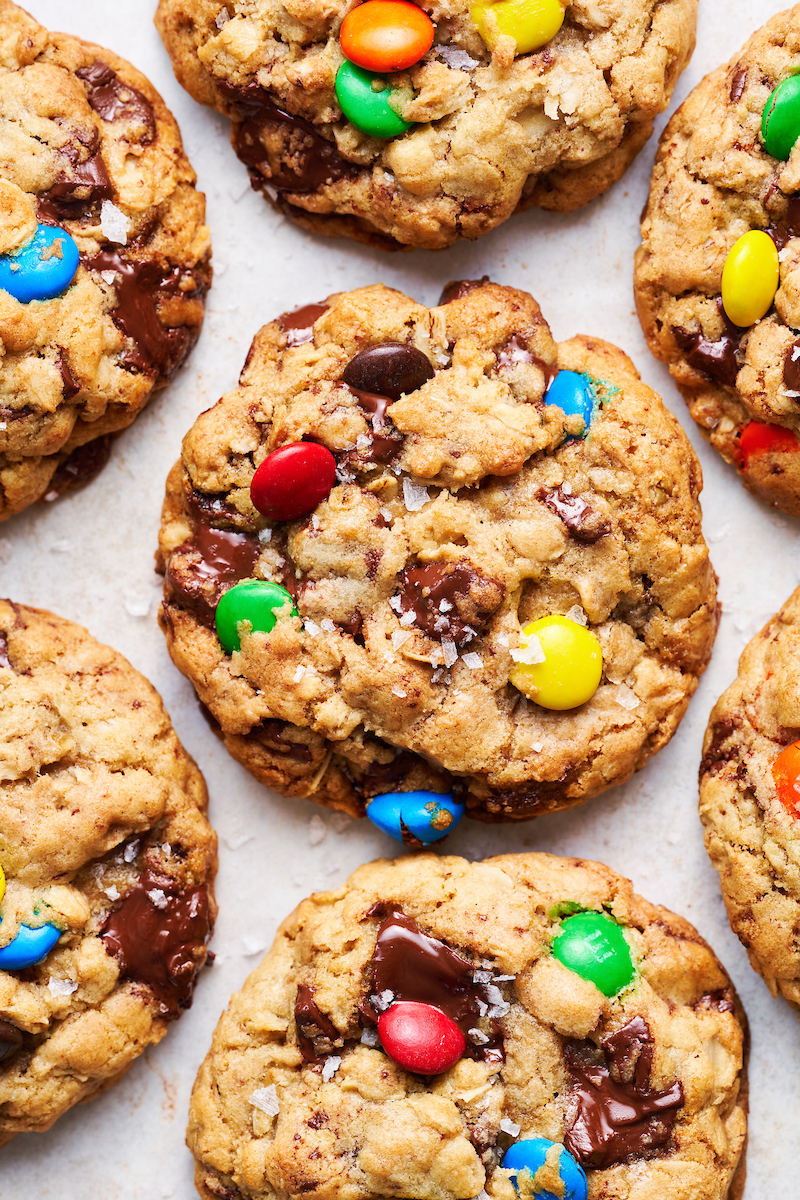 Let's Talk Ingredients and Substitutions
One of the main things I love about these cookies? They're made with basic pantry staples I always have on hand! Here's what you'll need to make M&M oatmeal cookie magic happen in your kitchen:
Butter: Unsalted butter, that you'll brown! The brown butter adds so much flavor, so don't skip this step. If all you have is salted butter, simply skip the salt called for in the recipe and carry on.
Sugar: Brown sugar and granulated sugar! This combination adds depth of flavor and gives the cookies the perfect crunchy/chewy texture. Don't mess with this combo.
Flour: For best results, weigh the flour with a digital kitchen scale. Or, fluff it up in the container and lightly spoon it into the measuring cup. Don't pack it in there! Or your cookies will be dry!
Baking soda: Be sure it's fresh!
Vanilla: A whole tablespoon. Trust me!
Oats: Be sure to use old-fashioned oats, NOT instant oats or quick oats.
Cinnamon: Adds the most subtle but delightful flavor. Not a fan? Skip it!
Eggs: You'll need 2 large eggs and an egg yolk. The egg yolks gives the cookies extra chew, and should not be skipped. Be sure your eggs are at room temperature.
Chocolate: I love using dark chocolate chunks! But feel free to use white chocolate, milk chocolate, or even chocolate chips.
M&M Candies: If you're making these around the holiday season, use seasonally colored ones for a fun twist!
And Sea Salt: So this is totally optional! But I love a sprinkle of flaky Maldon on top of these cookies. It really balances out the sweetness and makes them look so pretty.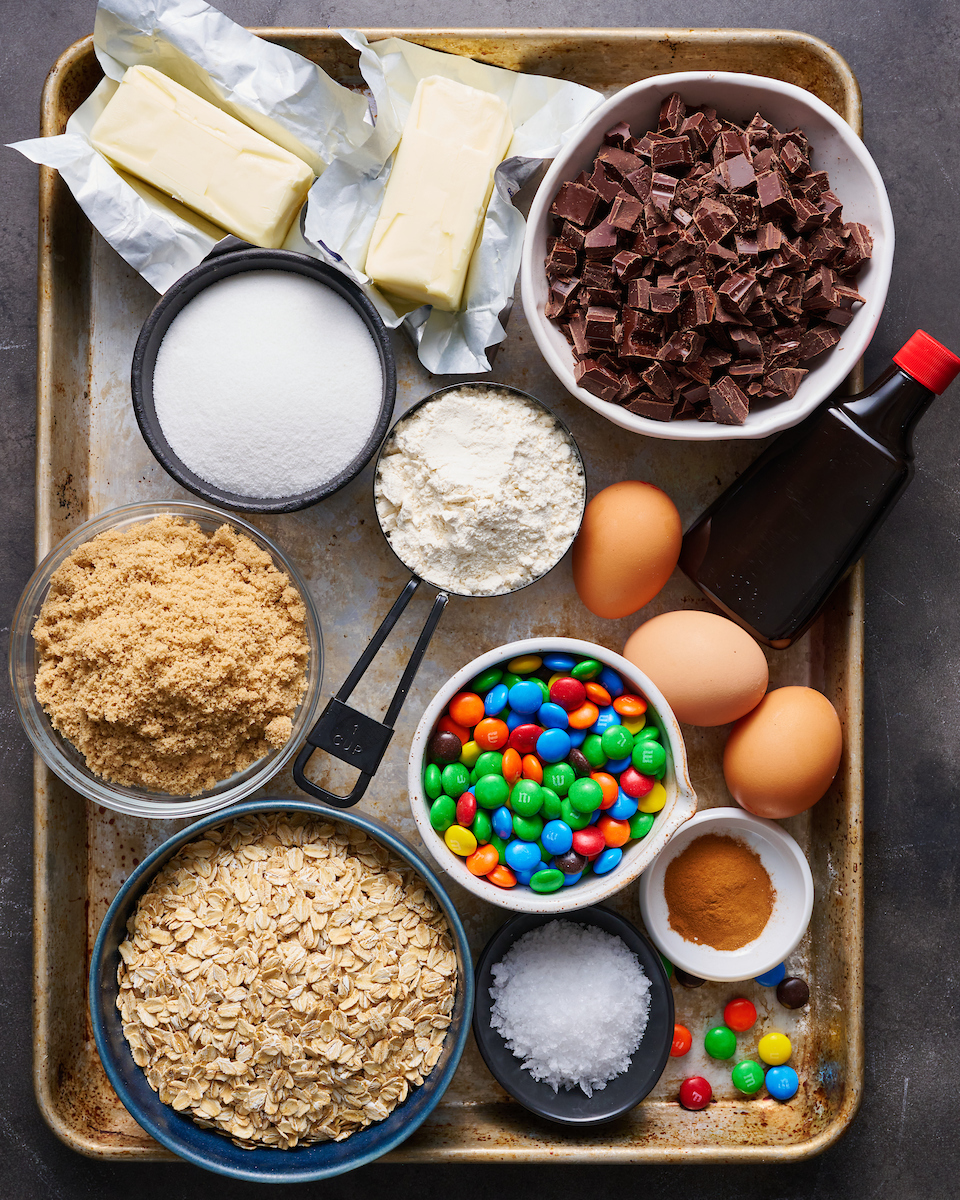 Making the Dough
The cookie dough comes together quickly and requires no chilling! The most time consuming part is browning the butter. But even that's pretty darn easy. And after that step, it's just stirring a bunch of ingredients together, rolling the cookie dough into balls, and baking! Be warned, the dough is a little thick, so don't fret if it takes a little work rolling it into a cohesive ball. This is normal!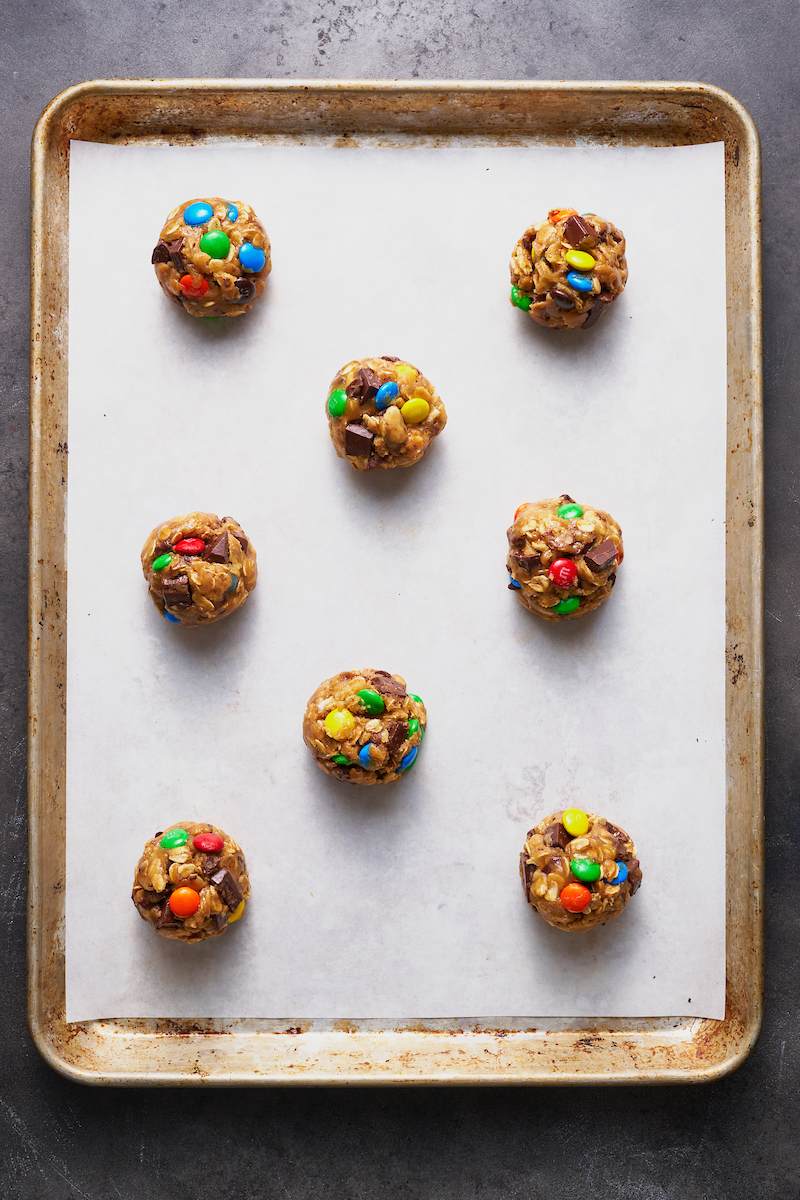 Baking the Cookies
Don't over bake your cookies! They only need 10 to 11 minutes in the oven. And it's ok if they still look soft in the center when they come out of the oven. They'll continue to cook as they cool on the baking sheet, and firm up an incredible amount in about 30 minutes.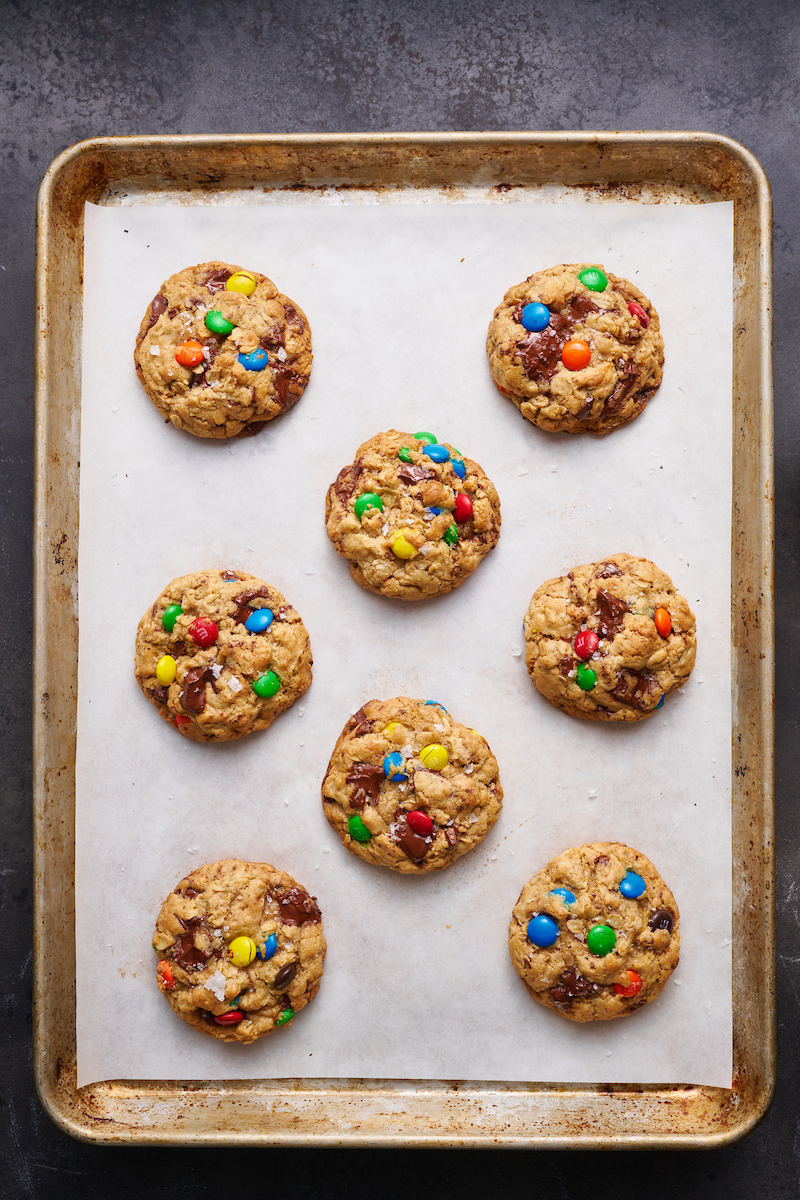 Can I make the cookie dough in advance?
This cookie dough is best baked right away, but if you really want to make it in advance, you can store it in the fridge for up to 48 hours. Let it sit at room temperature for about 30 minutes before scooping and baking. Or until the dough is soft enough to easily scoop!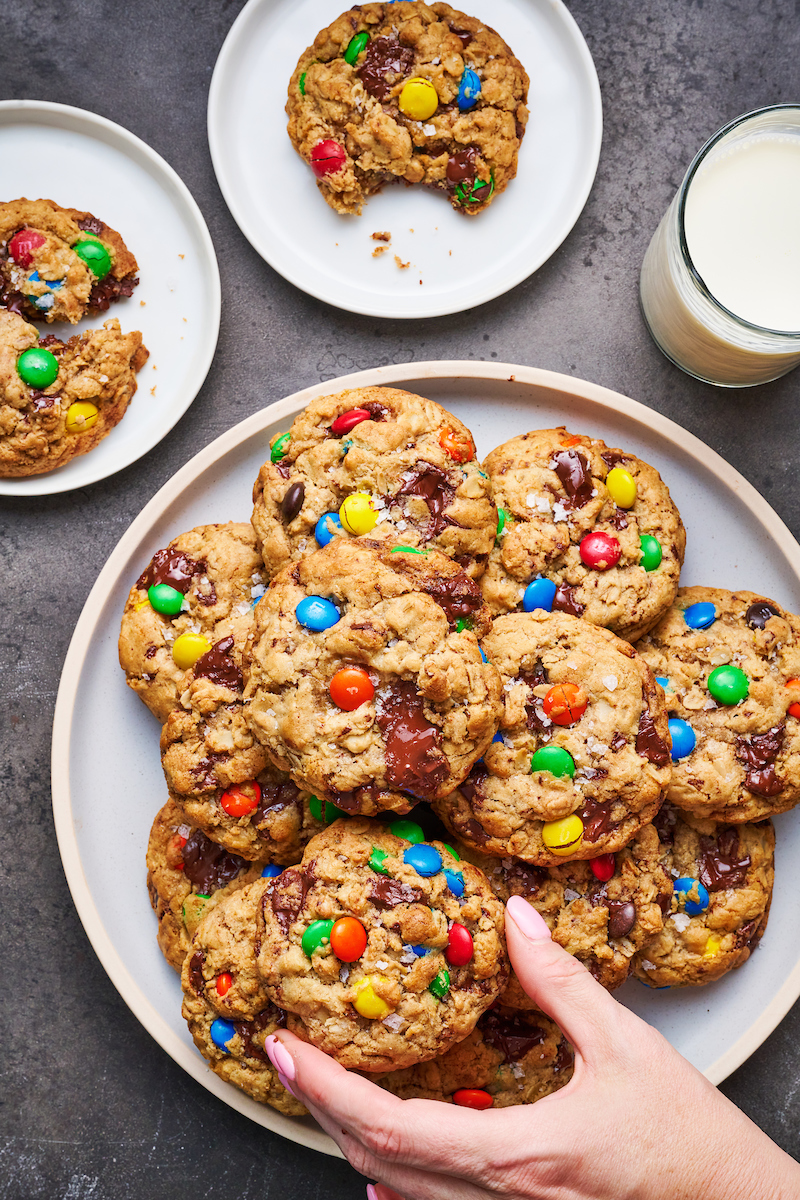 Love M&M as much as I do? Try my soft batch chocolate m&m cookies, chewy brown butter m&m blondies, or soft and chewy m&m cookie bars! Loved by kiddos and adults!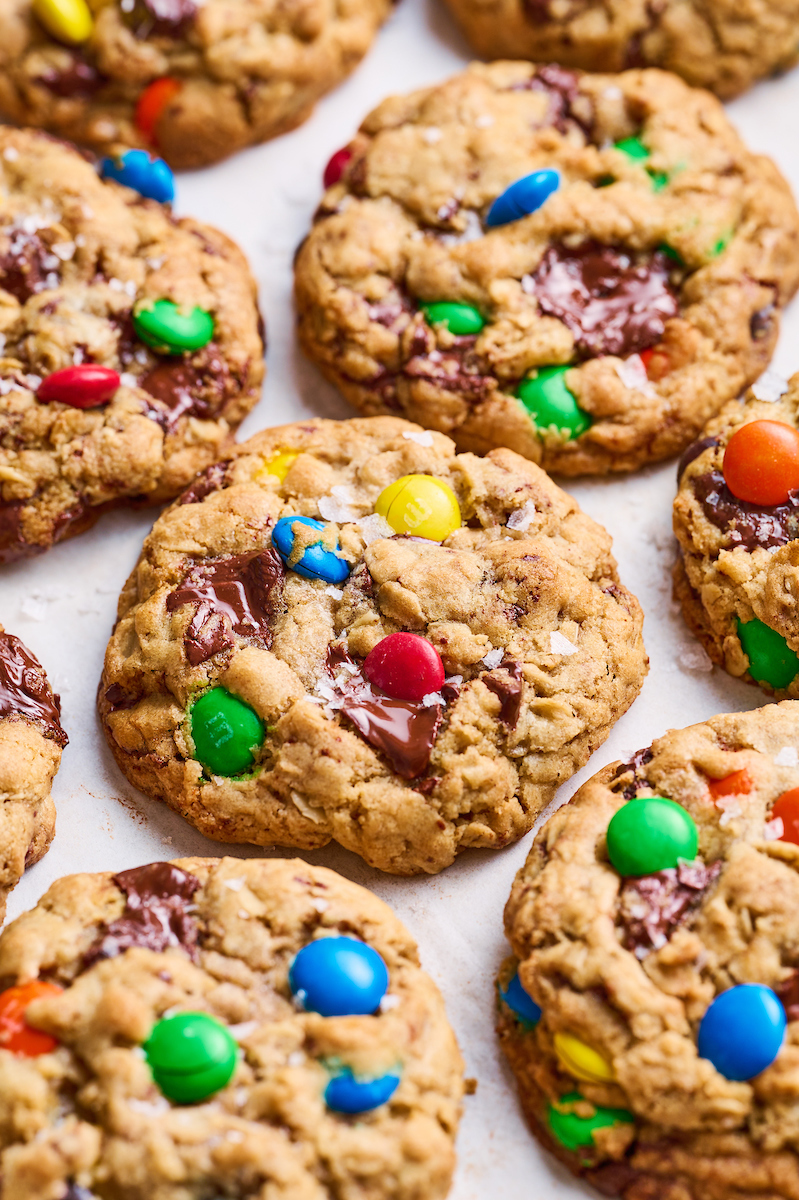 More Oatmeal Cookie Recipes: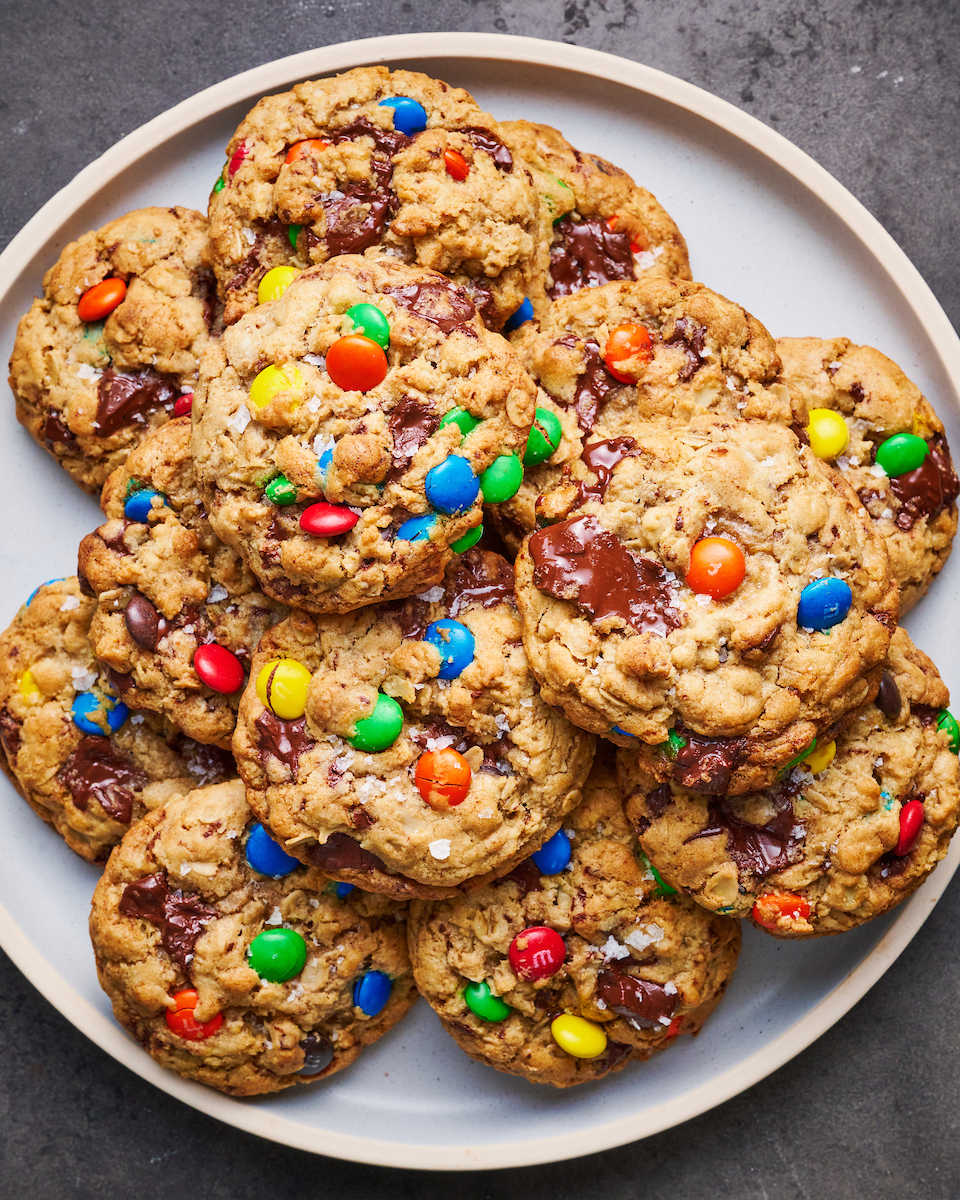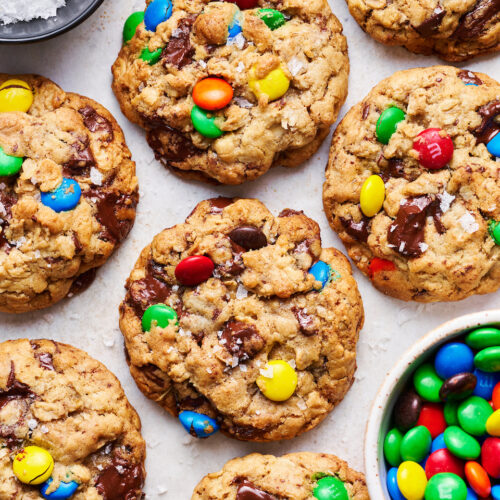 Brown Butter Chocolate Chunk M&M Oatmeal Cookies
These Brown Butter Chocolate Chunk M&M Oatmeal Cookies are thick, chewy, and don't require any chilling! Meaning you could be eating them in less than 30 minutes. Loaded with oats, chocolate chunks, and colorful M&M candies, these are always a huge hit!
Ingredients
2 cups (240 g) all-purpose flour
1 teaspoon baking soda
3/4 teaspoon salt
1/4 teaspoon ground cinnamon
2 cups (178 g) old-fashioned oats
1 cup (227 g) unsalted butter
1 and 1/2 cups (319 g) light brown sugar packed
1/3 cup (67 g) granulated sugar
2 large eggs room temperature
1 large egg yolk room temperature
1 Tablespoon (14 ml) vanilla extract
10.5 ounces 72% dark chocolate chopped into chunks
1 and 1/4 cups (170 g) M&M's plus more for decorating
2 teaspoons flaky sea salt for decorating, optional
Instructions
Preheat the oven to 350 degrees (F). Line two large baking sheets with parchment paper and set aside.

In a medium bowl, combine the flour, baking soda, salt, cinnamon, and oats. Set aside until needed. 

In a large saucepan over medium heat, melt the butter. Continue cooking, stirring frequently with a wooden spoon, until the butter smells nutty and is a light golden brown color with tiny golden specks on the bottom of the pan. 

Remove from heat and scrape the butter, and any brown butter bits that have settled on the bottom of the pan, into a large mixing bowl.Whisk in both sugars and the vanilla, and beat well to combine, about 2 minutes. 

Whisk in the eggs and egg yolk, beating until eggs are fully incorporated into the batter.

Fold in the dry ingredients, chocolate chunks, and m&ms, mixing just until everything is combined. Do not chill cookie dough! This cookie dough is best baked right away. 

Using a large spring loaded scoop, scoop about 3 tablespoons of cookie dough (70 grams) into the palm of your hands and roll it into a ball. Place on the prepared baking sheet, and repeat with all cookie dough, leaving 2-inches between each cookie for spreading. 

Bake, one tray at a time, for 11 minutes, or until spread out and lightly golden brown in color. 

As soon as the cookies come out of the oven, use a spatula to gently press in any edges that spread too much while baking. You can also press on some extra M&Ms at this point, if desired. 

Cool on the baking sheet for 25 minutes, then sprinkle with sea salt and enjoy warm, or transfer to a cooling rack to cool completely.