We're butter pecan fanatics, so it only seems fitting that one of our favorite "splurge" breakfast treats are Butter Pecan Cinnamon Buns! They're just like classic cinnamon rolls, but with a TONS of crunchy, gooey, chopped pecans on top. Perfect for Thanksgiving or Christmas morning!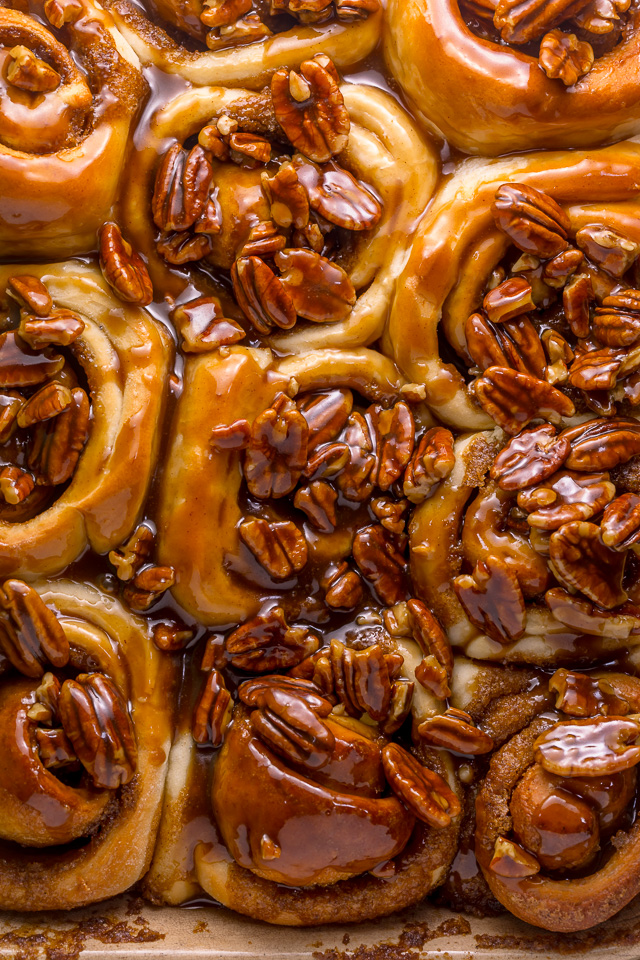 Butter Pecan Sticky Buns
Although I bake a plethora of sweet treats every week, a good cinnamon bun is my one-true-weakness. A good cinnamon bun is my… dessert kryptonite, if you will.
That being said. I put major emphasis on the word good, because, well, let's be honest – there are a lot of crappy cinnamon buns running around out there looking for love that they just don't deserve. Sometimes they're dry… or lacking in flavor… and more often than not, they're both. And I don't know about you, but anything dry and lacking isn't worth my time or treadmill minutes. Uh uh. #CinnamonBunSnob and #ProudOfIt
The good news is making a great batch of cinnamon buns at home is easy! I know a lot of people think it's like baking magic or something, but I swear – you don't need to be a kitchen wizard to get your cinnamon bun groove on.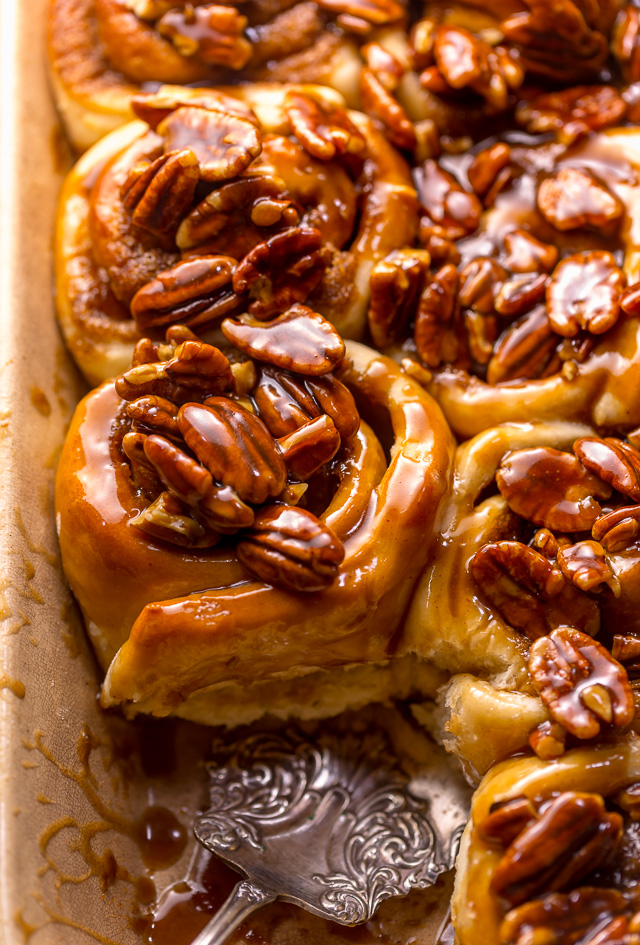 What you need to make pecan cinnamon buns
All you need are a few simple kitchen staples and a touch of patience.
The main ingredients are all purpose flour, active dry yeast, milk, butter, sugar, and salt. These simple ingredients will create a soft dough that bakes up beautifully tender and golden brown!
For the pecan topping, you'll need melted butter, brown sugar, cream, salt, vanilla, and pecans! No yucky corn syrup here!
If you have a stand mixer, that will make your journey with these buns much easier. But if you don't own one, don't fret. I've made this very recipe by hand – the old fashion way – and it totally works. Just be prepared for a good hand work out! Sheesh! 5 minutes of dough kneading is killer.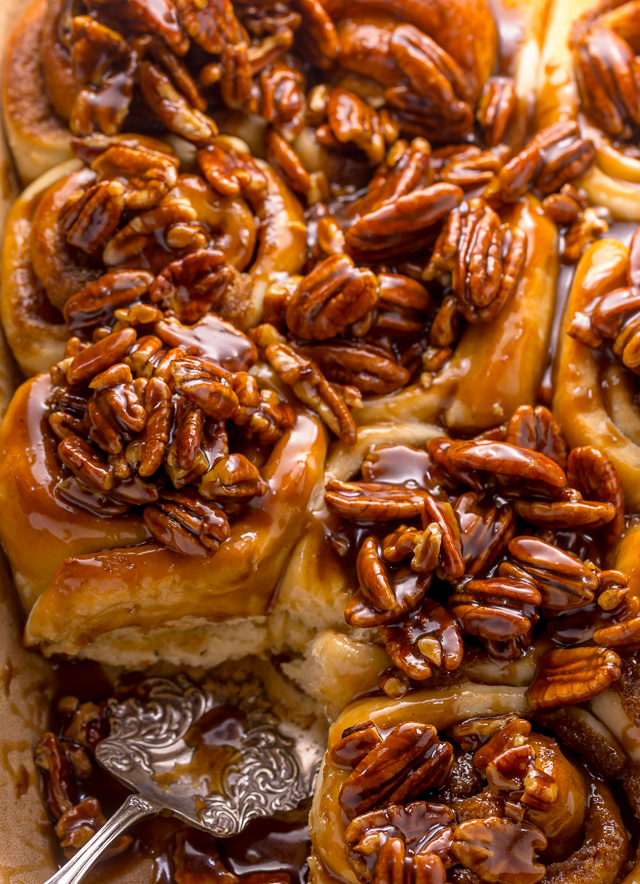 How long will this REALLY take?
So, remember earlier when I said you needed a pinch of patience for this recipe? Yes? Ok. So let's touch on that.
I won't twist your arm and make false promises of these buns being ready in 1-hour. It's just not going to happen. Because the dough needs to be made and then it needs to rise in a warm area for one hour. Or until it's double in size. Next you'll need to roll out the dough and spread the filling onto the center. Once it's stuffed, you'll roll up the dough into a tight jellyroll and slice it into 12 even pieces. Make sure you place the rolls cut side up! Then set aside to rise for another 30 minutes.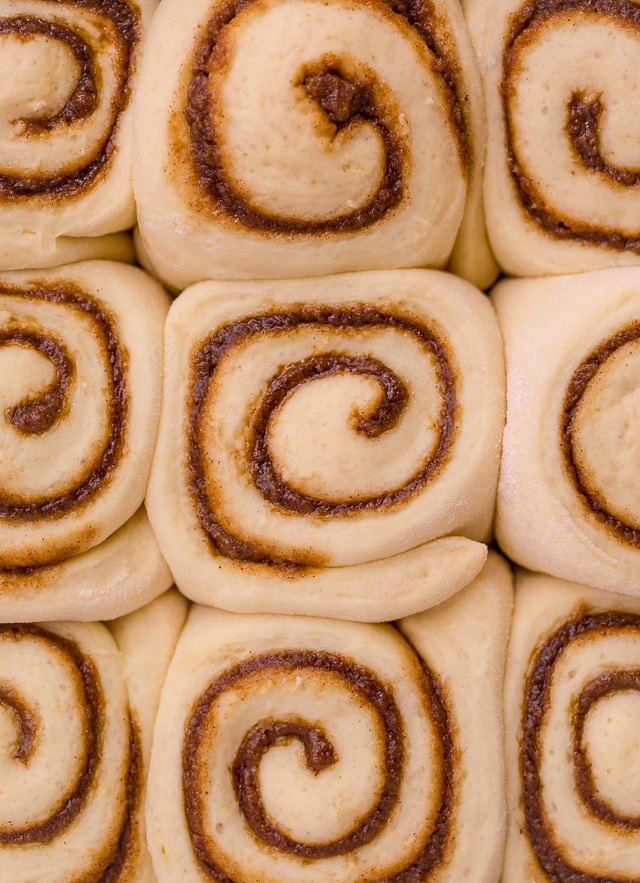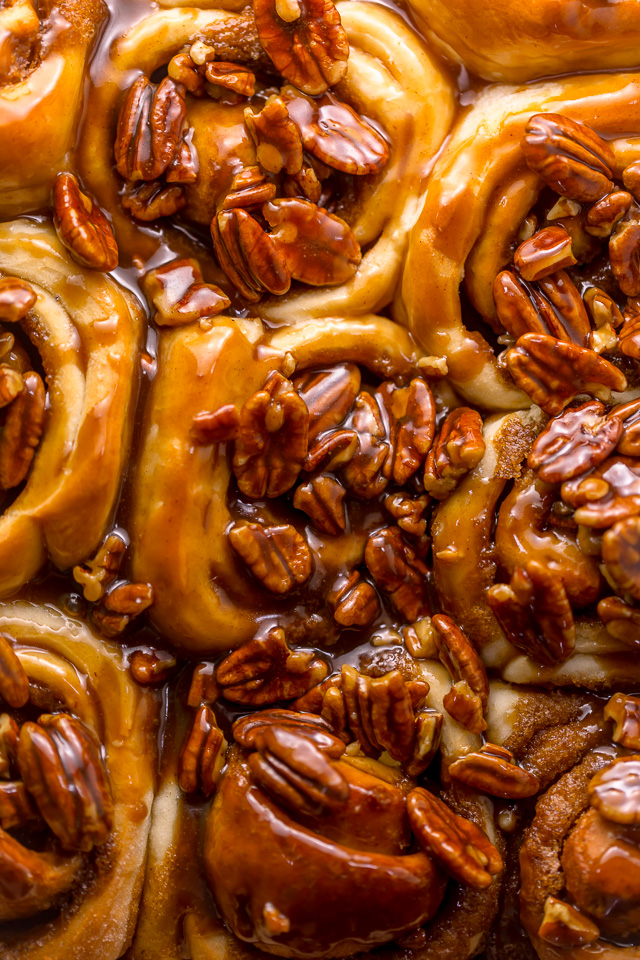 Then you'll pop the baking dish into the oven and bake for about 20 minutes. So all in all you're looking at a 2 hour baking journey… but most of the time is inactive!!!
So all in all, these are a touch time consuming but TOTALLY WORTH IT! Especially for special occasions like holidays or at home celebrations! Enjoy!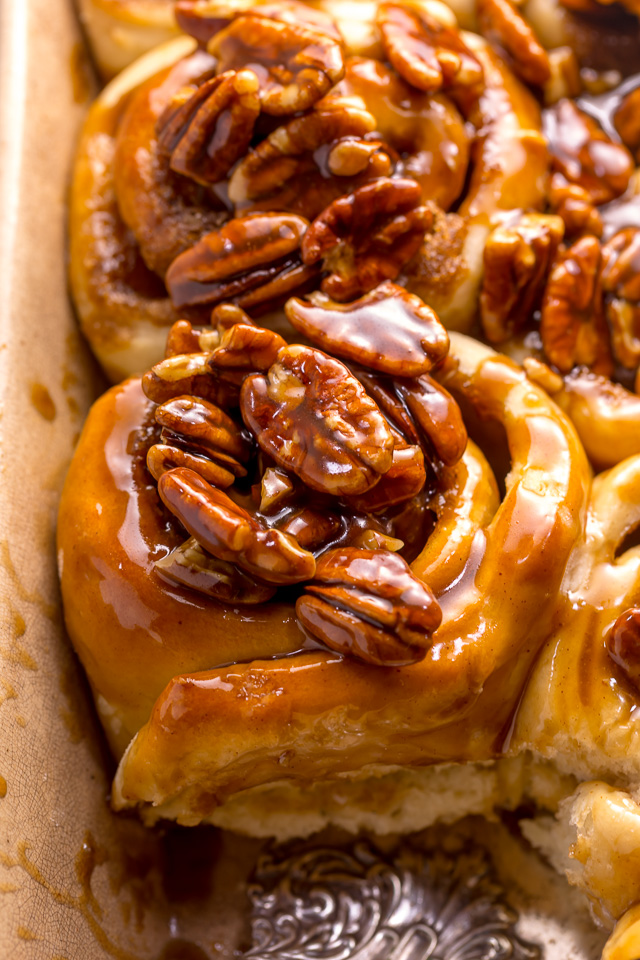 More Butter Pecan Recipes: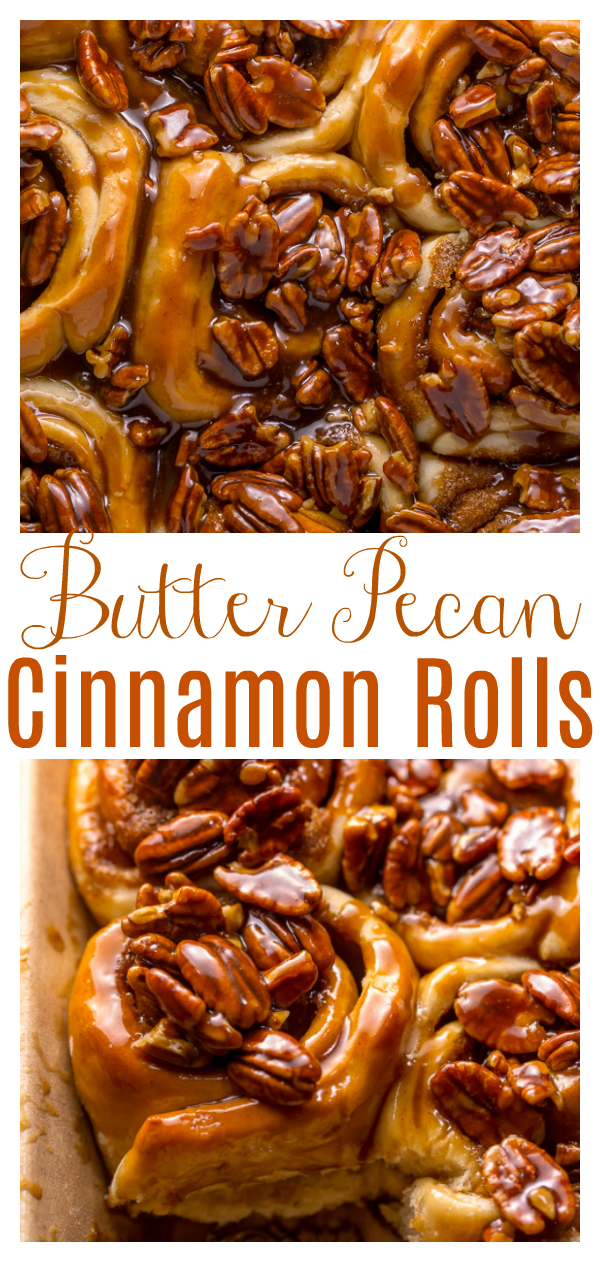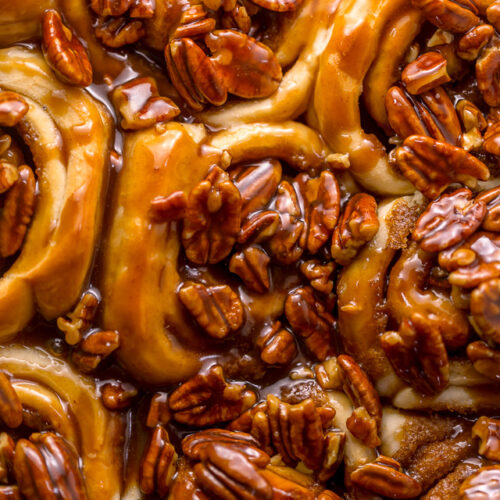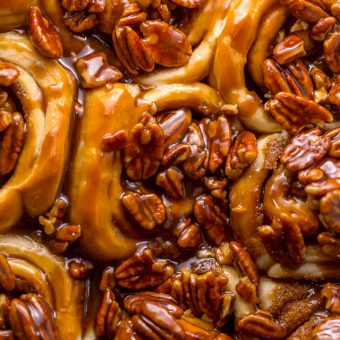 Butter Pecan Cinnamon Buns
We're butter pecan fanatics, so it only seems fitting that one of our favorite "splurge" breakfast treats are Butter Pecan Cinnamon Buns! They're just like classic cinnamon rolls, but with a TONS of crunchy, gooey, chopped pecans on top. Perfect for Thanksgiving or Christmas morning!
Ingredients
For the Dough:
1 cup whole milk
4 tablespoons unsalted butter, very soft
3 and 1/2 cups all-purpose flour, divided
(1) 0.25 oz package rapid rise yeast
3 tablespoons granulated sugar
3/4 teaspoon salt
1 large egg, at room temperature
For the Filling:
1 cup light brown sugar
1 tablespoon ground cinnamon
3/4 teaspoon ground ginger
1/4 teaspoon nutmeg
1/4 teaspoon cloves
1/2 cup butter, VERY soft
For the Butter Pecans:
1/2 cup unsalted butter
3/4 cup dark brown sugar, packed
1/4 teaspoon ground cinnamon
1/3 cup heavy cream
1/4 teaspoon salt
1 and 1/2 cups pecan halves
1/2 cup pecans, roughly chopped
2 teaspoons vanilla extract
Instructions
For the Dough:
Lightly grease a 9x13-inch baking dish with nonstick baking spray. Set aside. 

In a small saucepan carefully heat the milk over medium-high just until it comes to a boil.Remove from heat and add in the butter. Stir until it is completely melted, then let mixture cool until it's between 115 and 120 degrees (F). 

In the bowl of a stand mixer fitted with the dough hook attachment, combine 2 and 1/2 cups of the flour, yeast, sugar and salt; use a whisk to combine. Whisk in the egg. And then slowly pour in the milk/butter mixture, mixing well to combine. 

Place to dough hook into the bowl and turn the mixer on low speed. Add the remaining flour, a 1/4 cup at a time, mixing well after each addition, and using a spatula to scrape down the sides as needed. 

Once all of the flour has been added, increase the mixer to medium speed and beat for 5 minutes. 

Remove the dough from the bowl. On a lightly floured surface, gently knead the dough into a smooth and neat ball, about 5 or 6 times.

Place the ball of dough back into the bowl and cover the bowl tightly with a piece of saran wrap. Set aside for 60 minutes, or until the dough has doubled in size. 
For the Filling:
In a medium-sized bowl, mix together brown sugar, spices, and softened butter until its evenly combined. It should resemble a thick paste. 
Assembly:
Once the dough has risen - roll out dough into a very large rectangle (about 16 x 9-inches).

Spread the middle of the dough with the butter/sugar mixture, leaving a three inch barrier around the tops and sides. 

Tightly roll up the dough (jellyroll style) and gently pinch the seams to seal.

Using unscented dental floss (just gently slide a piece underneath, lift it over, then pull to make nice, even slices) or a serrated knife, cut the roll into 12 equal size pieces.

Place the pieces, cut side up, in the prepared pan. Cover again tightly with saran wrap, and let rise for another 30 minutes. While they're rising, preheat your oven to 350 degrees (F).

Once risen, bake in the preheated oven for 18 – 20 minutes, or until lightly browned on the tops and edges. Allow buns to cool a few minutes, then top with butter pecans and serve!
For the Butter Pecans:
In a small saucepan over medium heat, melt the butter.

Add in the brown sugar and cook, stirring with a whisk, until the sugar has melted and mixture is bubbling, about 2 minutes.

Add in the cinnamon, heavy cream, and salt and whisk to combine.

Add in the pecans and, using a rubber spatula, fold them into the liquid mixture until they're completely coated. Remove from heat and stir in the vanilla.

Pour on top of the cinnamon rolls and serve!