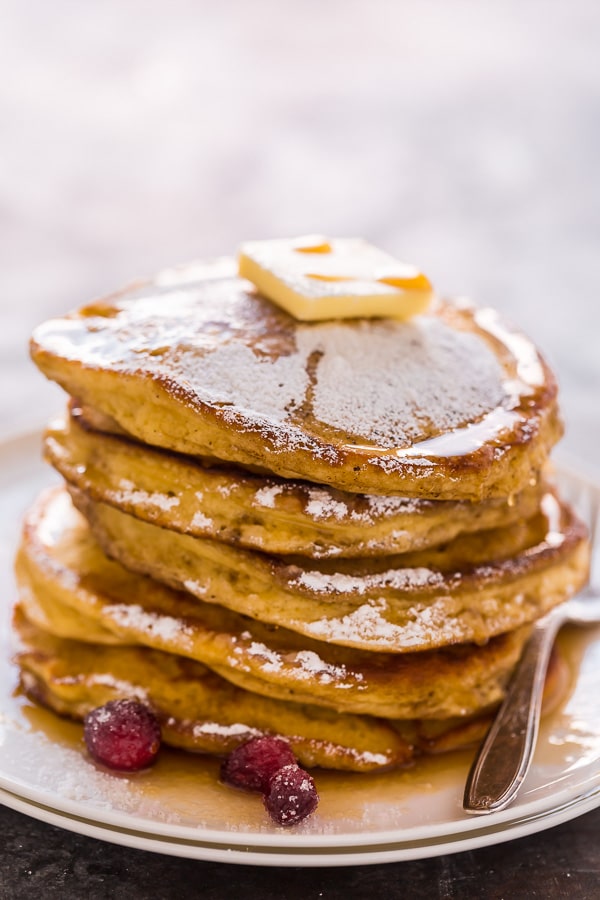 Eggnog Pancakes
Yield 4 servings
The BEST fluffy and flavorful Eggnog Pancakes! These are the ultimate breakfast treat and so perfect for Christmas morning!
Ingredients
2 cups all-purpose flour
1/4 cup granulated sugar
3/4 teaspoon baking soda
1 and 1/2 teaspoons baking powder
1/2 teaspoon salt
2 large eggs, at room temperature
2 cups eggnog 
2 teaspoons pure vanilla extract
Maple syrup, for serving
Confectioners' sugar, for serving 
Instructions
In a large bowl add the flour, sugar, baking soda, baking powder, and salt; whisk well to combine. In a separate bowl add the eggs and lightly beat them with a whisk. Add in the eggnog and vanilla and beat until well combined. Stir the eggnog mixture into the dry ingredients, stirring just until everything is combined.
Pour batter by 1/3 cupfuls onto a buttered hot pan or griddle, adding only a few at a time so that they do not blend together. Cook for about 2 minutes - or until small bubbles form on top -before flipping them over. Cook on the second side until golden brown, about 1-2 minutes. Repeat with all pancake batter. Serve pancakes warm, with syrup and confectioners' sugar. 
Courses Breakfast
Cuisine American
Recipe by Baker by Nature at https://bakerbynature.com/eggnog-pancakes/