Nothing screams cozy like a giant bowl of
I

t

a

l

i

a

n

Chicken Tortellini Soup. Simple and comforting – this soup hits the spot every-single-time.
Italian Chicken Soup with Tortellini
Confession: We're already knee deep in October and I'm deep in denial. Is Summer really over? Is Fall really in full swing? Is Winter really creeping up like mega fast?
↑↑↑ I think we both know the answers to those (very obvious) questions… but in my mind, I'm still on the beach wearing my hot pink bikini and sipping on a fresh peach margarita. ♥♥♥ Hey, a girl can dream right?!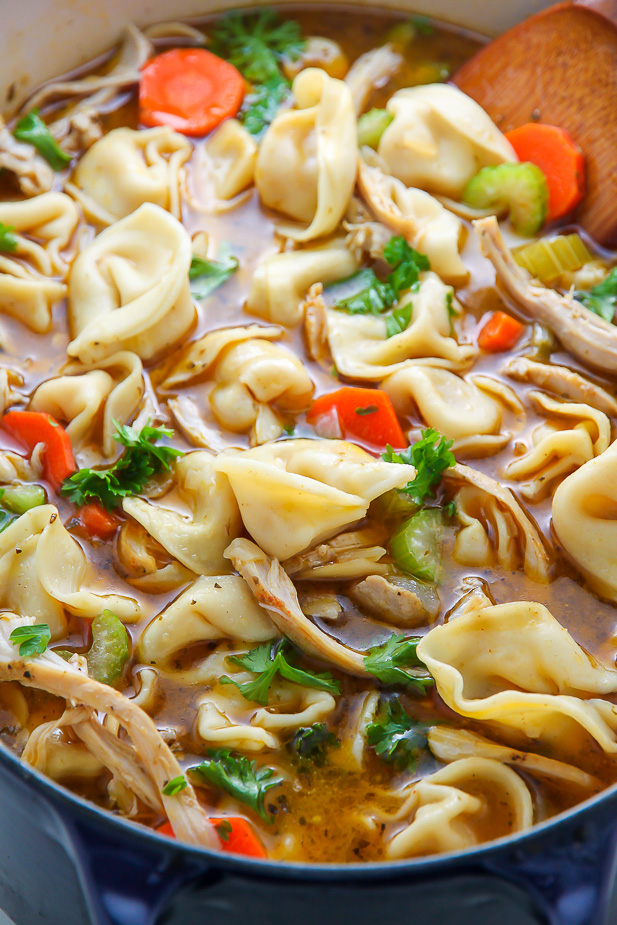 MY RECENT VIDEOS
Since dreams can only take us so far, I decided a delicious new recipe was just the ticket to easing into Fall. Enter this soup! This is an Italian tortellini version of my beloved flu fighter chicken noodle soup. It's simple, healthy, hearty comfort food at its best.
Loaded with roasted chicken, cheese tortellini, crunchy carrots, celery, and onion – every bite is exploding with flavor!
Whether you feeling a nasty cold coming on, are looking for a new favorite soup recipe, or just want to make a giant pot of cozy comfort food for dinner, this Chicken Tortellini Soup Recipe is a sure winner. I hope you guys love it as much as we do!
More Soup Recipes:
Italian Chicken Tortellini Soup
Hearty and flavorful Italian Chicken Tortellini Soup is perfect for chilly nights!
Ingredients
For the chicken:
1 pound skinless, boneless chicken breast tenders
2 tablespoons olive oil
1 teaspoon garlic powder
1 teaspoon ground cumin
1/2 teaspoon chili powder
1/2 teaspoon cayenne pepper
1/2 teaspoon dried oregano
3/4 teaspoon salt
3/4 teaspoon ground black pepper
For the soup:
3 tablespoons olive oil
4 large carrots, peeled and diced
4 stalks celery, diced
2 large onions, finely diced
8 cloves garlic, minced
Big pinch of salt
(2) 32 oz containers chicken stock
1 bay leaf
3 cups cheese tortellini
1 cup finely grated Parmesan cheese
Juice of 1 lemon, plus more for serving
1/2 cup fresh parsley, chopped
Instructions
Preheat oven to 375 degrees (F). Place chicken tenders in a large baking dish lined with parchment paper. Drizzle with olive oil and sprinkle with spices. Place pan in the oven and bake for 25 minutes, flipping the chicken at the half way point. Once cooked, transfer the chicken to a cutting board and shred it into small pieces using two forks.
While the chicken is roasting, prepare the soup.
Heat olive oil in a large, heavy bottomed soup pan over a medium flame. Add carrots, celery, and onion; cook - stirring occasionally - for 8-9 minutes. Add garlic and salt and cook for another minute before adding the bay leaf and chicken stock. Increase heat to high, bring soup to a boil, then reduce heat to medium-low. Stir in tortellini and simmer for 10 minutes, or until the vegetables are soft and the tortellini is cooked. Stir in the shredded chicken, Parmesan cheese, lemon juice, and parsley. Taste soup and adjust seasoning as needed. Serve warm.
Courses Dinner
Cuisine Italian
Nutrition Facts
Serving Size 10-12 servings
Amount Per Serving
% Daily Value
* Percent Daily Values are based on a 2,000 calorie diet. Your daily values may be higher or lower depending on your calorie needs.