These Easy Greek Yogurt Pumpkin Pie Bars are perfect for sharing!!! Much easier than baking a whole pie! Top with whipped cream and watch these bars fly off the dessert table this Thanksgiving!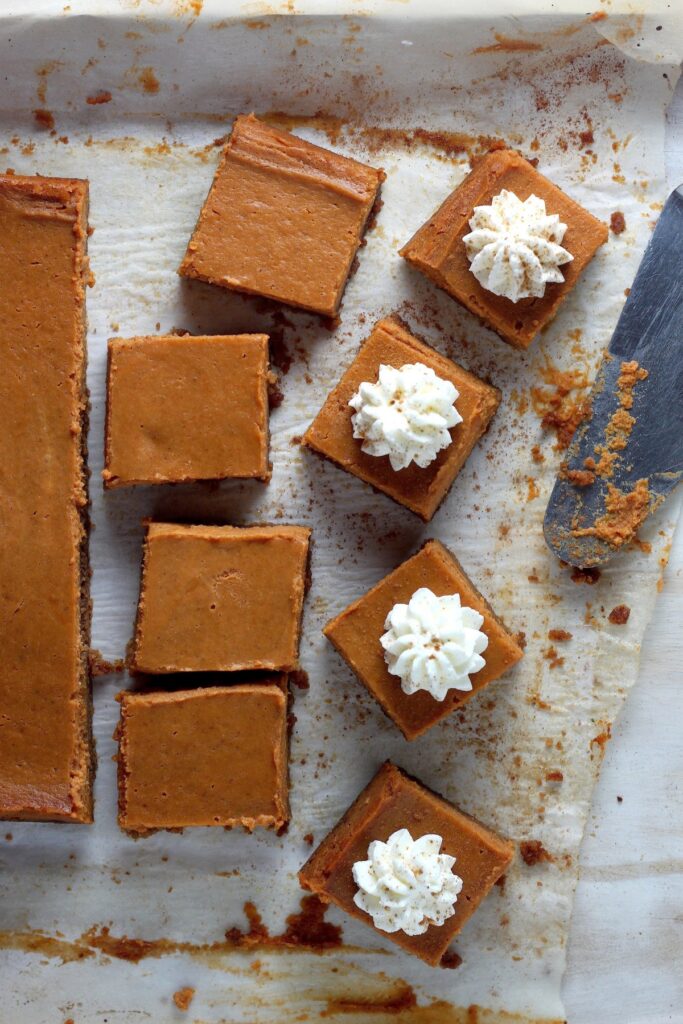 Pumpkin Pie Bars
Fall finally feels like it's starting to settle in here in the Hudson Valley. The leaves have begun to casually drop from the trees, the windows need to be shut tight before bed time, and pumpkins are slowly beginning to replace our beloved tomatoes at the farmers market. I, obviously, could not let the arrival of Autumn come without baking a pie to welcome it. You can never have too many excuses to bake pie… At least that's my motto and I'm sticking to it 😉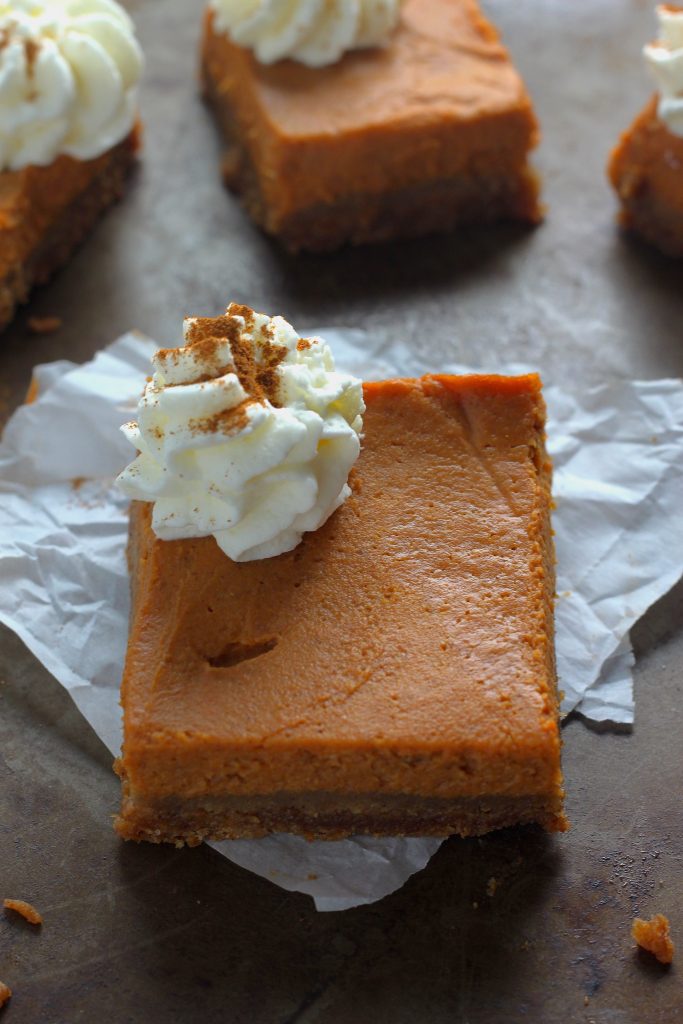 This pumpkin pie is made in bar form (so much easier!), and the batter is enhanced by a FULL cup of creamy, dreamy Greek yogurt. Now. Some important news: YOU MUST USE FULL-FAT YOGURT. Please. I tried these bars with non-fat Greek yogurt and they were spongy and not silky, so the advice I need is for your own good…
I want you to have the best possible pie experience! The crust for these greek yogurt pumpkin pie bars couldn't be easier! It's a basic graham cracker crust, and it comes together in your blender with very little effort from you. If you don't have a blender, don't fret! I've thought about this and I think you could easily crush the graham crackers (REALLY crush em') with a rolling pin or even a wine bottle 😉 Just be sure they're completely in crumbs before you mix them with the remaining ingredients.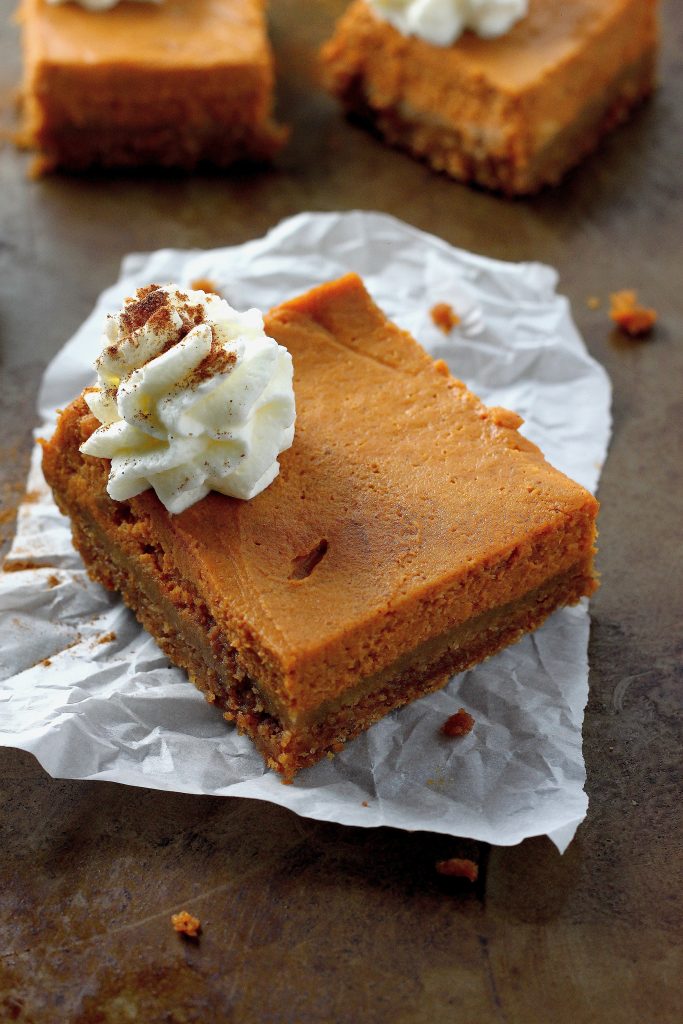 The pie bars take a little less than an hour in the oven, and will have your home smelling like a little slice of pumpkin heaven. During this time I highly recommend just sitting in front of the oven and inhaling all that goodness. Just kidding 😉 Do whatever you want. Just be sure to set a timer for these pie bars, as they can easily go from creamy to over baked like that. When you pull them from the oven the center may look a slight wobbly, but that's ok! They will firm up a good deal while they're cooling. Promise!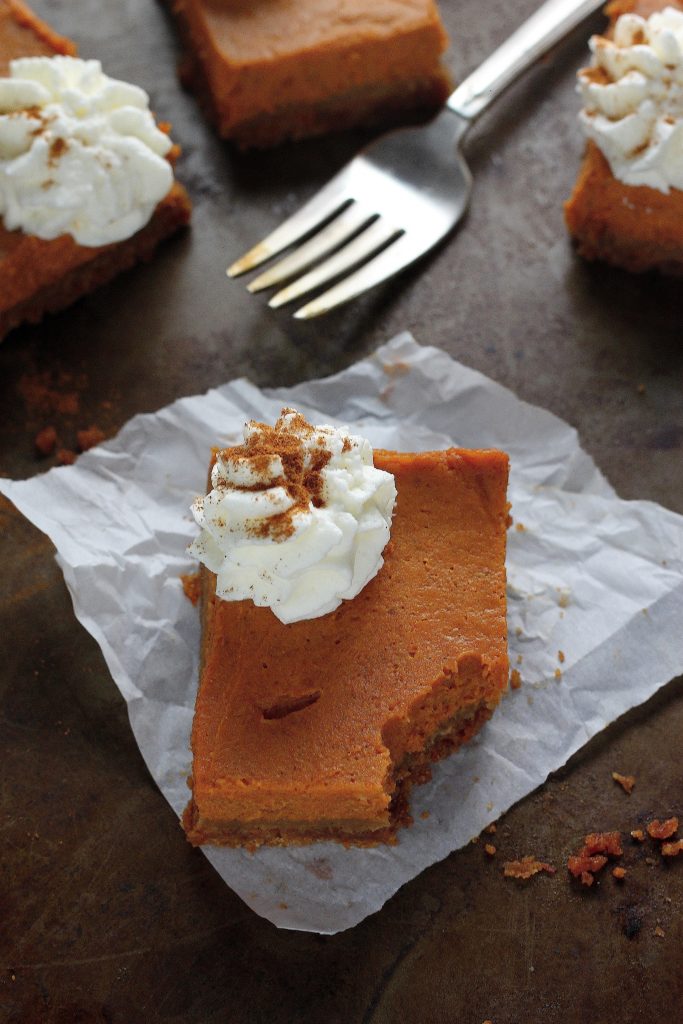 I topped each creamy bar with a little dollop of bourbon whipped cream (a must!), but I must confess I regret not trying a piece with a scoop of vanilla, too. I know… in retrospect I don't know what I was thinking. Hindsight is always 20/20, right? Do me a favor and have a slice with whipped cream AND a slice with ice cream. For me 😉
More Pumpkin Pie Recipes: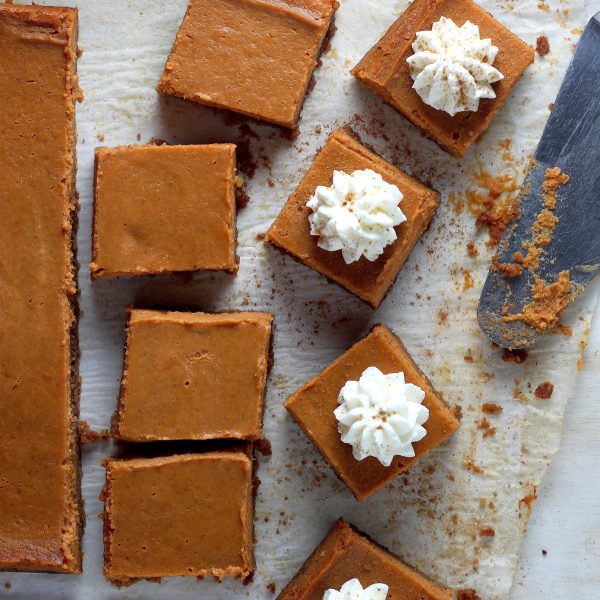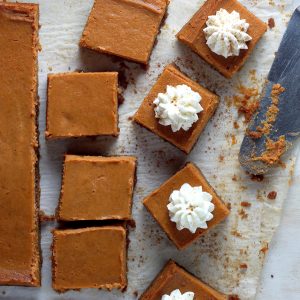 Greek Yogurt Pumpkin Pie Bars
Greek Yogurt Pumpkin Pie Bars feature a crunchy graham cracker crust and a creamy pumpkin pie filling! 
Ingredients
For the Crust:
2 cups graham crackers, pulsed into crumbs
6 tablespoons unsalted butter, melted
1/3 cup + 1 tablespoon granulated sugar
1/2 teaspoon vanilla
1/2 teaspoon cinnamon
1/4 teaspoon salt
For the Greek Yogurt Pumpkin Filling:
1 can (29 oz.) pumpkin
1 cup (8 oz) FULL FAT Plain Greek Yogurt
1/4 cup heavy creamy
1/2 cup + 2 tablespoons granulated sugar
1/2 cup + 2 tablespoons packed brown sugar
2 large eggs, at room temperature, lightly beaten
3 teaspoons pumpkin pie spice
Instructions
Preheat oven to 425 degrees (F).
For the Crust:
Grease a 9 x 13 inch baking pan, line it with parchment paper, then grease the parchment paper; set aside.

In the body of a blender combine graham crackers, cinnamon, salt, sugar, and vanilla. Pulse until the crackers have been completely smashed into tiny crumbs. Add melted butter; stir well to combine. Press mixture evenly into prepared pan. Pour pumpkin mixture on top of crust when ready to bake.
For the Greek Yogurt Pumpkin Filling:
Whisk together all of the ingredients in a large bowl until well combined.

Pour the filling into the crust and bake for 10 minutes at 425 degrees (F), then lower the oven temperature to 350 degrees (F) and bake for about 45 minutes longer, or until the filling is fully set. Transfer the pan to a rack and let cool *completely. Cut into bars and serve with whipped cream (if desired).