Soft Pretzel Garlic Knots are chewy, flavorful, and so delicious! Made with a simple soft pretzel dough, they're shaped like knots and baked until golden brown. Then topped with garlic butter and parmesan cheese!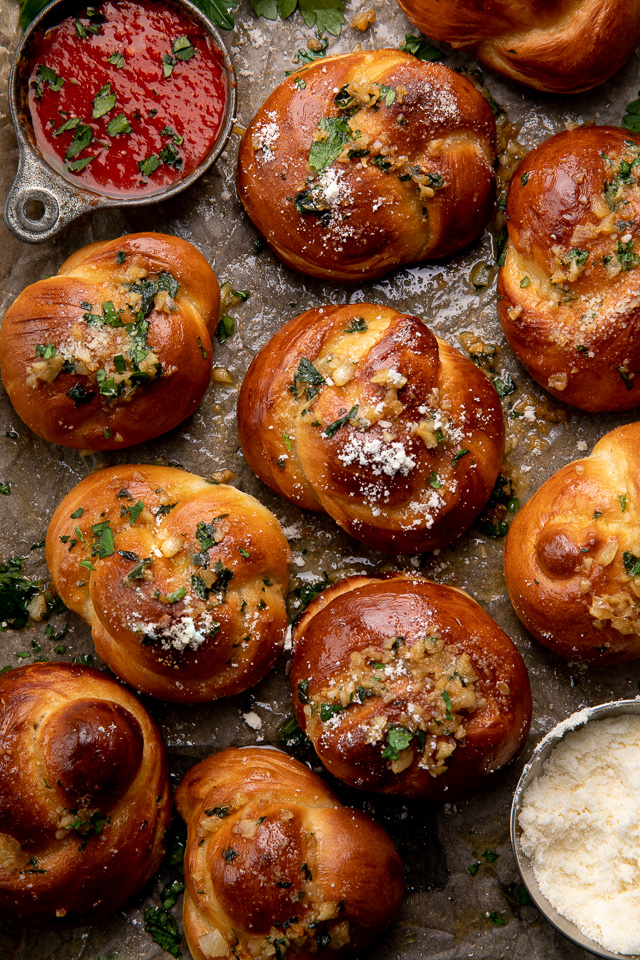 Pretzel Garlic Knots Recipe
Today we're making pretzel dough… and turning it into garlic knots!
These are 100% inspired by a lunch I had with Tessa at the Four Seasons in Scottsdale, AZ. They have the most DELICIOUS pretzel garlic knots on their menu. And after one bite, I knew I had to recreate the recipe at home!
And after over a year of thinking about it, I finally did! And they taste exactly how I dreamed they would! Each knot is fluffy, chewy, and coated in the melted butter, garlic, parsley, and cheese. But the best part? They're surprisingly easy to make, and the dough freezes great!
Make the Pretzel Dough
Unlike most bread recipes, making pretzels is pretty simple and straightforward.
First, you'll combine warm water, active dry yeast, and sugar together and set it aside for about 10 minutes. The yeast should foam up quite a lot during this time!
If it doesn't, the yeast was dead (or killed from too hot of water) and you'll need to start again. There's honestly no point in moving forward if the yeast doesn't foam up. You need active yeast to ensure your dough rises!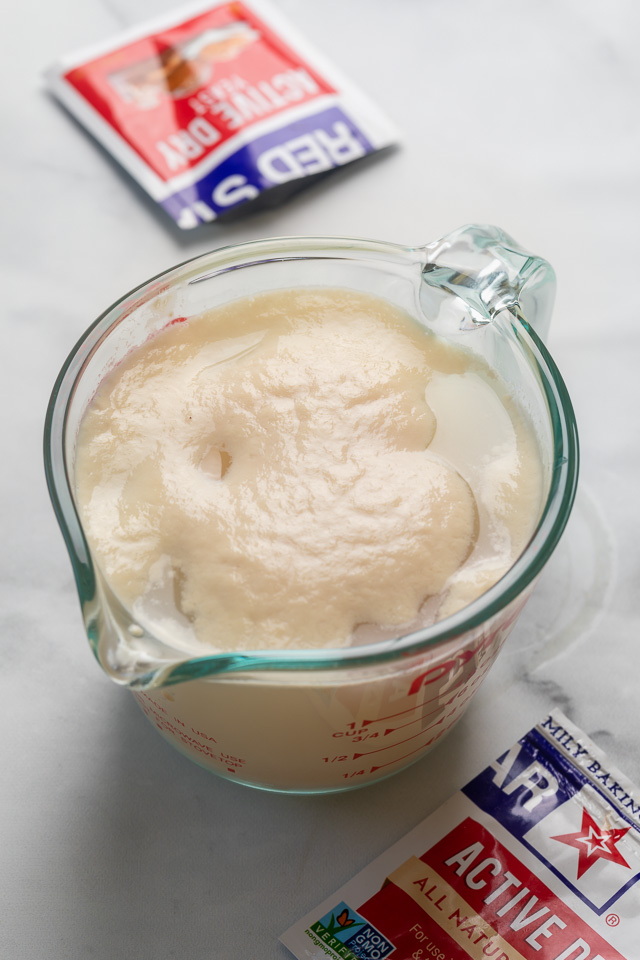 Ok, so now that your yeast mixture is bubbling and foamy, you're going to pour that into the large bowl of your stand mixer and add in the butter, flour and salt. Use your dough hook here! And make sure your butter is VERY soft. Even softer than room temperature. You want it super soft so it has no issue easily and evenly incorporating into the dough.
Next, you're going to knead the dough – in the mixer – for 12 minutes. Your stand mixer is going to probably shake and wobble a little bit during this time, so keep an eye on it if it's close to the counter edge or other objects. I usually hold mine down during the last 3 minutes of kneading, since things get aggressive during that stage.
Grease a large bowl VERY lightly with olive oil, then add the kneaded dough into the bowl, and cover with plastic wrap or a warm kitchen towel. Set aside for 1 hour.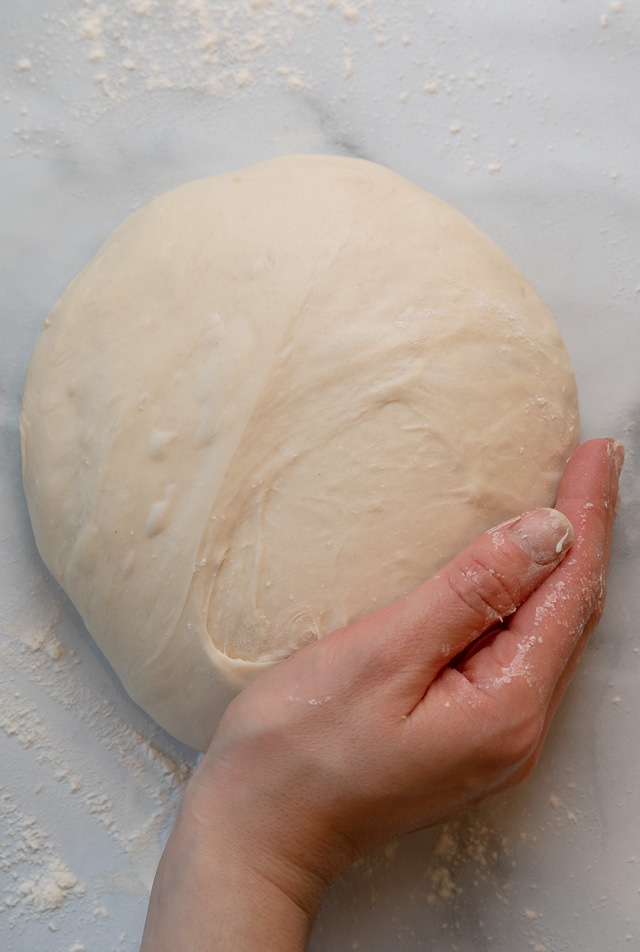 Shape the Dough into Knots
Once your dough has rested and slightly risen, it's time to slice and dice! You'll cut the dough in half and shape each half into a ball. Then slice that ball into quarters. And then slice the quarters into quarters. So you'll have 16 slices of dough in all. If you want super tiny garlic knots, you can make make them a little smaller and just reduce the bake time a minute or so.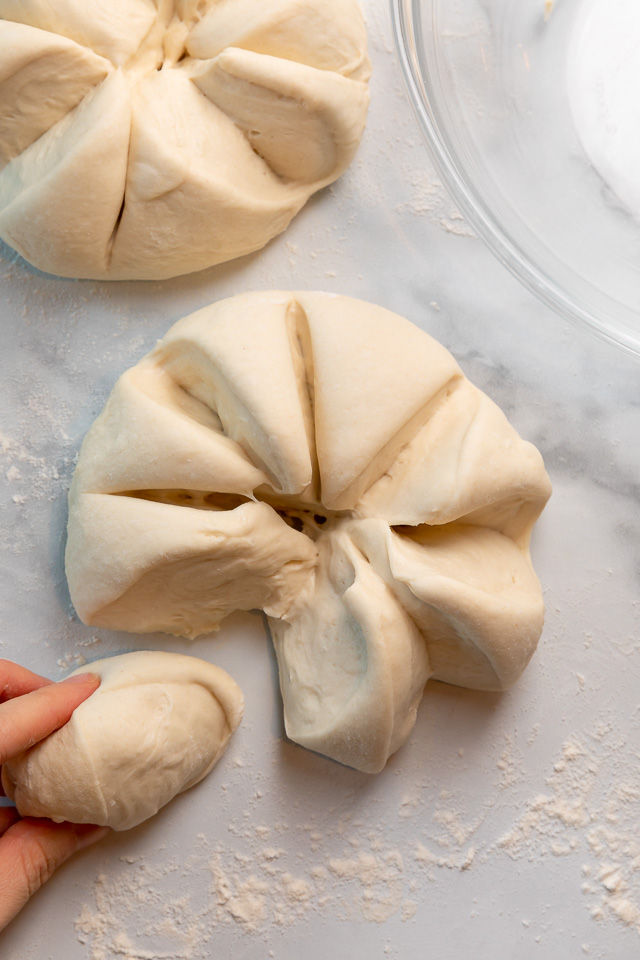 Next, roll each piece into a 8″ rope, then tie in a knot! All of my knots come out slightly different and I love that! So don't fret if yours look a little different than mine. Just be sure they're securely tied, otherwise they could come apart in the boiling or baking stage.
Make your Baking Soda Bath
Unlike traditional pretzel recipes that use food grade lye, I prefer to use a baking soda bath to give my pretzels color and flavor. And although the process might seem odd at first, it's not as scary as it sounds! You're simply going to fill a large pot with water and baking soda and bring it to a rolling boil.
You'll drop the pretzel garlic knots into this boiling water and cook for 30 seconds, then remove with a slotted spoon or spatula. You'll repeat this process with all of the pretzels. Just be sure to really let the water drip and drain off the spoon before placing them back on the baking sheet. Otherwise they'll have a soggy bottom!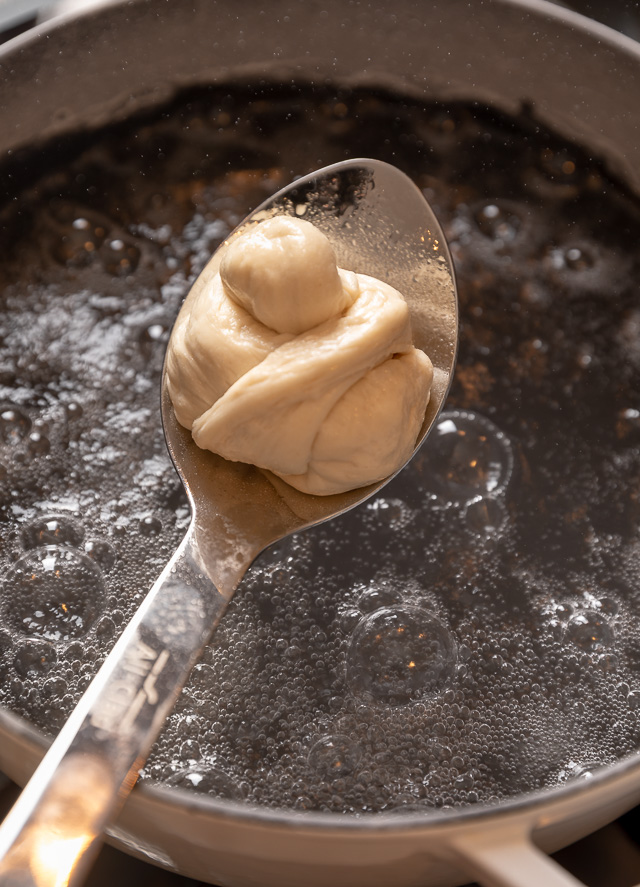 Time to Bake
Make sure you preheat your oven at least 30 minutes before you plan on baking! And line 2 large baking sheets with parchment paper. Which ensures our pretzels won't stick during baking.
Brush each pretzel knot with egg wash, and then pop them in the oven for 18 to 22 minutes, or until they're a rich golden brown! Cool for a few minutes while you make the garlic butter.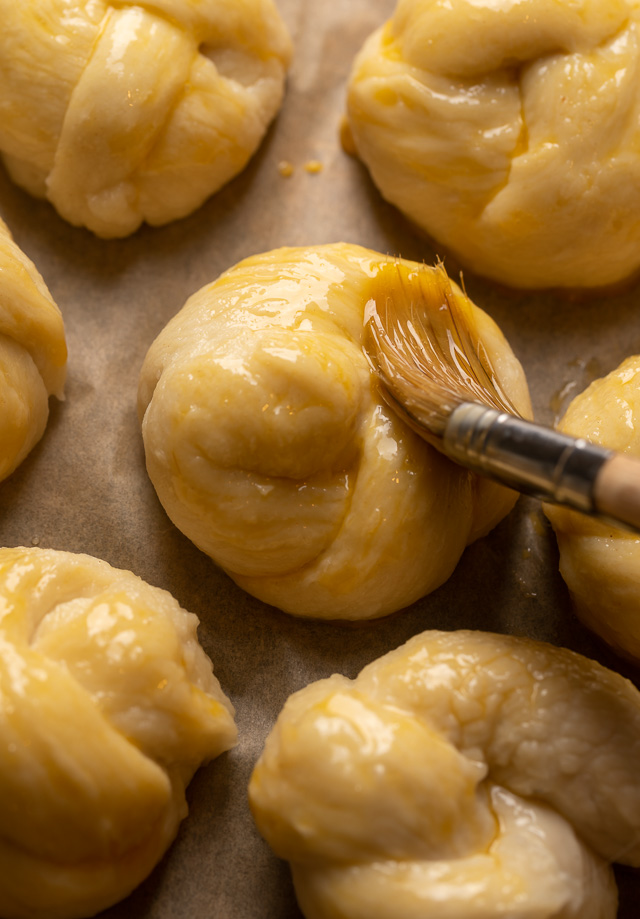 Let's make Garlic Butter
This couldn't be easier… or more delicious! Simply melt 1/2 cup of butter, then toss in the garlic and cook for 2 minutes, or until softened but not burnt! Toss in the parsley, salt, and garlic powder. Then remove from heat. Brush the garlic knots generously with this mixture! And then sprinkle with finely grated Parmesan and more parsley, if desired.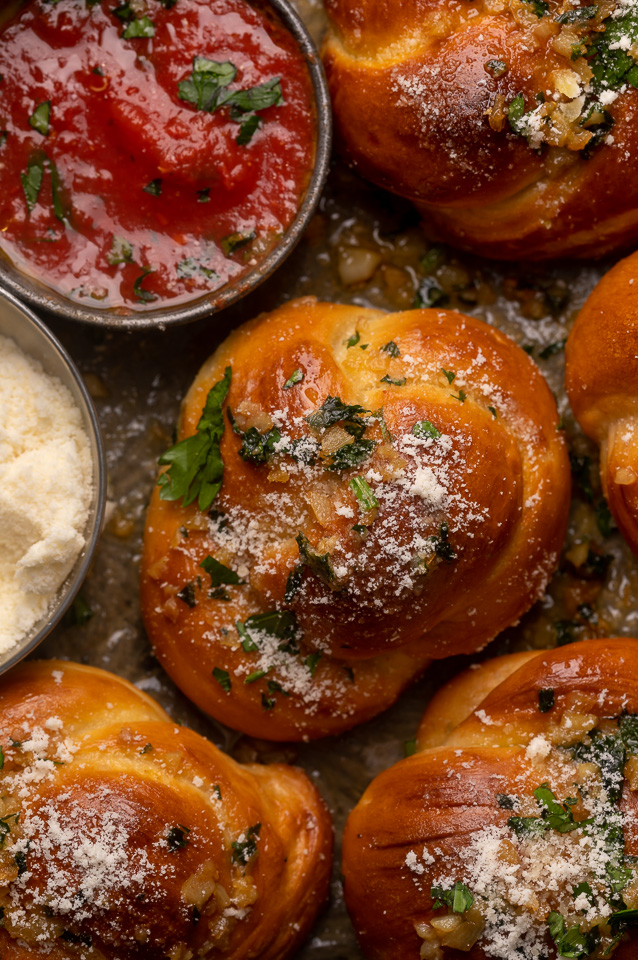 Serve these garlic knots warm, with plenty of napkins! I love them with an ice cold beer and marinara sauce on the side. And some nights I just add a salad and call that a meal!
Other nights, I'll add something heartier like a few meatballs or a piece of lasagna. Or dunk them into a big bowl of creamy tomato tortellini soup. There's really no wrong way to eat them, in my option 😉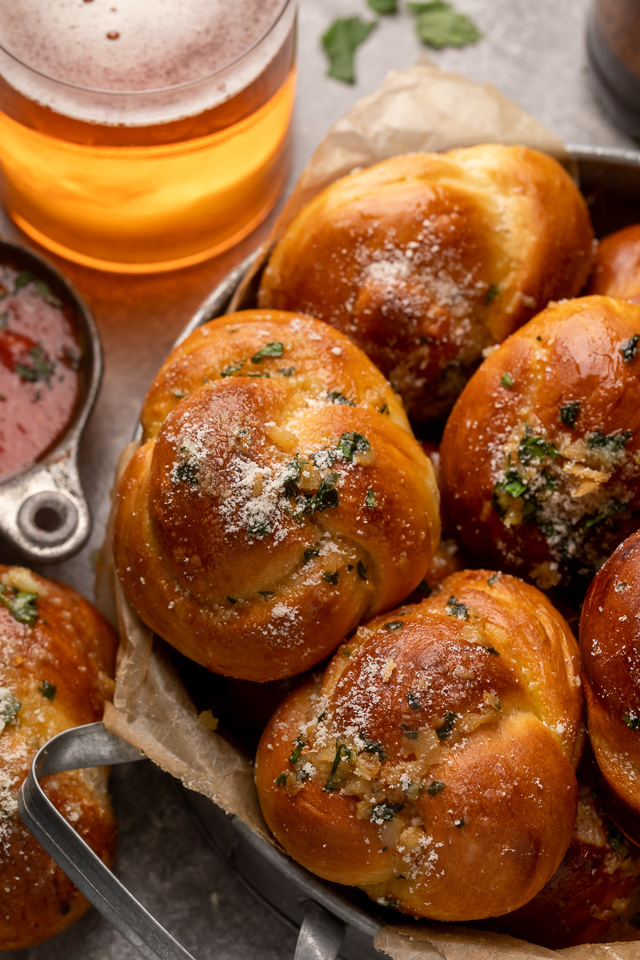 What if I don't have a Stand Mixer?
You can still make these pretzels! But you'll definitely need some elbow grease. Instead of assembling everything in the bowl of a mixer, you can assemble in a large bowl, and then dump the dough out onto the lightly floured surface and knead for about 10 minutes. It's not as easy as the stand mixer method, but 100% doable!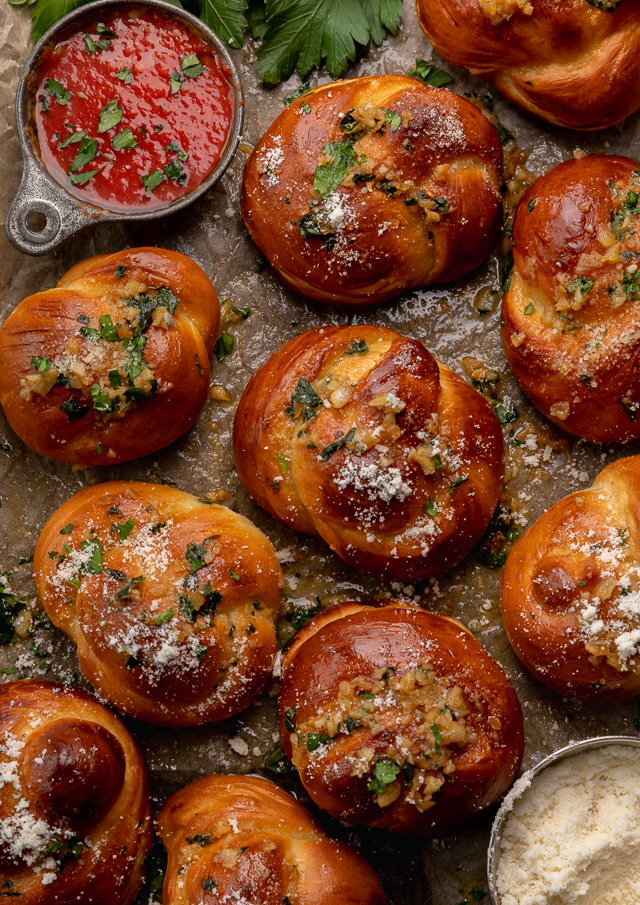 More Pretzel Recipes: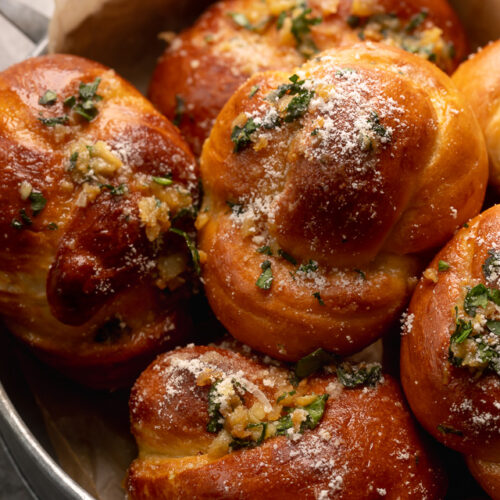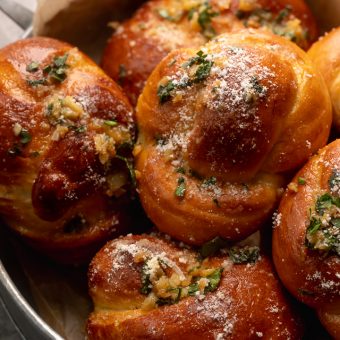 Soft Pretzel Garlic Knots
Soft Pretzel Garlic Knots are chewy, flavorful, and so delicious! Made with a simple soft pretzel dough, they're shaped like knots and baked until golden brown. Then topped with garlic butter and parmesan cheese!
Ingredients
For the Dough:
1 and 1/2 cups warm water (between 110-115 degrees F)
(1) 0.25 ounce package active dry yeast
1 and 1/2 tablespoons granulated sugar
1 and 3/4 teaspoons salt
4 and 1/3 cups (520 grams) all-purpose flour
6 tablespoons unsalted butter, very soft
Cooking Liquid:
10 cups water
3/4 cup baking soda (yes, 3/4 CUP)
Egg wash:
1 large egg, beaten
2 teaspoons water
For the garlic coating:
1 stick (4 ounces) unsalted butter, melted
5 cloves garlic, minced
1/4 teaspoon salt
1/4 teaspoon garlic powder
1/2 cup fresh parsley, minced
1/4 cup Parmesan cheese, grated
Instructions
For the Dough:
In a large glass measuring cup, combine water, yeast, and sugar. Let stand for 10 minutes, or until mixture begins to foam. 

Pour the yeast mixture into the bowl of a stand mixer fitted with the dough hook attachment.

Add the salt, flour, and butter and knead on medium-speed for 12 minutes.

Cover dough with a warm damp cloth and place in a warm area of your house to rise for an hour, or until the dough has doubled in size.
Shape the Knots:
Turn the dough out onto a lightly floured surface and divide it into 2 equal pieces.

Place each round of dough onto a piece plastic wrap and let them rest for 10 minutes.

Dust the top of each round of dough with a light sprinkling of flour and, using a sharp knife, slice each into quarters. Then slice each quarter in half. You should have 16 pieces of dough. 

Roll out each quarter into an 8" rope, then tie it into a knot. Place the knots on the prepared baking sheets, cover loosely with plastic wrap, and set aside for 20 minutes. The knots will rise more during this time.
Assembly and Cooking:
Preheat oven to 425 degrees (F). Line two large baking sheets with parchment paper; set aside.

Add water and baking soda to a large pot and bring to a boil.

Place pretzel knots, one at a time, into the boiling cooking liquid. Cook for 30 seconds each. 

Remove pretzel knots with a slotted spoon, allowing any excess water to drip back into the pot before transferring back onto the prepared baking sheet. Repeat with all pretzel knots. 

Once all pretzels have been boiled, brush the top of each with egg wash.

Place the pan in the oven and bake for 18 to 20 minutes, or until deeply golden brown. 

Cool on the baking sheet for 5 minutes before topping with garlic butter. Serve warm.
For the Garlic Coating:
Melt the butter in a small pan over medium-low heat. Add in the garlic and simmer for 1-2 minutes, or until fragrant (be sure not to over cook it here).

Add in the salt, garlic powder, and parsley, and stir to combine. Taste to season (add more salt, if needed), then remove from heat. 

Brush the freshly baked knots with the garlic coating. Sprinkle with cheese and serve warm!