Today's post is sponsored by Stonefire Naan. Their chewy, flavorful, and incredibly delicious Garlic naan makes the perfect base for my Philly Cheesesteak Quesadillas!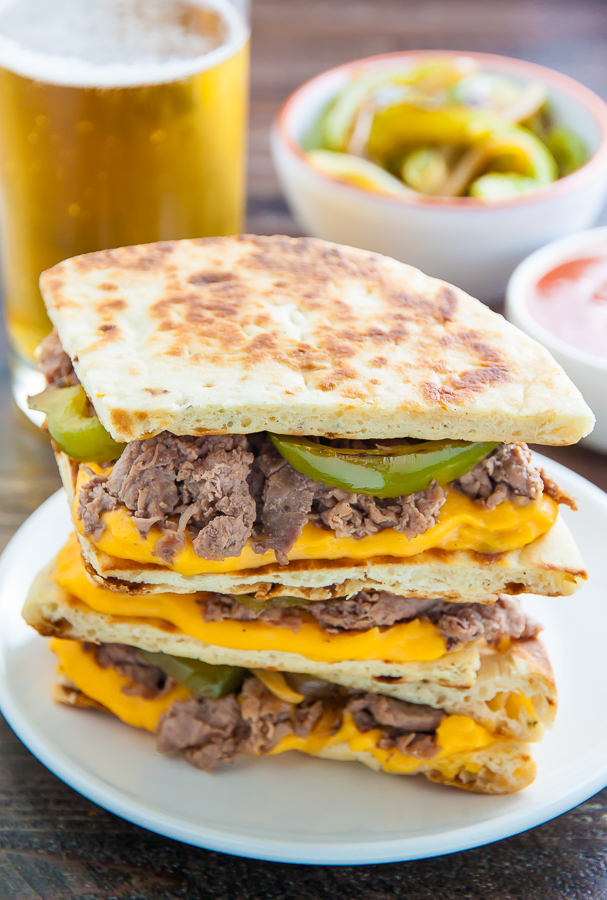 When it comes to quick and easy crowd pleasing recipes, Quesadillas reign supreme! They're mega tasty, infinitely adaptable, and shouldn't take more than 30 minutes start to finish. What's not to love?! So much to love!!!
In the past I've shared Shrimp Quesadillas, Sriracha Quesadillas, Roasted Veggie Quesadillas, and even BREAKFAST Quesadillas (they're epic!) but today's LOADED Philly Cheesesteak Quesadillas are a serious game changer! Layer upon layer of gooey cheese, juicy meat and caramelized onions all enveloped between two pieces of crispy yet chewy garlic naan… these quesadillas are not for the faint of heart.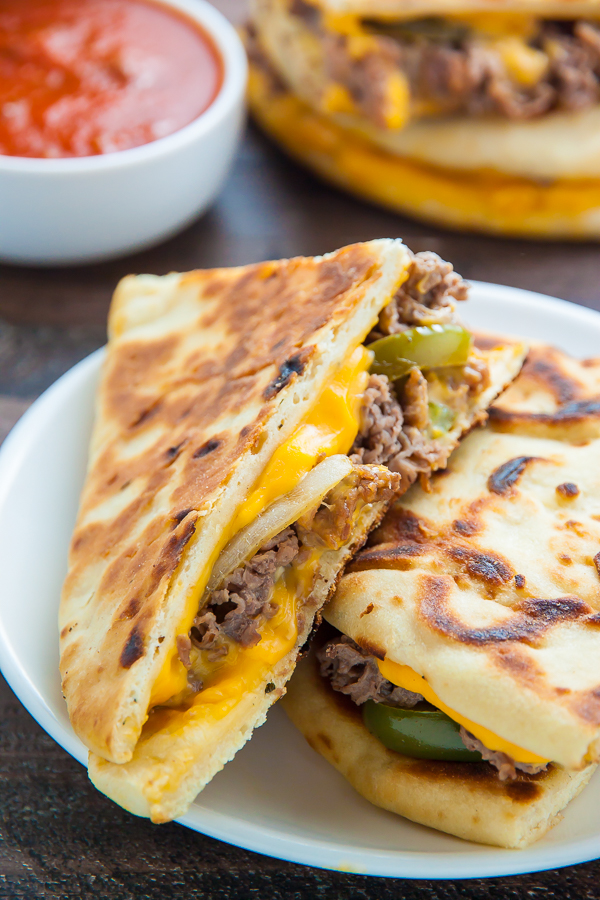 As mentioned earlier, I'm teaming up with Stonefire Naan to bring you today's fresh and flavorful recipe. I make everything from pizza to breakfast wraps to dessert pies with their products, and the fact that their authentic flatbreads are made with no added preservatives makes my heart sing! We have a Giant grocery store down the street from our house, making it crazy convenient to swipe up naan from their bakery department any time we get a craving. It stays fresh for 7 days, but it also freezes like a dream!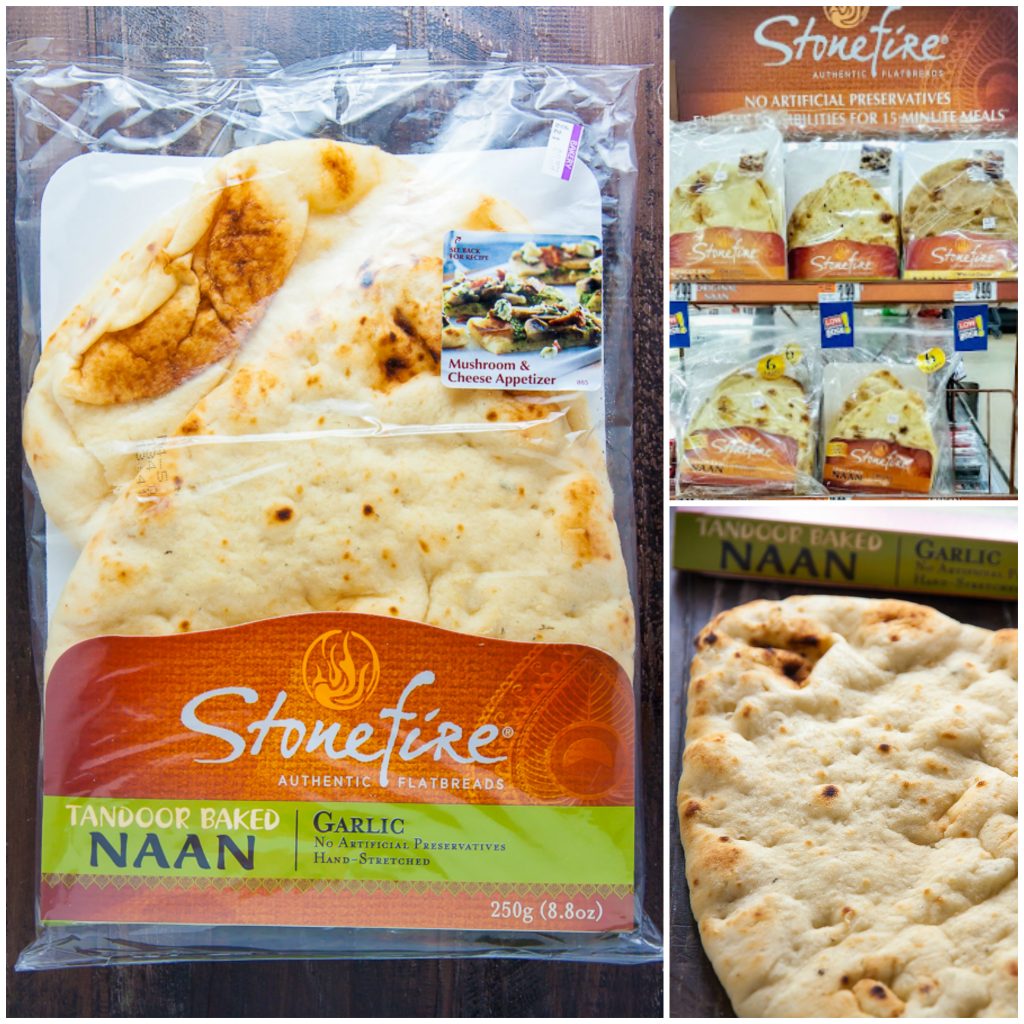 Tips and Tricks for Recipe Success:
For the meat I used ultra thin shaved steak. This meat cooks VERY fast and will become tough if overcooked, so be sure to keep an eye on it. I recommend searing it for 1 to 2 minutes per side, or until all of the pink is cooked out. If you're in a time crunch you can even use sliced rib-eye deli beef instead 😉
The variety of cheese called for in this recipe is completely adaptable! I know many associate a Philly cheesesteak with bright orange cheese whiz, so that's what I used. If Whiz isn't your thing, provolone, pepper jack, mozzarella or American cheese would all be delicious substitutions.
Much like the cheese, the fillings are also adaptable. I added fried onions and peppers because I love the color and flavor they add, but if you're not a fan, ditch them! You can be a purist and make them with just meat and cheese, or add sliced mushrooms, or use only red AND green peppers… you get my point!
While these Philly Cheesesteak Quesadillas are delicious enough to serve on their own, I love pairing them with a side of marinara sauce, ketchup or sour cream.
Don't be afraid to let the naan get a little color. The quesadilla will take 4 to 5 minutes per side to cook, but since the naan is thicker than a regular tortilla, it won't become incredibly hard. Instead the outside will toast, while the interior will remain delightfully chewy.
Double this recipe as needed! If you're serving a crowd, this will come in handy 😉
Enjoy these quesadillas as an easy weeknight dinner, whip them up for your next party… or in my case, devour them at your desk with a glass of red wine 😉 Just be sure you make them!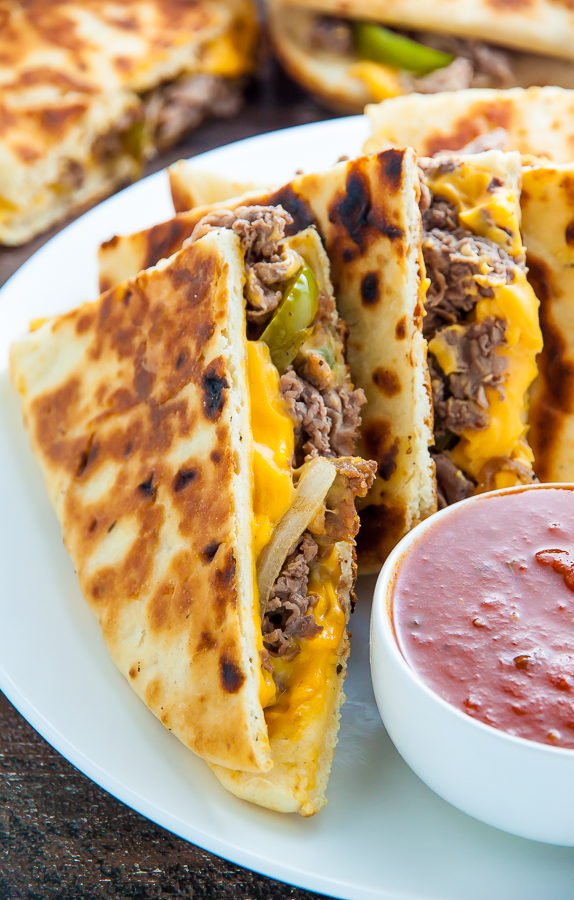 If you try this recipe, let me know what you think! Leave a comment below, and don't forget to snap a pic and tag it #bakerbynature on instagram! Seeing your creations makes my day ♥

This blog post is sponsored by Stonefire Naan; as always all opinions are my own.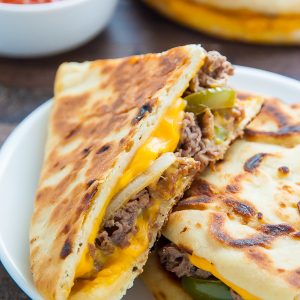 Loaded Philly Cheesesteak Quesadillas
Philly Cheesesteak Quesadillas are loaded with meat, cheese, pepper, and onions! Serve with marinara sauce, ketchup, or sour cream.
Ingredients
2 tablespoons olive oil, divided
1 small green pepper, thinly sliced
1 yellow onion, thinly sliced
1/4 teaspoon salt (more to taste)
1/8 teaspoon freshly ground black pepper (more to taste)
3/4 pound ultra thin shaved steak
(2) 8.8 ounce packages Stonefire Garlic Naan
1 cup cheese whiz OR 1/2 pound of your favorite sliced cheese
Instructions
Heat a large saute pan over medium-high heat. Add one tablespoon of olive oil and warm for a minute before adding in the green pepper slices, yellow onion slices, salt, and pepper. Cook, stirring occasionally, until the peppers and onions are softened and slightly charred round the edges; about 10 minutes. Use a spatula to transfer the peppers and onions into a bowl and set them aside.

Return the saute pan to medium-high heat. Add remaining olive oil and warm for a few minutes. Add beef, season with salt and pepper, and cook for 2 to 3 minutes, or until cooked to your liking. Remove from heat and using a slotted spoon transfer steak to a large plate; set aside.
Assembly:
Spray a large saute pan with non-stick cooking spray. Heat prepared pan over medium heat. Once warm, place one naan, bubble side facing down, in the pan. Top with a layer of cheese spread (or a few slices of cheese), an even layer of shaved steak, and an even layer of the cooked green peppers and onions.

Place a second naan on top, gently press down and cook for 4 minutes before carefully flipping it over and cooking for an additional 4 minutes on the other side. Carefully transfer quesadilla to a cutting board. Repeat with remaining ingredients.

Cut quesadillas into quarters and serve at once. I recommend serving them with marinara sauce, ketchup, or sour cream.
Next try:
The BEST Philly Style Italian Hoagies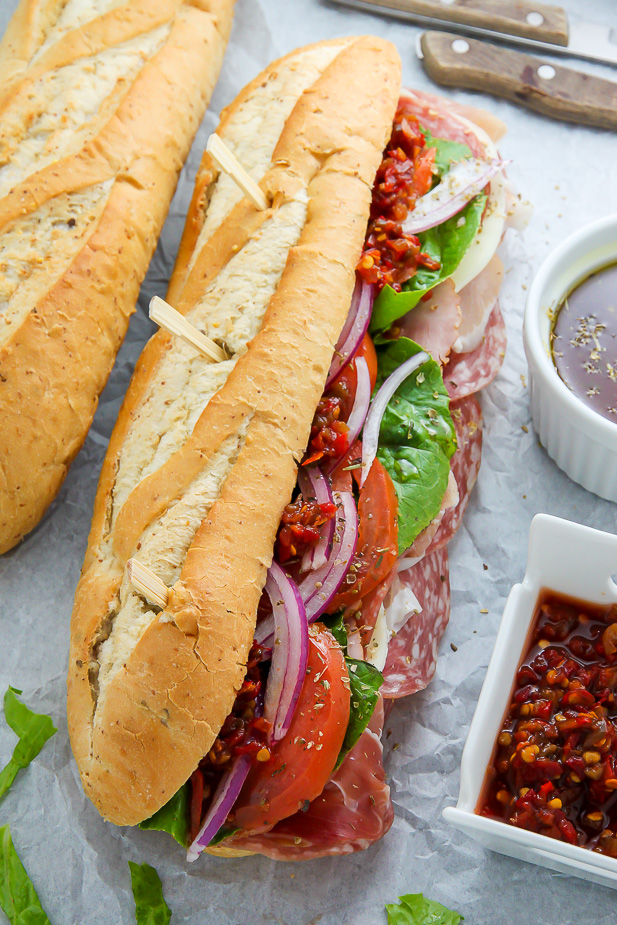 Lightened-Up Chicken Parmesan Lasagna