Old-fashioned chocolate buttermilk cupcakes topped with a generous swirl of homemade chocolate frosting. A timeless classic!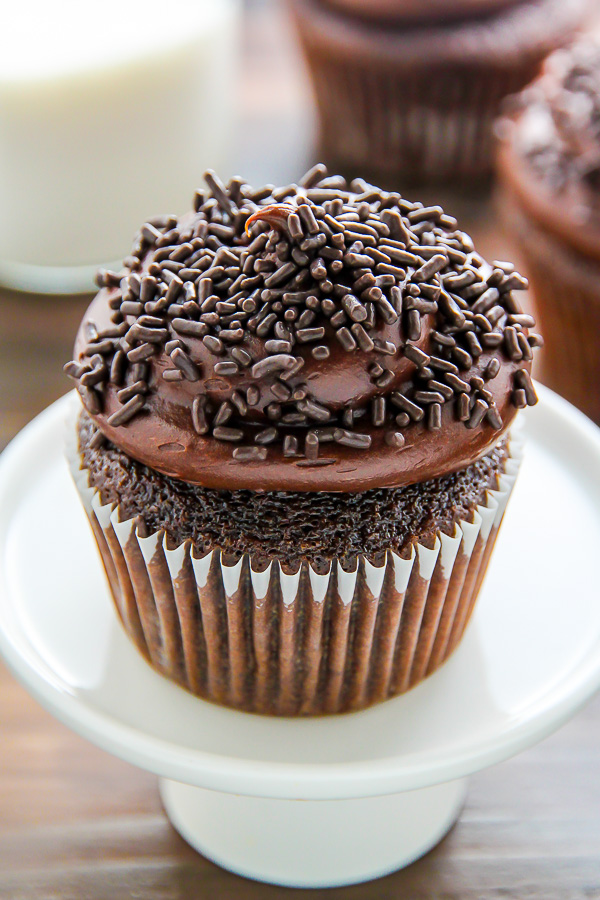 Chocolate Buttermilk Cupcake Recipe
It's no big secret that I LOVE chocolate cupcakes! Proof can be found by simply browsing the chocolate cupcake section of our recipe box!
Suffice to say there's no shortage of chocolate around these parts! But, with Valentine's day quickly approaching, I wanted to share with you the chocolate cupcake recipe I love MOST of all → Old-fashioned chocolate buttermilk cupcakes! These buttermilk cupcakes are:
supremely moist
super decadent
exploding with real chocolate flavor
topped with fluffy chocolate buttercream
simple and sweet
easy to make
and so delicious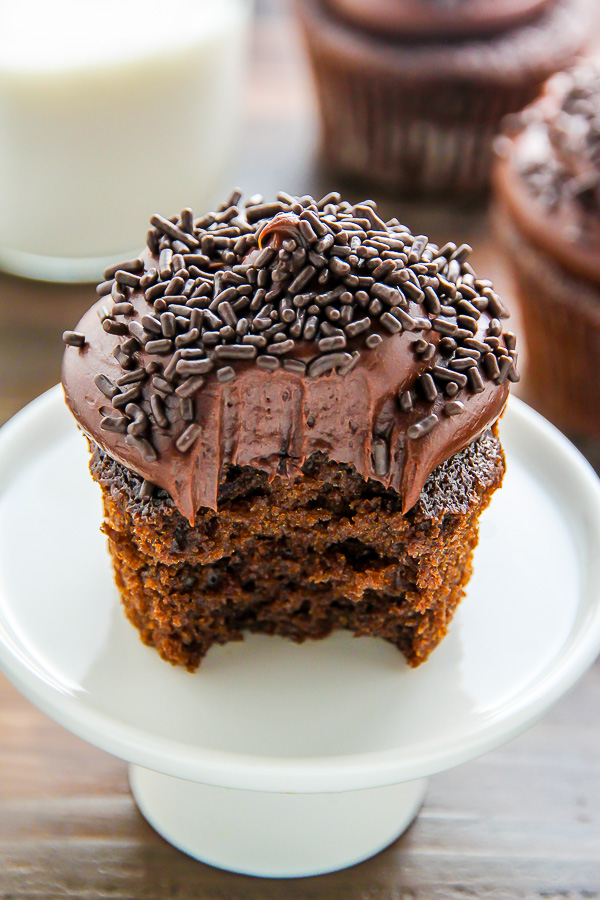 Are you ready for the recipe nitty-gritty? Cool. Let's get started!
The first thing we're going to address is texture. I know many of you cringe at this word, but I'm going to say it anyway… these cupcakes are supremely moist! In fact, I would go as far as to say they are the most tender cupcakes I have ever bitten into. We can thank the buttermilk for that. The cupcake batter also includes eggs, an egg yolk, melted butter, oil, buttermilk, and hot water. All of these ingredients add moisture and flavor to the cupcake, and I do not recommend leaving any of them out. This is a recipe I suggest following to a T.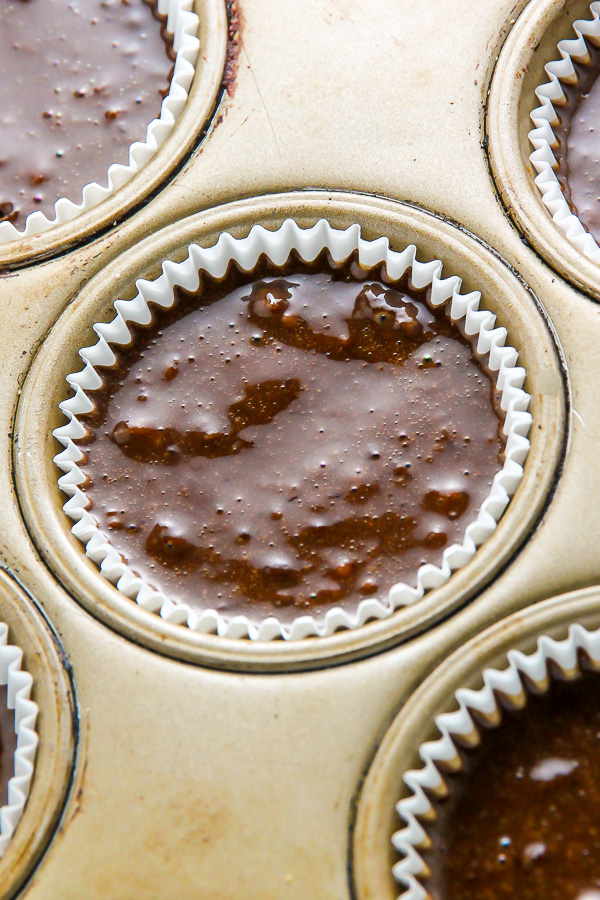 TIP: If you cannot find buttermilk where you live, or really want to make these cupcakes NOW and don't have any in the fridge, don't fret! Just follow the "recipe" below for an easy buttermilk substitute.
To make a buttermilk substitute you'll need 1 scant cup of milk (scant meaning just a little less than a whole cup)  and 1 tablespoon of lemon juice or white vinegar. You'll measure the 1 scant cup of milk and then stir in the tablespoon of lemon juice or vinegar. Then simply allow the mixture to stand at room temperature for 5. At this point you're ready to go! The milk should be slightly thickened, with tiny curdled bits floating around. It won't be as thick as regular buttermilk, but it will make a fine substitution for this recipe.
You will only need a 1/2 cup of the buttermilk for these cupcakes, so you'll have a 1/2 cup leftover to bake or cook with. I suggest this Blueberry crumb cake. Mmmm!
Time saving tip: If you'd like to make these cupcakes ahead of time – you totally can! These cupcakes may be frozen, unfrosted, for up to a month. Can I hear an amen?!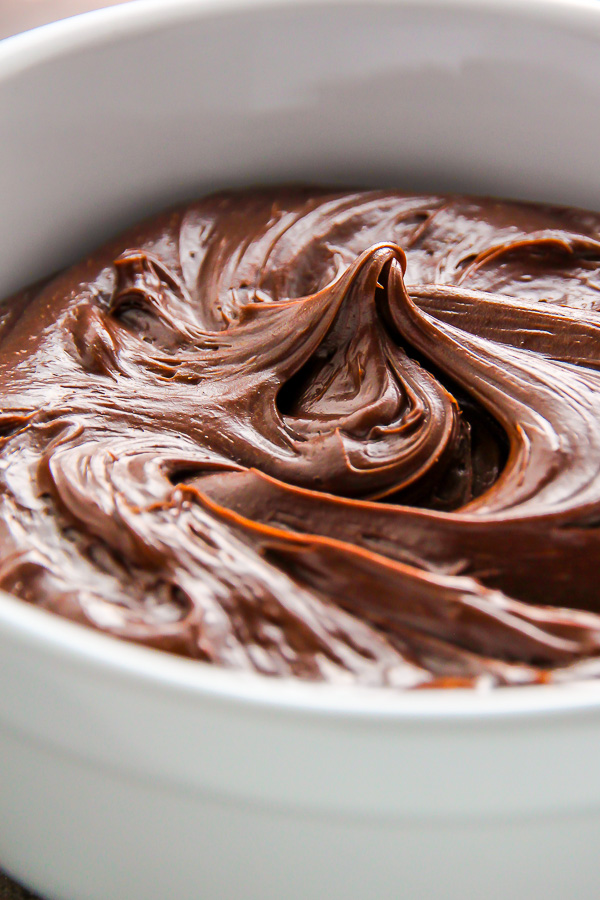 Let's talk about frosting, friend. Because what is a cupcake without a generous swirl of fluffy frosting on top?! ♥♥♥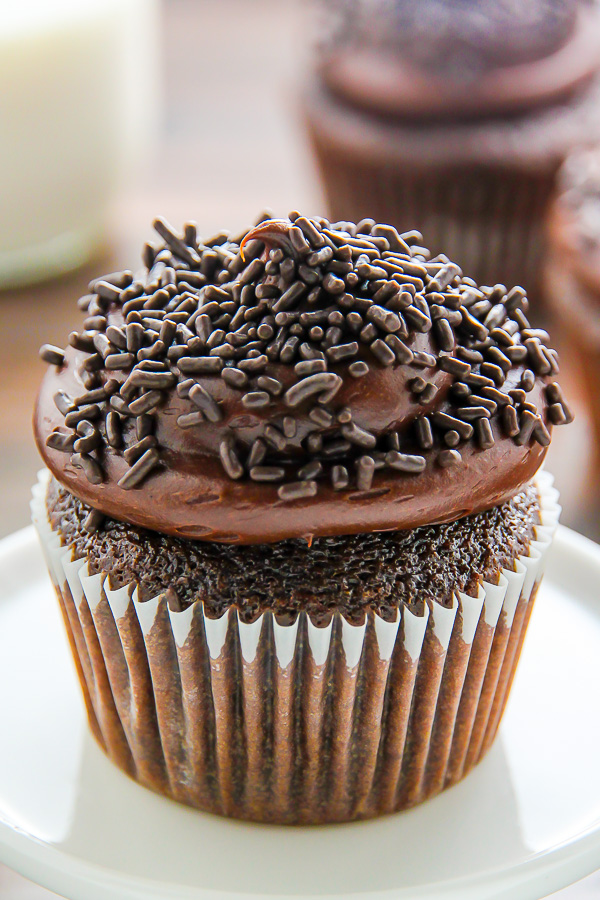 These chocolate buttermilk cupcakes are topped with an old fashioned homemade chocolate icing that tastes even better than it sounds. The best part? It's seriously simple to make! Just a few basic ingredients whipped up until smooth and creamy.
The secret to making bakery style frosting at home? Soft butter. You'll want to leave your butter out on the counter for at least 30 minutes before beating it smooth. It should be a little softer than room temperature.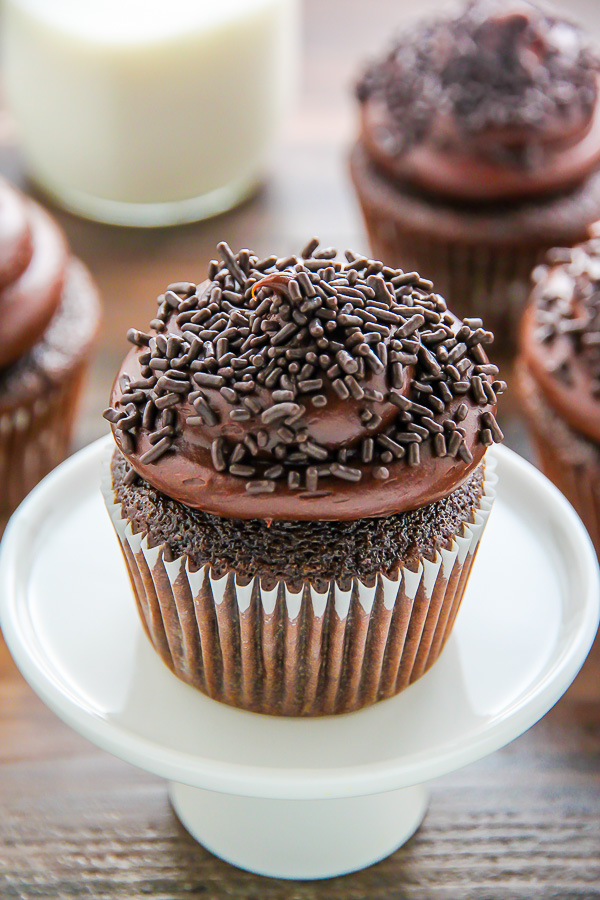 So… are you ready to sink your teeth into one of these or what?!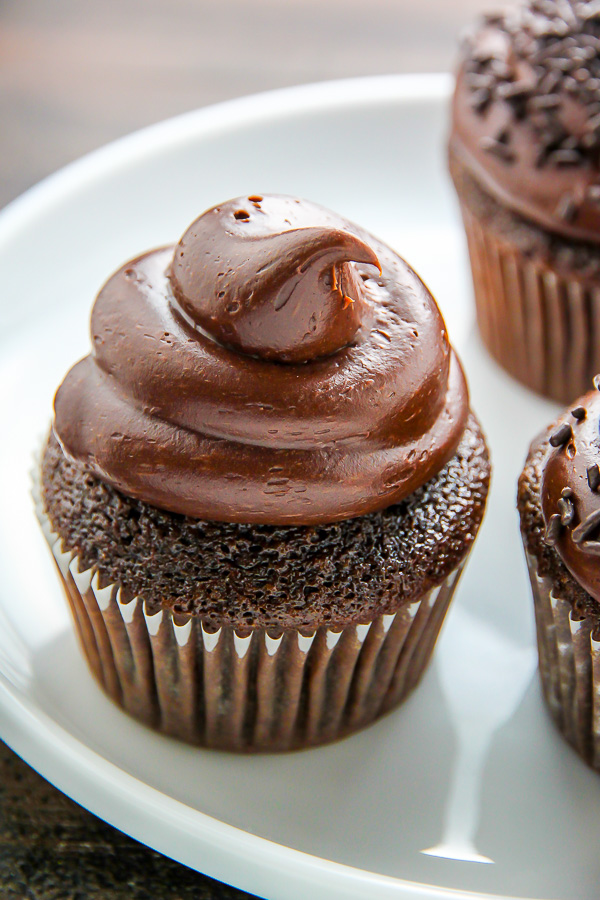 If you try this old fashioned cupcake recipe, let me know what you think! Leave a comment below, and don't forget to snap a pic and tag it #bakerbynature on instagram! Seeing your creations makes my day.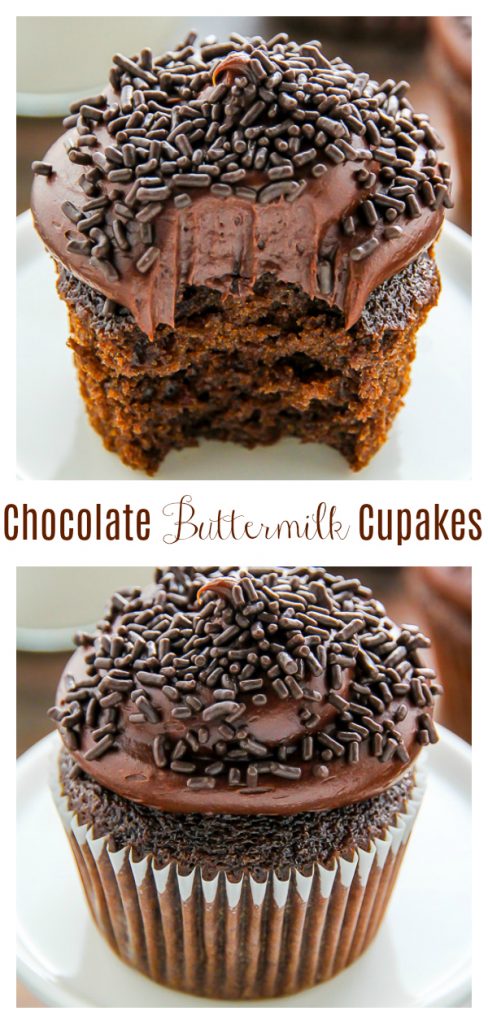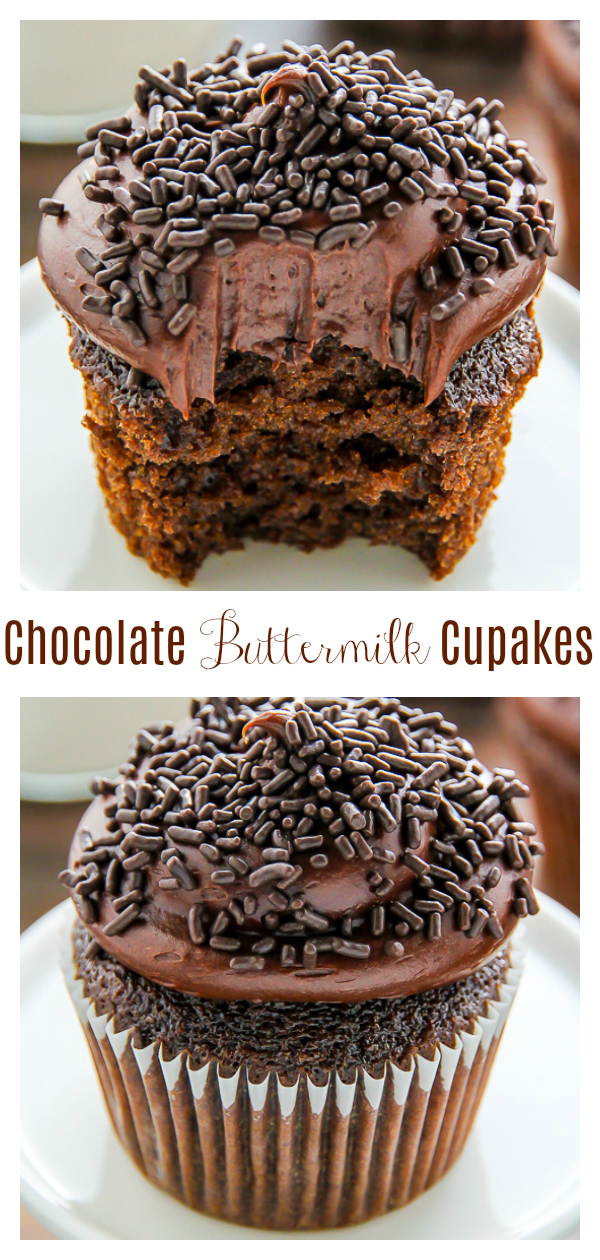 More Chocolate Cupcake Recipes: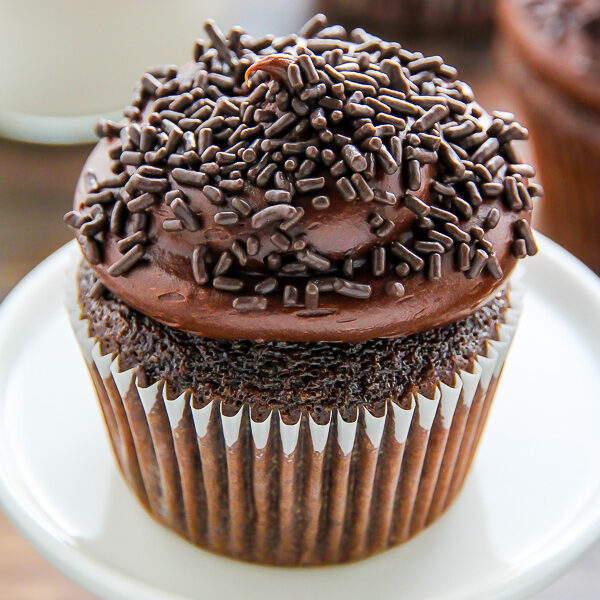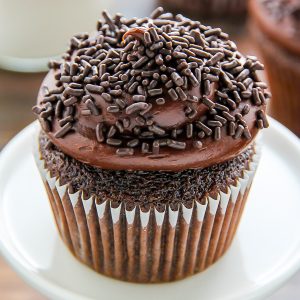 Old-Fashioned Chocolate Buttermilk Cupcakes
Super moist and fluffy old-fashioned chocolate buttermilk cupcakes topped with chocolate buttercream frosting!
Ingredients
For the chocolate buttermilk cupcakes:
2 and 1/2 tablespoons canola oil (or melted coconut oil)
1 stick unsalted butter, melted and slightly cooled
1/2 cup semi-sweet chocolate chips
3/4 cup + 2 tablespoons all-purpose flour, not packed
1/2 teaspoon baking soda
1 teaspoon baking powder
1/2 cup unsweetened cocoa powder, sifted
1/2 teaspoon salt
2 large eggs + 1 large egg yolk, at room temperature
1 cup granulated sugar
1 teaspoon pure vanilla extract
1/2 cup buttermilk
1/2 cup hot water
For the chocolate buttermilk buttercream:
1 stick unsalted butter
3 cups confectioners sugar
3/4 cup unsweetened cocoa powder
3-4 tablespoons buttermilk, well shaken
1/4 teaspoon salt
1 teaspoon vanilla
Instructions
For the chocolate buttermilk cupcakes:
Preheat the oven to 350 degrees (F). Line a 12-cup cupcake tin with cupcake liners and lightly spray the liners with non-stick spray. Set aside.

Melt the oil, butter, and chocolate together in the microwave, heating in 30 second increments, stirring between increments each time. You can also melt the oil, butter, and chocolate over very low heat on the stove top, but I find the microwave to be much easier. Whisk mixture until completely smooth and set aside to cool.

In a medium-sized bowl combine the flour, baking soda, baking powder, cocoa powder, and salt; stir together until thoroughly combined and set aside.

In a large bowl whisk together the eggs, yolk, sugar and vanilla together, beat until smooth. Add the cooled oil/butter/chocolate mixture and whisk until smooth. Add half of the flour mixture, then half of the buttermilk. Repeat the process until everything is added, and be sure to mix until JUST combined - then quickly stir in the hot water. It's important not to over mix, here! Just stir until evenly combined. Fill each cupcake liner 3/4 of the way full with batter (You will have enough batter to make more than 12 cupcakes). Bake for 16-18 minutes, or until a toothpick inserted in the center comes out clean. Repeat with remaining batter. Cool cupcakes completely before frosting.
For the chocolate buttermilk buttercream:
Sift together the confectioners sugar and cocoa powder, whisking well to ensure it's bump and lump free!

Using a handheld mixer OR a stand mixer fitted with the paddle attachment, beat the butter on medium-high speed until creamy; about 2 minutes. Reduce speed to low and slowly add the sifted sugar/cocoa powder, alternating with the buttermilk, then add the vanilla and salt. Once all of the ingredients have been added, beat on high speed until light and creamy and combined; beat for at least 1 minute on high.

Frost cooled cupcakes and top with any decorations if desired.

Cupcakes stay fresh at room temperature in an airtight container for up to 4 days.