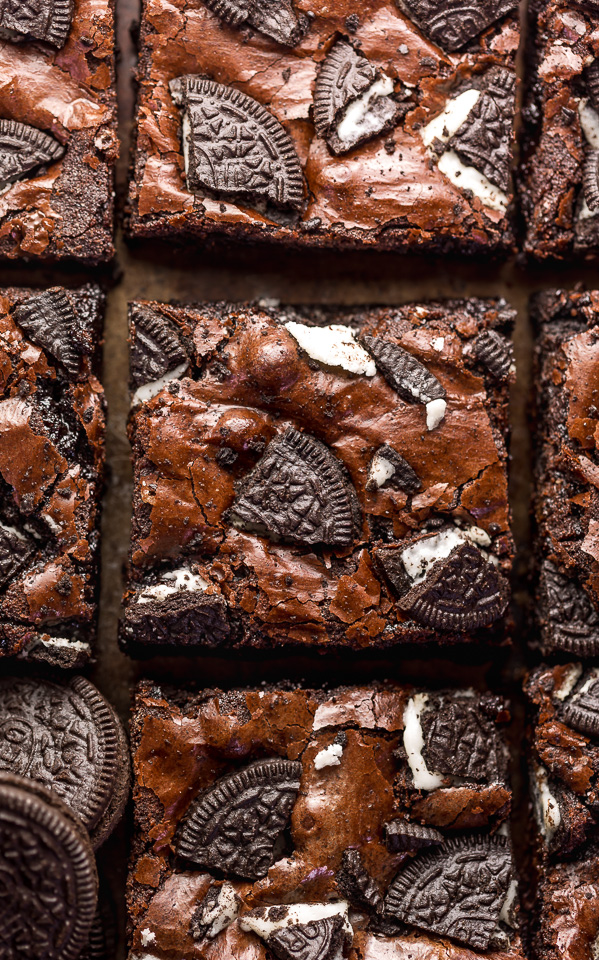 Oreo Brownies
Yield 9x9" Pan
Oreo Brownies are so easy and a MILLION times more delicious than boxed brownie mix! Loaded with rich chocolate flavor, chocolate chips, and plenty of crushed Oreo cookies! Preheat your oven to 350 and bake these brownies today!
Ingredients
3/4 cup (170 grams) unsalted butter 
1 and 1/2 cups (300 grams) granulated sugar, divided
3 Tablespoons (35 grams) *oil 
2 teaspoons vanilla extract 
2 large eggs plus 1 egg yolk
3/4 cup (95 grams) all-purpose flour
1/2 teaspoon salt
1/2 cup (43 grams) unsweetened Dutch-processed cocoa powder
3/4 cup (128 grams) semi-sweet chocolate chips
12 Oreo Cookies, roughly chopped 
Instructions
Preheat oven to 350 degrees (F) (175 degrees C). Line an 9x9-inch metal baking pan with parchment paper or aluminum foil. Spray lightly with non-stick spray and set aside.
In a medium saucepan, combine the butter and 1/2 cup (100 grams) sugar. Cook over medium heat, stirring frequently, until butter is completely melted. This mixture should be HOT.
Remove from heat. Stir in the oil and vanilla. 
In a large mixing bowl, combine the eggs, egg yolk, and remaining sugar. Whisk until well combined.
Slowly add the warm butter mixture into the egg mixture, adding it very gradually (a little bit at a time) and whisking constantly, until completely combined. 
Add in the flour, salt, and cocoa powder and, using a rubber spatula, slowly stir until just combined.
Finally, fold in the chocolate chips and 1/2 of the Oreo cookies! 
Scrape the batter into the prepared pan and smooth the top. Sprinkle the remaining Oreo cookies on top of the batter.
Bake for 27 to 30 minutes, or until the edges are firm and the top is shiny and slightly cracked. 
Place pan on a cooling rack and cool completely, about 2 hours, before slicing. 
Notes
*Canola Oil, Vegetable Oil, or Liquified Coconut will work.
*Do not over mix! Stop stirring when you see the last trace of dry ingredients. Over mixing will give you cakey brownies. 
Courses Dessert
Cuisine American
Recipe by Baker by Nature at https://bakerbynature.com/oreo-brownies/