Supremely rich and decadent Oreo Brownies taste just like a peppermint mocha latte. Amazing to the max!
As corny as this may sound, there are certain desserts I will always have a soft spot for because they remind me of my childhood, and brownies are definitely at the top of that list. My mom baked a lot with us when we were little – especially around the holidays – and even though most of it was boxed or premade, her efforts clearly left an impression on me. I did grow up to be a baker, after all.
Question for you: Did you bake with your parents growing up? Or, if you're a parent – do you bake with your kids? I'd love to hear about your kitchen memories in the comments below!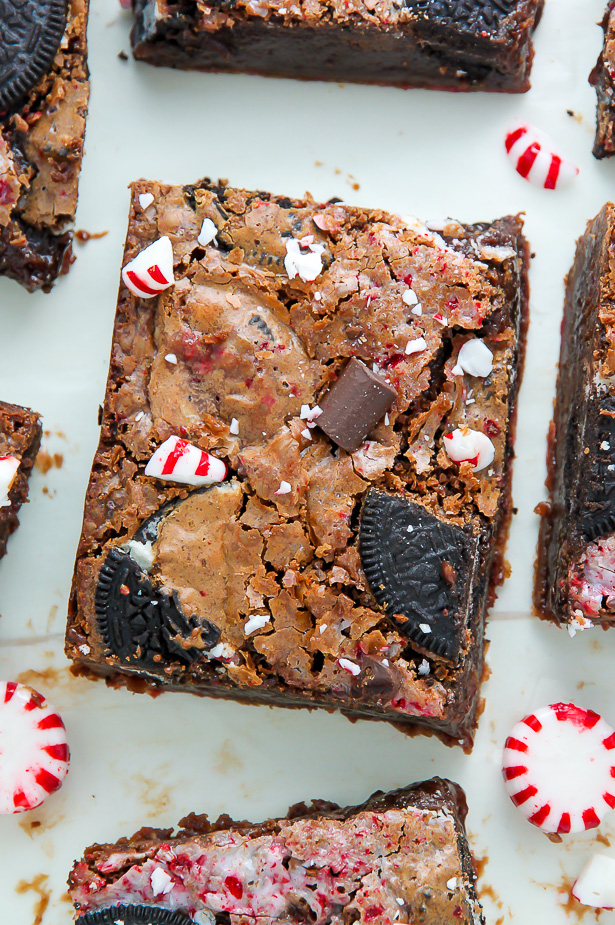 Confession time… I've been dying to share these fun and festive brownies with you since August! August 23rd, to be exact. I nailed the recipe, shot the photos, and then decided it probably best to wait a little to post since most people aren't cranking on their ovens and baking with peppermint when it's 95 degrees out. ← Clearly I'm seasonally challenged.
But today, I can wait no more! Friends, I give you Oreo Peppermint Mocha Brownies. ♥♥♥
These brownies are:
Thick and ultra fudgy
Chewy at the edges
Shiny and crackly on top
Not too sweet
Exploding with rich chocolate flavor in every bite
Perked up with real peppermint extract
Loaded with Oreos, crushed candy canes, and chocolate chunks
The ULTIMATE holiday brownie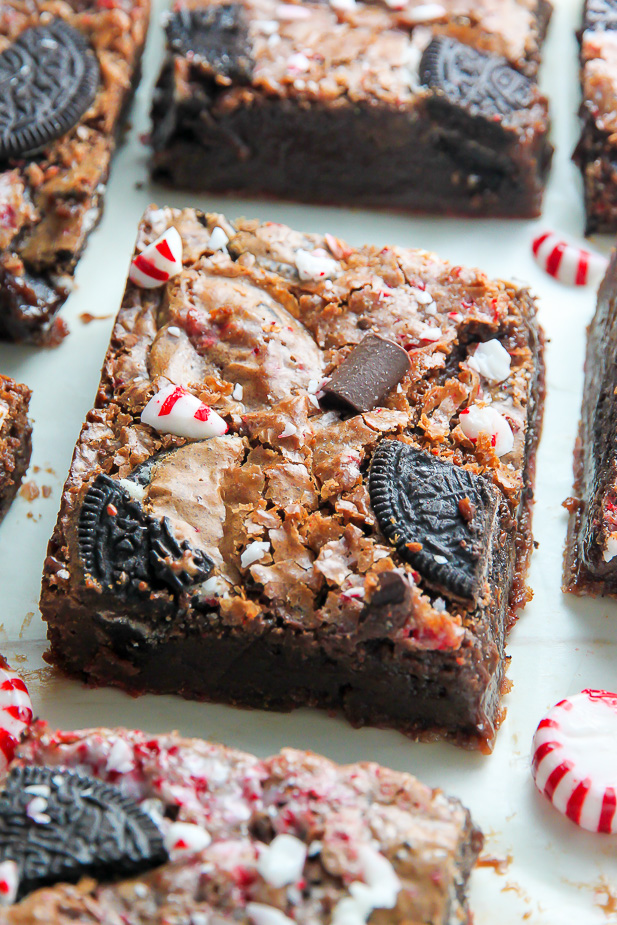 For this recipe you'll need all-purpose flour, cocoa powder, salt, chocolate, butter, espresso powder, granulated sugar, eggs, peppermint extract, Oreo cookies, candy canes (or peppermints), and chocolate chunks. I know. A lot of stuff! But that's what makes these brownies so awesome. They're fully loaded!
P.S. I religiously bake with this peppermint extract and this espresso powder
at home. I highly recommend them if you're in the market.
One thing I cannot stress enough: Be sure you don't over bake your brownies! They take 30-35 minutes in the oven, and they should be set at the edges and just slightly jiggly in the center. These brownies must cool completely before cutting, so plan ahead giving them at least 2 hours at room temperature, or one hour in the fridge. If you try slicing them fresh from the oven it will be a gooey (delicious) mess. You've been warned 😉
These brownies disappeared in just hours! Half of the batch went to our wonderful UPS delivery man (Hi, Henry!) and the other half… well, let's just say they were taken care of. I should seriously have a leash on me when brownies are involved; I have no self-control.
I hope you guys have a wonderful Saturday! I will see you tomorrow with a sweet and healthy breakfast treat. xoxo ♥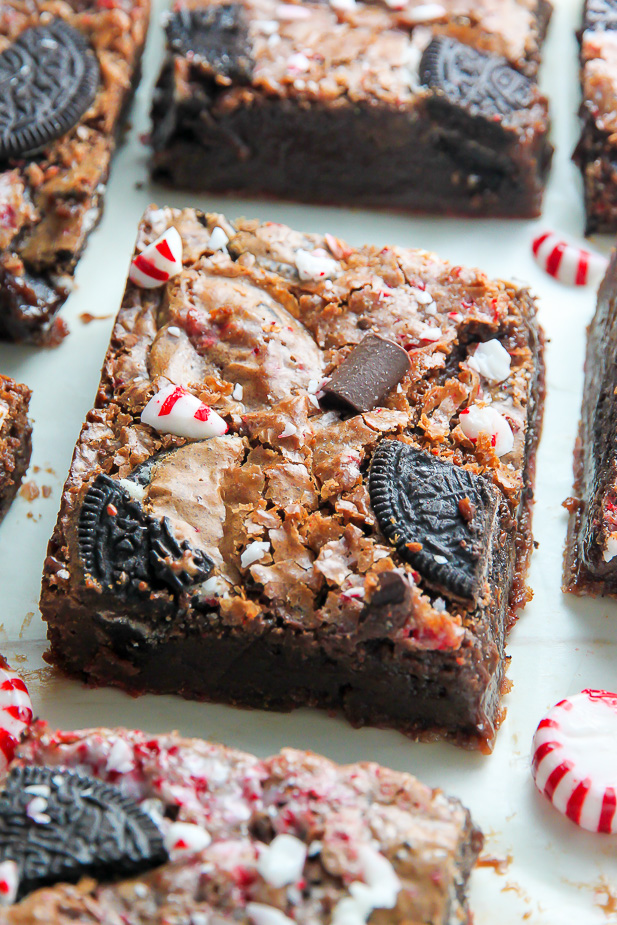 Oreo Peppermint Mocha Brownies
Yield 9x13" Pan
Oreo Peppermint Mocha Brownies are perfect for thick, fudgy, and loaded with peppermint flavor! 
Ingredients
For the brownies:
1 1/4 cup all-purpose flour
1 teaspoon salt
2 tablespoons unsweetened cocoa powder
11 ounces dark chocolate (chopped or chocolate chips)
1 cup unsalted butter, cut into 1 inch pieces
1 teaspoon instant espresso powder
2 cups granulated sugar
5 large eggs, at room temperature
1/2 teaspoon peppermint extract
For the mix-ins:
14 Oreos, chopped
1/2 cup crushed peppermint candies (or candy canes)
1/2 cup chocolate chunks
Instructions
Preheat the oven to 350 degrees (F). Butter the sides and bottom of a 9×13-inch baking pan. Line the pan with parchment paper.
In a medium bowl, whisk the flour, salt, and cocoa powder together.
Put the chocolate, butter and instant espresso powder in a large bowl and set it over a saucepan of simmering water, stirring occasionally, until the chocolate and butter are completely melted and smooth.
Turn off the heat, keeping the bowl over the water and add the sugars. Whisk until completely combined, then remove the bowl from the pan. The mixture should be room temperature.
Add 3 of eggs to the chocolate mixture and whisk until combined. Add the remaining eggs and whisk until combined. Add the vanilla and stir until combined. Do not overbeat the batter at this stage or your brownies will be cakey.
Sprinkle the flour mixture over the chocolate mixture. Using a rubber spatula (not a whisk), fold the flour mixture into the chocolate until just a bit of the flour mixture is visible. Stir in mix-ins, reserving a handful for the top of the batter.
Pour the batter into the prepared pan and smooth the top. Sprinkle on reserved mix-ins.
Bake in the center of the oven for 30-35 minutes, rotating the pan halfway through the baking time, until a toothpick inserted into the center of the brownies comes out with a few moist crumbs sticking to it. Let the brownies cool completely, then lift them out of the pan using the parchment paper. Cut into squares and serve.
Store at room temperature in an airtight container or wrap with plastic wrap for up to 3 days.
Courses Dessert
Cuisine American