[adthrive-in-post-video-player video-id="rZkOqnmQ" upload-date="2020-11-19T14:03:32.000Z" name="Oreo Brownies" description="Oreo Brownies are so easy and a MILLION times more delicious than boxed brownie mix! Loaded with rich chocolate flavor, chocolate chips, and plenty of crushed Oreo cookies! Preheat your oven to 350 and bake these brownies today!" player-type="default" override-embed="default"]
Say hello to your new favorite brownie recipe: Oreo Brownies! This recipe is easy to assemble and quick to bake: the brownie batter bakes up in just 30 minutes. Preheat your oven to 350 and bake these brownies today!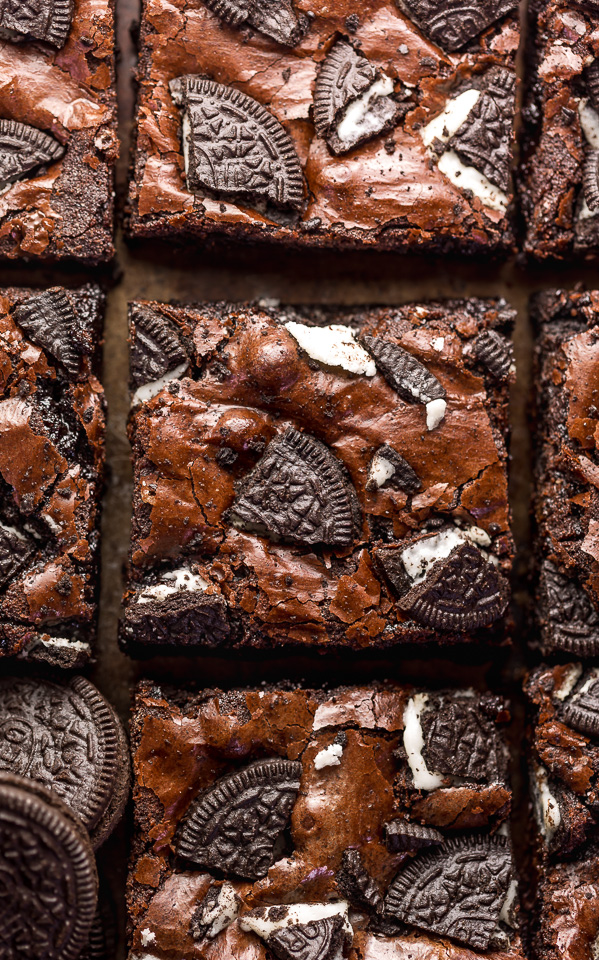 Best Oreo Brownie Recipe
It's no secret I'm obsessed with brownies. And I know I'm not alone in this obsession: this post for my top 20 best brownie recipes is one of the most popular on my website! So I know you love brownies, too. Last week I decided to poll you guys on IG stories and get your feedback on some of my newest brownie ideas! I asked if you'd rather see Oreo Brownies OR S'mores Brownies on the blog. And guess which recipe won? That's right: OREO!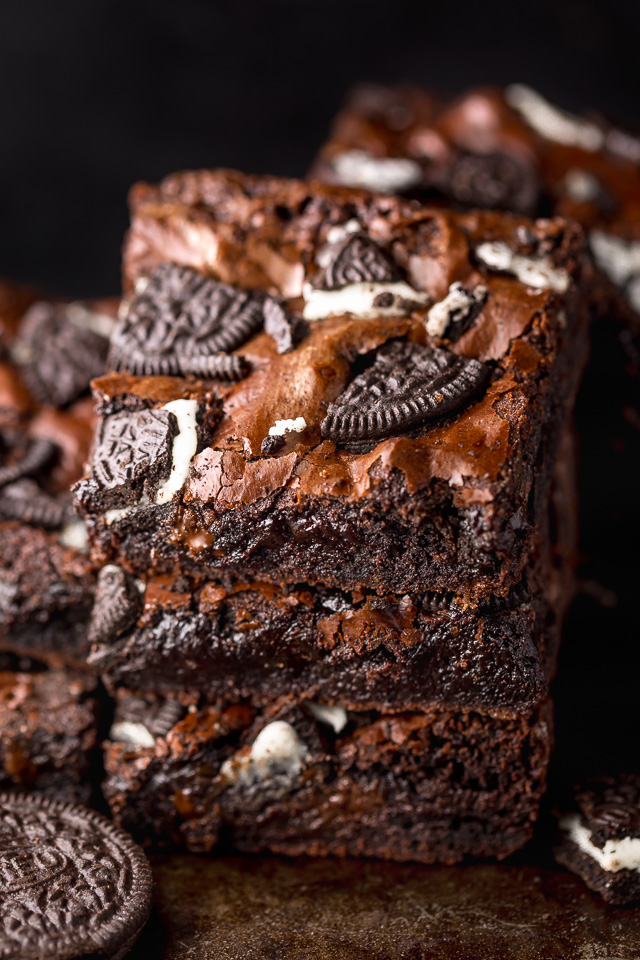 Ingredients for Oreo Fudge Brownies:
Butter: I always suggest using unsalted butter, but salted will work in a pinch. Simply omit the salt called for in the recipe.
Sugar: Granulated sugar works best for these brownies. If you only have brown sugar and are dying to bake these, it will work… but because brown sugar contains more moisture than granulated, the brownies will be slightly more cakey.
Oil: Liquified coconut oil, vegetable oil, and canola oil are all great options. I don't suggest olive oil because it will add an aftertaste I don't find particularly desirable. At least not in brownies!
Vanilla extract: This superstar ingredient enhances all of the flavors. If you're out of vanilla, don't fret and don't sub imitation vanilla instead. You can simply omit this ingredient and bake as directed.
Eggs: Make sure you have large eggs, not medium or extra large. And bring them to room temperature before you begin baking!
Flour: All-purpose flour, measured the right way! Which is by fluffing the flour up in the bag, then lightly spooning the flour into the measuring cup. Fill the cup up until it's heaping over, then use the flat edge of a knife to level it off. Measure your cocoa powder the same way! Or use an electric scale!
Cocoa powder: Because this recipe doesn't call for baking soda or baking powder, you can use Dutch-process cocoa powder OR unsweetened cocoa powder. I prefer Dutch-process because it gives these Oreo brownies extra rich cocoa flavor and a deep dark color!
Salt: Just a dash balances out the sweetness and enhances the chocolate flavor! I love fine sea salt, but any variety will work.
Oreo cookies: You'll need 14 Oreo cookies for this recipe! You'll fold half into the batter, and then press the other half on top of the brownie batter. Some folks like to pour half of the brownie batter into the pan, top with Oreos, then top with the remaining batter. That also works.
Chocolate chips: I like to add between a 1/2 cup to 1 cup of chocolate chips. My go-to variety is semi-sweet, but white chocolate chips, peanut butter chips, dark chocolate chips or milk chocolate chips all make a delicious addition. You can even throw in some peanut butter cups if you're feeling extra indulgent.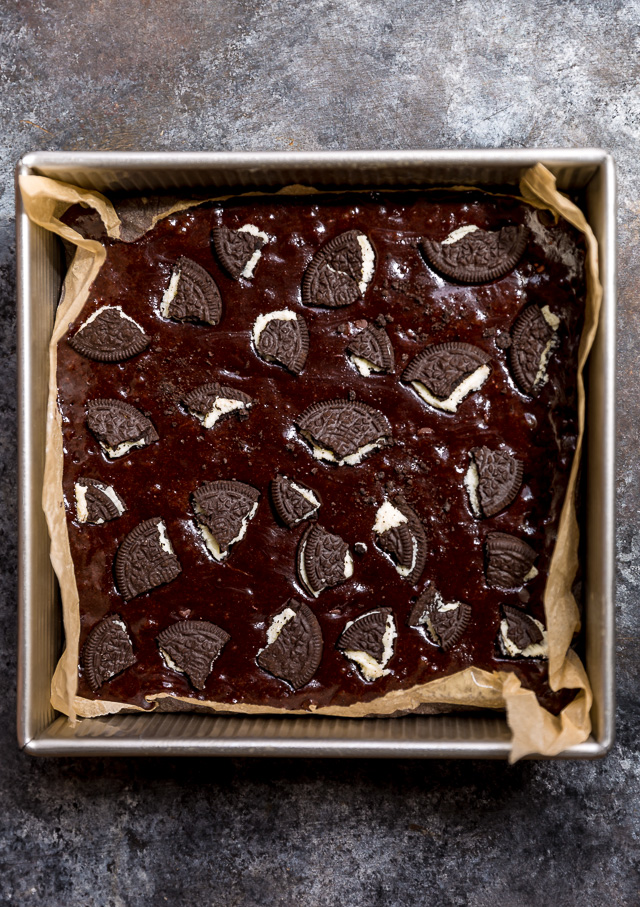 The Best Baking Pan for Oreo Brownies?
Before you begin baking, you'll want to preaheat your oven and prep your baking pan. Using the right baking pan is very important, especially when it comes to brownies. I highly suggest using a reflective metal baking pan, like this one. To ensure your brownies slide right out of the pan, you can line it with parchment paper. Note: If you're using a glass or ceramic baking pan, you'll need to increase the bake time by about 10 minutes. That's because those variety of pans take longer to conduct heat, which requires more time in the oven.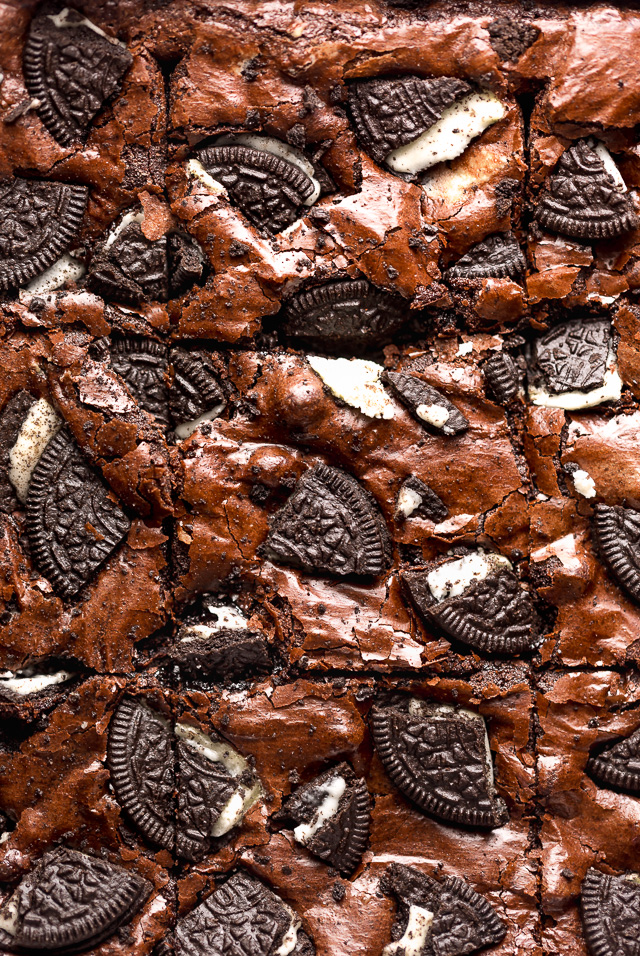 How to Make Oreo Brownies like a Pro
Make the Brownie Batter: My number one tip? Don't over mix the brownie batter! Over mixing is easy to do and is what causes CAKEY brownies. Pro tip: stop mixing when you still see the tiniest trace of dry ingredients. Then fold in your chocolate chips and oreo cookies. You should only need 3 or 4 stirs to incorporate those final ingredients. It's better to under mix than over mix!
Bake your Brownies: You'll want to bake them on the middle rack of you oven. You'll also want to be sure not to over bake your oreo brownies, because over baking leads to dry brownies! When you inset a toothpick, moist crumbs should be attached. And they should be a little jiggly in the center when you remove them from the oven.
Cool the Brownies: Place your brownies on a cooling rack and let them cool completely in the pan! This is definitely the hardest part because it takes a great deal of patience. But you'll be amazed at how much the brownies firm up as they cool! And you'll delight in how neatly they slice when they've cooled completely.
If it's a warm and gooey brownie you crave, simply reheat a square in the microwave for a few seconds. And if you're going to go through the effort of heating it… I hope you top it with a scoop of ice cream. Vanilla, salted caramel, and chocolate are all great options!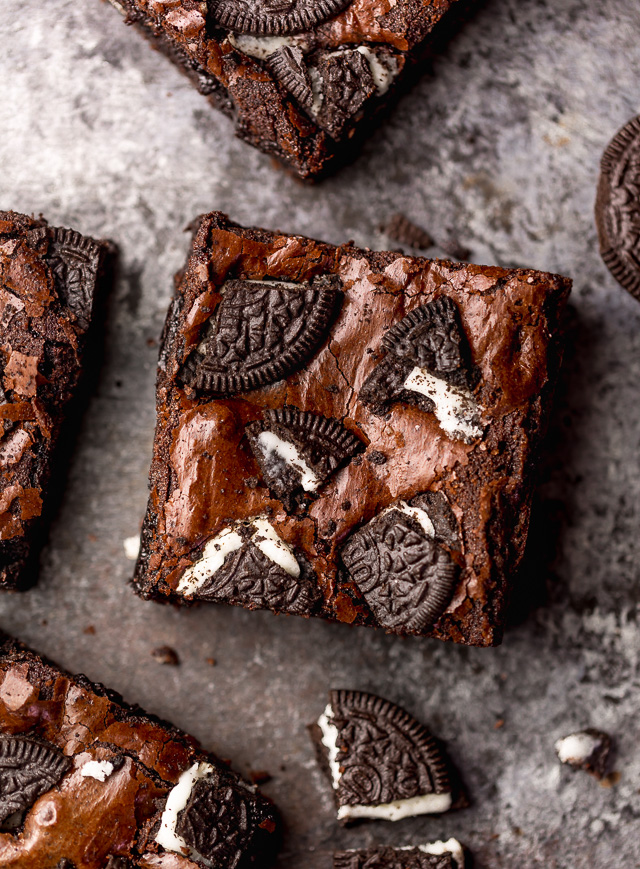 Can I freeze Oreo Brownies?
Yes, if you're lucky enough to have leftovers, you can absolutely freeze them. Here's how to freeze leftover brownies:
Individually wrap each brownie in plastic wrap, then wrap it in a piece of aluminum foil. This double wrap ensures freshness.
Place the wrapped brownies into a large freezer-safe plastic bag, and place that in the freezer.
Freeze for up to 2 months! To thaw, simply place a brownie on the counter for a few hours, or until its softened, then enjoy at room temperature, or reheat in the microwave.
Please note the sooner you freeze your brownies, the better they'll taste. Freeze freshly baked oreo brownies and they'll taste great… freeze 4 day old brownies and they're going to taste a little stale and dry.
Pin this Recipe for Later!
More Oreo Recipes: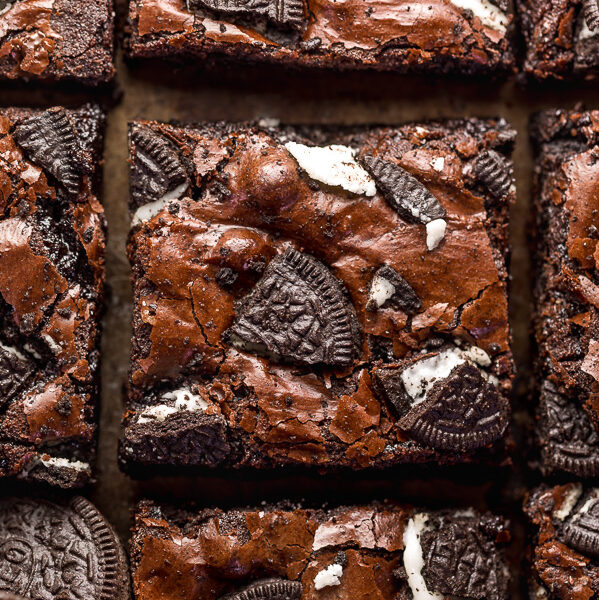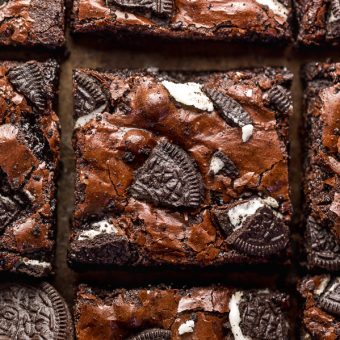 Oreo Brownies
Oreo Brownies are so easy and a MILLION times more delicious than boxed brownie mix! Loaded with rich chocolate flavor, chocolate chips, and plenty of crushed Oreo cookies! Preheat your oven to 350 and bake these brownies today!
Ingredients
3/4 cup (95 grams) all-purpose flour
1/2 teaspoon salt
1/2 cup (43 grams) unsweetened Dutch-processed cocoa powder
3/4 cup (170 grams) unsalted butter
3 Tablespoons (35 grams) *oil
1 and 1/2 cups (300 grams) granulated sugar, divided
2 teaspoons vanilla extract
2 large eggs plus 1 egg yolk
3/4 cup (128 grams) semi-sweet chocolate chips
14 Oreo Cookies, roughly chopped
Instructions
Preheat the oven to 350 degrees. Line a 9x9-inch baking pan with parchment paper. Spray lightly with non-stick baking spray and set aside.

In a large bowl, sift together the flour, salt, and cocoa powder. Set aside until needed. 

In a medium saucepan, combine the butter, oil, and 1/2 cup of the sugar. Heat over medium heat, stirring frequently, until butter is completely melted. Remove from heat. 

In a large mixing bowl, combine the eggs, egg yolk, and remaining sugar. Whisk until well combined, about 30 seconds. Stir in vanilla. 

Slowly, pour the warm butter mixture into the egg mixture, adding it very gradually (a little bit at a time) and whisking constantly until completely combined. 

Add in the dry ingredients and, using a rubber spatula, slowly stir until just combined. 

Finally, fold in the chocolate chips and 1/2 of the Oreo cookies! *Do not over mix! 

Scrape the batter into the prepared pan and smooth the top. Press the remaining Oreo cookies on top of the batter.

Bake for 30 minutes, or until the edges are firm and the top is shiny and slightly cracked. 

Place the pan on a cooling rack and cool for at least 2 hours before slicing. 
Notes
*Canola Oil, Vegetable Oil, or Liquified Coconut will work. *Do not over mix! Stop stirring when you see the last trace of dry ingredients. Over mixing will give you cakey brownies.