If you love pecan pie, you HAVE to try
Pecan Pie Cheesecake
! Featuring a crunchy pecan crust, creamy brown sugar cheesecake filling, and gooey pecan pie topping, this is the ultimate holiday dessert! This crowd-pleasing dessert will leave your friends and family hailing you a baking genius!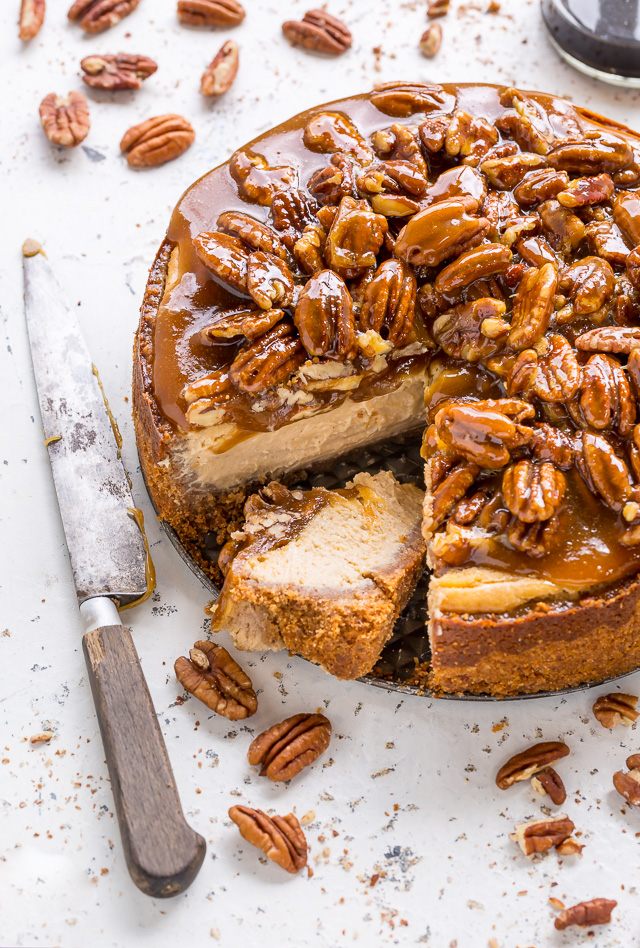 Pecan Pie Cheesecake Recipe
September is finally here! Are you savoring every last second of summer? Or are you like so SO so ready for Fall? I'm currently burning pumpkin spice candles, shopping for sweaters, and eating a slice of pecan cheesecake. So I think you know what team I'm on! #TeamFallForever
Whether you're mourning the end of Summer or celebrating the beginning of Fall, you can take comfort in knowing this tasty pecan pie cheesecake is here for you! It's a total showstopper! And if you're a pecan lover like me, it's sure to become one of your all-time favorite desserts! I hosted a 'Christmas in July' party earlier in the Summer, and out of the 10 desserts I served, this was the one people couldn't stop talking about!!! So it's a great conversation piece, too!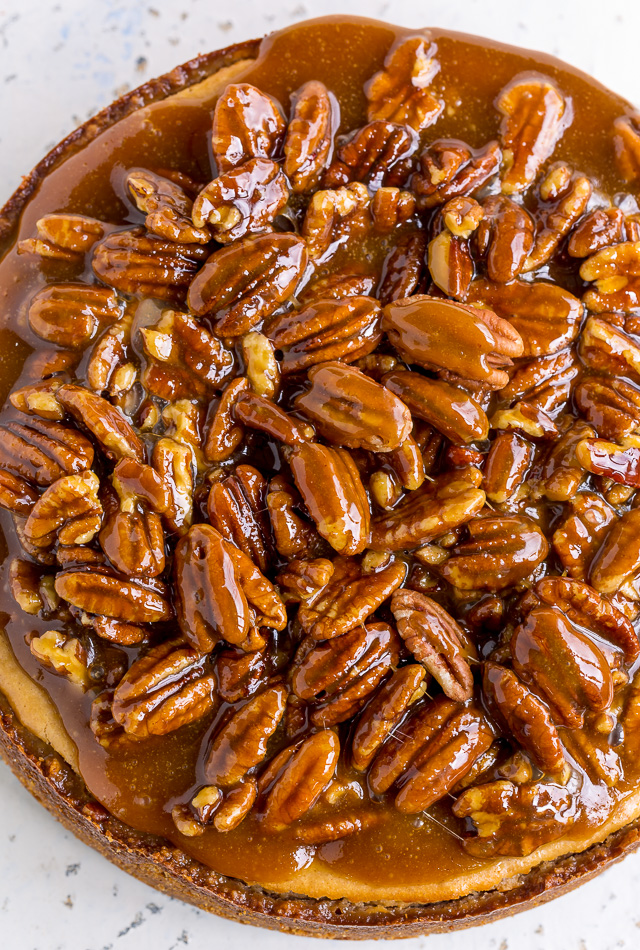 Texture wise, I knew I wanted the base of this pecan pie cheesecake to be a combination of my New York-Style Cheesecake and my Extra Rich and Creamy Cheesecake. So basically, I wanted it to be creamy and smooth, but on the denser side. To achieve that, I used the classic combination of full-fat cream cheese and sour cream, but eliminated heavy cream, which is also typically used. The results? A super creamy cheesecake that's dense enough to support all this gooey pecan pie filling ↓
So what makes this a pecan pie cheesecake and not just a cheesecake with pecans? Quite a few things! Starting with the crust, which featured crushed pecans and a dash of cinnamon. Then we have our creamy cheesecake filling, which is made with brown sugar, plenty of vanilla, a touch of cinnamon, and a glug of bourbon. You can omit the bourbon if you're out or don't enjoy spiked desserts! And finally – and most importantly – we have the gooey pecan pie topping! Which is added last, so that the gooey caramel sauce remains soft and drippy and so delicious! If you prefer a firm topping, or want to make this in advance, simply chill for a few hours after topping!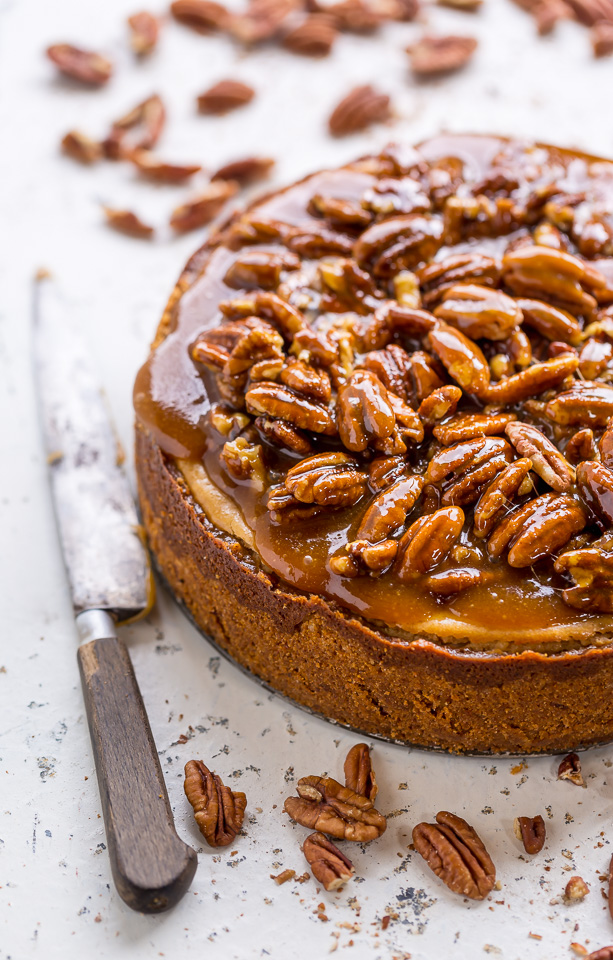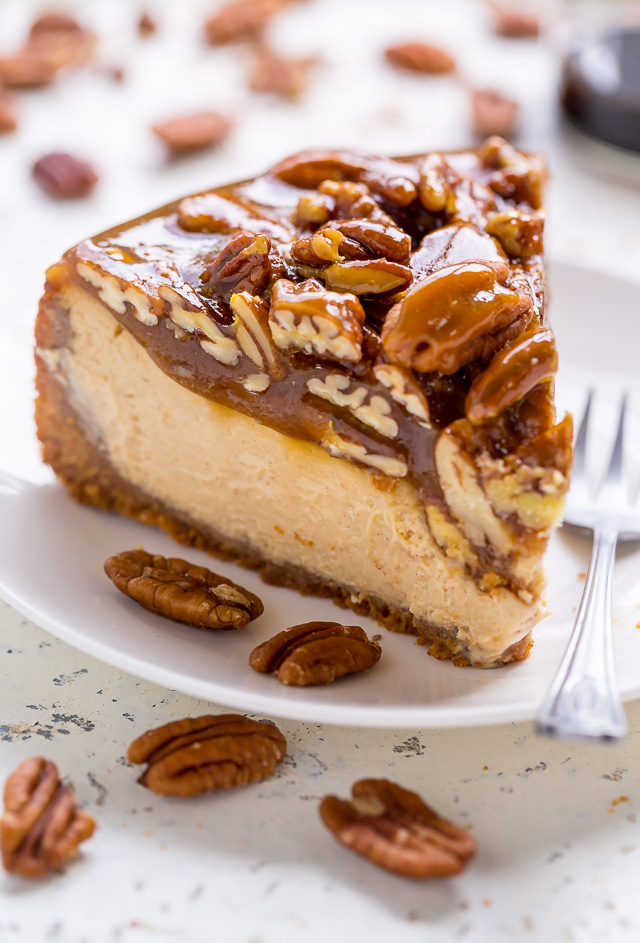 Pecan Pie Cheesecake Ingredients
graham crackers crumbs: for the crust! You can use crushed graham cracker crumbs or buy the sleeves of graham crackers from the store and crush them yourself. The easiest way to do this is by placing them in a blender or food processor and pulsing until completely crushed. Then measure and use the amount called for.
pecans: you'll use these for the crust and for the pecan pie topping, so be sure you have plenty on hand!
dark brown sugar: adds a subtle molasses flavor to the cheesecake!
granulated sugar: when I was recipe testing, I found half brown sugar and half granulated sugar works best for the batter!
salt: to balance the flavors!
butter: salted or unsalted work!
cream cheese: for the best taste and texture, use full-fat blocks of cream cheese. We love Philadelphia brand (not sponsored lol)! Bring you cream cheese to room temperature before using it in this recipe; it should be very soft!
sour cream: full-fat works best! You'll also want this ingredient at room temperature.
heavy cream: also known as whipping cream!
pure vanilla extract: Just a dash enhances all of the other flavors.
bourbon: love it… or leave it?! It's up to you! I love adding a dash because I love bourbon pecan pie, but if you don't, simply omit!
eggs: you'll want to use large eggs, that are at room temperature. This recipe calls for 3 eggs and 2 egg yolks. Discard the remaining egg white, or save it for a later use.
cinnamon: adds a subtle spice!
Of course you'll also need a cheesecake pan! This 9″ Springform pan is my absolute favorite.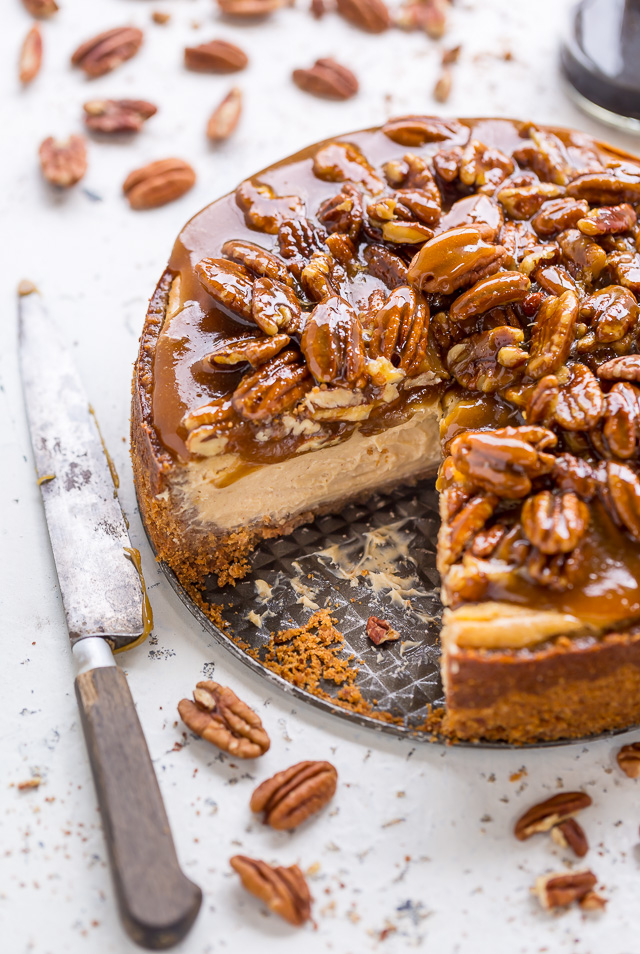 PRO TIP: BE SURE NOT TO OVERBEAT YOUR CHEESECAKE BATTER! THIS ALLOWS TOO MUCH AIR INTO THE BATTER, AND WILL CAUSE THE CHEESECAKE TO EXCESSIVELY RISE IN THE OVEN, THEN COLLAPSE WHEN REMOVED. TO MAKE A SILKY SMOOTH BATTER WITHOUT OVERBEATING, BE SURE TO FULLY BLEND THE CREAM CHEESE AND SOUR CREAM BEFORE ADDING THE REMAINING INGREDIENTS.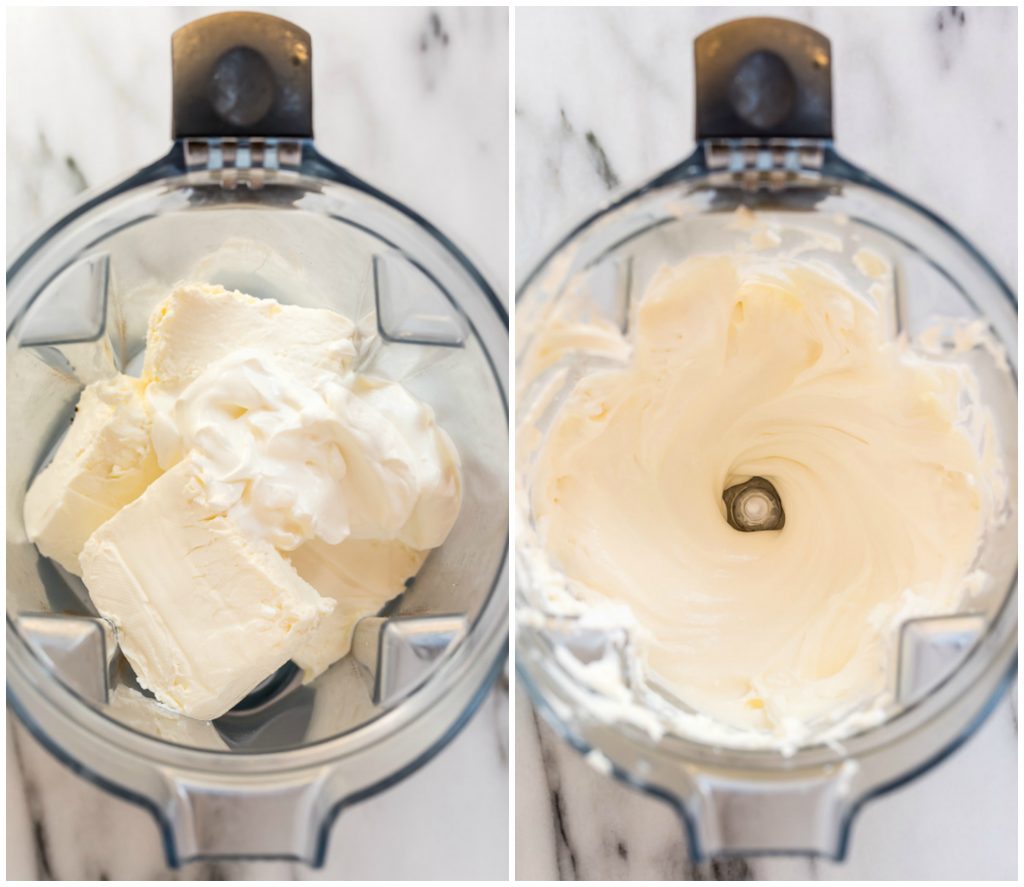 Do I have to make a Water Bath for this Cheesecake?
Ok, so normally my answer is yes! But for this recipe, I say it's up to you! If you don't use one, it may crack. But since you're covering the top with pecan pie filling, it really won't matter too much. That said, I always use a water bath because in addition to reducing the likelihood if cracks, it helps the cheesecake bake slowly and evenly. This ensures the perfect creamy texture!
If you are going to use a water bath, here are a few tips:
The best type of pan to use for a water bath is a roasting pan or any other large pan with sides at least 2 inches high. You need a pan with high edges so you can put enough water into the pan without it overflowing.
The best way to prepare a water bath is to place the wrapped cheesecake pan into the roasting pan, place the pan into the oven, and then – very carefully – add 2 inches of water into the pan.
Since this recipe uses a springform pan, you'll need to wrap the pan first with aluminum foil to prevent water from coming through the bottom. To quote Mary Berry, "nobody likes a soggy bottom!".
So play it safe and use MULTIPLE layers of heavy duty aluminum foil. You'll want to bring the layer all the way up the sides of the pan, and in a crisscross pattern, for best results.
If you'd like to avoid making a water bath at all costs, you can place the roasting pan on the rack beneath the cheesecake. This work about 60% of the time for me. And since you'll be covering this cheesecake with pecan pie topping, a few cracks aren't the end of the world.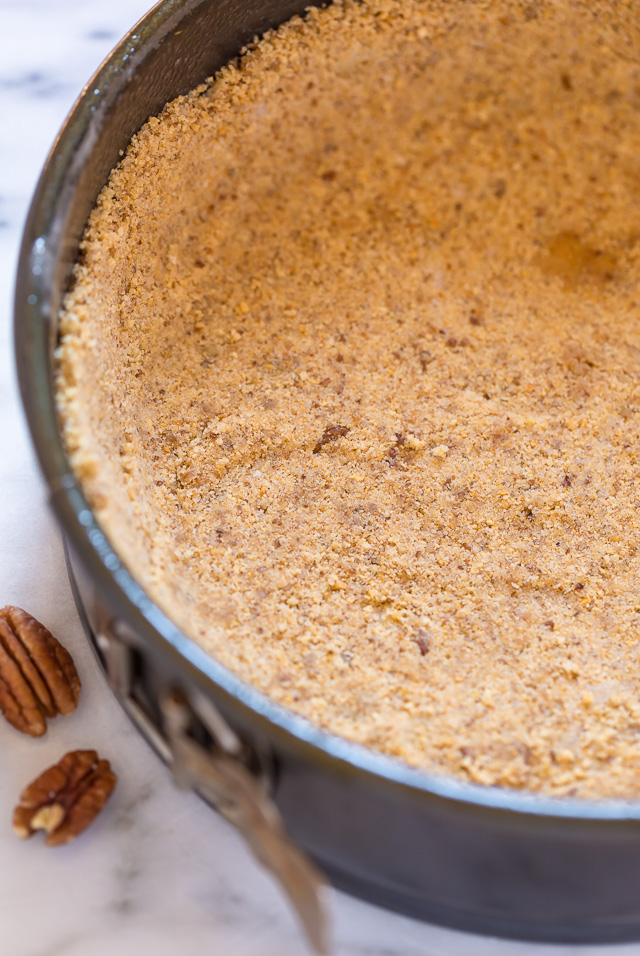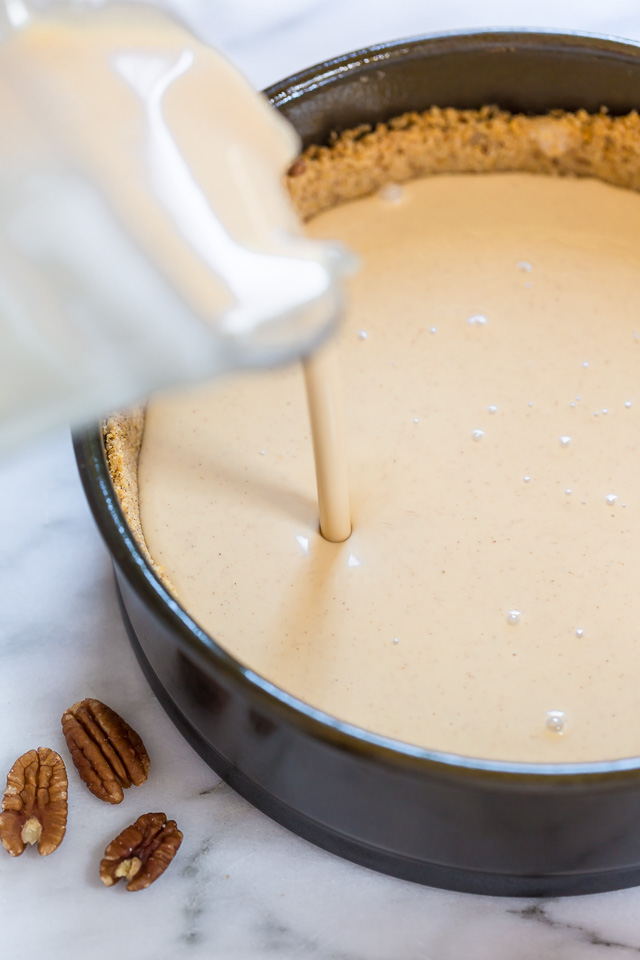 Can I Freeze this Cheesecake?
Yes, of course! Baked cheesecakes freeze great! Simply cool the cheesecake completely, then wrap the whole cheesecake, or slices of the cheesecake, in multiple layers of saran wrap, then place in a freezer bag. This cheesecake will keep, stored properly in the freezer, for two months. I do find this cheesecake freezes best without the pecan topping.
How do you Defrost a Cheesecake?
To defrost the cheesecake, simply thaw the wrapped cheesecake in refrigerator overnight. Do not attempt to thaw cheesecake in the microwave or oven!
More Pecan Pie Recipes: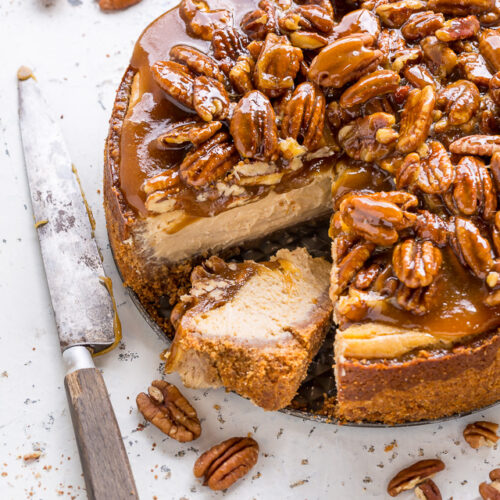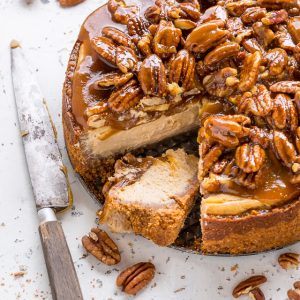 Pecan Pie Cheesecake
If you love pecan pie, you HAVE to try Pecan Pie Cheesecake! Featuring a crunchy pecan crust, creamy brown sugar cheesecake filling, and gooey pecan pie topping, this is the ultimate holiday dessert! This crowd-pleasing dessert will leave your friends and family hailing you a baking genius!
Ingredients
For the Pecan Graham Cracker Crust:
1/2 cup pecans, pulsed into crumbs
2 cups graham cracker crumbs
1/3 cup granulated sugar
1/4 teaspoon ground cinnamon
1/4 teaspoon salt
8 tablespoons butter, melted
For the Cheesecake:
(3) 8-ounces bricks cream cheese, very soft
3/4 cup full-fat sour cream
1/2 cup dark brown sugar, packed
2/3 cup granulated sugar
1/4 teaspoon ground cinnamon
2 teaspoons pure vanilla extract
3 large eggs + 2 egg yolks, at room temperature
1 Tablespoon bourbon (optional)
2 tablespoons all-purpose flour
For the Pecan Pie Topping:
6 Tablespoons unsalted butter
2/3 cup dark brown sugar, packed
1/2 teaspoon ground cinnamon
1/3 cup heavy cream
1/4 teaspoon salt
2 cups pecans, whole or chopped
1 teaspoon vanilla extract
1 Tablespoon bourbon (optional)
Instructions
For the Pecan Graham Cracker Crust:
Preheat oven to 350 degrees (F). 

Wrap the bottom and sides of a 9" springform pan with heavy duty tinfoil. I recommend doing several diligent layers here to ensure no water creeps through when you place the pan in the water bath. Lightly spray the pan with non-stick spray, then set aside.

Place pecans in the body of a blender or food processor, and pulse until the nuts have been completely pulsed to fine crumbs.

In a large bowl combine the pecan crumbs, graham cracker crumbs, sugar, cinnamon and salt. Add in the melted butter and, using a rubber spatula, stir well to combine.

Pour crust into prepared pan. Firmly pat the mixture into the prepared pan, working it from the center and up the sides. 

Bake for 10 minutes. Place crust on a cooling rack while you prepare the filling.

Reduce oven temperature to 325 degrees (F). 
For the Cheesecake:
In the body of a high power blender, food processor, stand mixer fitted with the whisk attachment, or in a large bowl using a hand held mixer, beat the softened cream cheese and sour cream until completely smooth.

Add in both sugars, ground cinnamon, and vanilla and beat on medium speed, just until smooth, scraping down the sides and bottom of bowl as needed.

Reduce to low speed and add in the eggs and yolks and beat until just combined.

Turn the mixer off and, using a rubber spatula, fold in the bourbon. Then fold in the flour, mixing just until combined.

Pour filling on top of the partially baked crust. Using a rubber spatula, smooth the top.

Place the cheesecake pan into a large, deep pan. Fill the pan with 2 inches of hot water. This is your water bath and will help ensure your cheesecake comes out crack free.

Carefully place the pan in the oven and bake for 1 hour and 10 minutes. Turn oven off and let the cheesecake sit, undisturbed, for 30 minutes, inside the oven, with the door shut. The cheesecake should be still slightly wiggly. 

Remove cake from oven and gently run a knife very around the edge of the cake. Place the cheesecake on a cooling rack and cool completely, then loosely cover the pan with saran wrap and chill for at least 8 hours.

Cheesecake will keep, covered in the fridge, for 5 days. Cheesecake may be frozen for 2 months. Thaw overnight before slicing. 
For the Pecan Pie Topping:
In a large skillet over low heat, melt the butter. Add in the brown sugar and cook, stirring with a whisk, until the sugar has melted and mixture is bubbling, about 2 minutes.

Add in the cinnamon, heavy cream, and salt and whisk to combine. Add in the pecans and, using a rubber spatula, fold them into the liquid mixture until they're completely coated. Remove from heat and stir in the vanilla and bourbon.

Cool for 10 minutes, then scrape the mixture on top of the cheesecake. Slice and Serve.
Notes
Pecan Pie Topping can be made, and kept at room temperature, up to an an hour in advance. I don't recommend refrigerating the topping, as it will solidify.