Tired of cakey pumpkin cookies? Try these Chewy Cinnamon Chip Pumpkin Cookies!!! Made with a 1/2 cup of real pumpkin puree plus pumpkin spices, they're soft and chewy and loaded with real pumpkin flavor!
Chewy Pumpkin Cookies
It's officially pumpkin season! If you've been hanging around my blog lately, you're already aware of this fact because I've been posting new pumpkin recipes like crazy! Pumpkin bread, cinnamon sugar pumpkin donuts, pumpkin scones, pumpkin cheesecake, pumpkin muffins, and even pumpkin pancakes. Pumpkin fever is a real thing, my friends! And I have it baaaaad. ♥♥♥
One recipe I was determined to nail this Fall? Pumpkin cookies. But not just any pumpkin cookie! I wanted to create my dream pumpkin cookie.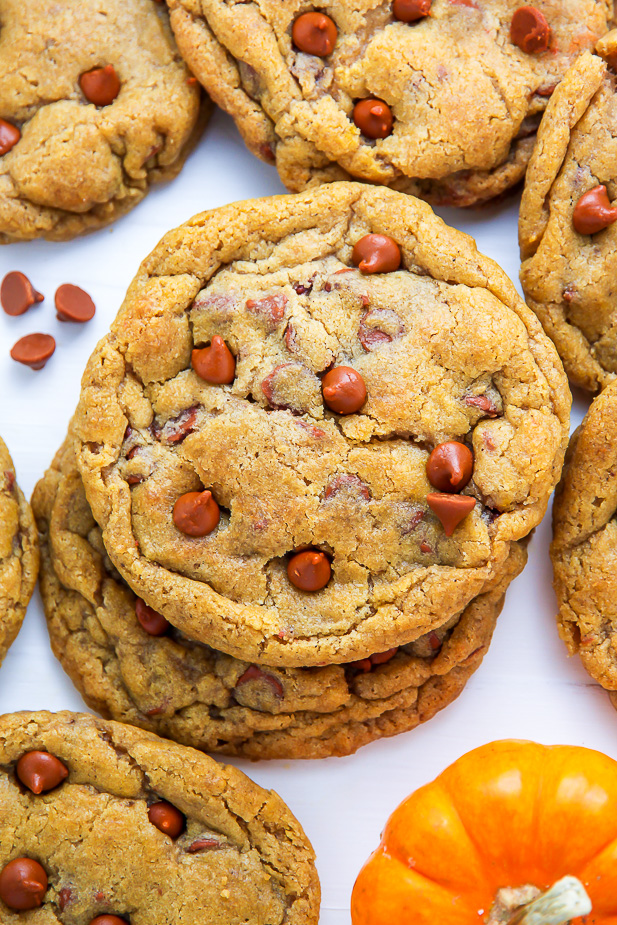 So what's a dream pumpkin cookie taste like? I'm glad you asked!
The Best Pumpkin Cookies are:
Thick and chewy, but NOT cakey (there are already enough cakey pumpkin cookies in the world!)
Crispy at the edges
Loaded with gooey cinnamon chips (if you're a fan of pumpkin and chocolate, feel free to use chocolate chips instead!
Bursting with real pumpkin flavor
Easy to make
Ready in 30 minutes
In other words. These cookies are pure, pumpkin magic.
I created this recipe for fellow pumpkin lovers who crave a cookie full of pumpkin flavor, but still have the texture of an actual cookie. I cannot tell you how many pumpkin cookie recipes I've tried that promise a chewy cookie… but deliver a cake-y, almost muffin like one. Don't get me wrong, I love muffins! But not when I want a cookie.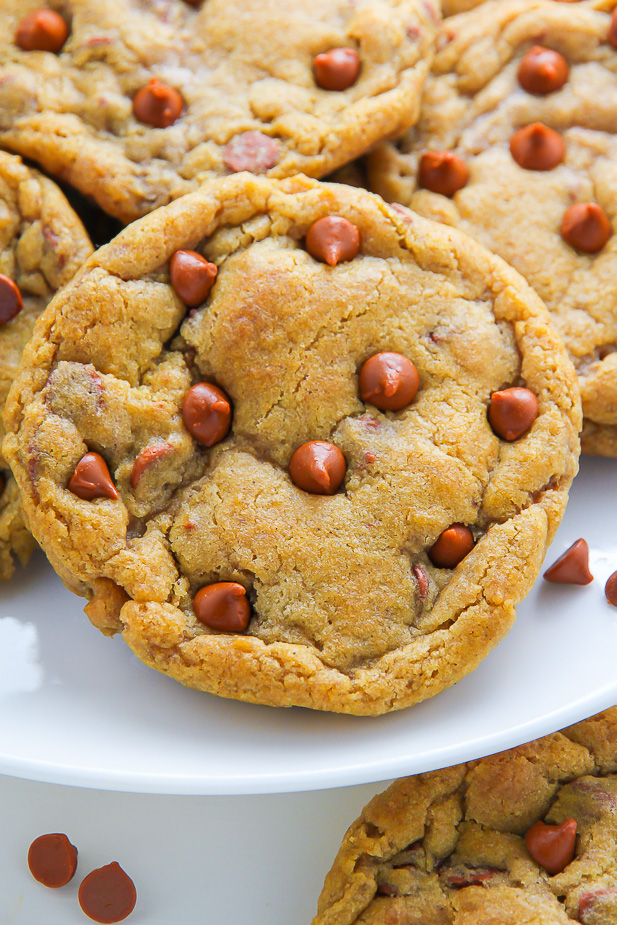 Pumpkin Cookies Recipe
So let's get down to details. How did I make these cookies so awesome?! Well, actually, it's pretty simple. First up, let's talk ingredients. For this recipe you'll need:
butter
granulated sugar and brown sugar
vanilla extract
pumpkin puree (NOT pumpkin pie mix)
pumpkin pie spice
all-purpose flour
baking soda
salt
and cinnamon chips.
As you may have noticed, this recipe does not call for eggs or even an egg yolk. I promise that's not a mistake! And it saves you time because you don't have to worry about bringing them to room temperature.
SPEAKING OF CINNAMON CHIPS ↓↓↓ Cinnamon Chips are my secret ingredient for making these cookies 110% addicting.I used these Hershey's Cinnamon Baking Chips
, but feel free to use any brand you like.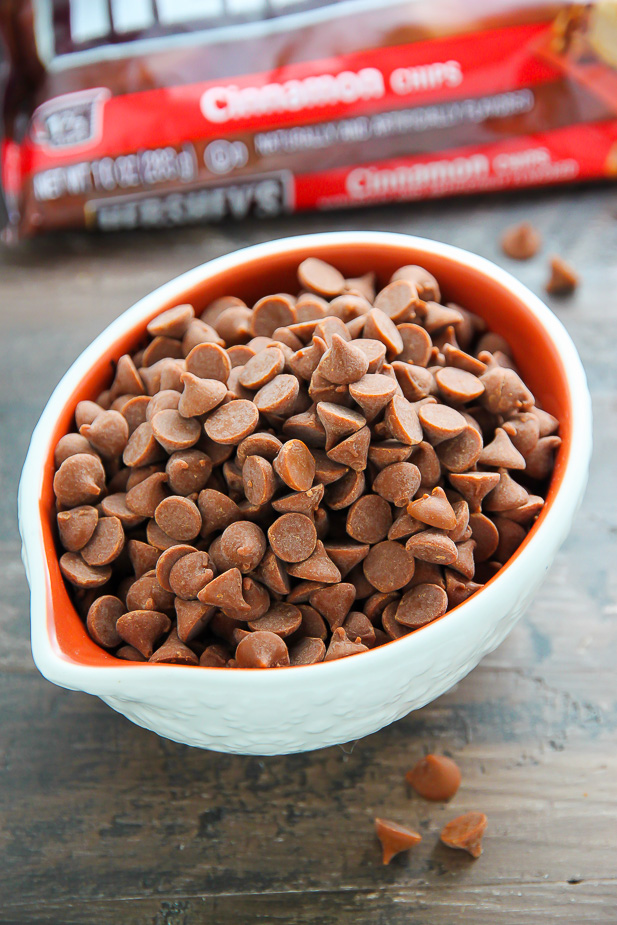 Making these cookies is so so simple! All you need to do is preheat your oven to 375 degrees (I know a lot of cookie recipes ask you to preheat oven to 350 but this slightly higher temp works best for these cookies), whisk up the dough in a large bowl, roll, and bake! No need to chill the dough! So jump to the recipe and treat yourself to a batch of these chewy cinnamon chip cookies!
More Pumpkin Cookie Recipes: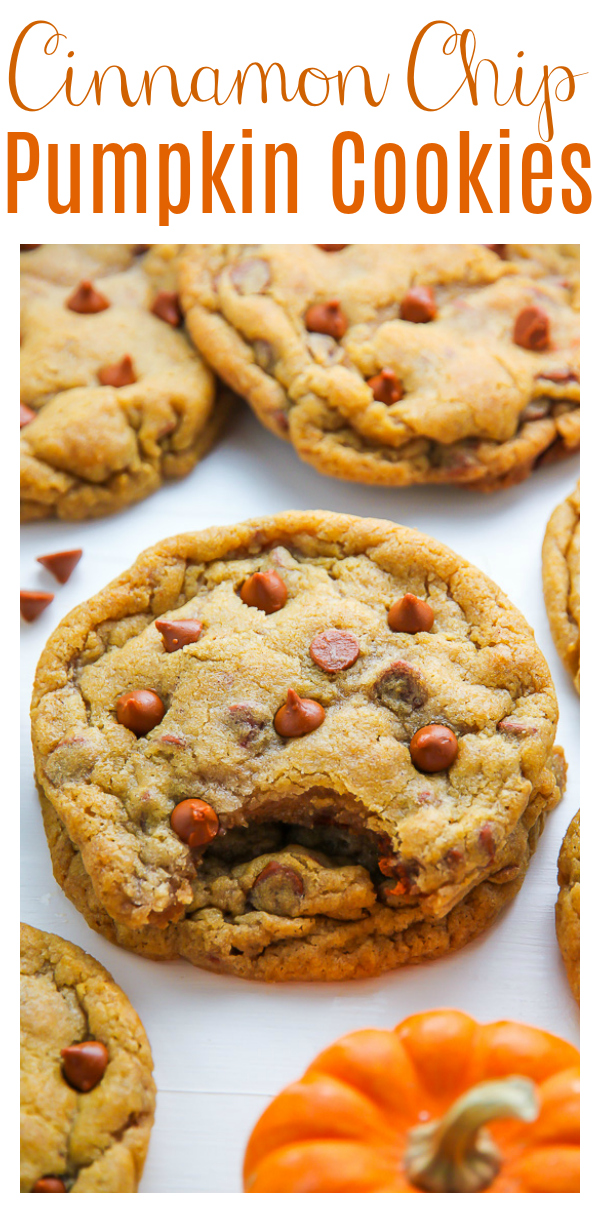 Enjoy your new favorite pumpkin cookies! If you make them, let me know how much you love them in the comment box below ♥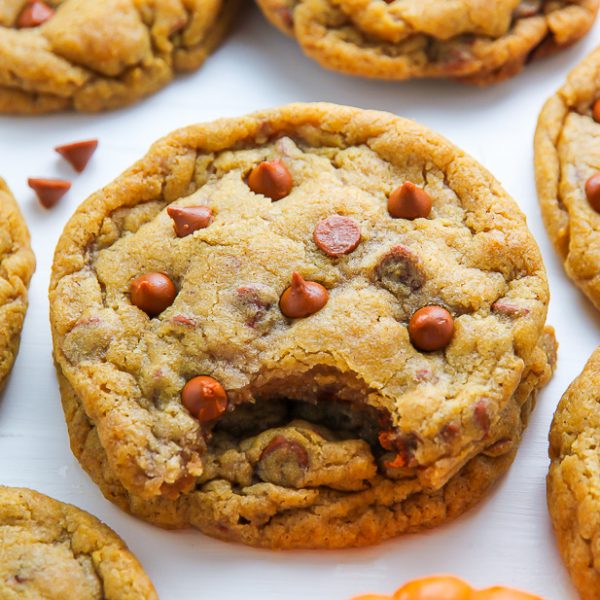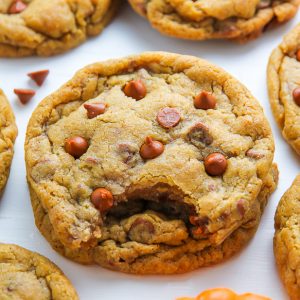 Chewy Cinnamon Chip Pumpkin Cookies
Thick, chewy, dotted with cinnamon chips, and loaded with real pumpkin flavor in every bite. These cookies are the real deal.
Ingredients
2 1/2 cups all-purpose flour
1 teaspoon baking soda
1 1/2 teaspoons pumpkin spice
1/2 teaspoon salt
15 tablespoons butter, at room temperature
1 cup + 2 tablespoons dark brown sugar
1/2 cup granulated sugar
2 teaspoons vanilla
1/2 cup pumpkin puree
2 1/2 cups cinnamon chips
Instructions
Preheat oven to 375 degrees (F). Line 2 large baking sheets with parchment paper; set aside.

In a medium-sized bowl whisk together the flour, baking soda, pumpkin spice, and salt; set aside.

In a large bowl using a handheld mixer or in the bowl of a stand mixer fitted with the paddle attachment, beat the butter until smooth - about 1 minute. Add in the sugars and vanilla and beat on medium-speed until light and fluffy; about 2 minutes. Add the pumpkin puree and beat until it's just combined, about 45 seconds. Gently fold in the flour mixture with a rubber spatula, stirring only until the flour begins to disappear. Fold in cinnamon chips.

Roll 3 tablespoon-sized balls of dough between your palms to form a ball (they should be big; almost a 1/4 cup), then place on prepared sheet (make sure to leave enough room in between each cookie for inevitable spreading). Continue this process until all the dough has been rolled.

Place baking sheets in preheated oven and bake for 15-16 minutes, or until golden at the edges and set in the middle. Allow cookies to cool for 30 minutes on the baking sheet before transferring them to a wire wrack to cool completely.