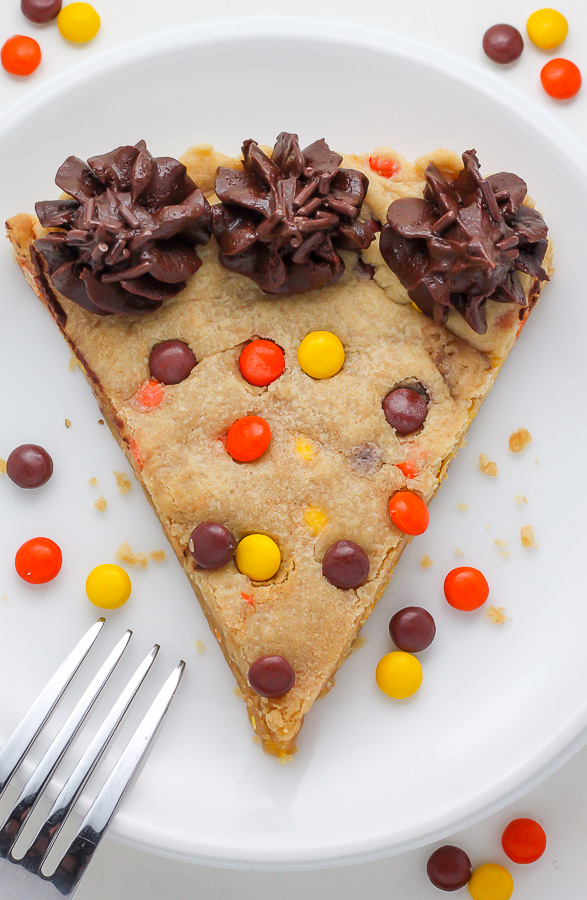 Today is my 28th birthday. I'm celebrating by spending two weeks in Philly with my closest friends and family. <—– This means pretzels and beer; pork sandwiches and long strolls through the Reading Terminal Market; Bassetts ice cream and Italian hoagies; cheese steaks and baseball games; and a water ice every-single-day. Can you tell I love/miss my hometown much?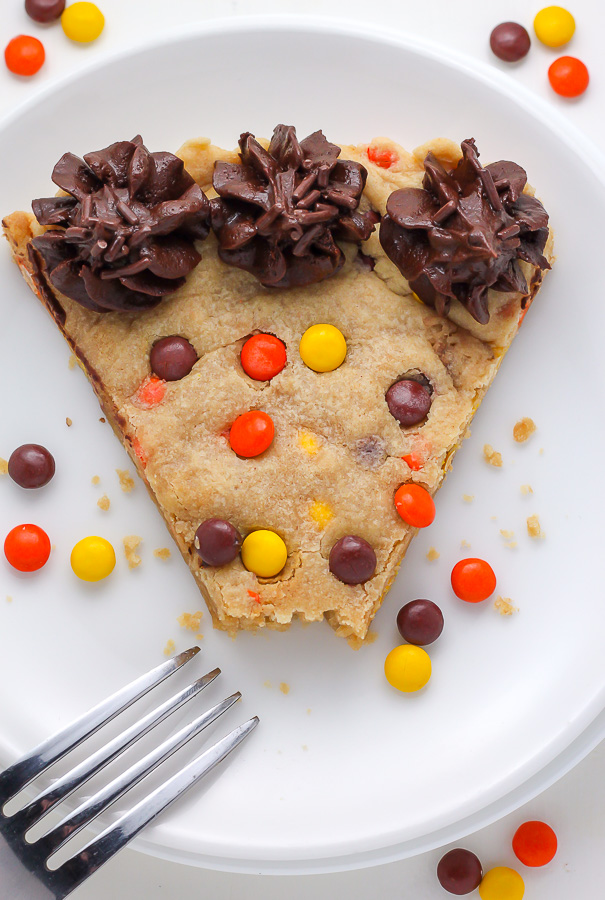 Before I left the Hudson Valley I had a few girlfriends over for a casual dinner out on our patio. I made prosciutto wrapped four-cheese jalapenos (on the grill!), watermelon daiquiris, tomato pie, and this Reese's Pieces Peanut Butter Cookie Cake. It was such a fun, easy-to-eat spread, and all of my friends raved over the dessert! I can't say I was too surprised considering we're all peanut butter cookie fanatics, and this cake is basically one GIANT peanut butter cookie loaded with Reese's Pieces and chocolate frosting.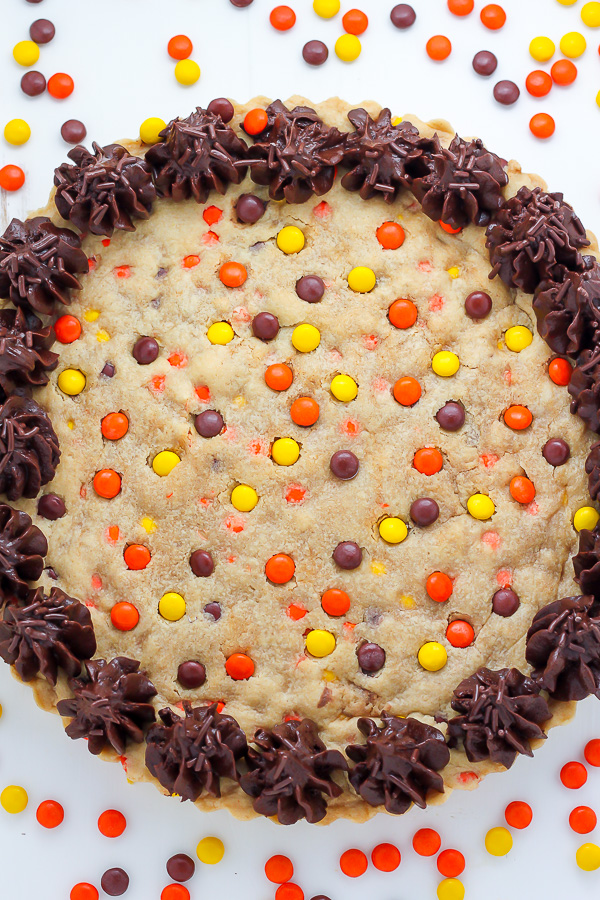 Last year I made you The Ultimate Peanut Butter Chocolate Cookie Cake which is SO thick, decadent, and utterly sinful. It's truly one of my all-time faves! This year I tweaked that epic recipe by cutting it in half (thus creating a thinner, faster baking cake), adding in Reese's pieces, and topping it with a simple chocolate frosting.
The results? Fantastic! Every bite sings the sweet song of rich peanut butter flavor; the colorful and crunchy candy topping is the perfect compliment to the soft and chewy cookie; and the chocolate frosting makes this cake extra special without overpowering the peanut butter profile.

If you're a peanut butter enthusiast put this cookie cake on the top of your to-do list! It's a stunner. xoxo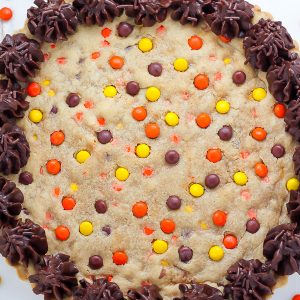 Reese's Pieces Peanut Butter Cookie Cake
Loaded with Peanut Butter, Reese's Pieces, and Creamy Chocolate Frosting - this Peanut Butter Cookie Cake is a keeper.
Ingredients
For the Cookie Cake:
1/4 cup unsalted butter, room temperature
2 tablespoons creamy peanut butter (I used skippy)
1/2 cup brown sugar
1 large egg, at room temperature
1 teaspoon vanilla extract
1 cups all-purpose flour
3/4 teaspoon baking powder
1/4 teaspoon salt
1 cup mini Reese's Pieces
For the Chocolate Frosting:
1 cup confectioners' sugar (plus more if needed), sifted
3 tablespoons unsweetened cocoa powder
1/4 cup unsalted butter, VERY soft
1-2 Tablespoons whole milk
1 teaspoon vanilla extract
1/4 teaspoon salt
Chocolate sprinkles, optional
Instructions
Preheat oven to 350 degrees (F). Spray a 9-inch tart pan (link in post to the one I use) lightly with nonstick spray; set aside.

In a large bowl using a hand-held mixer - or in the body of a stand mixer fitted with the paddle attachment - beat the butter and peanut butter on medium speed until completely smooth. Add in the brown sugar and continue to beat on medium speed until creamy; about 1 minute. Add in the egg and vanilla, increase speed to medium-high, and beat until combined, scraping down the sides and bottom of the bowl as needed; set aside.

In a separate, medium-sized bowl, combine flour, baking powder, and salt. Turn the mixer on to low speed and carefully add the dry ingredients to the wet ingredients, beating just until combined. Using a rubber spatula stir in the reese's pieces; stir until just combined.

Use a sturdy spatula to spread the cookie dough (it will be thick!) into the prepared pan; press evenly into pan. Bake for 11-14 minutes, or until the center is set and the edges are golden. Once removed from the oven, allow cookie cake to cool completely. Once cooled, remove the cookie cake from the tart pan OR you can serve the cookie cake directly from the pan.
For the chocolate frosting:
Sift together the confectioners' sugar and cocoa powder, pressing it through a small sieve and into a large bowl to assure there are no lumps left; set aside.

Beat the butter on medium speed until smooth and creamy; about 2 minutes.

Gradually add the sifted sugar/cocoa powder alternately with the milk. Stir in vanilla and salt.

Once all of the ingredients have been added, beat on high speed until creamy and combined; about 2 minutes.

Decorate the cooled cookie cake with frosting and chocolate sprinkles. Cut into pieces and serve at once!
You'll also love:
Double Chocolate Peanut Butter Cup Donuts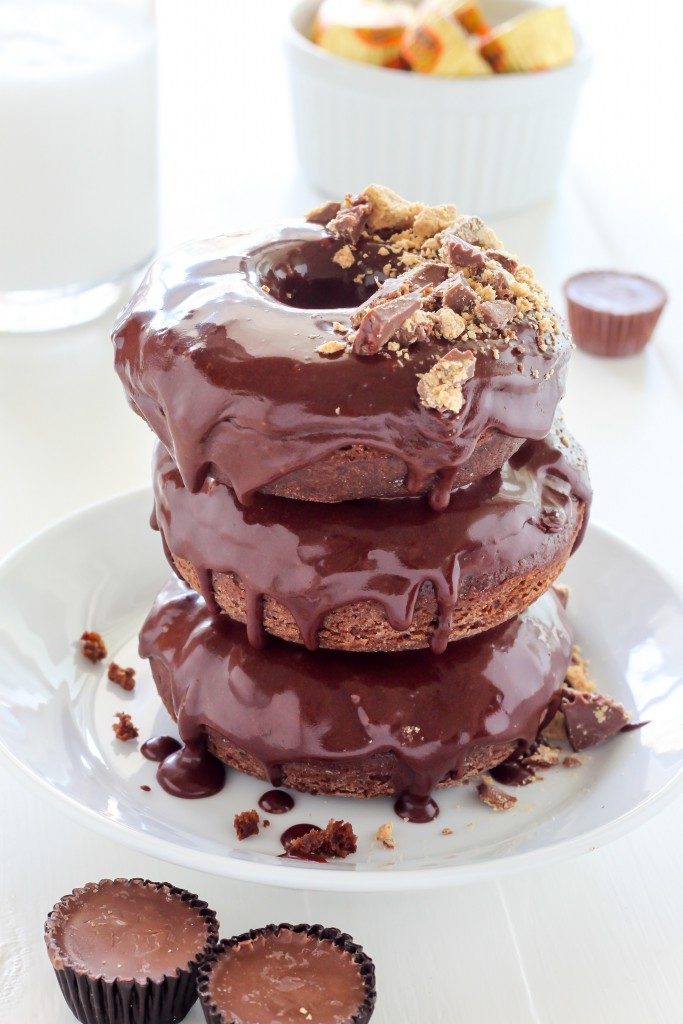 Flourless Peanut Butter and Jelly Thumbprint Cookies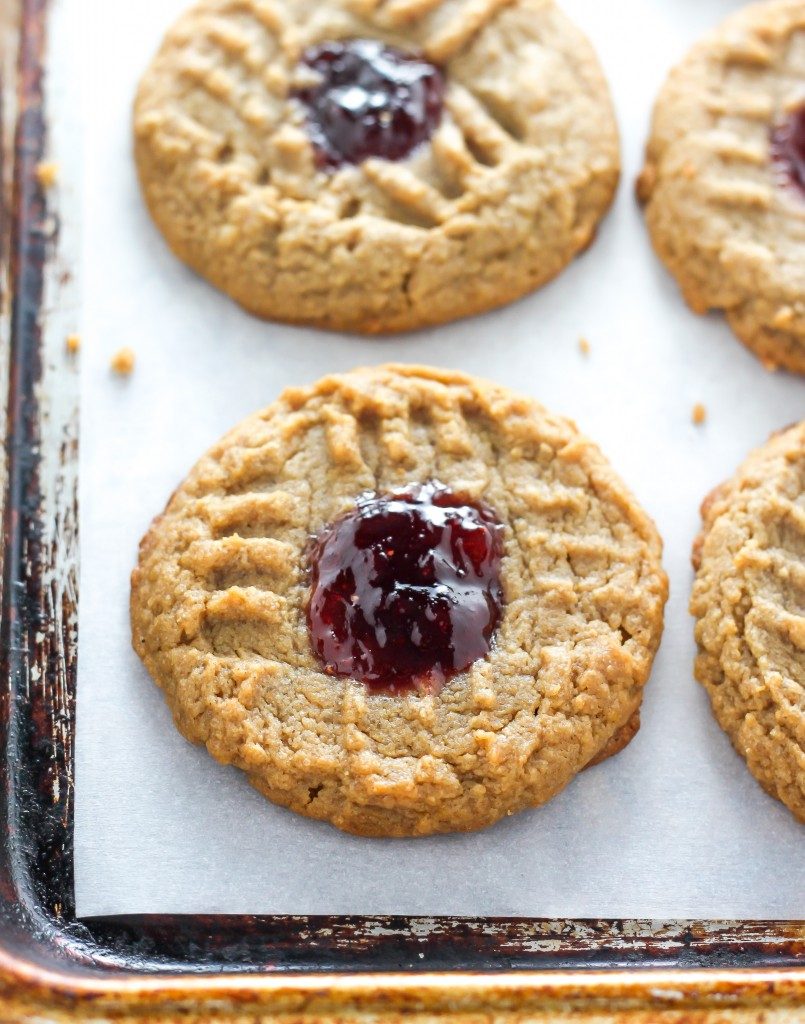 Cranberry Bliss Cookie Cake