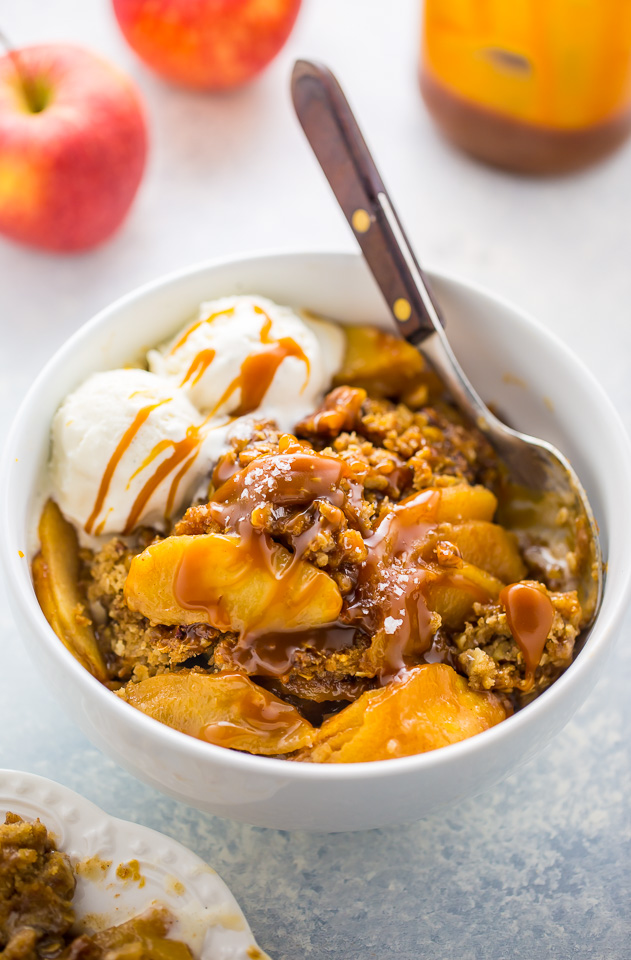 Salted Caramel Apple Crisp
Yield 8 servings
An easy recipe for Salted Caramel Apple Crisp! So good with a scoop of vanilla ice cream!
Ingredients
For the Apple Filling:
10 cups sliced apples (see post for more on this)
1 teaspoon fresh lemon juice
1 and 1/2 tablespoons all-purpose flour
1/2 cup granulated sugar, packed
1/2 teaspoon ground cinnamon
1/2 teaspoon nutmeg
For the Crumb Topping:
1 cup all-purpose flour
1 cup packed brown sugar
1/2 cup quick-cooking oats
1/2 cup pecans, chopped
1 teaspoon baking powder
1 teaspoon ground cinnamon
1/4 teaspoon ground nutmeg
1/2 cup (4 ounces) unsalted butter, cold and cubed
Garnish:
Instructions
Preheat oven to 375 degrees (F).
For the Apple Filling:
Lightly grease a 9x13 inch baking dish. Place the sliced apples in a large bowl and toss with the lemon juice; set aside.
In a medium bowl combine the flour, granulated sugar, cinnamon, and nutmeg. Sprinkle this mixture over the apples and toss well to coat. Pour mixture into prepared baking dish and set aside while you make the crumb topping.
For the Crumb Topping:
In a large bowl combine the flour, brown sugar, oats, pecans, baking powder, nutmeg and cinnamon.
Using a pastry blender or two forks, cut in the cold butter until the mixture resembles a coarse meal.
Sprinkle over apple mixture.
Bake in preheated oven for 45 to 50 minutes, or until the crumb is golden and the apples are tender.
Drizzle with salted caramel sauce and serve warm, with flaky sea salt and ice cream, if desired.
Courses Dessert
Cuisine American
Amount Per Serving
% Daily Value
Recipe by Baker by Nature at https://bakerbynature.com/salted-caramel-apple-crisp/