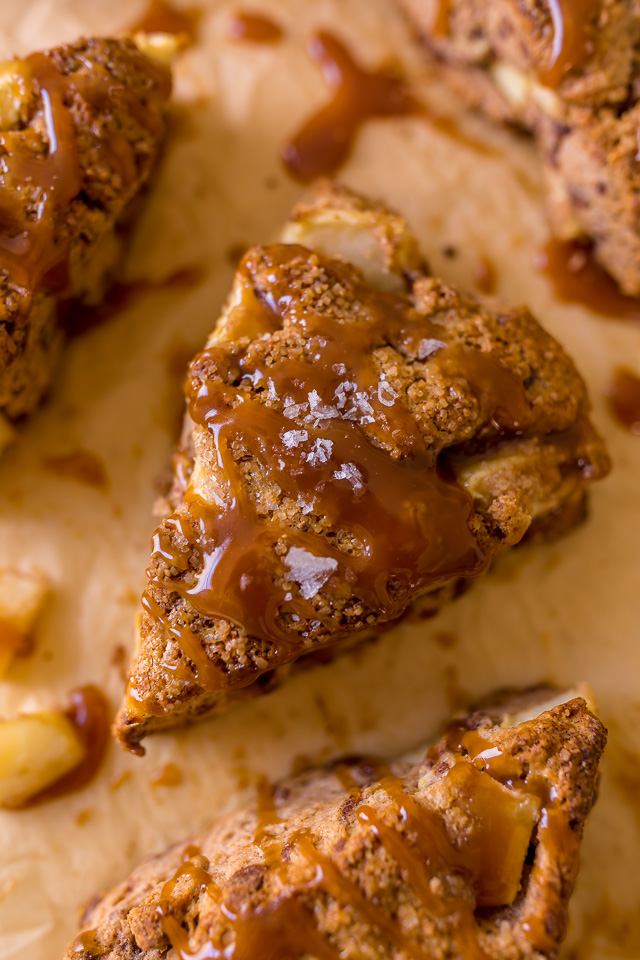 Salted Caramel Apple Scones
Yield 8 scones
Salted Caramel Scones are the perfect Fall breakfast.
Ingredients
2 and 1/2 cups plus 1 tablespoon all-purpose flour, divided
1/2 teaspoon salt
1 tablespoon baking powder
1/2 teaspoon baking soda
1/4 cup light brown sugar, packed
1/2 teaspoon ground cinnamon
1/4 teaspoon ground ginger
1/4 teaspoon ground nutmeg
1 stick (4 ounces) unsalted butter, VERY cold and cut into tiny pieces
1 large egg, beaten
1/2 cup (full-fat) sour cream
2 tablespoons whole milk
2 tablespoons apple cider
2 medium apples, peeled, cored, and cut into bite-sized chunks (about 1 and 1/2 cups)
1 cup salted caramel sauce
Flaky sea salt, for sprinkling, optional
Instructions
Preheat oven to 400°(F). Line a large baking sheet with parchment paper or a non-stick baking mat; set aside. In a large bowl combine 2 and 1/2 cups of the flour, salt, baking powder, baking soda, brown sugar, cinnamon, ginger, and nutmeg; mix well, making sure no large clumps of brown sugar remain.
Cut the butter into small cubes then quickly work it into the mixture (using a pastry cutter or two forks) until it resembles a coarse meal; set aside.
In a small bowl, whisk together the egg, sour cream, and milk, then add to flour and butter mixture. In a small bowl combine apple cider and apple chunks, then add in the remaining tablespoon of flour and toss to coat. Gently fold the apple chunks, and any remaining flour, into dough with a spatula until just combined.
Pour the shaggy mixture out onto a clean, floured work surface and shape the dough (you will have to work/knead it quite a bit to get it together) into an 8-inch circle. Cut the dough into 8 wedges and carefully transfer them to the prepared sheet. Bake for 22-24 minutes, or until cooked through and the tops are golden brown. Drizzle with salted caramel sauce, sprinkle with sea salt (if using), and serve at once!
Courses Breakfast
Cuisine American
Amount Per Serving
% Daily Value
Recipe by Baker by Nature at https://bakerbynature.com/salted-caramel-apple-scones/