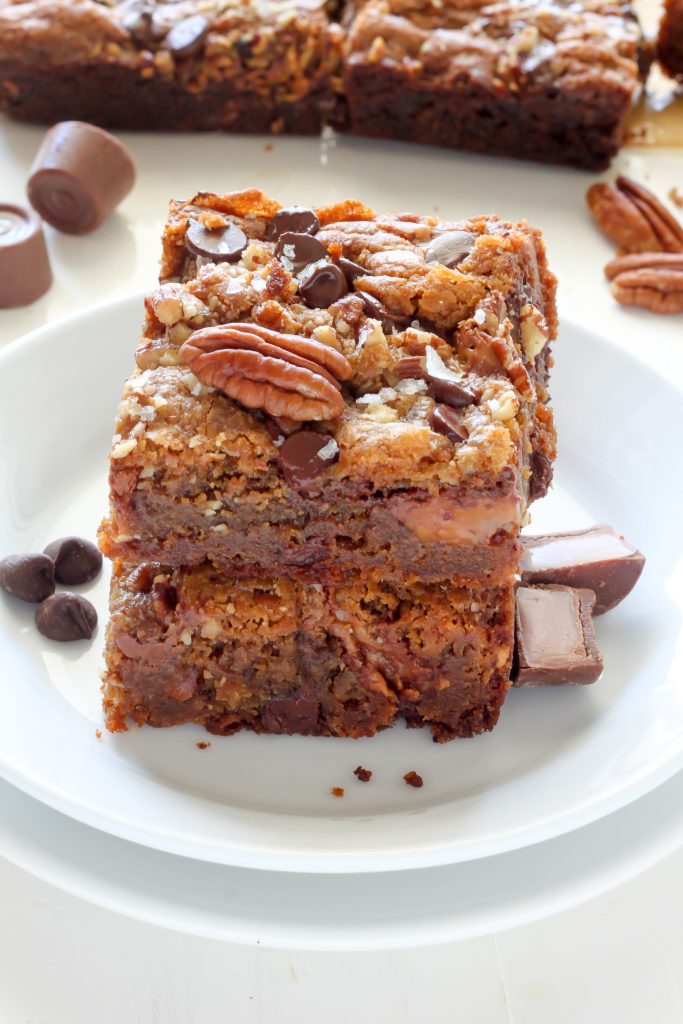 Chewy Brown Butter Blondies are loaded with flaky sea salt, caramel, chocolate, and crunchy pecans. These are great with a cup of coffee!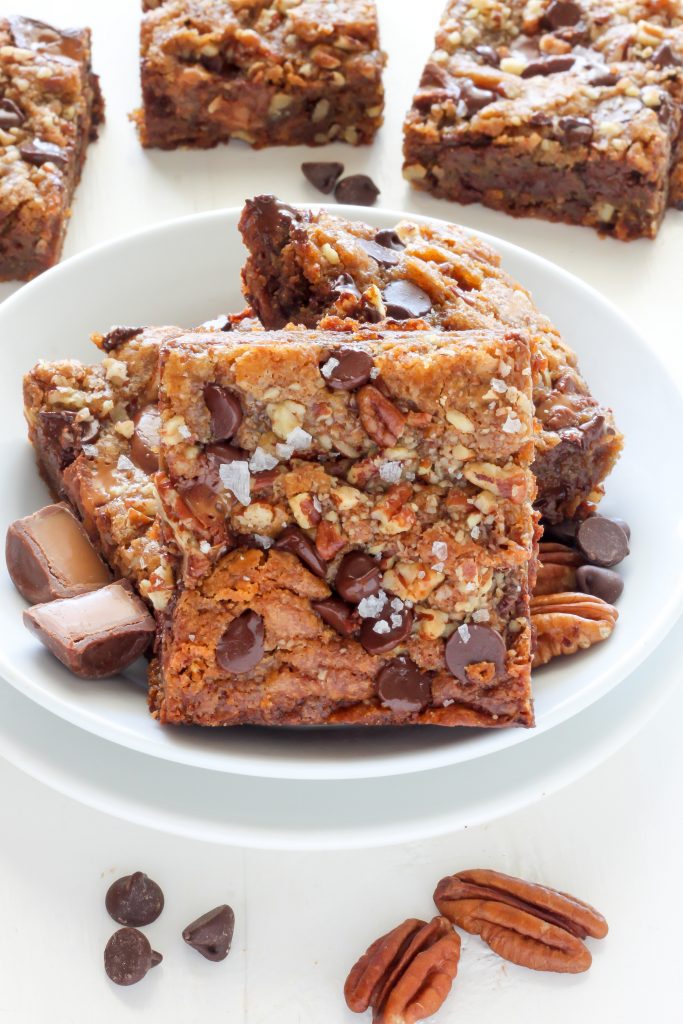 We're going to start this week off right. We're going to start this week off with amazingly wonderful, fudgy, gooey, chocolatey, salted caramel-y, crunchy, nutty, and just downright AWESOME brown butter blondies. I hope you guys are ready to embrace this over-the-top-treat with open arms!
Confession time: I originally baked these brown butter blondies last month with zero intention of blogging them. I made them super quick to bring over to a friends house so we could have a little snack while we relaxed and chatted the rainy afternoon away. Well, we ended up chatting so much we didn't touch the blondies and I left the box of treats on her table not thinking much of it. Fast forward 2 hours and I receive a text from her AND her husband basically demanding the recipe! Raving texts are always a sign of recipe success in my book 😉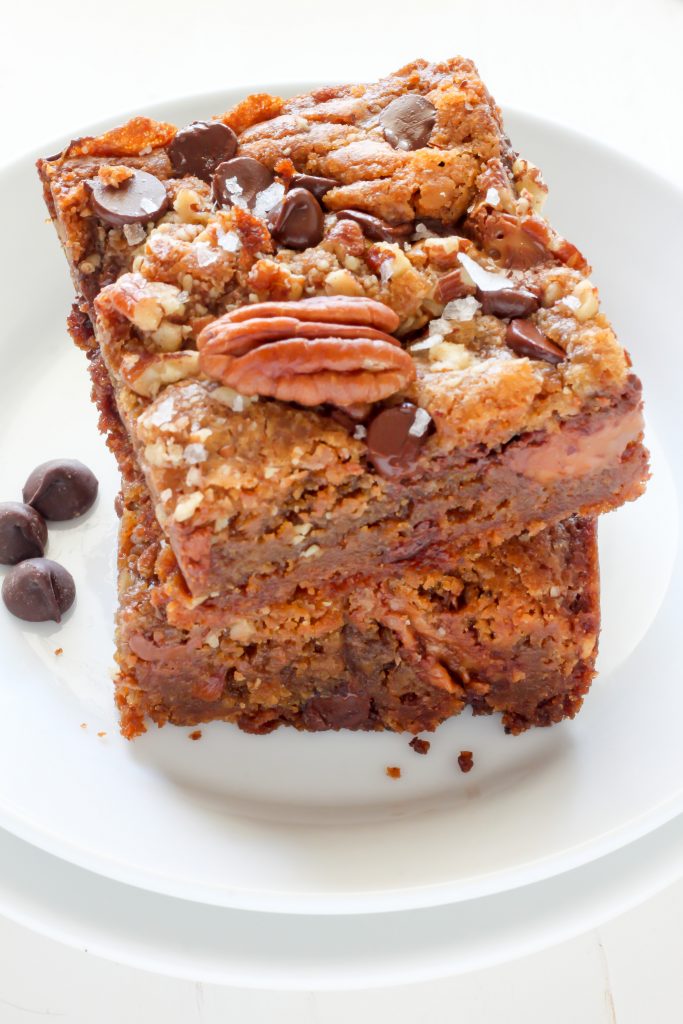 These blondies are the superstars they are thanks to a few powerhouse ingredients.
First up: the brown butter. The brown butter is a very important ingredient in this recipe. It is our fat and flavor. So be sure not to skip it!
Never browned butter before? Not to worry, my friend. I've typed out some seriously simple step-by-step instructions in the recipe box below that will have you browning butter like a boss. Brown butter adds the most wonderful rich, nutty, extra buttery flavor to desserts (and savory dishes, too!), so it's a great skill master.
Next up, the mix-ins! In my opinion a bare blondie is a little blah… but a blondie with lots of goodies swirled in?! Give me the whole tray. Please and thank you.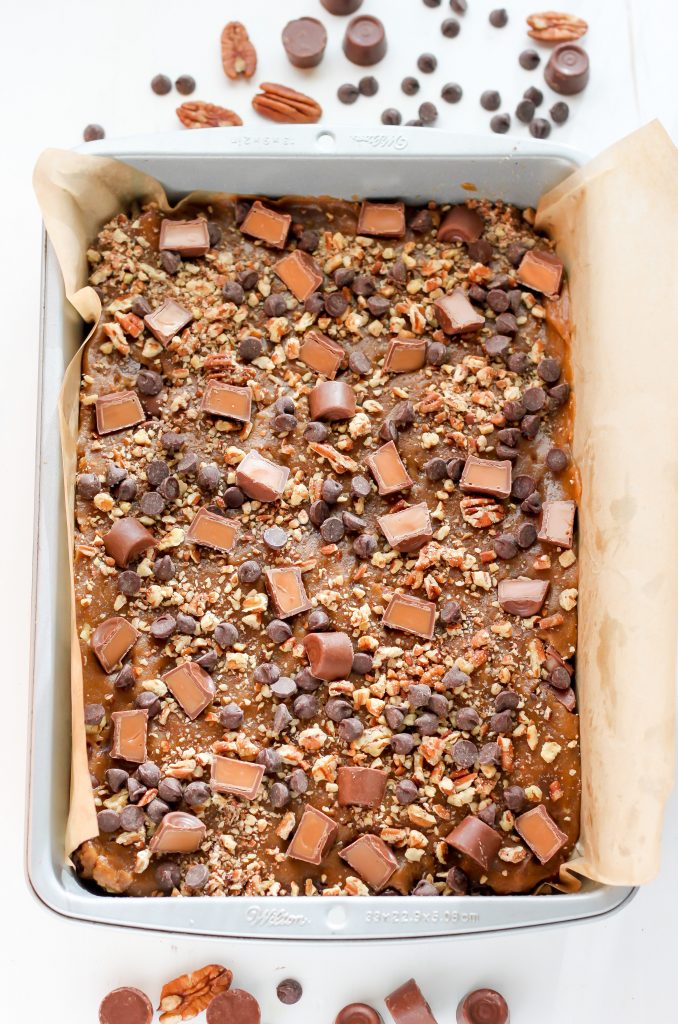 The mix-ins I added to this batter: chocolate covered caramels (I used rolos because they melt nicely, are easily available, and cheap), semi-sweet chocolate chips, flaky sea salt (Maldon is a great choice if you can find it), and crunchy pecans. These 4 simple ingredients add so much flavor and texture to this recipe, and I highly recommend adding all of them, as instructed in the recipe, for best results. If you happen to have a nut allergy, you can leave the pecans out.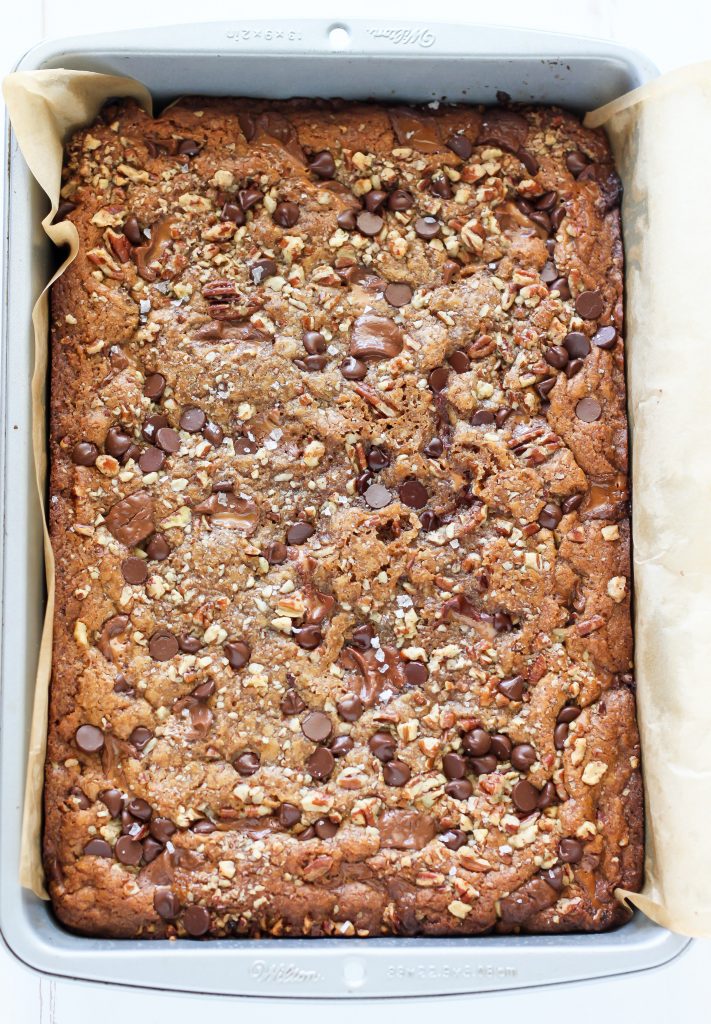 The batter ingredients are pantry basics: flour, brown sugar, salt, and baking powder. You'll also need two large, that have been brought to room temperature. To do this simply place them out on your counter for an hour prior to baking or soak them in some warm water for 10 minutes before use.
The batter will be quite thick – don't fret! Simply use a spatula to help you scrape it from the bowl and into the pan. With the assistance of your spatula, press the batter down into an even layer. Then, bake! These blondies will bake for 18 minute uncovered, then an additional 15 minutes covered with a sheet on aluminum foil. Covering the bars half way helps prevent the bars from over-browning.
Be sure you let the blondies cool completely before cutting! Then, dig in! These go great with coffee, tea, or milk – I sampled one with each chaser just to be sure 😉 Enjoy! xoxo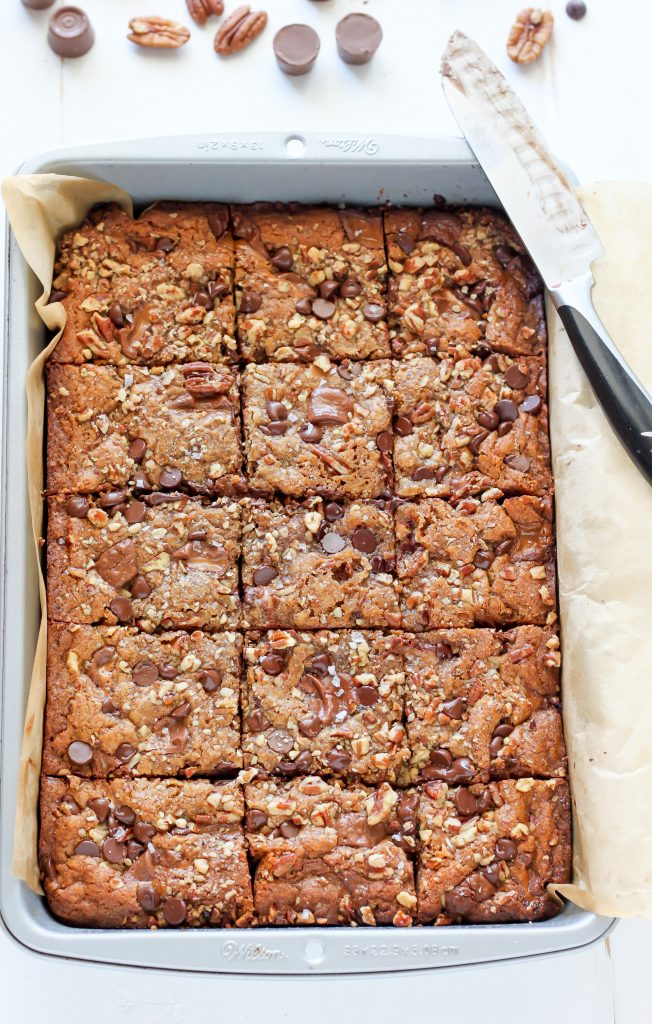 Salted Caramel Chocolate Pecan Brown Butter Blondies
Thick and Chewy Brown Butter Blondie Bars are loaded with chocolate chips, gooey salted caramel, and crunchy pecans! These are easy to make and taste incredible.
Ingredients
1 cup (8 ounces; two sticks) unsalted butter, browned
2 cups dark brown sugar, packed
2 large eggs, at room temperature
1/2 teaspoon fine sea salt, table salt, or kosher salt
2 cups all-purpose flour
1 teaspoon baking powder
1 1/4 cups semi-sweet or dark chocolate chips
1 1/4 cups Rolos (or any chocolate covered soft caramel candy you'd like to use), unwrapped and cut in half
1 cup pecans, diced
1 teaspoon flaky sea salt (I used Maldon Sea Salt; it's the best)
Instructions
Preheat oven to 350 degrees (F). Line a 9" x 13" pan with parchment paper; lightly grease the paper and set aside.

Melt the butter in a medium-sized saucepan over medium heat; continue cooking, stirring occasionally, until the butter takes on a golden brown color and smells slightly nutty; remove from heat at once. Stir in the brown sugar, and whisk well to combine.

Quickly pour the brown butter-sugar mixture into a medium-sized bowl; whisk in eggs, one at a time, beating well after each addition. Stir in the salt, flour, and baking powder, mixing just until combined. Fold in 1 cup of the chocolate chips, 1 cup of the rolos, and 3/4 cup of the pecans.

Spread the mixture evenly in the pan, then sprinkle the top with remaining chocolate chips, rolos, and pecans. Bake the blondies for 18 minutes, then cover the pan with aluminum foil and bake for another 15 minutes, or until they're light brown on the edges and top. Carefully remove them from the oven and cool completely before cutting.