My Soft and Chewy Brown Butter Gingersnaps host all the classic appeal that you know and love – plus SO much more! The edges are irresistibly crunchy, while the thick centers stay soft and chewy. They're a Christmas cookie miracle!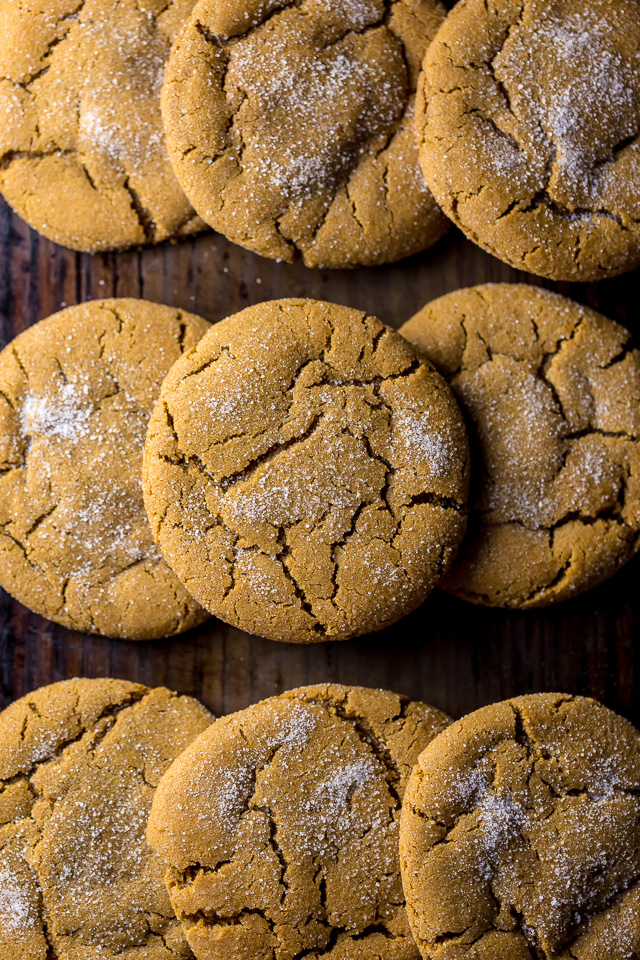 We're three days into this crisp month of November, and already my brain is like "the holidays are coming, the holidays are coming, the hoooooolidays are COMING."
Crazy brain? Maybe. But that's completely beside the point.
The point is the holidays really are coming. In fact, they're right around the corner! 24 days till Thanksgiving and 52 days till Christmas. We're ankle deep! But don't panic. Because this is when all the fun begins! Holiday baking, homemade gifts and festive cakes… we're going to do it all together, OK? It'll be a joint effort. And between the two of us, we most definitely got this.
Bring on the comfort and joy… and COOKIES!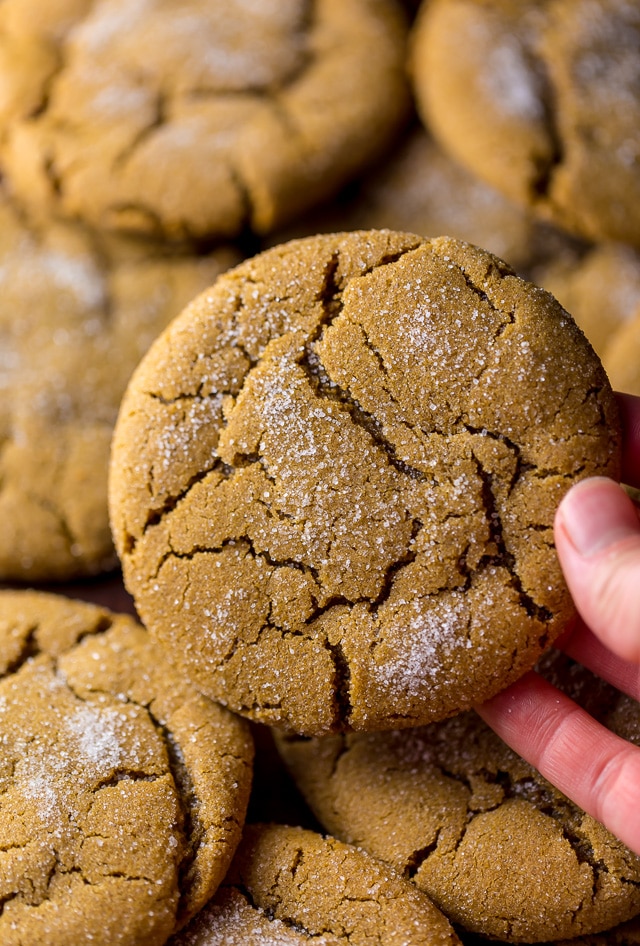 Let's kick off this holiday bake-a-thon (psst… we're starting right now!) with something sure to please your sweet tooth. Soft and Chewy Brown Butter Gingersnaps. And yes, they are exactly as  buttery and delicious as you're dreaming them to be. Promise. Your cookie dreams —> about to come true!
When it comes to gingersnaps, you'd be correct to consider me a HUGE supporter. I'm a mega fan! Obsessed. Drunk in love. I want all the ginger in my cookies and I want it now. Have you ever made triple ginger lemon cookies? They're a must for any ginger fan. These cookies, however, are not an intense gingersnap. They're not IN YOUR FACE SPICY. Or "holy crap, I think I just chipped my tooth" snappy. They don't require you to grate fresh ginger. Or hunt it down in fancy (albeit delicious) crystallized form. They're humble. And easy.
They're for everyone… they're for you.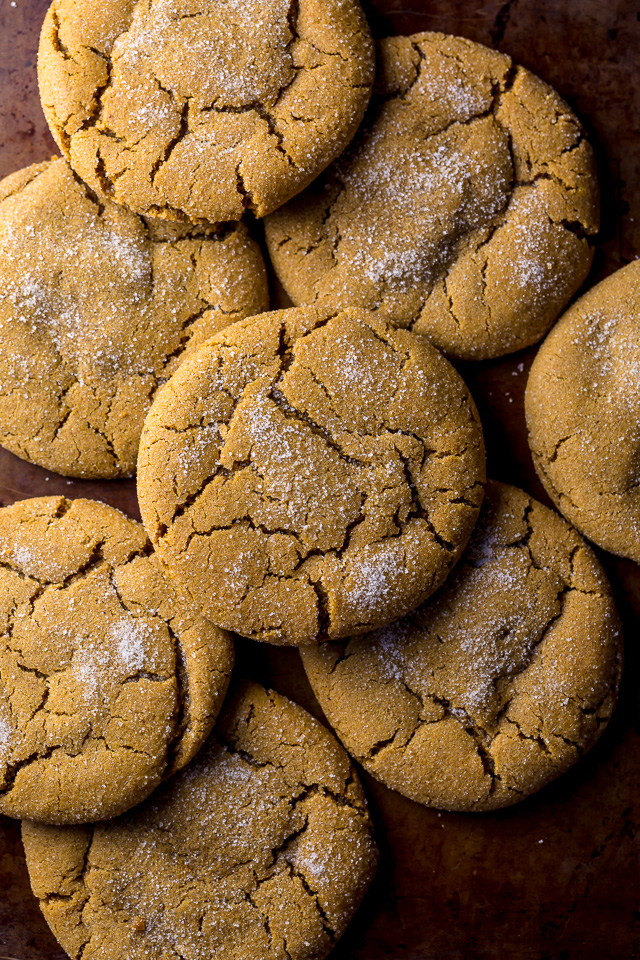 These gingersnaps are what I like to call a meeting place cookie. For ginger lovers and not-so-loving ginger loving folks to meet, eat cookies, and be happy. In addition to ginger, these cookies are also flavored with brown butter (aka my soulmate), a fresh pop of orange zest, and hearty molasses. The dough will be soft and sticky upon first glance, but once you pop it in the fridge for an hour (or up to a day!), it will firm up into a perfectly scoopable texture.
And trust me… I know waiting for cookie dough to chill sucks big time. But you do NEED to chill this dough. One hour! You can do this.
The good news? Once the dough has chilled, you're only 9 minutes away from soft and chewy gingersnap salvation! Go get after it, friend!

From one baker to another, do yourself a favor and add these cookies to your holiday plans now. You'll thank me later 😉
If you try this recipe for Soft and Chewy Brown Butter Gingersnaps, leave a comment below and don't forget to snap a pic and tag it #bakerbynature on instagram!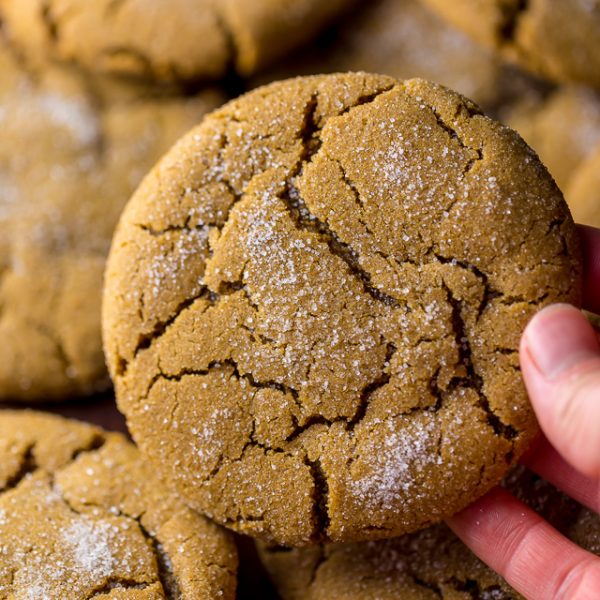 Soft and Chewy Brown Butter Gingersnaps
My Soft and Chewy Brown Butter Gingersnaps host all the classic appeal that you know and love - plus SO much more! The edges are irresistibly crunchy, while the thick centers stay soft and chewy. They're a Christmas cookie miracle!
Ingredients
3/4 cup (170g) unsalted butter, browned and brought back to room temperature
3 cups (361g) all-purpose flour
2 and 1/2 teaspoons ground ginger
1 teaspoon ground cinnamon
1/4 teaspoon ground cloves
1 teaspoon baking soda
1/2 teaspoon salt
1 cup (198g) granulated sugar
1/2 cup (106g) light brown sugar, packed
1 teaspoon vanilla extract
2 large eggs, at room temperature
1/4 cup (85g) molasses (mild, not blackstrap)
1/2 teaspoon orange zest
For the Sugar Coating:
1/2 cup (99g) granulated Sugar
Instructions
How to Brown Butter:
Cut the butter in tablespoons and place them in a heavy saucepan over medium heat. Once the butter has melted, reduce the heat to low and continue cooking, until the solids sink to the bottom of the pan and turn golden brown, about 8 to 10 minutes. Remove from heat, pour browned butter into a small bowl, cover, and refrigerate until solidified, about 2 hours.
To make the Dough:
In a large mixing bowl, whisk together the flour, ginger, cinnamon, cloves, baking soda, and salt. Set aside.

Remove the brown butter from the refrigerator. Microwave the butter on low power, for 10 to 15 seconds, or until it's just softened, but not melted.

In the bowl of a stand mixer fitted with the paddle attachment, or in a large bowl using a handheld electric mixer, beat the softened butter until completely smooth, about 1 minute. Add in both sugars and continue beating until light and fluffy, about 3 minutes. Beat in vanilla. Add in the eggs, one at a time, beating well after each addition and scraping down the sides of the bowl as needed. Add the molasses and orange zest and beat until combined.

Reduce the mixer speed to low and gradually add in the dry ingredients, beating just until combined.

Cover bowl tightly with plastic wrap and transfer to the refrigerator to chill for at least one hour (or up to one day).
When ready to Bake:
Preheat oven to 350°F (177°C). Line two large baking sheets with parchment paper and set them aside.

Scoop out 2 tablespoon sized mounds of cookie dough and roll them into evenly round balls. Roll the balls in the sugar coating, then transfer them onto the prepared baking sheets, leaving 2-inches between for spreading.

Bake cookies, one tray at a time, for 9 to 10 minutes, or until the cookies are puffed and lightly golden. Cool cookies on the baking sheet, set on a wire rack, for 10 minutes before serving warm or transferring to a wire rack to cool completely.

Store leftover cookies in an airtight container, at room temperature, for up to 3 days.
Notes
Recipe and photos updated 11/9/2017.