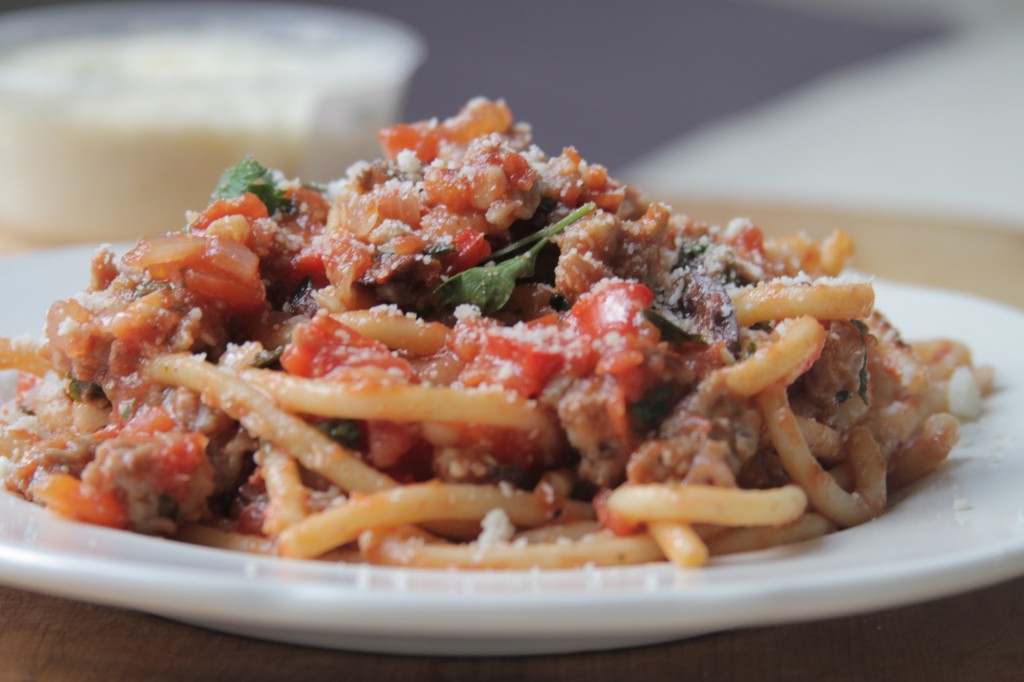 I try my best to be a balanced human being. I mean, I'm no paragon of health… but I do what I can to keep it in check.
Like, when I find I've accidentally eaten the entire tray of cookies (next post!), I'll skip the extra cream and sugar in my coffee – balance… right?! After a night of wine and gummy worms, I'll stuff myself with kale and egg whites – balance again. And if, say, hypothetically, I broke into the Halloween candy and ate myself into oblivion when I should have been at my Pilates class (why are *fun sized SNICKERS  so-damn-addictive?!), I'll be a good girl and actually cook myself a proper dinner… heck, I might even grace the gym I pay way too much for a month and go to yoga or something. Let's not judge… k?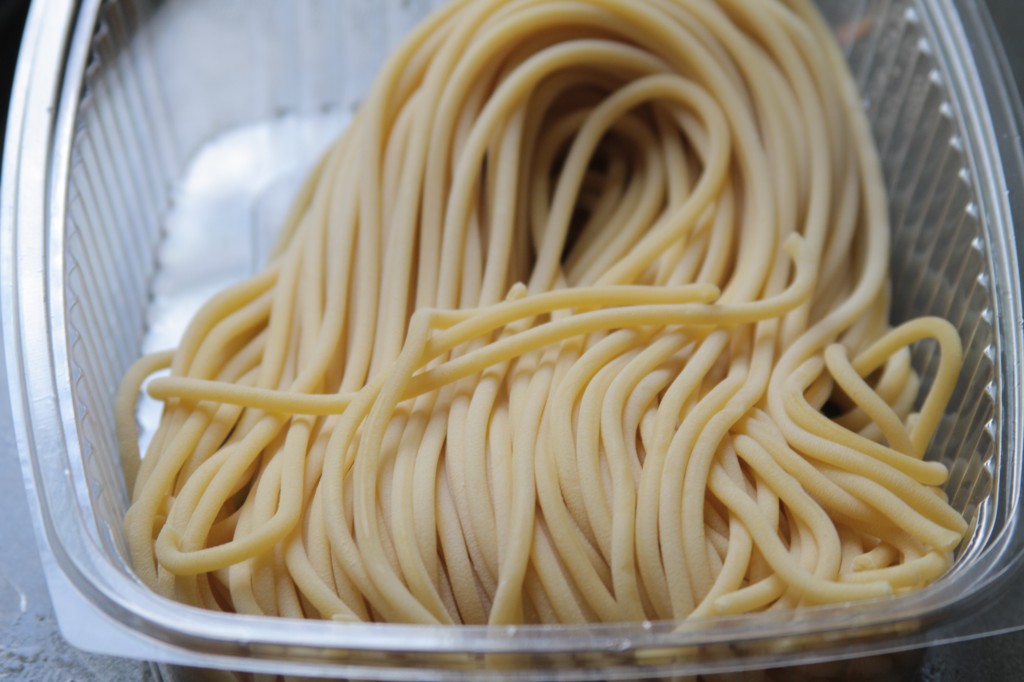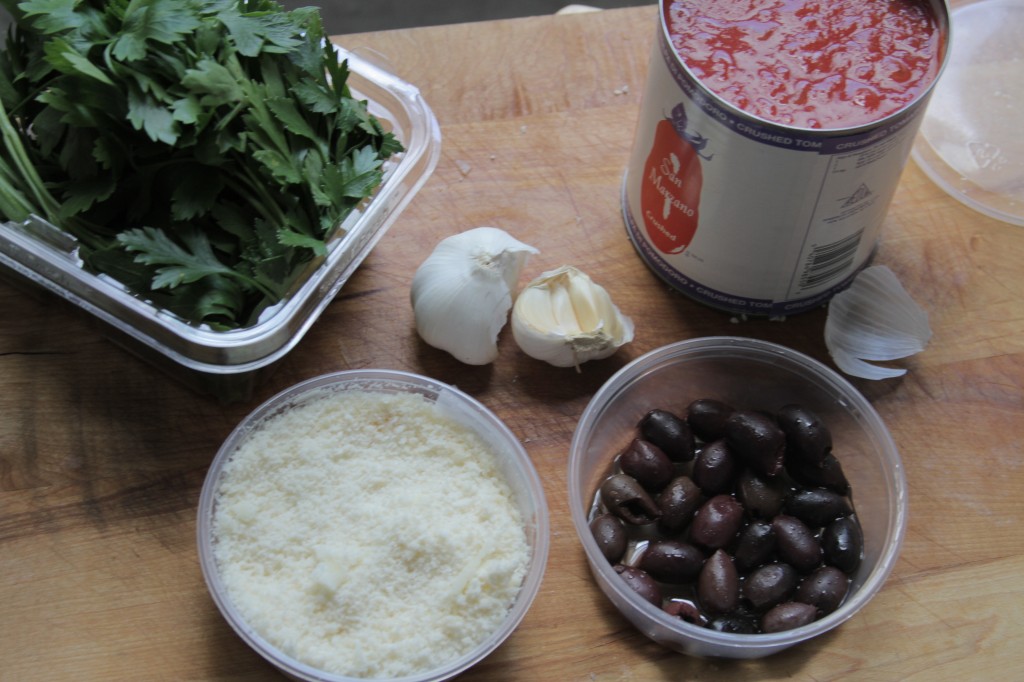 Despite my questionable diet, and the fact that lately all I really want for dinner is a giant bowl of popcorn and pumpkin beer (can you blame me… they're so good together!), pasta is the one meal I really-really-really look forward to. Sometimes I even dream about pasta: it's that serious.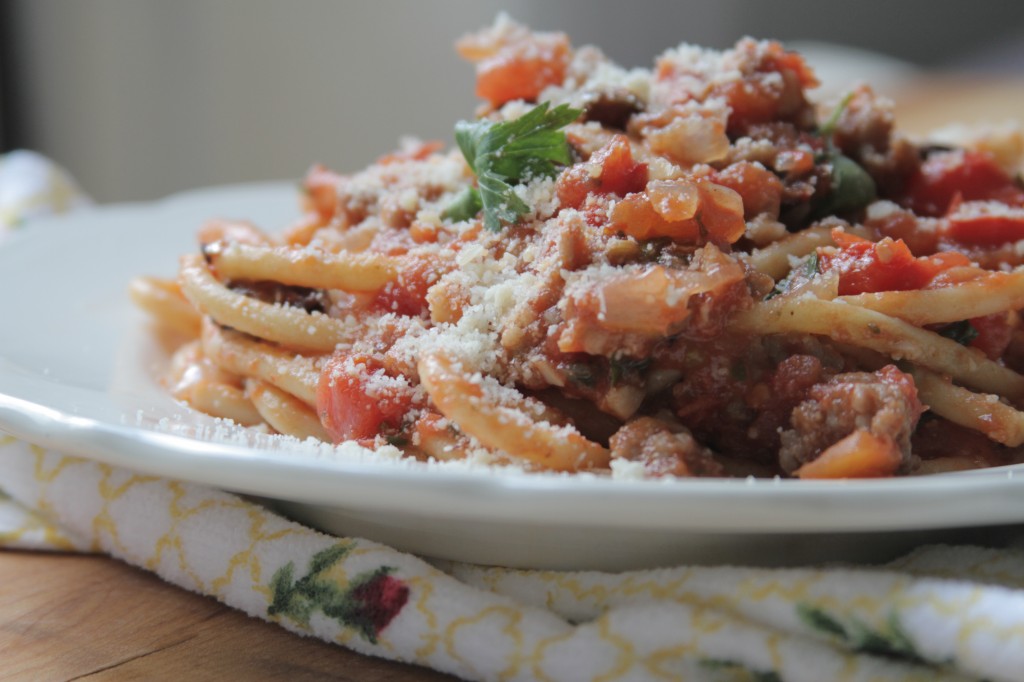 Let's be real, folks. Who doesn't dream of a heaping plate piled high with spaghetti…?
And if you don't dig meat, don't get turned off, just swap the sausage for an extra veggie, I think baby portabella mushrooms would  be darling in this here dish.
There's just something so beautiful about a giant bowl of knotted noodles smothered in a loaded sauce and topped of with a heavy sprinkle of cheese.
Just pile that pasta high, grab a good glass of red, and say hello to dinner perfection!
Spaghetti with Sausage, Olives, and Red Pepper Sauce – Baker by Nature
Yields 4-6 servings
1 pound spaghetti
1 tablespoon unsalted butter
2 tablespoons olive oil
1 pound ground sweet italian sausage
1 extra large onion, finely chopped
1 large red bell pepper, finely chopped
5 cloves garlic, minced
1 – 28 oz can crushed tomatoes
1/4 kalamata olives, pitted and roughly chopped
1/4 parsley, roughly chopped
1 teaspoon dried oregano
1 teaspoon crushed red pepper flakes
salt and pepper to taste
Bring a large pot of salted water to boil, add pasta and cook to your liking. While the pasta is cooking, melt the butter and oil in a large saucepan over medium high heat. Add the ground sausage and break it up into small chunks, letting it cook for a minute alone before adding the chopped onion and pepper. Stir the sausage, onions, and peppers together and cook, stirring occasionally, for 4-5 minutes, or until the onions and peppers have softened (the onions will be slightly golden). Stir in the garlic, and cook for another 1-2 minutes before adding the crushed tomatoes, olives, parsley, oregano, and pepper flakes. Stir the sauce to combine all the ingredients and let it come to a full boil. Stir once more and reduce the heat to low. Cover the sauce and let simmer for 10 minutes before adding the pasta and tossing together. Top with parmesan cheese and additional parsley if desired and serve immediately.
Refrigerated this should last 3-4 days, and makes for excellent leftovers.