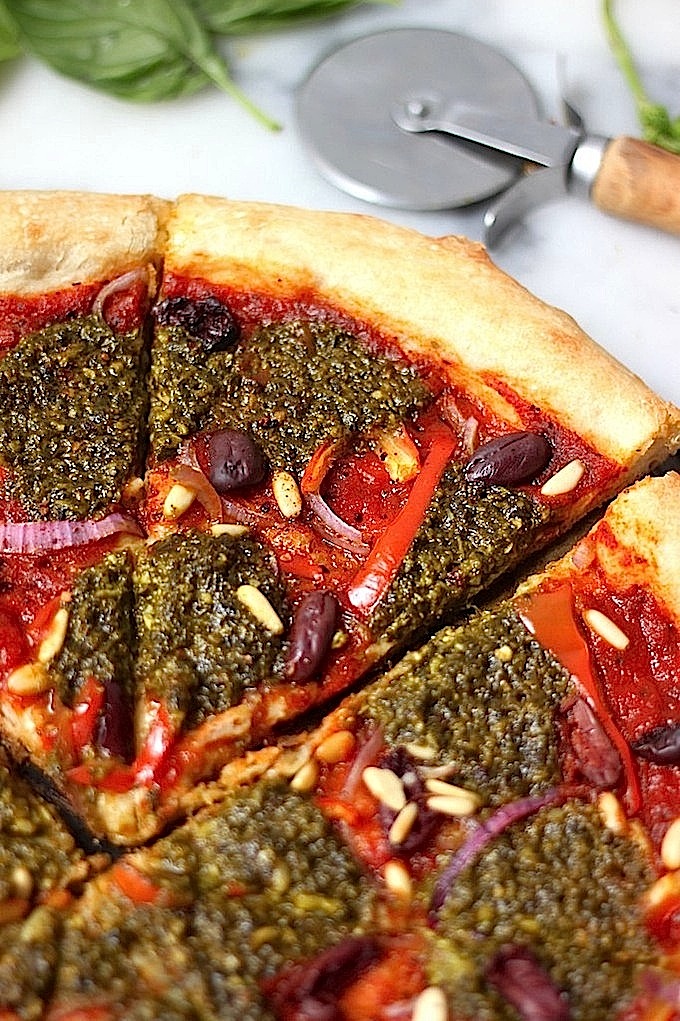 Dairy Free Pesto Pizza
One thing I'm loving right now: this pizza… which I'm craftily balancing in one hand as I type with the other. No, really. There may or may not be a dribble of pesto on the F key. I'm not telling! Pizza in bed at 7 am… it's all part of the job 😉
Do you remember that super healthy spinach basil pesto I made earlier this week?
Yup. That one right there…
Well, it is seriously my latest obsession. I've made 3 batches in just days – and I see no end in sight! I'm hooked. To really prove this point, I made a pizza completely dedicated to highlighting its fresh, flavorful beauty. Won't you join me for a slice?
The bottom base of this pie starts off with a nice hearty layer of marinara. You can absolutely use store bought if you're in a pinch, or make a batch of new york style pizza sauce in your very own kitchen. I vote making it yourself if you have the time 🙂 It's such a rewarding process!
Once you've figured out your sauce situation, all you need is your spinach basil pesto, some olives, chopped red onion, peppers, and a fistful of pine nuts. Yep that's right… no cheese! Let's all take a breath together – it's going to be ok. In fact, I am going to bet you won't even miss it. This pie has so much going on!!!
After you've tossed all your toppings on the pie, just pop that baby in the oven for 13 minutes (things will start smelling heavenly pretty fast!), and then, EAT!
*I made this for dinner a few nights ago, and I ate 3 slices before C got home. It was "omg-I-cannot-stop-I must-have-more-right-now" good. You've been warned 😉 xoxo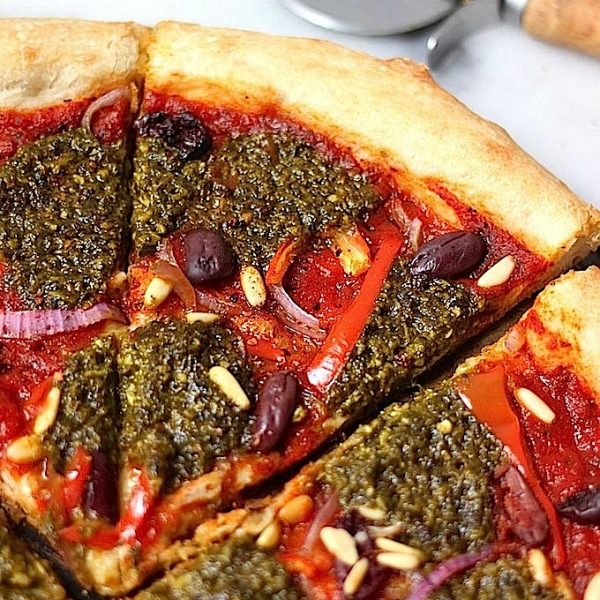 Summertime Pesto Pizza (Skinny, Vegan, Dairy Free)
Ingredients
1 crust (I used the crust linked in post above)
1/2 cup pizza sauce (link in post as well, or store-bought/ your favorite recipe)
1/4 cup spinach basil pesto (link in post)
1/4 cup kalamata olives, roughly chopped
1/4 cup red peppers, sliced
1/4 cup red onion, diced
1/4 cup pinenuts
Instructions
Preheat oven to 500 degrees (F) at least 30 minutes before baking.

Roll dough out to desired shape.

Spread pizza sauce all over the base of the dough, then dot with pesto.

Sprinkle toppings evenly over the top.

Place pie in oven to bake for 12-13 minutes, or until the dough is golden and crispy and the sauce is set.

Slice and serve!!!