This traditional margarita recipe is quick, easy, and sure to become one of your favorite cocktails! Quality tequila, orange liqueur, and plenty of lime juice (freshly squeezed) give this recipe incredible flavor.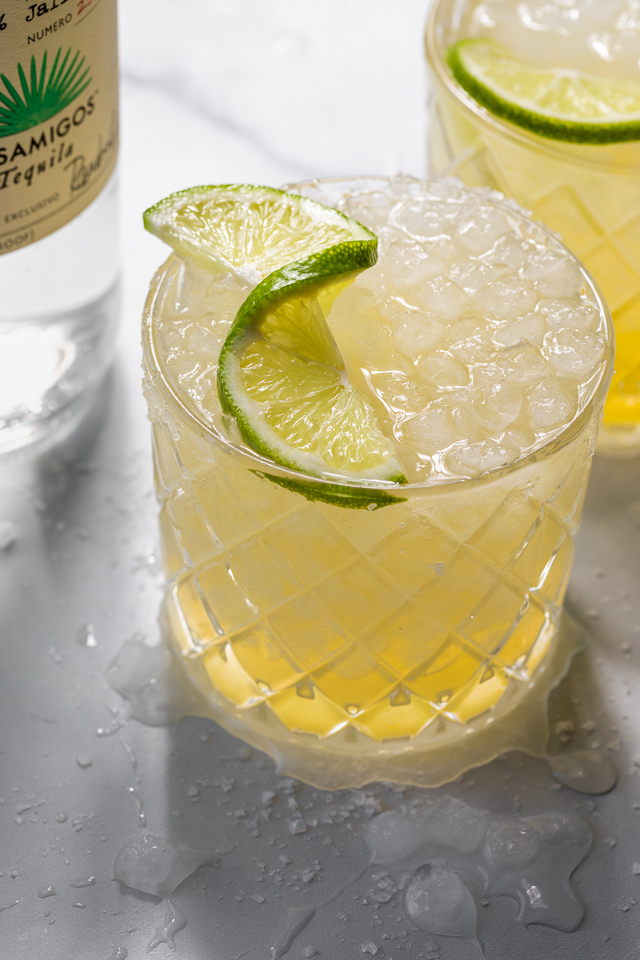 Classic Margarita Recipe
It's no secret that I love a good cocktail… especially when the weather starts warming up! Which is why I'm always adding new cocktail recipes to my recipe box. And I can't think of a more popular cocktail recipe than the classic margarita!
This classic recipe is cold, crisp, and utterly refreshing! But most importantly: it's ready super FAST! Because who wants to be messing around in the kitchen very long on a gorgeous sunny day? So bust out your margarita glasses and let's make some delicious homemade cocktails!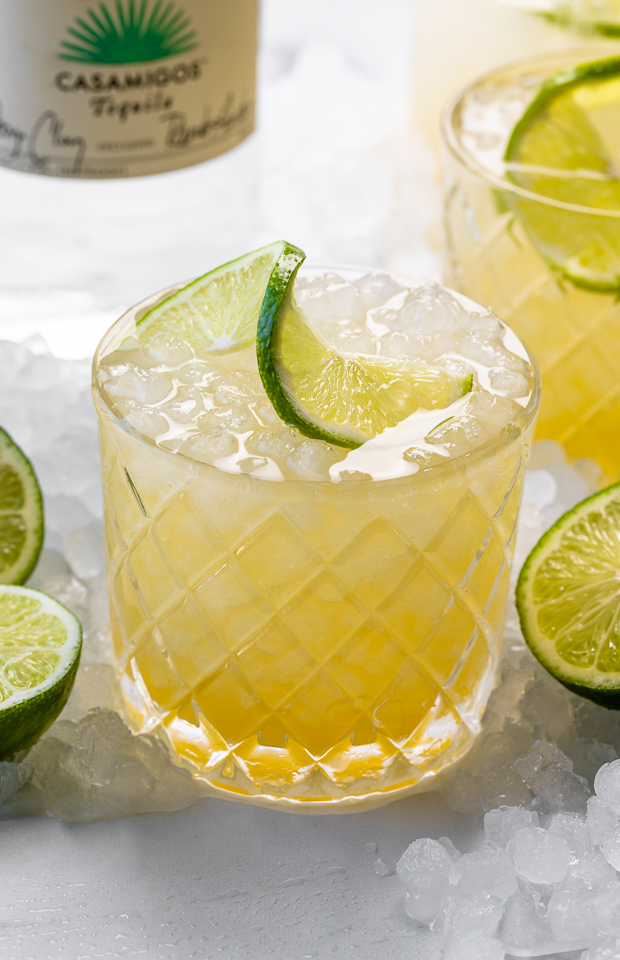 Ingredients for Margaritas
Hot Water: You'll combine hot water with honey or agave syrup, which creates a simple syrup of sorts.
Honey or Agave: Either work fine, choose which you prefer based on availability and/or taste preference. Add more for a sweeter cocktail. This can also be omitted for a "skinny margarita". But it's such a small amount I don't suggest it.
Lime Juice: Please do not use bottled lime juice! Fresh lime juice tastes a million times better and won't give you that nasty heartburn most bottled citrus juices give.
Tequila: At the end of the day, any tequila will work. But Ising a quality tequila, preferable a blanco tequila, will give you the best flavor.
Orange Liqueur: Cointreau or Grand Marnier are my tops picks. They're pricier but last forever and are worth the splurge. I don't suggest using triple sec, but in a pinch, it will technically work.
Orange Juice: This is my secret ingredient that's 100% optional, but totally recommend. A tiny splash of freshly squeezed oj cuts the bitterness and adds just a little something special to this margarita recipe.
Ice: It doesn't matter if you use regular ice cubes, crushed ice aka nugget ice, or those fancy giant cocktail ice cubes. Just be sure you have some form of ice on hand so your drink can be chilled.
Margarita Salt: If you prefer a salt-rimmed glass, running a lime wedge around the top rim of a margarita glass and dip the rim into coarse salt… or sugar! This is optional, but does make an extra lovely presentation.
How to Make Margaritas
Grab your Margarita Glasses: If you're going to add salt or sugar to the rim of your cocktail glass, this is a good time to do so.
Make the "Simple Syrup": Combine the hot water and sweetener in a cocktail shaker and whisk to combine. If you're skipping the sweetener, you can skip the water too.
Add in the Margarita Ingredients: Once everything is inside the cocktail shaker, do your best bartender imitation and shake vigorously to combine!
Garnish and Serve: Fill your glass with ice, top with the margarita mix, and garnish with a lime twist or wedge. Sip and enjoy every last drop of your delicious cocktail!
How to Double this Recipe?
This recipe can easily be doubled or tripled. If your cocktail shaker is small, make it in batches. Or make a pitcher version: combine 1/2 cup honey with 1/2 cup of water. Then mix in 1 cup of tequila, 1/2 cup of orange liqueur, 1/2 cup lime juice, and 1/4 cup orange juice.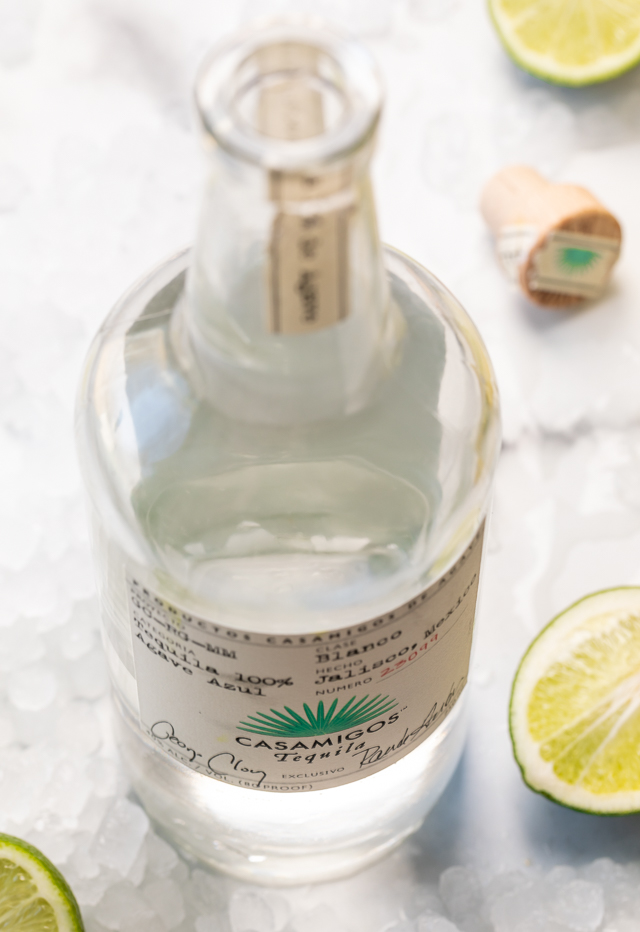 Best Tequila for Margaritas
Feel free to use whatever tequila you love, but personally, I love Casamigos Blanco tequila. It's clean and fresh and just makes a delicious marg! That said, Patron silver is a close second. And 1800 silver tequila is also delicious!
Tools Needed for This Recipe
(Amazon Affiliate Links)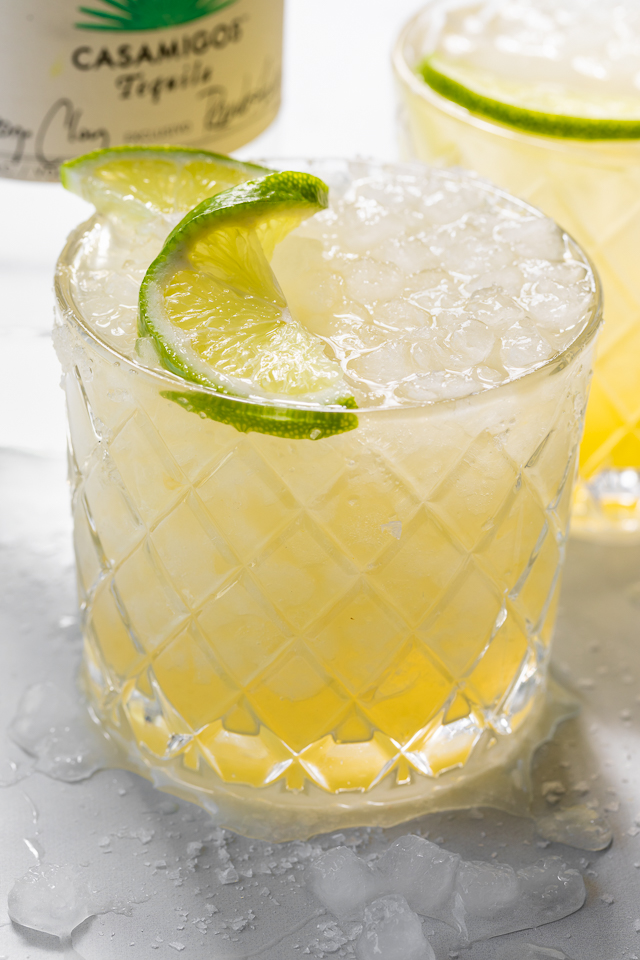 More Margarita Recipes: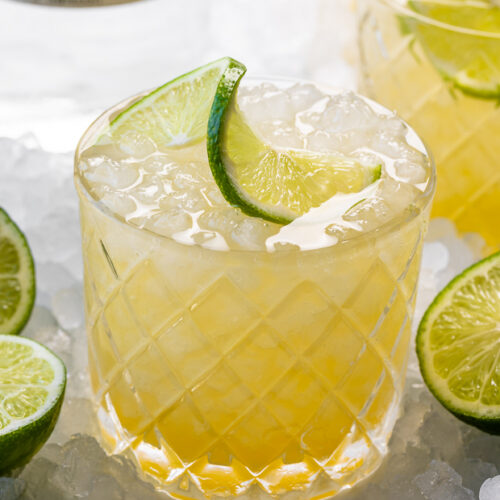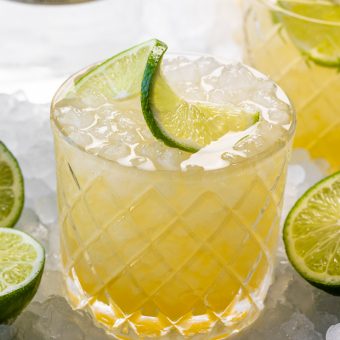 Best 5 Minute Margarita Recipe
Made with freshly squeezed lime juice, orange liqueur, tequila, and just a touch of honey, this is the Best 5 Minute Margarita Recipe you'll ever make! One of the most popular cocktails in the world, and perfect for those hot Summer days! So without further ado, let's make my perfect homemade margaritas!
Ingredients
1 Tablespoon hot water
1 teaspoon honey or agave (be sure it's a liquid honey, not the thicker raw variety)
1.5 ounces freshly squeezed lime juice
2 ounces tequila
1.5 ounces Cointreau or Grand Marnier
1 teaspoon freshly squeezed orange juice (optional)
Ice
Instructions
Place hot water and honey or agave in a cocktail shaker and whisk vigorously to combine. 

Add in the lime juice, tequila, orange liqueur, and orange juice. Shake vigorously to combine. 

Fill a glass with ice. Pour the margarita on top of the ice, garnish with a lime twist or wedge, and serve at once. 
Notes
If you prefer a salt-rimmed glass, running the flesh of a lime wedge around the top rim of your glass. Then fill a rimmed plate or shallow bowl with salt, and dip the rim of the glass into the salt until it is covered with salt. Set aside while you make your drink.
If you use Grand Marnier, your margarita will have a slightly more orange hue.