If you've been looking for the best vegan chocolate chip cookie recipe, your search is over! You don't have to refrigerate the dough, so you can just roll and bake. These vegan cookies bake up thick and chewy, with crisp edges!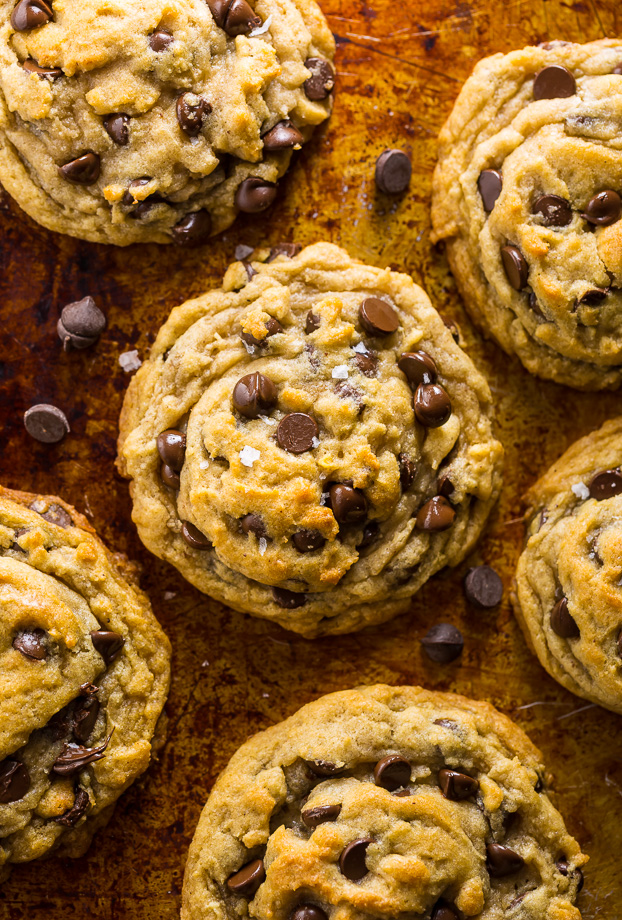 Best Vegan Chocolate Chip Cookies
Like most people, I LOVE cookies! They're one of my favorite things to bake, eat and gift! There's nothing better than seeing the look on someone's face when you give them a fresh batch of homemade chocolate chip cookies. Warm, sweet, and so gooey… what's not to love?
More than a few of my friends live vegan lifestyles, so I've been feeling inspired to create a delicious recipe for soft and chewy vegan chocolate chip cookies! I wanted the recipe to taste just like my classic everyday chocolate chip cookies, but be made with cruelty-free ingredients that everyone can enjoy.
[adthrive-in-post-video-player video-id="nph89T6f" upload-date="2017-09-27T15:43:04.000Z" name="Vegan Chocolate Chip Cookies" description="These Vegan Chocolate Chip Cookies are thick, chewy, and loaded with gooey chocolate. No one will guess they're vegan!"]
And guess what? After exactly 7 recipes fails, I did it!!! And it was worth the work, you guys. Because these are the most wonderful vegan chocolate chip cookies ever. REALLY! The best part of this recipe is that these cookies taste so much like traditional chocolate chip cookies, no one even knows they're vegan. In fact many of my friends have told me these are the best cookies I've ever baked. And I bake a TON of cookies.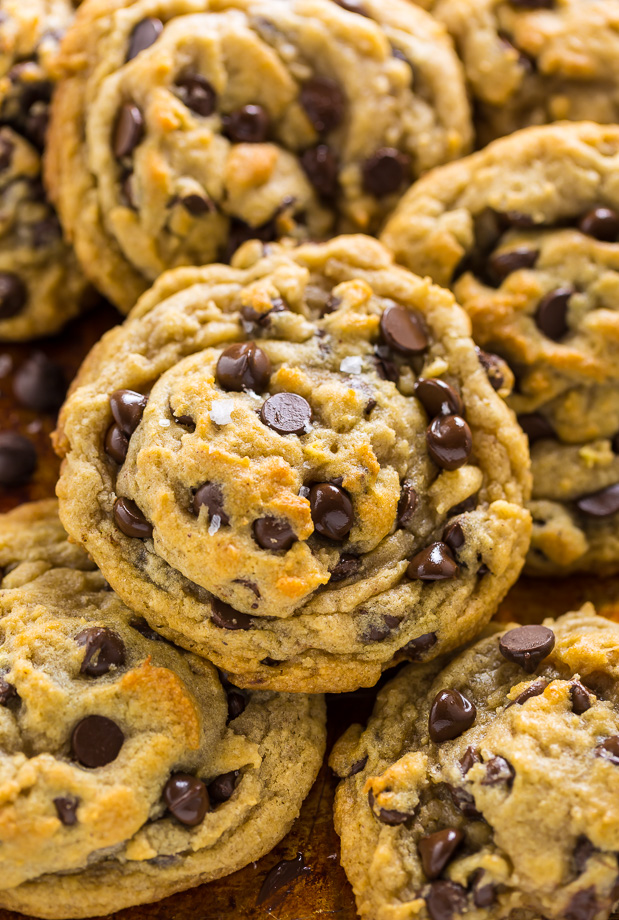 Vegan Chocolate Chip Cookie Recipe
Instead of vegan butter, this recipe is made with coconut oil. It gives the cookies a delightful taste and texture. Not a fan of coconut flavor? Not a problem! Just be sure to select refined coconut oil, which has a neutral scent and flavor. But if you love coconut flavor, you'll want to select unrefined coconut oil, which has a strong – but not – overwhelming coconut scent and flavor.
And if you REALLY love coconut, try adding a 1/2 cup of toasted coconut flakes to the cookie dough. It's a coconut lovers dream!!!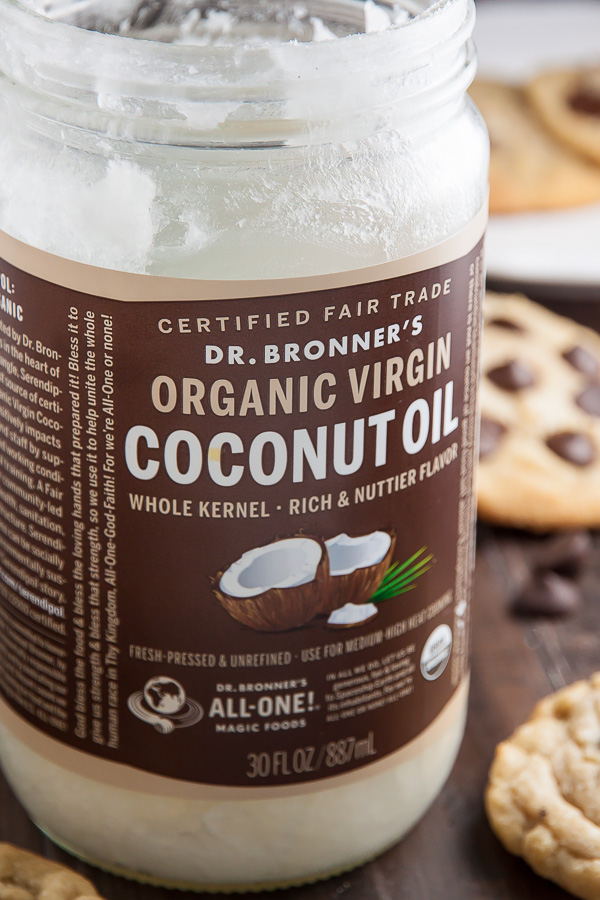 I have not tested this recipe with vegan butter or any other alternative, so I cannot advise on substitutions.
Because coconut oil turns into a liquid state when warm, you'll want to make sure your coconut oil is solidified before incorporating it in this recipe. It doesn't need to be rock hard, but it should be solid and easily scoop-able. If your coconut oil is too runny, simply stick it in the fridge for a little while. It will firm up.The consistency of the coconut oil is so important because we're not chilling the dough before baking the cookies. So if the consistency is off, the cookies will spread too much, or not enough.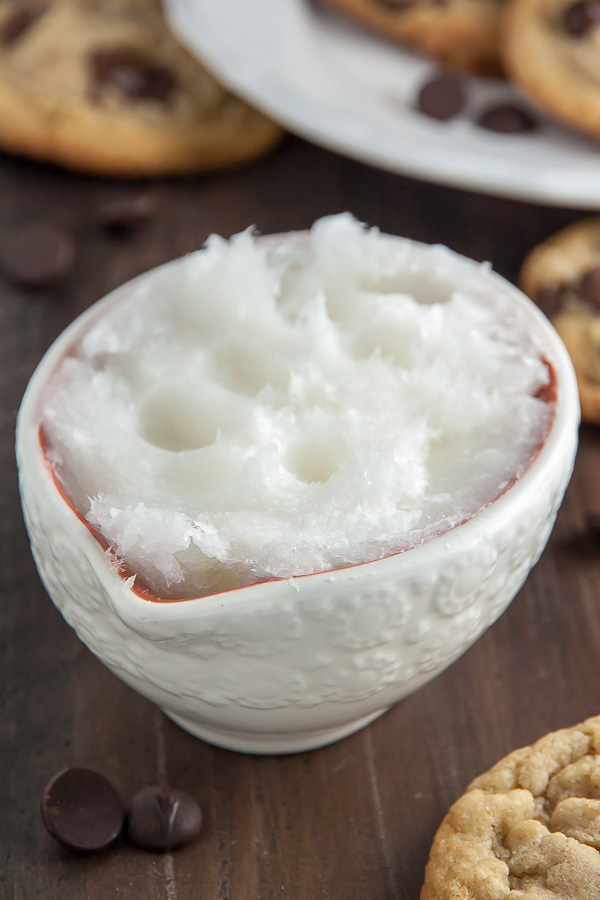 Vegan Chocolate Chip Cookie Dough
I could seriously eat a large bowl of this cookie dough because it tastes so good! And doesn't have any yucky raw egg in it. But I resist (most of the time) because the baked cookies are even better. And because eating raw flour isn't the smartest thing to do. But I digress. Visually, the raw cookie dough should look like this ↓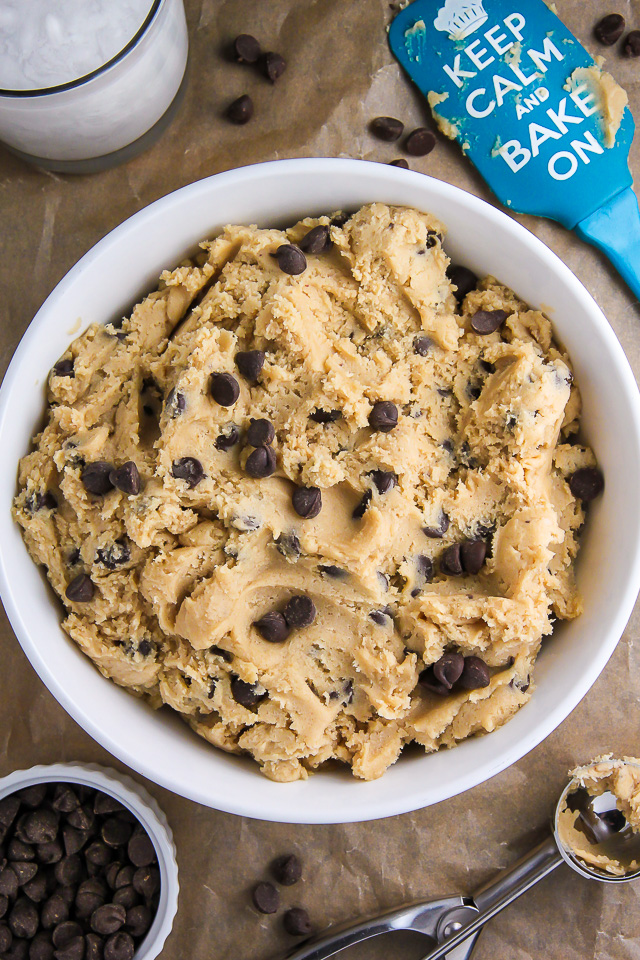 How to Fix Sticky Dough
If the cookie dough appears too sticky, add in a little more flour. And if your cookie dough appears too firm, add in a little more non-dairy milk. It should be soft but not mushy, and firm but not hard. Basically it should look like traditional cookie dough. Unfortunately, I don't suggest freezing this cookie dough. I've done it a few times in the past with not great results. But the vegan cookies will "keep", stored in an airtight container for a few days. And you can definitely freeze the baked cookies!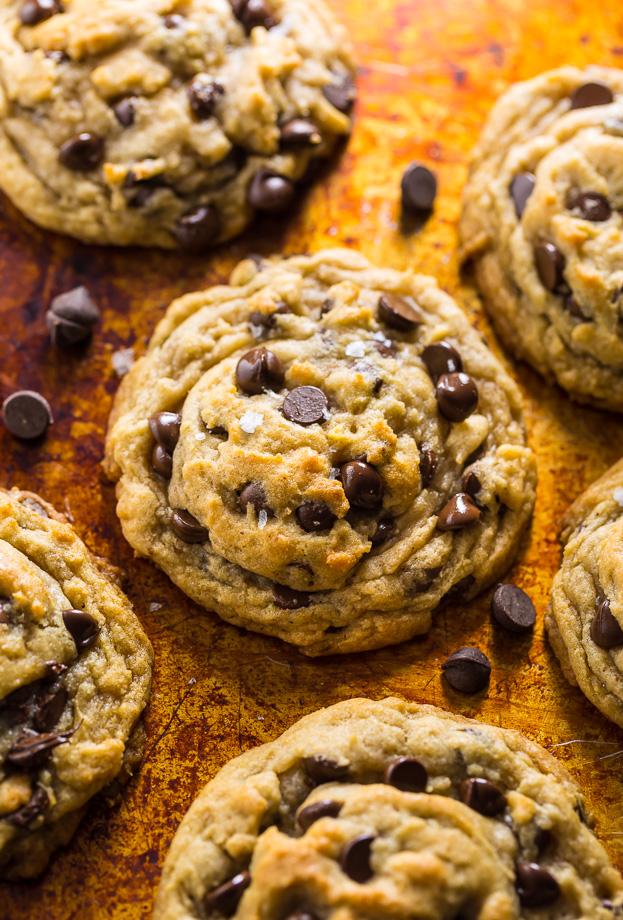 Where to find Vegan Chocolate Chips?
There are a ton of vegan and dairy free chocolate brands out there these days! Some are great, and others aren't… so I suggest trying out a few and finding a brand that you really enjoy. And of course, you don't have to use chocolate chips. Chocolate chunks would also be delicious in these cookies! And if your not 100% vegan, you can use any chocolate brand you want. I'm not vegan, so I often use my favorite Lindt dark chocolate to make (almost) vegan chocolate chunk cookies. We also love the enjoy life brand!
If you can't find vegan chocolate chips or chocolate chunks in your local grocery store, search online. I know amazon sells vegan chocolate chips and chocolate bars.
The remaining dry ingredients called for in this cookie recipe are pretty basic! Flour, light brown sugar, baking powder, and salt. I haven't tried making these gluten free, but I've been told by several readers that 1-for-1 gluten free flours do work well in this recipe. So if you're gluten intolerant, it might be worth experimenting with. Almond flour and coconut flour should not be used in this recipe! They will not work. Whole wheat flour may be used, but the cookies will be much darker in color and a little less chewy.
In addition to the flour mixture, you'll also need applesauce and non-dairy milk. I've had the best results with full-fat coconut milk (the kind that comes in a can), but almond milk and even soy milk will work in a pinch. I haven't tested this recipe with homemade applesauce, but as long as it's unsweetened, I think it should work. I also think an equal amount of very ripe mashed bananas would work as a replacement for the applesauce. But this would definitely add a banana flavor. So experiment at your own risk.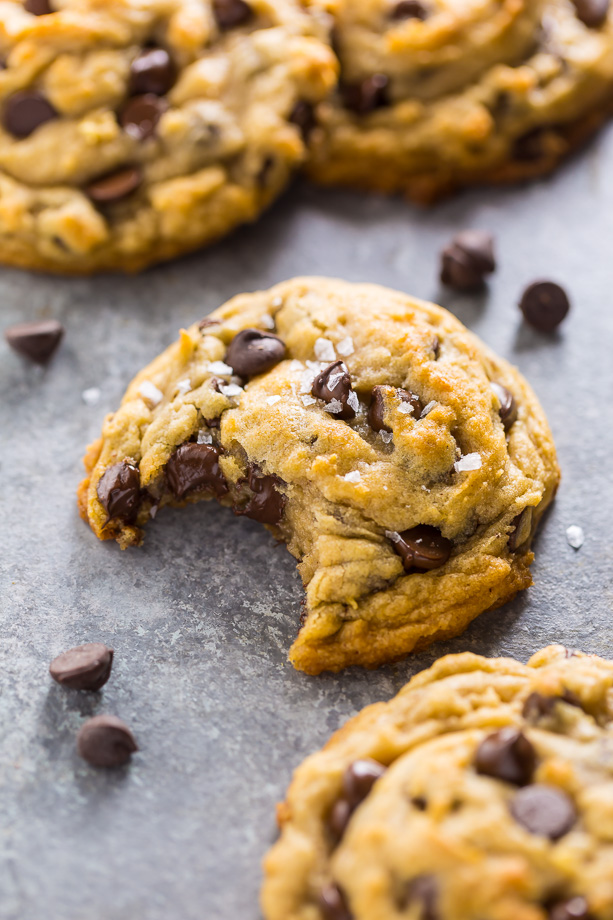 How to Bake Vegan Chocolate Chip Cookies
Unlike most cookie recipes that instruct you to preheat oven to 350, these cookies call for a slightly higher oven temperature of 375. The higher temperature yields cookies that are crispy on the outside but chewy on the inside.
I like to make these cookies BIG. And use a large cookie scoop to create the monster sized cookies you see in my photos. Of course you may make them smaller or even larger, but will need to adjust the baking time. Small cookies will bake quite fast (I suggest you start checking them around 6 minutes) and larger ones take longer to bake (I suggest you check them around 9 minutes).
Finally, be sure you don't over bake these cookies! They only need 9 to 12 minutes in the oven, and will firm up quite a bit as they cool. Over baked cookies will be dry and crumbly… not chewy like we want!
I like to press a few extra chocolate chips on top of the warm vegan chocolate chip cookies right when they come out of the oven. This step is optional. Personally I can never have too much chocolate in, ON, or around my cookies lolol. But I'm a chocoholic… so that shouldn't come as a surprise. You can also sprinkle the cookies with flaky sea salt, which adds a nice flavor contrast. And if you really want to go over the top, pick up some vegan ice cream and use these cookies to make homemade vegan ice cream cookie sandwiches. You'll thank me for that little tip this Summer haha.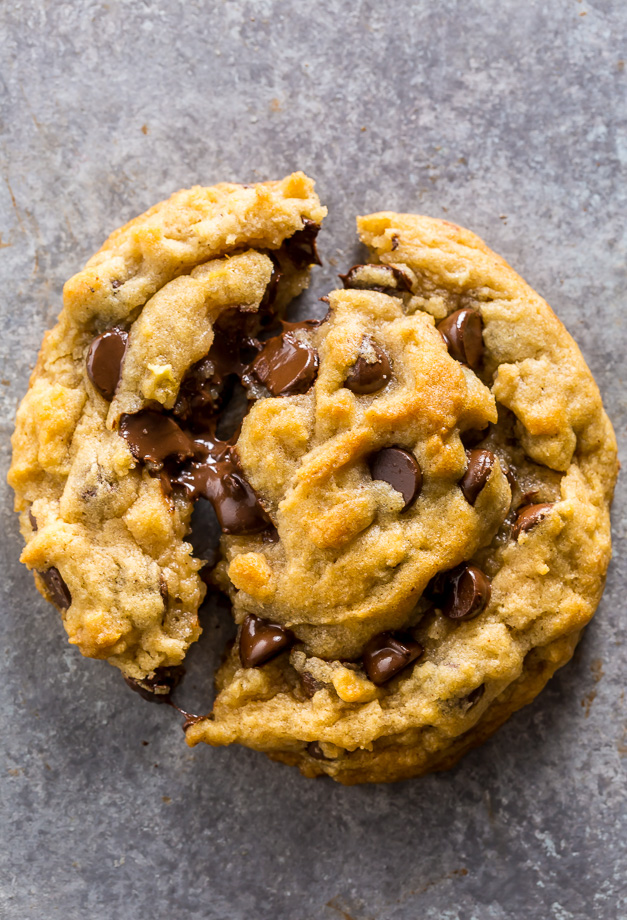 The hardest part of this recipe? WAITING FOR THE COOKIES TO COOL!!! I suggest cooling these cookies at least 15 minutes before moving them from the baking sheet. But they taste the best when you wait at least 30 minutes before eating them, so I suggest placing them on a cooling rack to firm up for a bit. This brief cooling period allows the cookies to firm up a bit, but they'll still be warm and gooey when you bite in.
Vegan chocolate chip cookies that don't taste one bit vegan. Bake now, thank me later 😉
Pin it for Later
More Vegan Cookie Recipes:
If you try this perfect vegan chocolate chip cookies recipe, let me know! Leave a comment below and don't forget to snap a pic and tag it #bakerbynature on instagram! Seeing your kitchen creations makes my day. ♥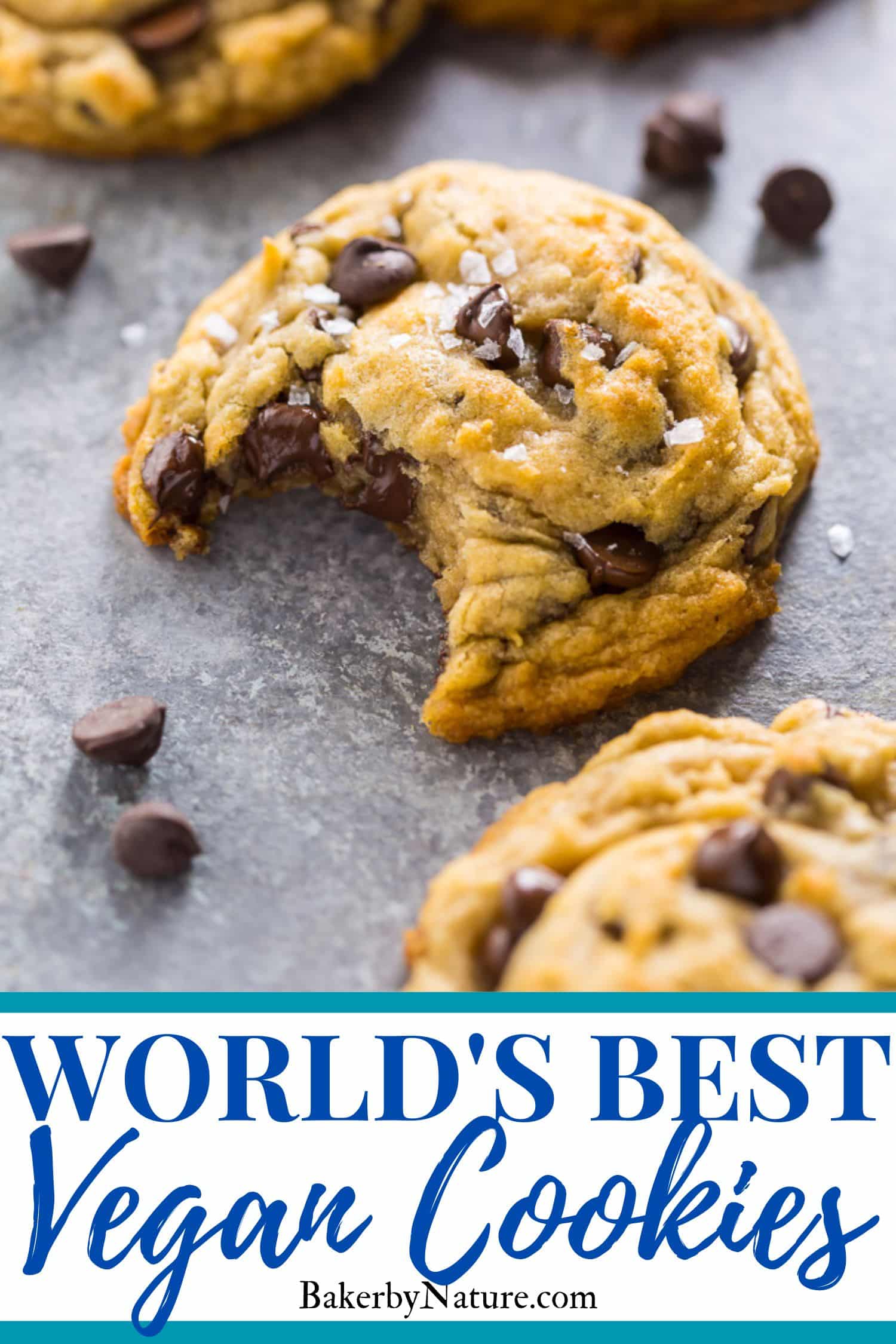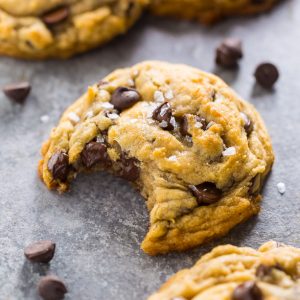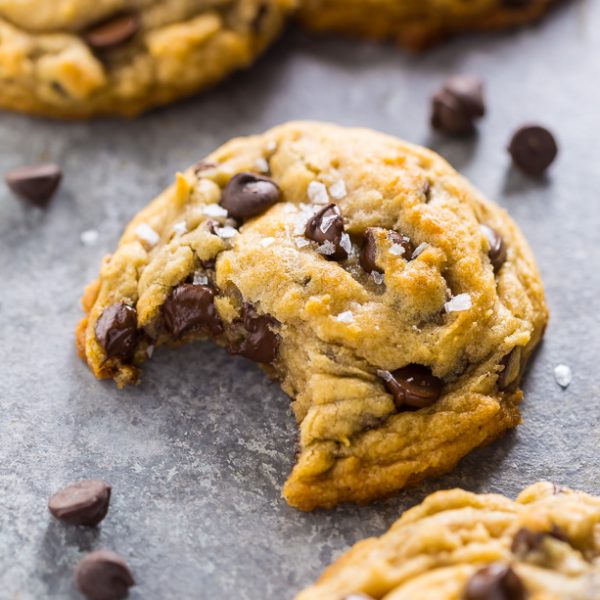 The Most Wonderful Vegan Chocolate Chip Cookies Ever
Thick and chewy vegan chocolate chip cookies. These are wonderful!
Ingredients
1/2 cup coconut oil, solid but scoop-able
1 and 1/4 cups light brown sugar, packed
2 teaspoons vanilla extract
1/4 cup coconut milk (I like to use the thicker Thai variety, but any coconut milk will work)
1/4 cup unsweetened applesauce
2 and 1/3 cups all-purpose flour (be sure not to pack your flour)
1 teaspoon baking soda
1/2 teaspoon salt
2 cups chocolate chips (use vegan chocolate chips if vegan), divided
Flaky sea salt, optional
Instructions
Preheat oven to 375 degrees (F). Line a large baking sheet with parchment paper; set aside.

In a large bowl whisk together the coconut oil, brown sugar, and vanilla, beating until well combined. Add in the coconut milk and applesauce and whisk until well combined; set aside. In a separate bowl combine the flour, baking soda, and salt; whisk well to combine.

Add the dry ingredients into the wet mixture and, using a wooden spoon or very sturdy spatula, stir until ingredients are combined. The batter will be very thick! Fold in 1 and 3/4 cups of the chocolate chips.

Scoop three tablespoon sized mounds of dough onto the prepared cookie sheet, leaving a few inches between each cookies for spreading. Bake for 9 to 10 minutes, or until the edges are golden and the centers have set. Press remaining chocolate chips on top of warm cookies, and sprinkle with sea salt, if using. Cool cookies on the baking sheet for 15 minutes before transferring them to a cooling rack.
Notes
If the dough appears too sticky, add a little more flour, one tablespoon at a time; if the dough appears too dry, add a tablespoon of coconut milk.