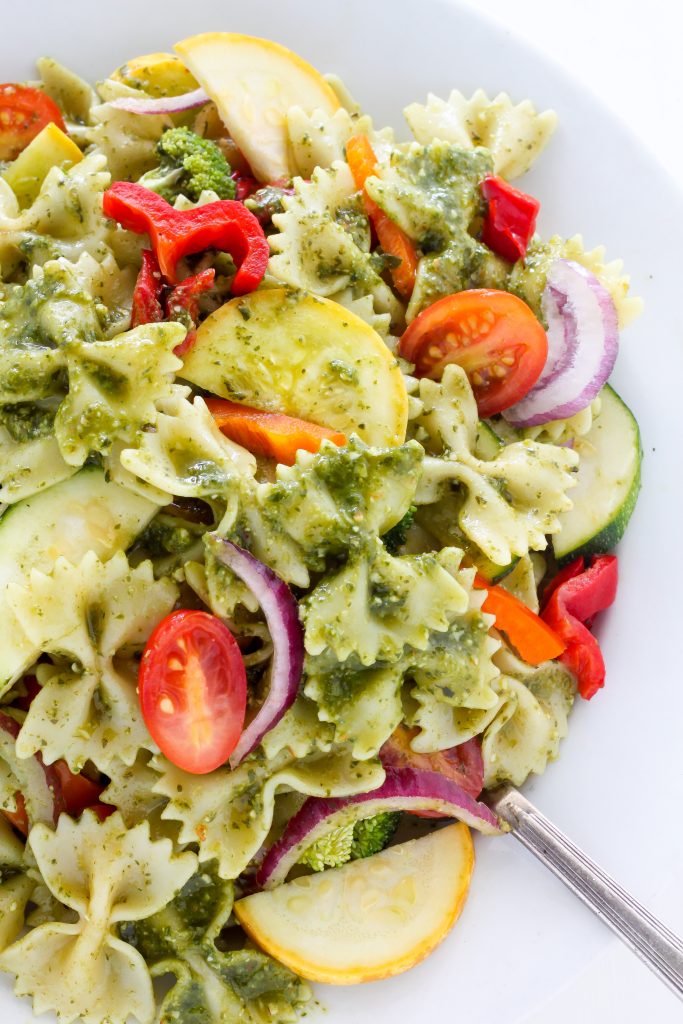 Healthy, colorful, and so delicious – this 20-minute Rainbow Veggie Pasta Salad will quickly become a Summer staple in your recipe rotation!
This very well may be the easiest, yummiest, bold and beautiful pasta salad I've ever made! With a slew of healthy veggies in the ingredient list and a teeny-tiny 20 minute time tag (maaaaaybe 25 minutes if you really take your time), there's really no reason NOT to make this asap. It's one of those MUST EAT meals!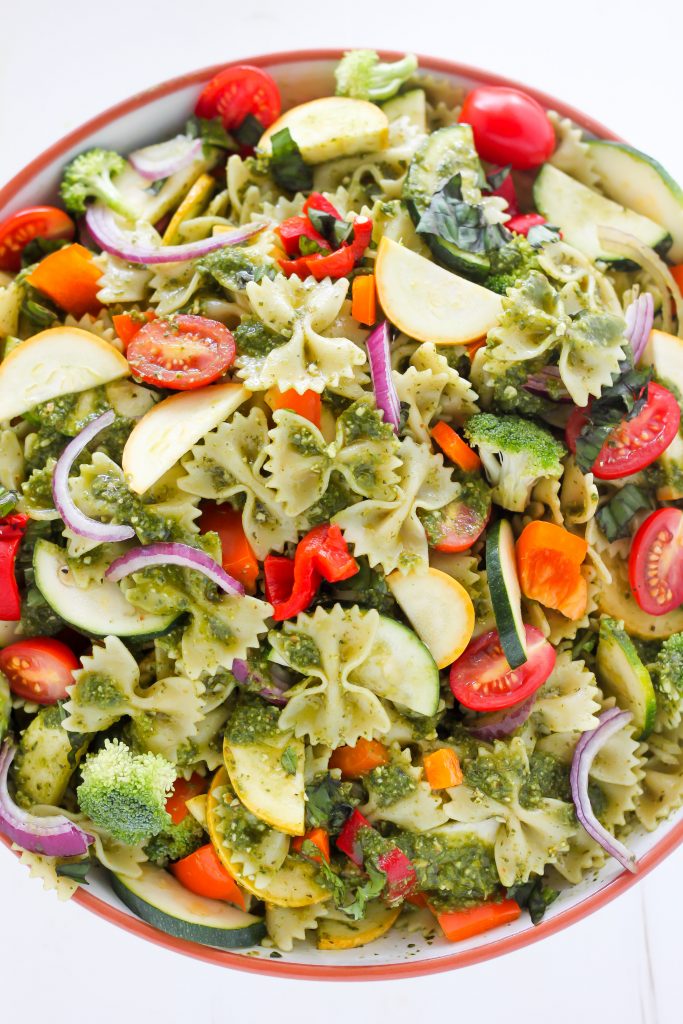 Alright, my friends —> on to the good stuff. Recipe details!!!
To make this heavenly pasta salad situation you'll need the following:
Roasted red peppers and cherry tomatoes (the red!)
An orange bell pepper (the orange!)
A tiny yellow zucchini (the yellow!)
A green zucchini, broccoli, basil, and parsley (all of the green!)
A small red onion (which in this case, is our purple!)
I know… I know… you're wondering where the blue is, right? To my knowledge there are no blue veggies on the market at this time, and blueberries wouldn't be a very good mix-in for this salad, so alas, our rainbow veggie salad is one color sort. We can live with that, right?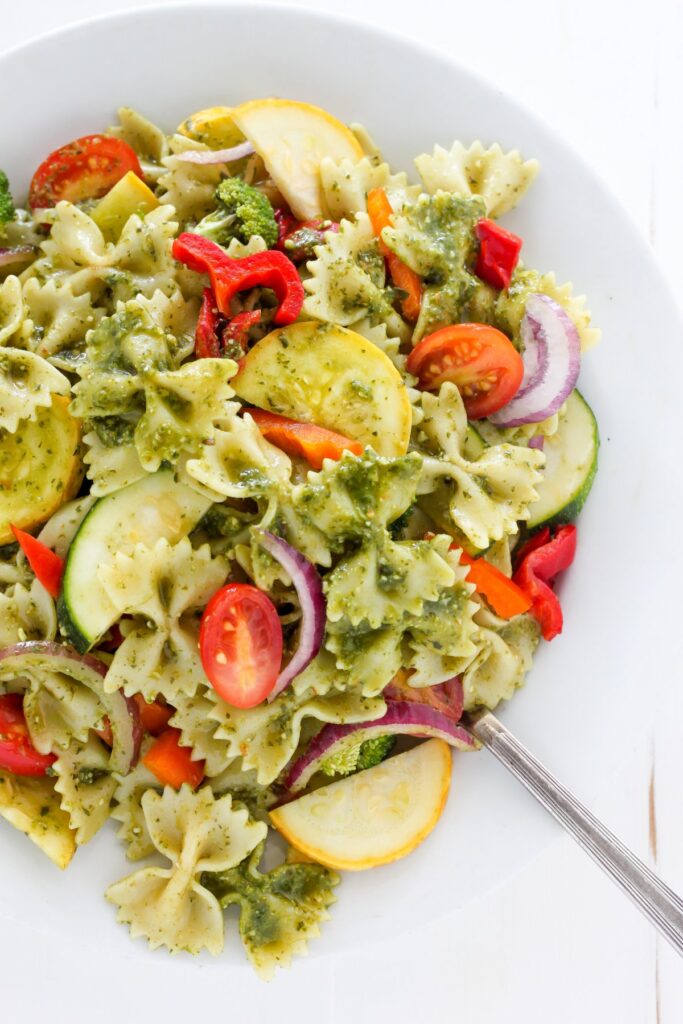 Ok, now for the dressing part of this post…
Olive oil and red wine vinegar + lots of chopped garlic + a dash of Italian seasoning + dijon + salt and pepper = an easy dressing that just explodes with flavor! In the method below I write to simply combine everything in a bowl and whisk away, but you could also blend this in a mixer for a less chunky outcome. The second time I made this I tossed a handful of fresh basil into the blender too – SO GOOD. <——– Definitely give that a try if you love fresh herbs ♡♡♡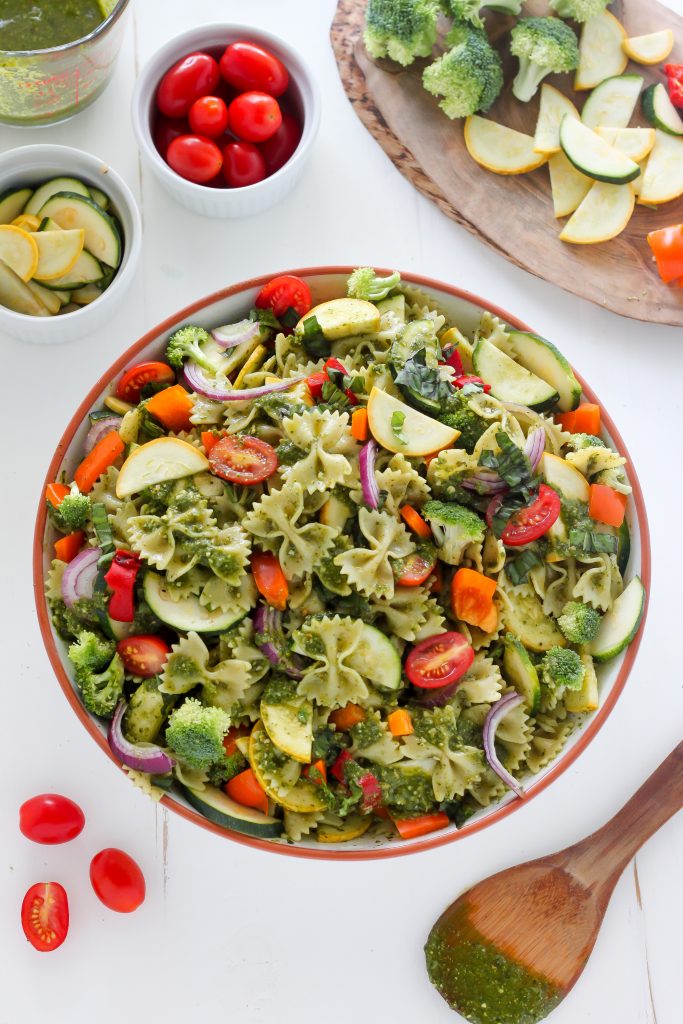 If you're having a busy day and need dinner fast, or if you're going to a party/picnic and need a winner dish to bring along, whip this up and enjoy! xoxo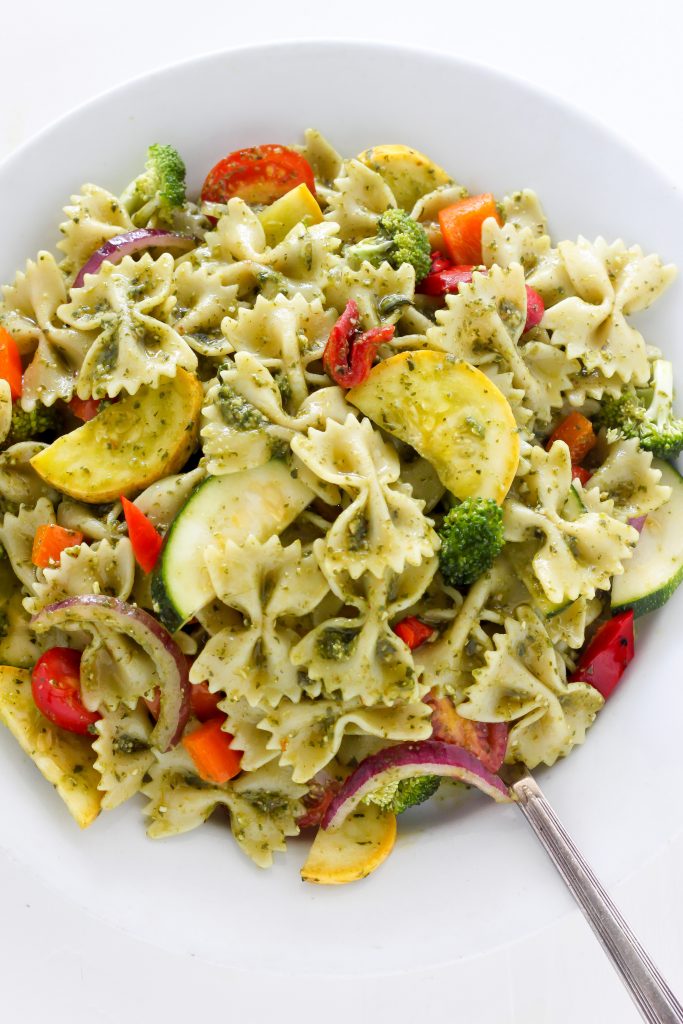 20-Minute Rainbow Veggie Pasta Salad
Yield 1 large bowl of pasta salad; 8 servings
A vibrant Rainbow Veggie Pasta Salad that's ready in just 20 minutes!
Ingredients
For the pasta salad:
(1) 16 oz box of farfalle pasta
1 tablespoon salt (for the pasta water)
1 cup cherry tomatoes, cut in half
1 small yellow zucchini, cut in half vertically then thinly sliced
1 small green zucchini, cut in half vertically then thinly sliced
1 broccoli crown, cut into tiny bite-sized pieces
1 small red onion, thinly sliced
1/2 cup roasted red peppers, thinly sliced
1 orange pepper, chopped into bite-sized pieces
1/4 cup fresh parsley, chopped
1/4 cup fresh basil, chopped
For the Dressing:
2/3 cup olive oil
2/3 cup red wine vinegar
2 1/2 tablespoons dijon mustard
2 1/2 teaspoons dried Italian seasoning
4 cloves garlic, minced
1 lemon, zested
1 1/4 teaspoon finely ground sea salt
3/4 teaspoon freshly ground black pepper
Instructions
Bring a large pot of water to a boil. Add the salt, stir, then add in the pasta. Boil, stirring occasionally, for 10-11 minutes, or until al denrte. Drain in a colander and run the pasta under cold water for a few minutes.
While you're waiting for the pasta, prepare the vegetables and the dressing!
Cut the veggies as indicated in the ingredient list.
For the dressing:
In a medium-sized mixing bowl whisk together the olive oil, red wine vinegar, dijon mustard, Italian seasoning, minced garlic, lemon zest, salt, and pepper.
Once the pasta has cooled, transfer it to a large serving bowl. Add in the chopped vegetables and half of the dressing. Stir until everything is well mixed, and add more dressing as needed. Serve at once or refrigerate until ready to eat (can be made up to 24 hours ahead of time).
Courses Dinner
Cuisine Italian
Nutrition Facts
Serving Size 1 bowl/serving
Amount Per Serving
% Daily Value
* Percent Daily Values are based on a 2,000 calorie diet. Your daily values may be higher or lower depending on your calorie needs.