20-Minute Shrimp and Broccoli Lo Mein, because let's be real, sometimes we just need a quick and tasty, noodle dish. Loaded with juicy shrimp, crunchy broccoli, and so much flavor. The whole family will love it!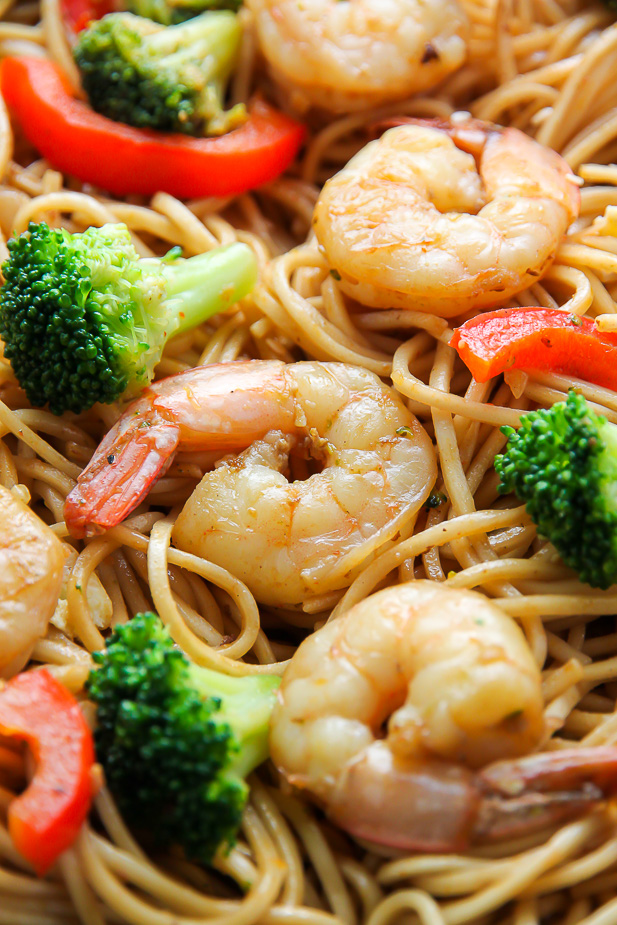 Shrimp Lo Mein Recipe
Hi and happy Monday! Today we're keeping things short and sweet with this easy recipe for 20-Minute Shrimp and Broccoli Lo Mein. So if you were unsure just what to make for dinner tonight… read on, my friend; I've got you covered.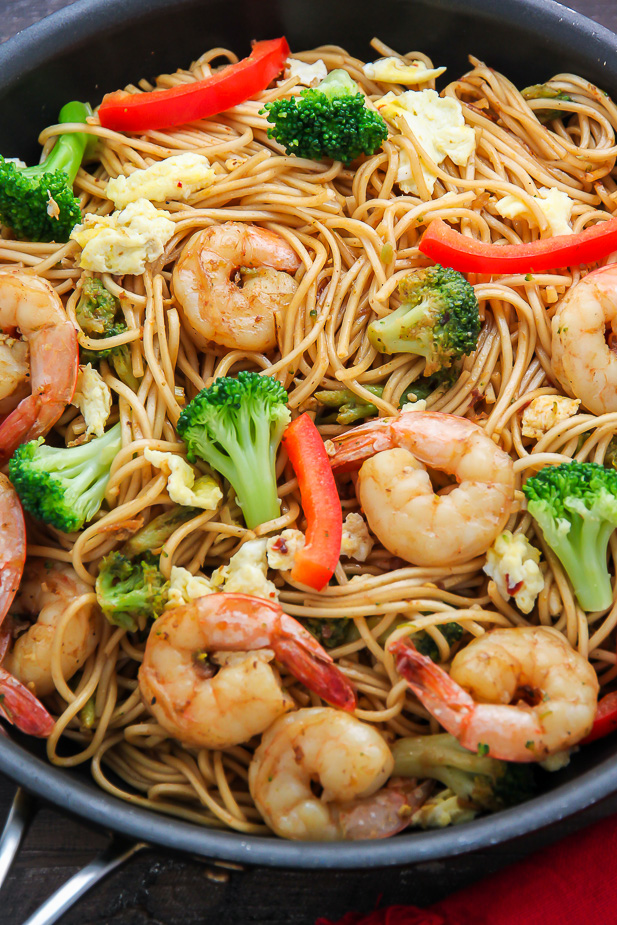 How to cook Shrimp and Broccoli Lo Mein
For this recipe you'll need shrimp (preferably already peeled), broccoli (I used frozen to save time), red bell pepper slices (again, I used frozen here) lo mein noodles (you can find these in the ethnic food aisle at most grocery stores), a pat of butter, crushed red pepper flakes, 2 eggs, sesame oil, soy sauce, lime juice, fresh grated ginger, sriracha sauce, garlic, and just a kiss of brown sugar. The first thing you'll do is set the water to heat on the stove, then you can prep the sauce and cook the shrimp/veggies as it comes to boil. The lo mein noodles I used only took 4 minutes to boil, so make sure you keep an eye on them once you place them in the pot.
Once the shrimp and broccoli have cooked, and the noodles are boiled and drained, you're simply going to combine all of the ingredients in one pan, toss in the sauce, and cook for another minute or two.
Seriously, this dish is the definition of simplicity. ♥♥♥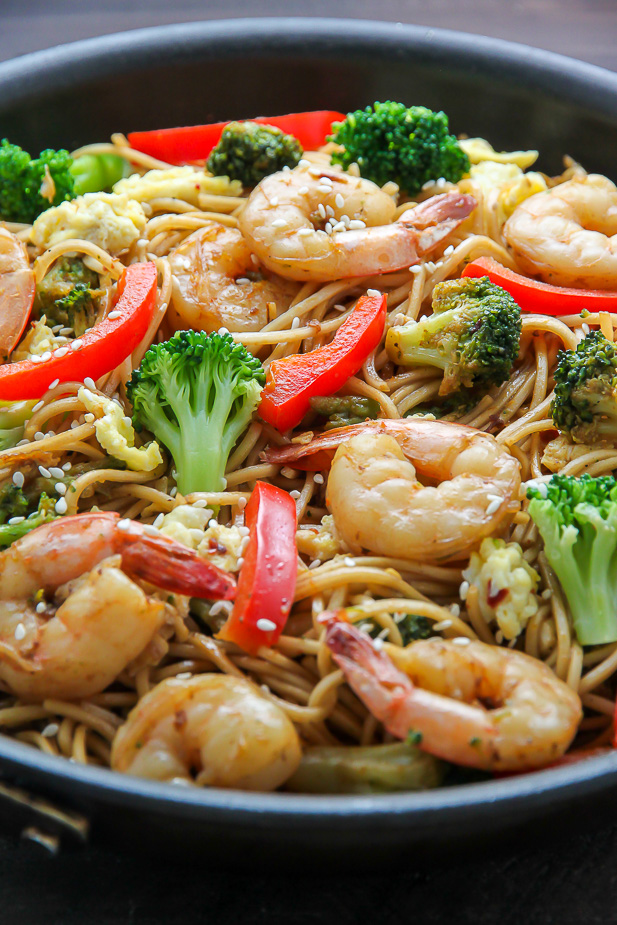 The best part? It tastes even better than Chinese take-out! My friends basically beg me to make this whenever we do dinner at my place.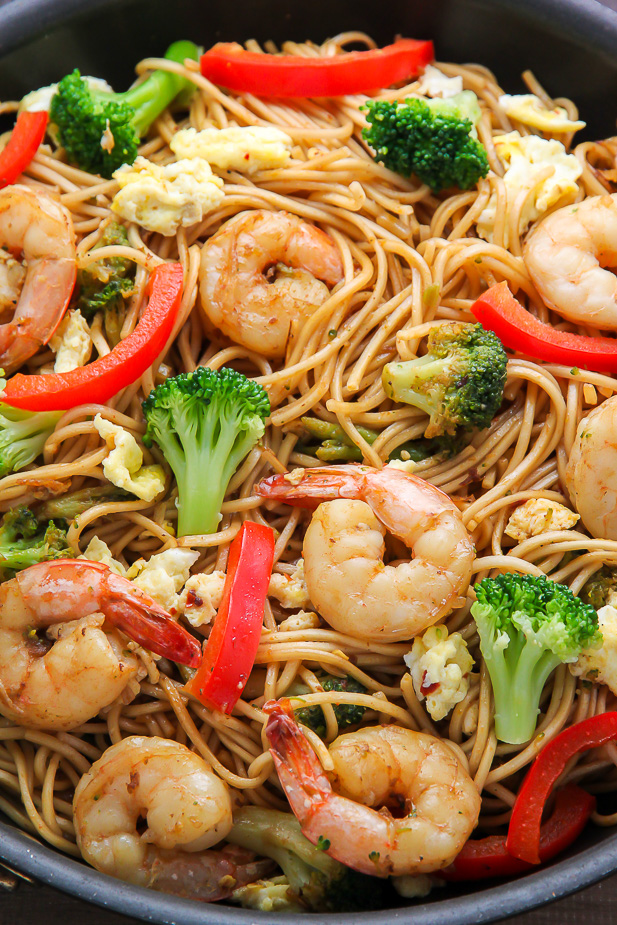 If you'd like to use fresh broccoli, peppers, or add in some more veggies to the mix, that's totally OK. I've added shredded carrots, snow peas, and even corn with great results. Just remember – it will likely take longer than 20 minutes if you start making changes. The recipe below, made as is, should take you 15-20 minutes max. Maybe 25 if you're really snailing around the kitchen 😉
Warning: This dish is quite spicy as-is, so I highly recommend tasting the finished product before adding any additional hot sauce/pepper flakes.
Also, if you're sensitive to salty food, I suggest using low-sodium soy sauce. I have made this recipe using both varieties and each way comes out delicious. The plus to using low-sodium soy is you can always a more if needed.
Hope you guys love this recipe as much as we did! If you make it, I'd love to hear your thoughts in the comment box below. Better yet – snap a photo and share it with me on instagram using the #bakerbynature.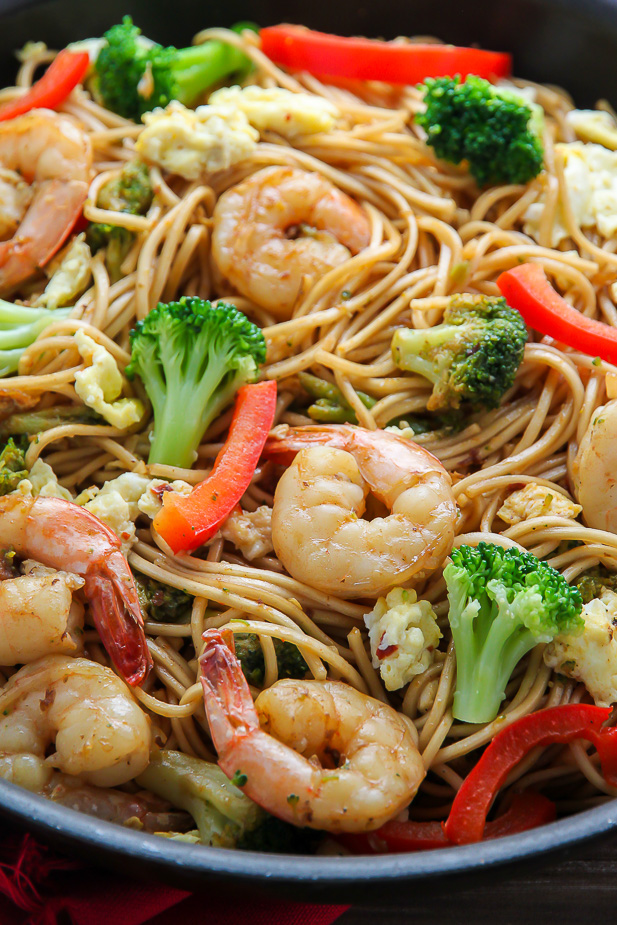 More Shrimp Recipes: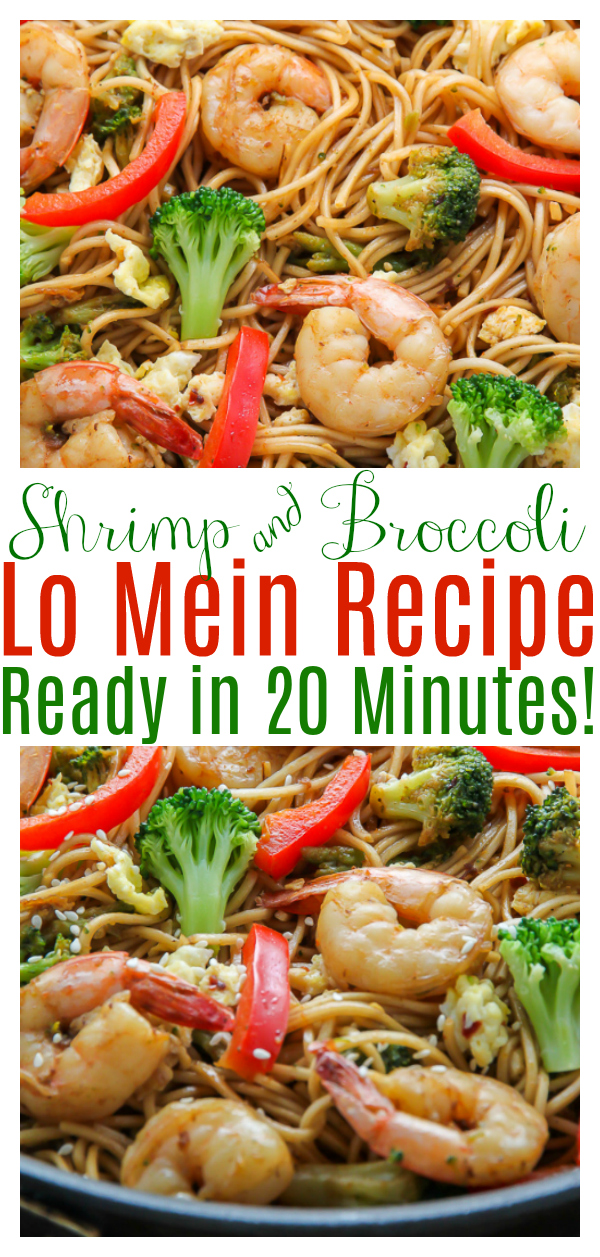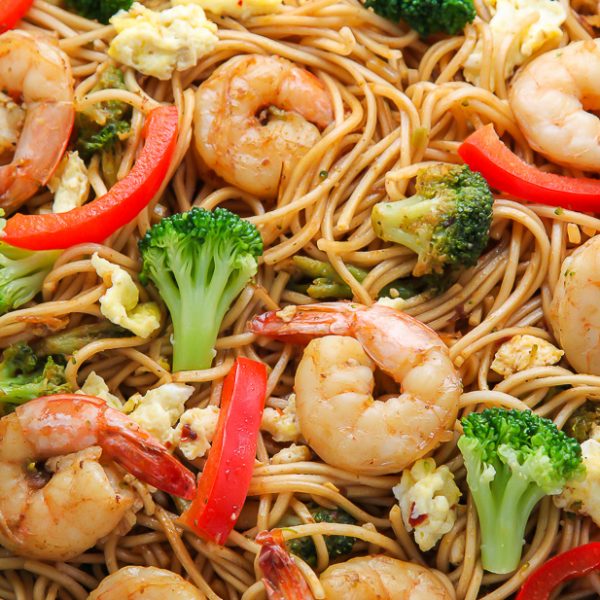 20-Minute Shrimp and Broccoli Lo Mein
This 20-Minute Shrimp and Broccoli Lo Mein is one of our weeknight favorites. So much better than take-out!
Ingredients
(1) 8 oz. package lo mein noodles (I found them in the ethnic foods section of our grocery store)
Juice of 1 large lime, about 2 tablespoons
1 Tablespoon light brown sugar
3 Tablespoons soy sauce
2 Tablespoons Sriracha hot sauce
2 Teaspoons fresh grated ginger
2 tablespoons + 1 teaspoon sesame oil, divided
1 tablespoon unsalted butter
1/2 tsp crushed red pepper flakes
2 large eggs, lightly beaten
1/2 pound medium shrimp, peeled
2 cups frozen broccoli florets, not thawed
1 cup frozen red bell pepper strips, not thawed
4 cloves garlic, minced
Salt to taste, if needed (the soy sauce has a lot of sodium, so taste before you add any to the finished product)
Instructions
Bring a large pot of water to boil. Once the water reaches a rolling boil, add in the lo mein noodles and cook for 3-4 minutes, or according to package instructions.
While you wait for the water to boil, prepare your sauce:
In a small bowl combine the lime juice, brown sugar, soy sauce, sriracha, ginger, and 1 teaspoon of the sesame oil; whisk well to combine. Set aside until needed.

Melt the butter in a large non-stick skillet over medium heat. Add in the crushed red pepper flakes, then pour in the beaten eggs. Stir gently and cook for about 3 minutes. Once the egg is done cooking, keep the pan on the burner but transfer eggs to a small plate; set aside.

Add 1 tablespoon of the sesame oil to the pan and increase the heat to medium-high. Add in shrimp and cook for 1 to 2 minutes on each side, or just until firm and pink. Remove shrimp with a slotted spoon and transfer to a clean plate; set aside. Add the broccoli and red pepper strips to the pan, increase heat to high, and add in the remaining sesame oil; stir fry until just charred; about 3-4 minutes. Stir in garlic and cook for one minute, or until fragrant.

Add drained noodles to the skillet along with the cooked egg, shrimp, and prepared sauce. Reduce the heat to medium-low, and stir well, making sure all ingredients are coated with the sauce. Cook for a minute or so, just to ensure all ingredients have been warmed. Serve at once.
Notes
I added sesame seeds at the very end for a little crunch, if you'd like to do the same.