This is currently my favorite pizza! It's just so Summer. Our perfect pizza crust recipe topped with tons of gooey mozzarella, bacon, corn, and caramelized onions. So simple to make, but packed with BIG time flavor. I have a feeling after a few bites you'll be calling this your favorite, too.
When I was young, the weekends were all about ordering delivery pizza, watching rental movies (anyone remember the days of blockbuster?!), and just… hanging out. My mom would always get us amped up during the long week of dull-drum school days by promising if we did well with our studies (and chores…) we could both rent a movie AND choose whatever toppings we wanted on our very own pizza come the weekend. Obviously this worked like a charm every-single-time because when you're a kid, options are everything, ya know?! If we did something extra impressive, we even got to order breadsticks and brownies – but that's a completely different post.
Hmmm… I'm beginning to see where my deep love of comfort food comes from!
Making this completely irresistible pizza loaded with crispy bacon, sweet corn, and melt in your mouth tender caramelized onions made me nostalgic for those simple, wonderful days of my youth. It made me think about how important sharing good food with the people you love truly is, and how lucky I am to do that for a living. This pizza also made me kiss any and all self control goodbye – it is SO addicting!!! You won't believe how delicious it is until you try it… so get moving; you'll thank me later.
Tonight I'll be eating this pizza, renting a movie from the video store across the street, and calling my mama to say goodnight – and thank you. She is my pizza inspiration! Do you guys have any fun family // food traditions from your childhoods? I want to knooooow. So nosey 😉 Hope you all are off to a wonderful weekend! xoxo
Bacon, Corn, and Caramelized Onion Pizza
Ingredients
1 ball fresh pizza dough, I highly recommend using the recipe I linked to in the beginning of the post, but any crust will do 😉
1/2 cup parmesan cheese, finely grated
1/2 teaspoon dried crushed red pepper
Coarse kosher salt
1 1/2 tablespoons olive oil
1 small red onion, thinly sliced
4 slices thick bacon, cooked crispy then roughly chopped
1/2 cup freshly shucked corn
8 ounces whole-milk mozzarella cheese, coarsely grated
Chopped fresh cilantro (optional)
Instructions
Stretch pizza dough out to desired shape and place on baking sheet/baking stone. Sprinkle with parmesan, red pepper, and salt; drizzle with 1/2 tablespoon of olive oil. Set aside.

Heat remaining tablespoon of oil in large nonstick skillet over medium heat. Add onion and cook for 10 - 12 minutes, or until soft and sweet. Remove onions with a slotted spoon. Add bacon to the pan and cook for 2-3 minutes on each side, or until brown and crispy. Transfer bacon to a paper towel lined sheet and cool for a minute or so before roughly chopping. Add corn kernels to the same pan (which should be nice and full of yummy bacon grease) and cook for 3-4 minutes, or until just golden. Remove kernels from pan with a slotted spoon.

Top prepared pizza crust with onions, bacon, and corn, then top with cheese.

Bake for about 18 minutes, or until the crust is crisp and the cheese is golden and bubbling. Sprinkle with freshly chopped cilantro if using, cut, and serve at once!
Check out these other great recipes!
The Best New York Style Cheese Pizza!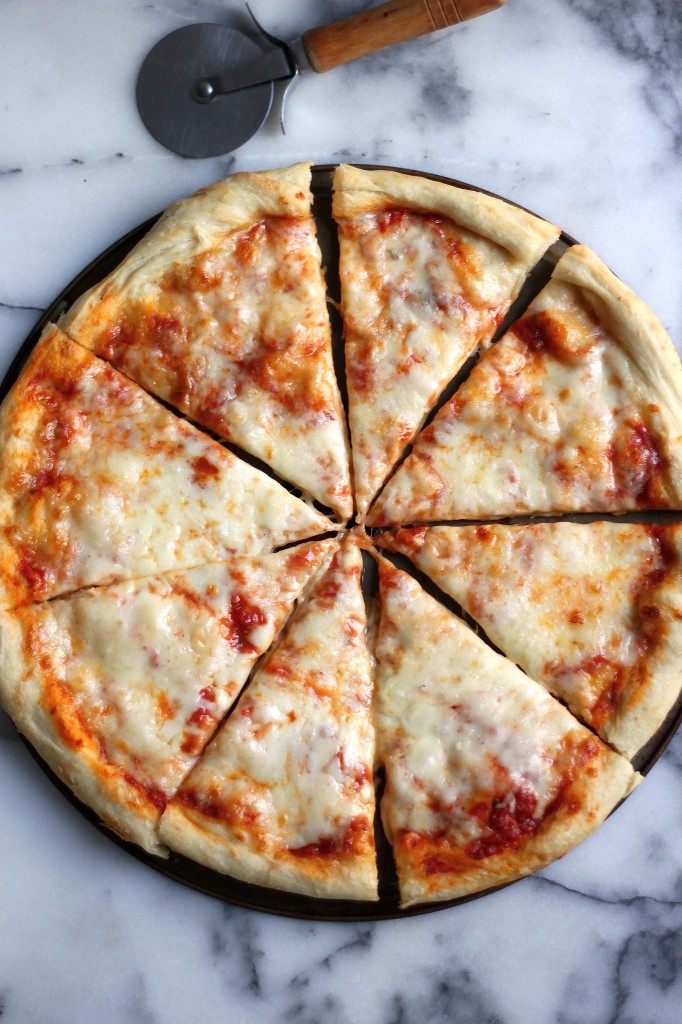 Cherry Stone Clam Pizza with Tomatoes and Herbs