Hearty and comforting Slow Cooker Turkey Chili! This is an easy and affordable meal that everyone loves! Trust me when I say you're going to want a double scoop of this!!!

Slow Cooker Turkey Chili Recipe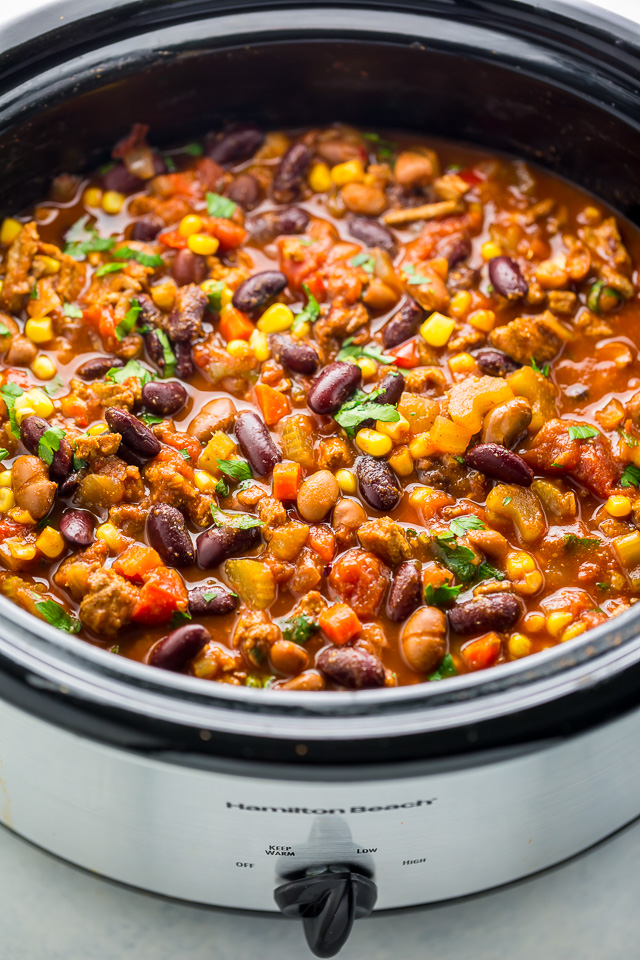 Turkey Chili Slow Cooker Recipe
Happy Monday, loves! I don't know what the weather is like where you live, but here in the Hudson Valley… it's FREEZING! And raining. And windy. And did I mention it's freezing???
Basically, it's the kind of weather that requires endless bowls of chili, extra fuzzy blankets, and soothing hot toddies at all times. Ya feel me?
Comforting slow cooker turkey chili to the rescue!!!
I don't eat meat often these days, but during the Winter, I find myself craving it more often than usual. My brain goes into "comfort survival mode" and I find myself whipping up beef stew, mozzarella stuffed meatballs, and my all-time favorite: Comforting Slow Cooker Turkey Chili! You know why I call this recipe comforting? Because it's my mom's recipe. And Mom recipes are the most comforting recipes in the whole wide world. It's a fact!!!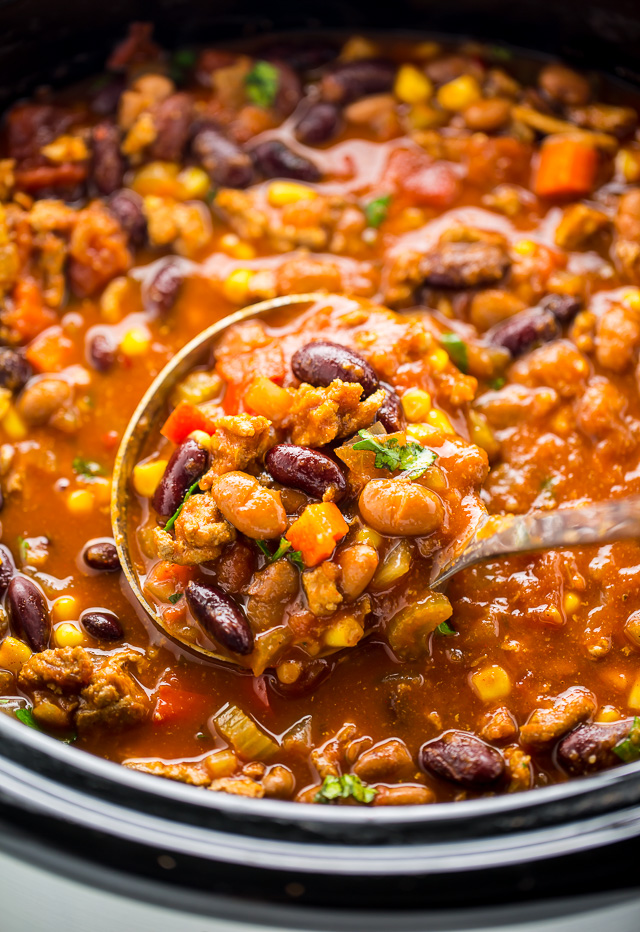 This slow cooker turkey chili is very hearty, a little spicy, and TOTALLY delicious. I love my chili FULLY LOADED with grated cheese, sour cream, and pickled jalapenos, but feel free to dress it up as much or little as you'd like. My boyfriend is a purist and eats this slow cooker turkey chili with no frills. Just a shake of Tabasco and he's happy as a clam.
Top this slow cooker turkey chili with whatever makes your soul sing and eat as many bowls as your belly can contain! 😉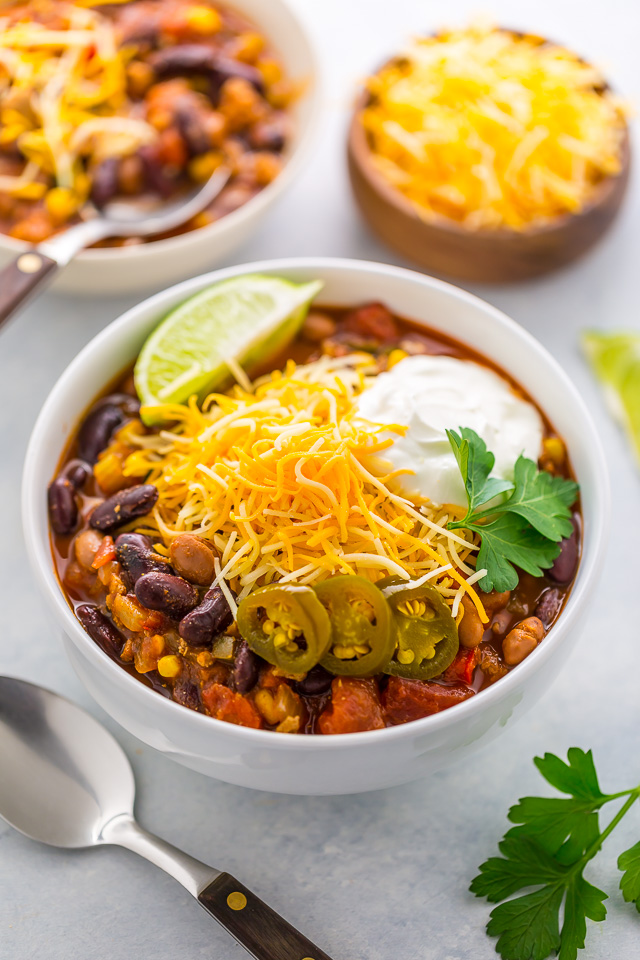 Tips and Tricks for Recipe Success:
You can also freeze this chili for up to 2 months. Hallelujah for freezer meals, ya know?!
I use pinto beans and kidney beans in this recipe, but you could definitely swap one of those varieties out and use black beans instead. Up to you!
If you're sensitive to spice, please cut the cayenne pepper in half. You can always add more later!
Don't skip the fresh lime juice. This is kind of the "secret ingredient" in this recipe and ties all of the flavors together wonderfully.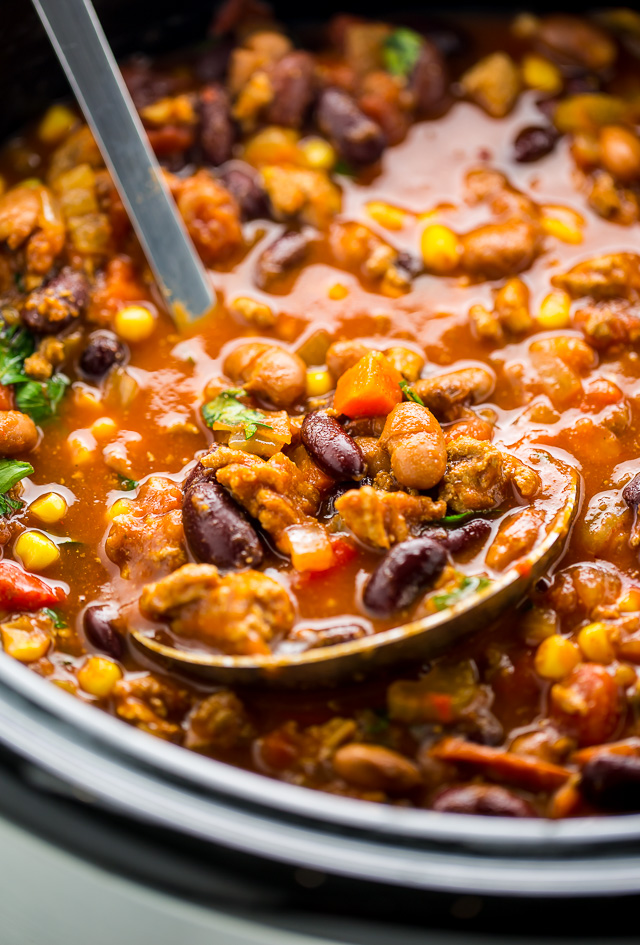 So…
are you ready to whip up a big pot of turkey chili right now or what?! You're gonna love it 😉
If you try this Comforting Slow Cooker Turkey Chili, let me know what you think! Leave a comment below, and don't forget to snap a pic and tag it #bakerbynature on instagram! Seeing your creations makes my day ♥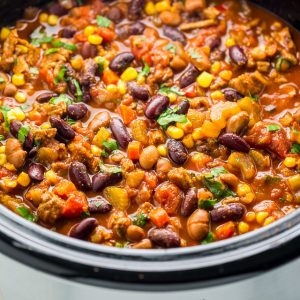 Comforting Slow Cooker Turkey Chili
Comforting Slow Cooker Turkey Chili! Incredibly flavorful, hearty, and delicious.
Ingredients
1 pound lean ground turkey
1 tablespoon olive oil
1/2 cup celery, finely chopped
1 carrot, diced
1 large yellow onion, diced
1 red or green bell pepper, seeds and ribs removed, diced
1 jalapeno pepper, seeds and ribs removed, minced
3 cloves garlic, minced
2 tablespoons chili powder
1 and 1/2 teaspoons ground cumin
1 teaspoon Italian seasoning
1/2 teaspoon salt
1/2 teaspoon fresh ground black pepper
1/2 teaspoon cayenne pepper (use less if you're sensitive to spice)
(1) 28 ounce can diced tomatoes in tomato juice (don't drain!)
8 ounces tomato puree
(2) 15 ounce cans kidney beans, rinsed and drained
(1) 15 ounce cans pinto beans, rinsed and drained
1 cup vegetable broth
3/4 cup frozen corn
1/4 cup fresh lime juice
Cilantro or parsley, chopped, for garnish (optional)
Sour cream, for garnish, optional
Grated cheese, for garnish, optional
Extra lime wedges, for garnish, optional
Instructions
Heat a large skillet over medium-high heat. Add in the ground turkey and cook for 8 to 10 minutes, or until no longer pink, breaking the meat up with a wooden spoon as it cooks. Add in the olive oil, celery, carrot, onion, bell pepper, and jalapeno pepper; cook for another 5 minutes, or until softened. Add in the garlic, chili powder, cumin, Italian seasoning, salt, black pepper, and cayenne pepper and cook for another minute.

Transfer mixture into a 5-qt (or larger) slow cooker. Stir in the diced tomatoes, tomato puree, kidney beans, pinto beans, vegetable broth, and frozen corn, mixing well to combine. Cover and cook on low for 8 hours. Stir in the lime juice right before serving! Garnish with cilantro, sour cream, and cheese, if desired. Serve warm, with extra lime wedges.
Notes
This makes about 14 standard bowls of chili.
More recipes to savor: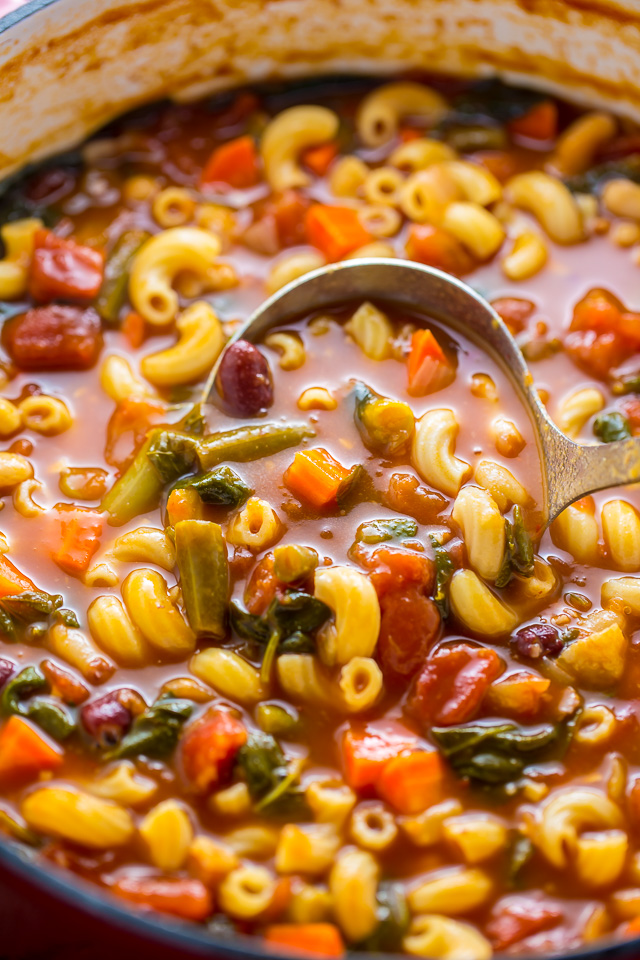 Broccoli and Cheddar Twice-Baked Potatoes