These Extra Crispy Baked Garlic & Herb Wedges are so flavorful! Pair them with burgers, steak, or seafood! Just be sure to make enough, because these Garlic and Herb Wedges are always a crowd-pleaser!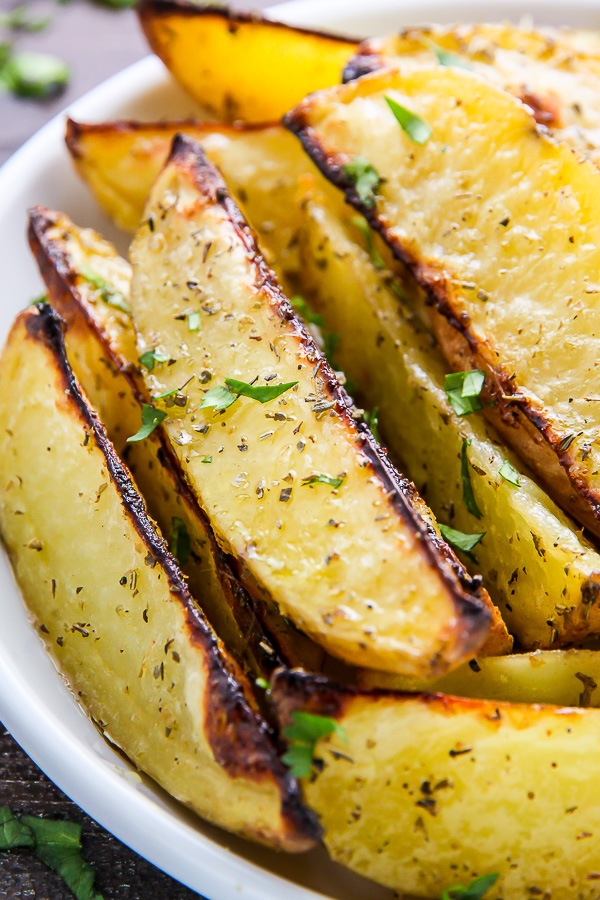 Potato Wedges Recipe
Hello hello! Allow me to introduce you to my favorite "I feel like eating 5 pounds of french fries but also feel like keeping my current dress size" recipe. Crispy garlic and herb potato wedges! Baked in the oven, ridiculously easy, and ready in just 35 minutes. What's not to love?! ♥♥♥
I love pairing these wedges with something light like a salad or omelette, but of course they also go perfectly with a big, juicy burger. So many options!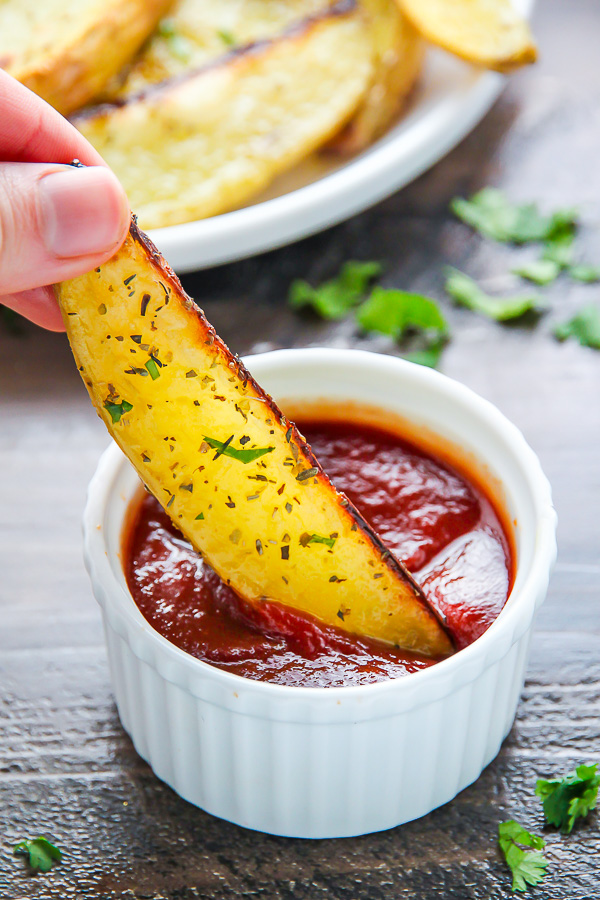 Baked Potato Wedges
It's super easy! This brilliantly basic recipe requires just 5 ingredients, making it a minimalists dream!
You'll need:
Potatoes
Olive oil
Italian seasoning
Garlic powder
Salt and pepper
Best Potatoes for Potato Wedges?
For best results, use waxy potato varieties, such as Yukon Gold or Red Bliss. However in a pinch, russets can work. Be sure to scrub the exterior of the potato well and thoroughly dry before cutting. You'll want to cut the potatoes into even wedges lengthwise. Use a sharp knife for this and of course, be careful!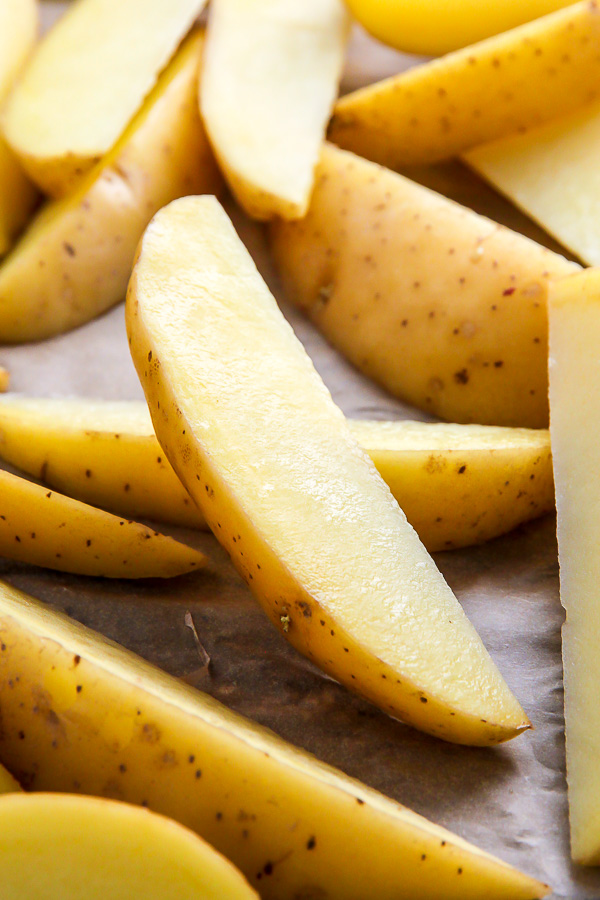 How to Bake Potato Wedges
You'll also need a large baking sheet, some tinfoil, and a baking rack (this is what I use
). The assembly takes very little effort and should take less than 10 minutes. Perfect for those nights you're in no mood to fuss around with food.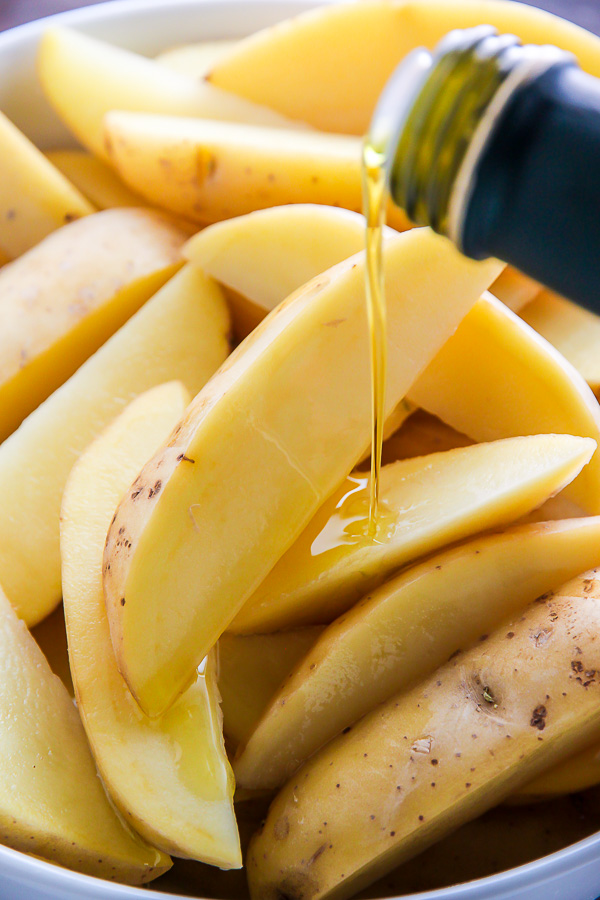 These roasted yukon gold potato wedges do need to bake for 35 minutes, so keep that in mind when planning an "eat" time. If you're cooking something fast like salad or eggs, I recommend prepping the wedges and popping them in the oven first, then working on the rest of the meal as they bake.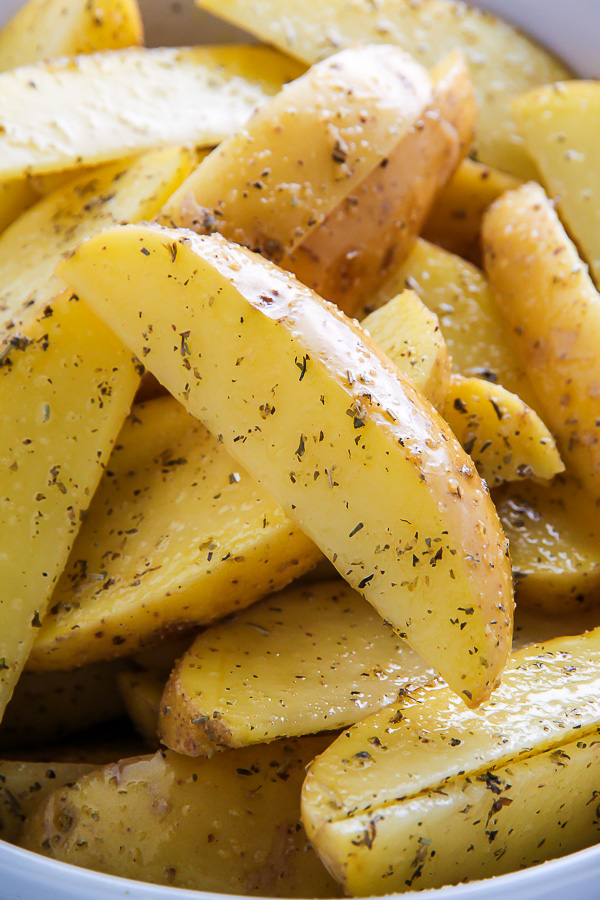 The wedges will bake on an oven-safe rack that's been placed over a large baking sheet lined foil. You'll bake them at 450 degrees (F) for 30 minutes. At this point you'll crank on the broiler (or increase the temperature to the broiler setting, depending on how your oven works) and let them bake for another 3-5 minutes. This step is what gets the outside layer so darn crispy.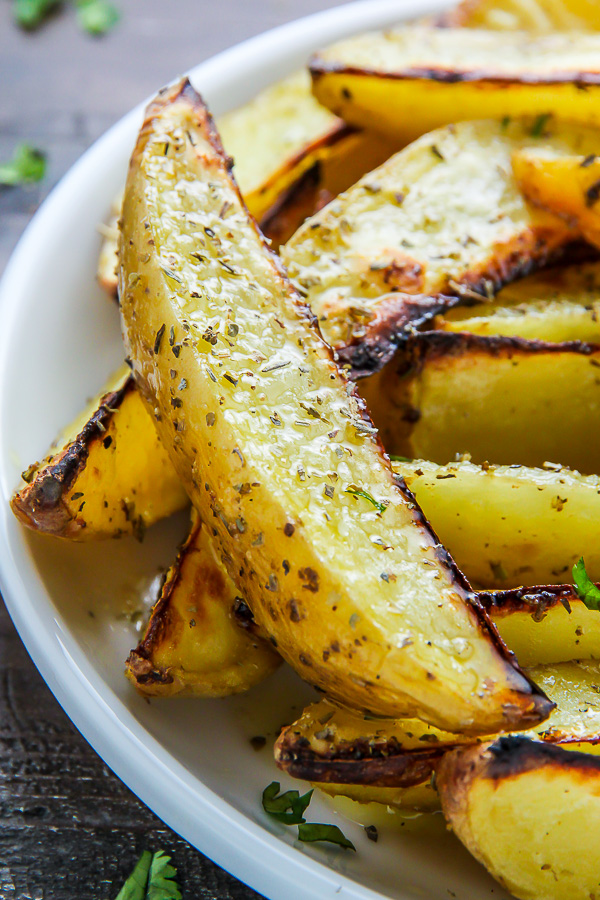 Tip: once the broiler is on the wedges will cook FAST. I recommend staying close by and keeping an eye on them. Once they look golden and crispy, pull them out. I always leave them in for the full 5 minutes, but I like mine EXTRA well done.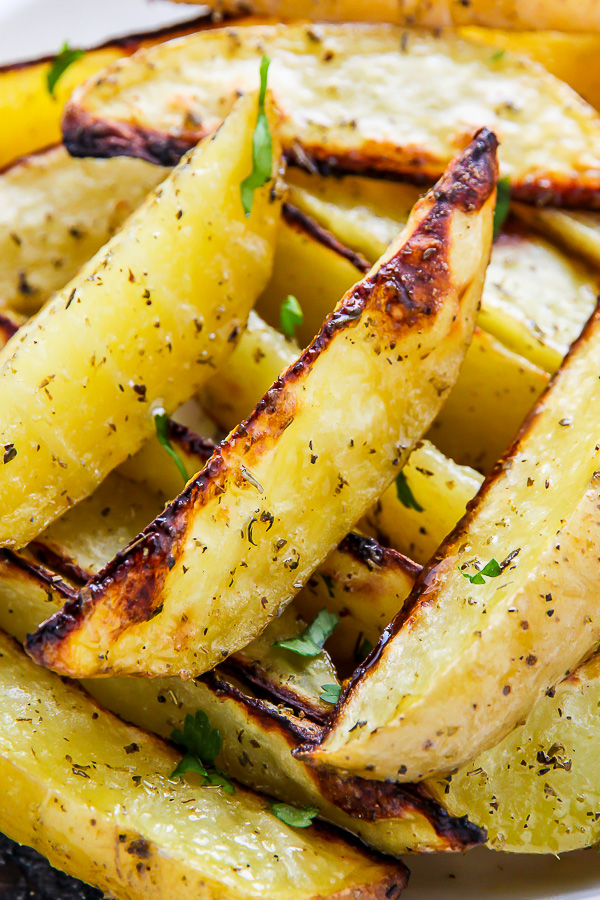 These should seriously come with a warning label; they're SO addicting! I just know you're going to love this crunchy potato wedges recipe!
More Potato Recipes: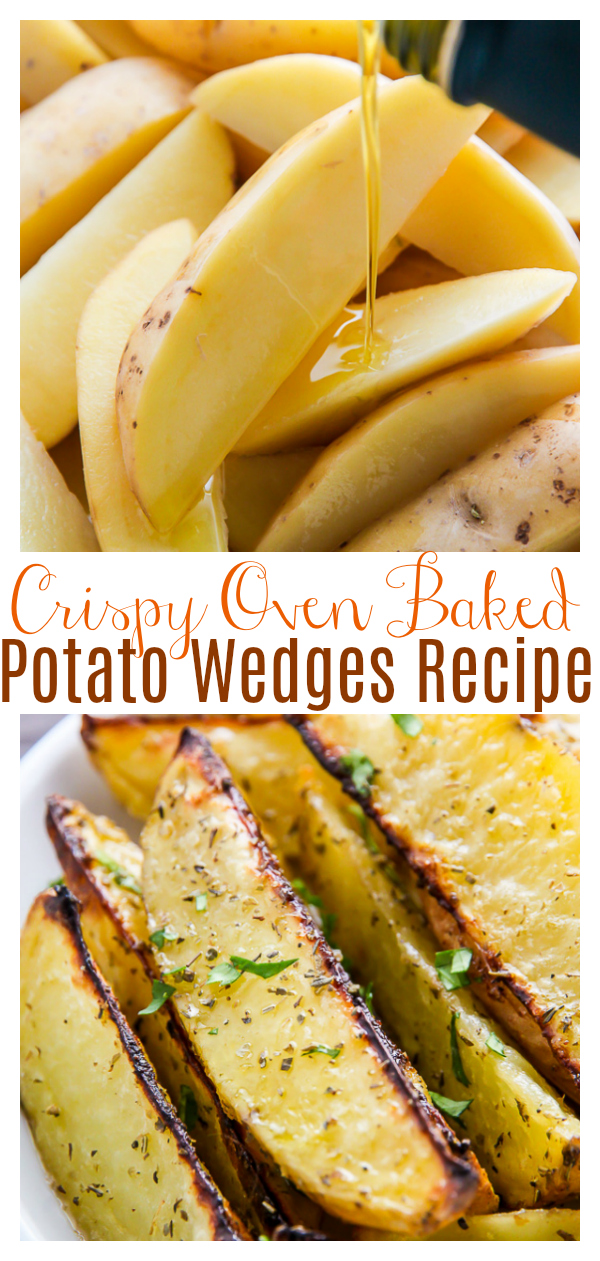 If you try this recipe for garlic herb potato wedges, let me know! Leave a comment below and don't forget to snap a pic and tag it #bakerbynature on Instagram! Seeing your kitchen creations makes my day. ♥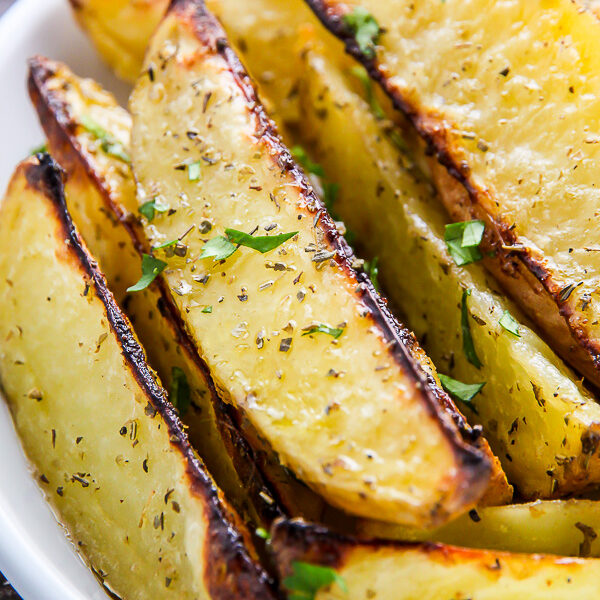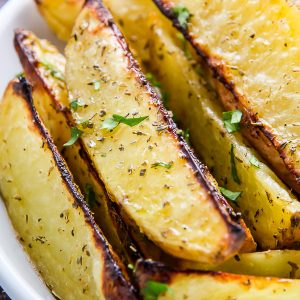 Extra Crispy Baked Garlic & Herb Potato Wedges
Extra crispy oven baked potato wedges flavored with garlic and herbs. Bet you can't eat just one!
Ingredients
5 golden yukon potatoes, cut into wedges
2 1/2 tablespoons olive oil
3/4 teaspoon garlic powder (or 3 cloves fresh garlic, grated)
1 teaspoon kosher salt (more or less to taste)
2 teaspoons Italian seasoning
1/2 teaspoon black pepper
Instructions
Preheat oven to 450 degrees (F). Line a large baking sheet with tinfoil (shiny side up). Place a baking rack onto prepared baking sheet and set aside.

Slice the potatoes in half (lengthwise), then cut each piece into wedges.

Place the potato wedges into a large bowl, then add in the olive oil, garlic powder, salt, seasoning, and black pepper. Mix well, making sure each wedge is coated with oil and spices.

Arrange the potato wedges in a single layer on the prepared baking sheet. Bake for 30 minutes, then turn on the broiler and bake for another 4-5 minutes, or until they're well browned and crispy. Keep an eye here - it's easy to burn when the broiler is on!

Cool wedges on pan for 5 minutes, then serve at once!