Fresh Strawberry Cupcakes topped with homemade Strawberry Buttercream! These fluffy vanilla cupcakes are bursting with juicy pockets of strawberry and the hot pink frosting is so pretty and delicious. These are the perfect Summer cupcakes!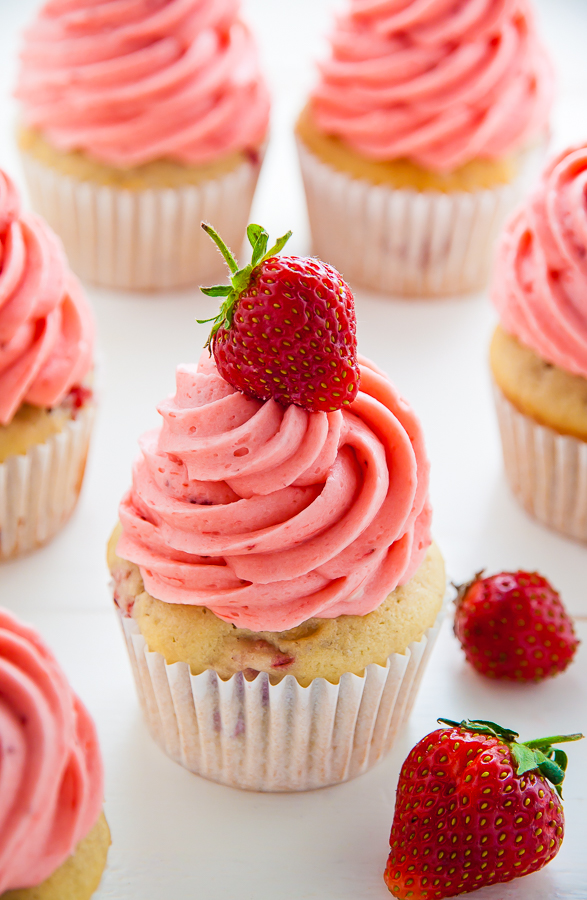 Strawberry Cupcakes Recipe
There's something magical about Summer. The endless hours of sunlight, the fresh flowers… and berries… and stone fruit, the outdoor markets, creamy iced coffee, spontaneous road trips and afternoon swims.
With all those perks, it's no surprise this magical season inspires me to bake more than any other. Yes… even more than Christmas. There's just so much freshness and beauty to draw inspiration from! In fact, Sunday we walked through the Farmers market and found so many treasures we had to make TWO trips to get everything home. Our bounty included two pounds of salmon (I made the most wonderful lemon, garlic, and thyme salmon for dinner last night), sea scallops (recipe coming soon!), apple cider donuts that didn't make it out of the parking lot, a log of locally made goat cheese, and two pints of freshly picked strawberries. If only every shopping trip could be that dreamy!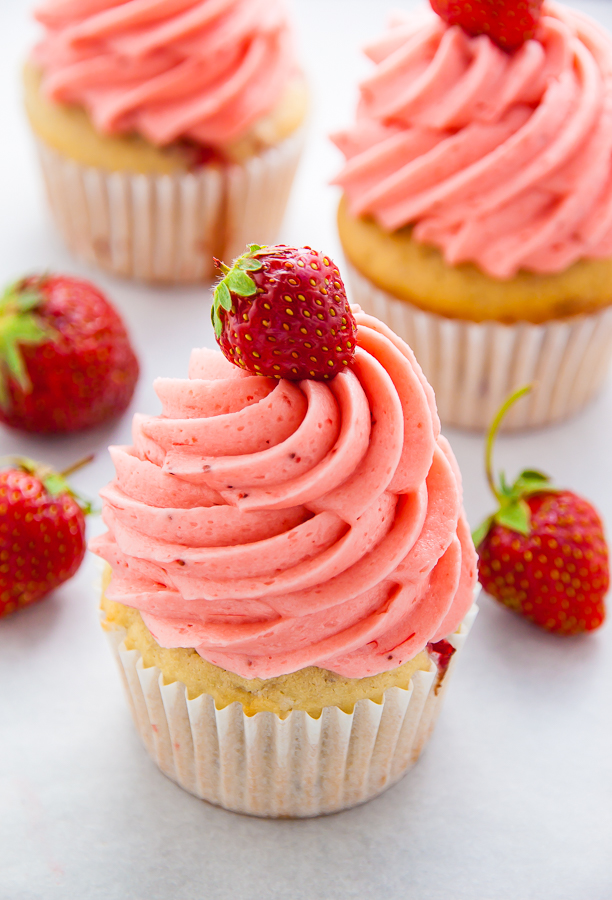 I knew immediately that the strawberries would be used for fresh strawberry cupcakes. A recipe I've been dreaming about for over a year! If you've been following my blog for awhile now, you know I love using fresh fruit in cupcakes. In the archives you'll find blackberry cupcakes, raspberry cupcakes, and blueberry cupcakes… so it's only fitting we round things out and add a fresh strawberry version. The best part? These cupcakes have fresh strawberries in the cupcakes and in the frosting!
You can even top each cupcake with a tiny strawberry and to make them a triple threat 😉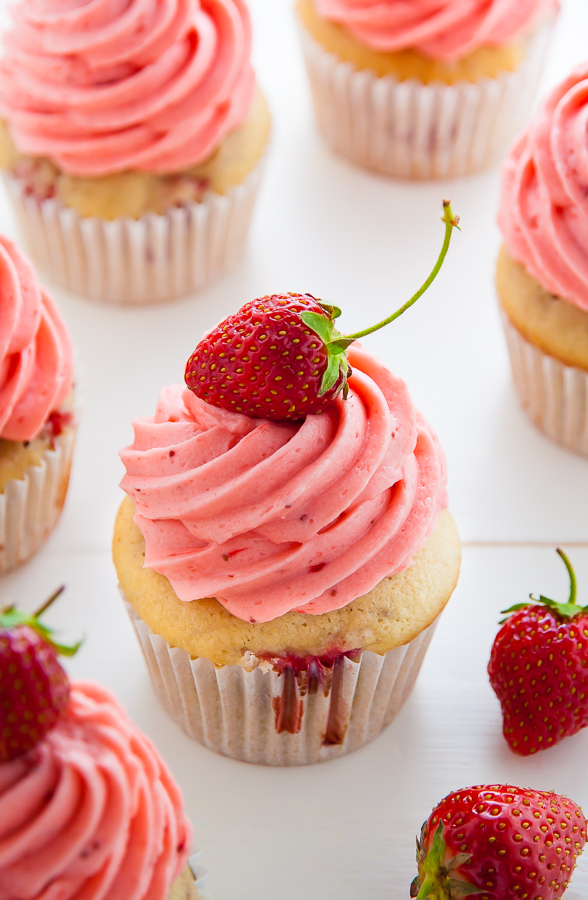 Strawberry Cupcakes from Scratch
There are two parts to this recipe: the fresh strawberry cupcake and the homemade strawberry buttercream. To make perfecting this recipe easier for you, I've broken down our tips and tricks section into two parts. I highly recommend reading through each, as well as fully reading the ingredient lists and instructions in the recipe box below. If you follow everything to a T, baking these beautiful cupcakes is fun and easy!
Tips and Tricks for Recipe Success (for the cupcakes):
For this recipe I use full-fat sour cream and whole milk and strongly suggest you do the same. The cupcakes get a lot of their moisture from the fat in these ingredients. Using fat-free or reduced fat replacements will result in denser, less fluffy cupcakes.
Be sure your butter is at the right temperature before you begin beating it. It needs to be at room temperature, meaning it should be soft enough that, when lightly pressed with your finger, it leaves an indentation in the stick of butter. I typically leave my butter on the counter for an hour or so, but if you're really short on time, you can cut the cold stick of butter into into small pieces, which will help speed along the thawing process. Just leave them out at room temperature until they're soft to the touch.
Your eggs, egg yolk, milk, and sour cream should also be at room temperature. Cold ingredients will not bond evenly, resulting dense cupcakes.
Here's a trick for the eggs: to bring cold eggs to  room temperature, simply place them in a bowl of warm water for about 10 minutes. Just be sure you don't use hot water!
Speaking of hot water, this recipe calls for a 1/4 cup of boiling water! You'll mix it in at the very end, and it's essential to the batter. The water should be freshly boiled to ensure it's warm enough.
When combining the fresh chopped strawberries with flour, be sure to completely coat the berries. Also, be sure not to use more strawberries than called for. Using a larger quantity will weigh the batter down and cause the cupcakes to sink in the center.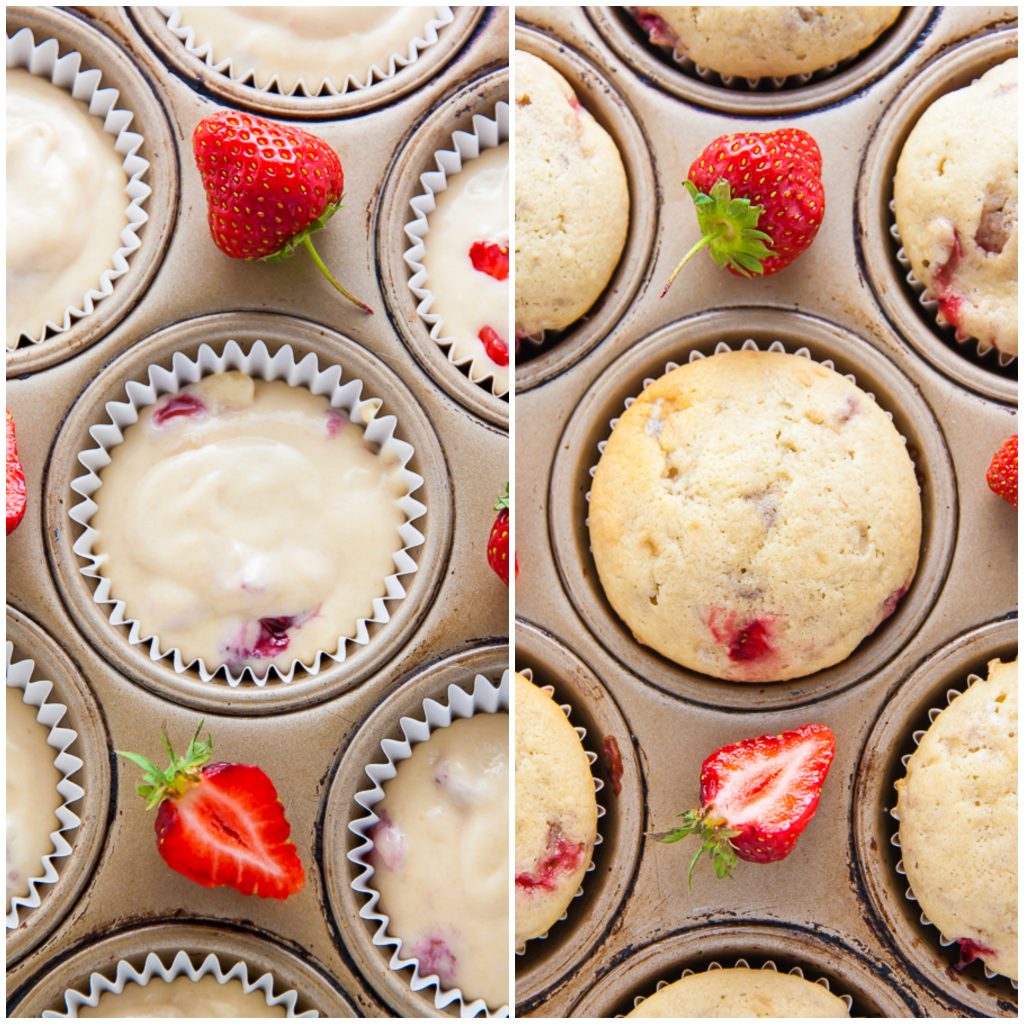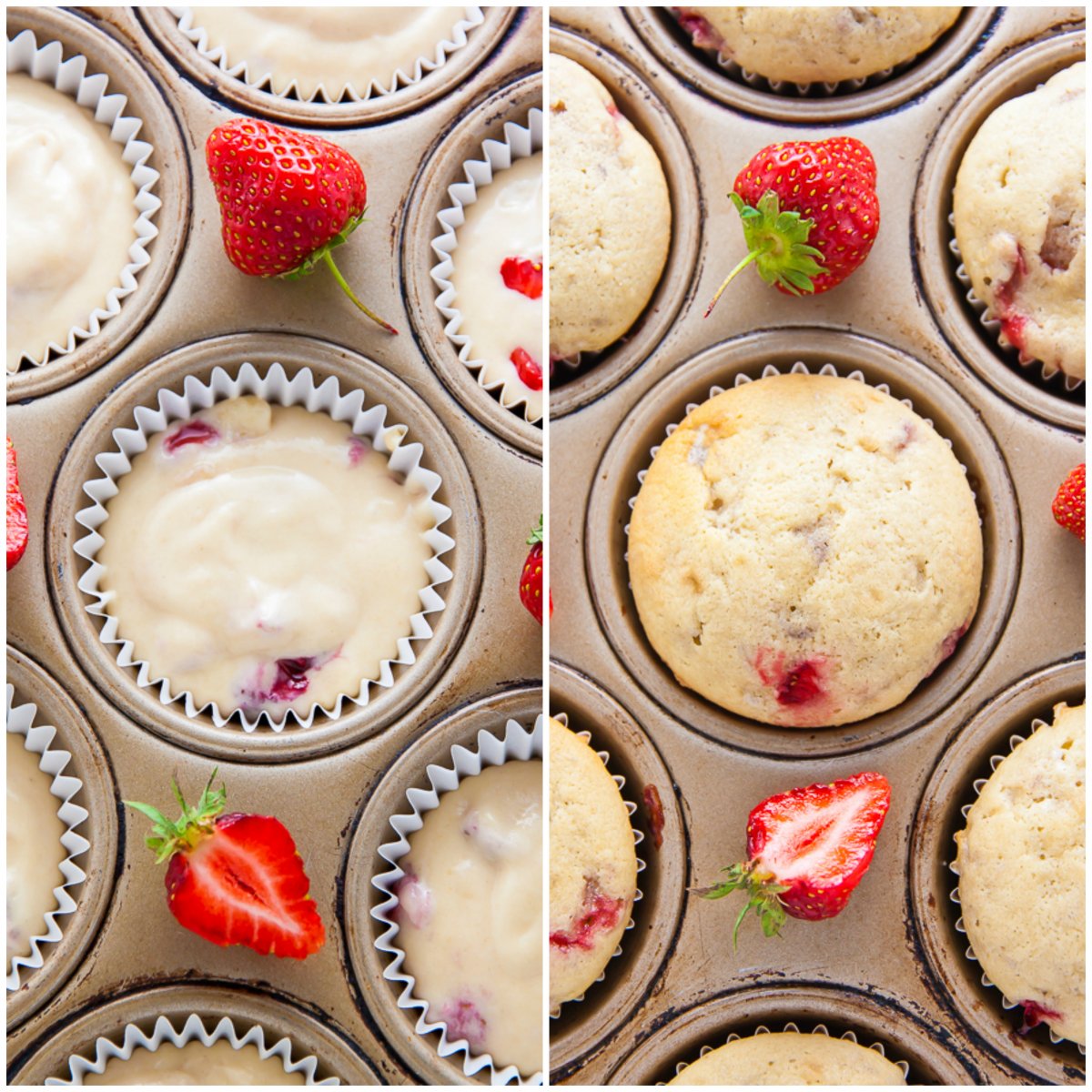 Homemade Strawberry Icing
Tips and Tricks for Recipe Success (for the fresh strawberry buttercream):
To make the the vibrantly colored fresh strawberry frosting you'll need to first make a strawberry puree. You'll begin with one cup of strawberries and cook them down until the mixture has reduced to 1/4 cup. Removing the puree from heat too soon will leave you with too much liquid, which will result in grainy frosting, so this is very important to keep in mind.
Please make sure you allow your strawberry puree to cool completely before adding it to the buttercream. If the mixture is even a little warm when you add it to the butter it will throw off the consistency of the frosting, leaving you with a gloppy, grainy mess. The puree typically takes 30 minutes to cool (in the fridge), and can be made ahead of time – and stored, covered, in the fridge – if needed.
To ensure you reach the proper buttercream consistency you'll want to make sure your butter is very soft before beginning. I suggest setting your two sticks of butter out on the counter for at least an hour before unwrapping them and getting busy; your butter may soften faster or slower depending on the temperature of your house. You'll know your butter is soft enough when you can press your finger into the top and an indentation is effortlessly made. Cold butter as well as melted butter should never be used when making this buttercream; it will not work.
Once all of the confectioners' sugar has been added to the frosting, be sure to beat it on medium-high for the FULL 2 minutes. Beating the frosting on high makes it SUPER luscious and fluffy. You will need to use a stand mixer or handheld electric mixer for this step.
If your frosting appears too thin, simply add a little more confectioners' sugar, one tablespoon at a time until desired consistency is reached; if your frosting appears too thick, add a touch of cream.
Don't skip the salt! Many readers have (and even some of my close friends) have informed me they don't add in the salt called for in dessert recipes because "they don't like salty sweets". I feel you! But salt is called for to help balance out the sweetness, and in this case, is quite important for achieving a balanced taste.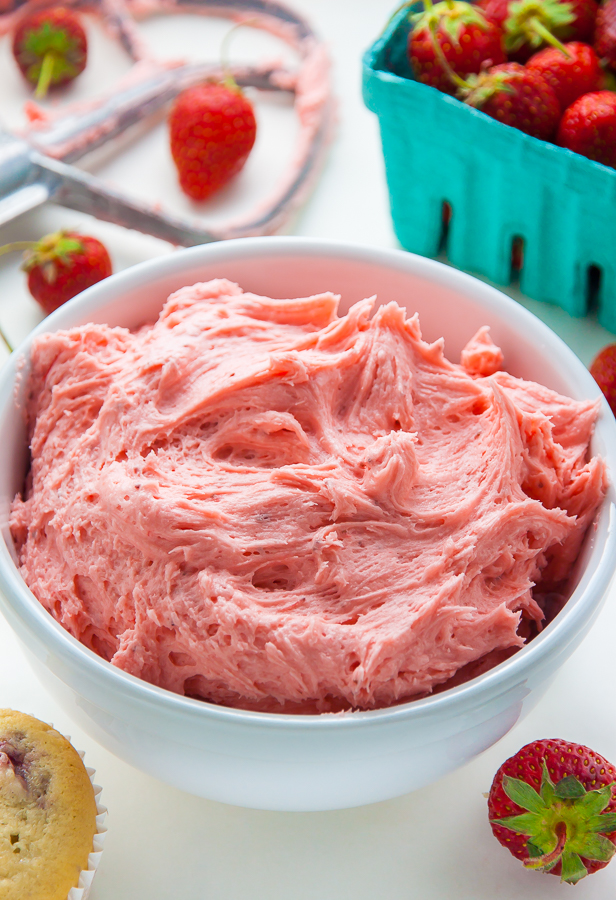 When it came time to decorate, I chose to generously pipe the frosting on (using this closed star tip) then topped each frosted cupcake with a small fresh strawberry. Simple and sweet!
If you're going to decorate your cupcakes with fresh strawberries, I suggest using the tiniest ones you can find. Farmers markets typically have better options for this than grocery stores. Just resist using large strawberries, as they'll weigh down the frosting and may even cause it to collapse. If you can't find tiny strawberries, don't fret! You can always use sliced strawberries instead 😉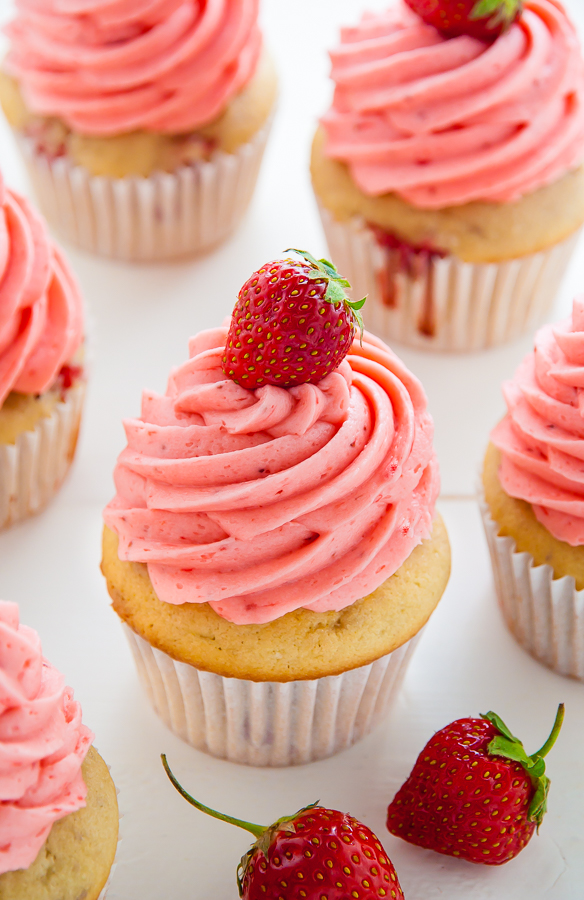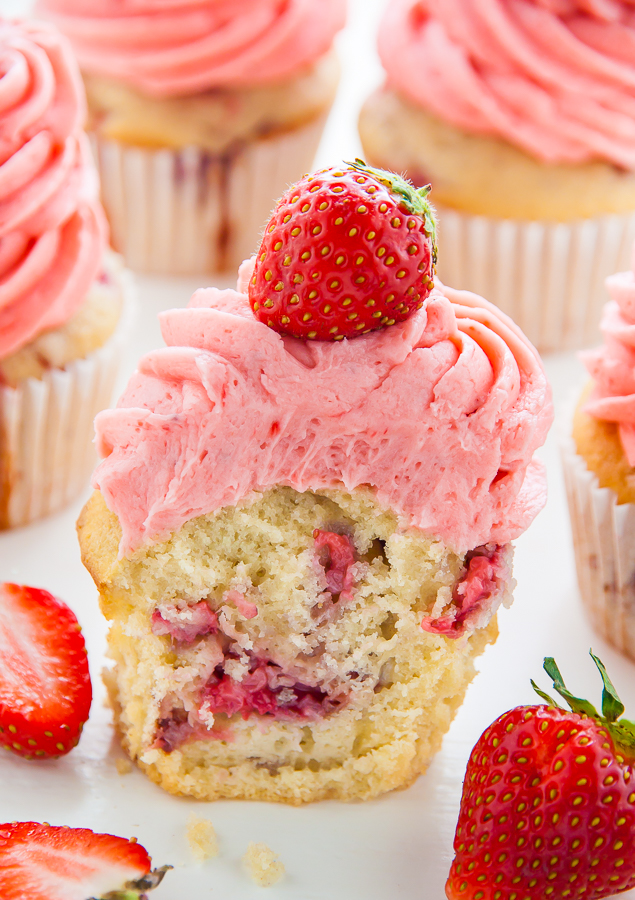 Sweet, fruity, and absolutely adorable… these homemade strawberry cupcakes are the total package!
If you try this recipe, let me know what you think! Leave a comment below, and don't forget to snap a pic and tag it #bakerbynature on instagram! Seeing your creations makes my day ♥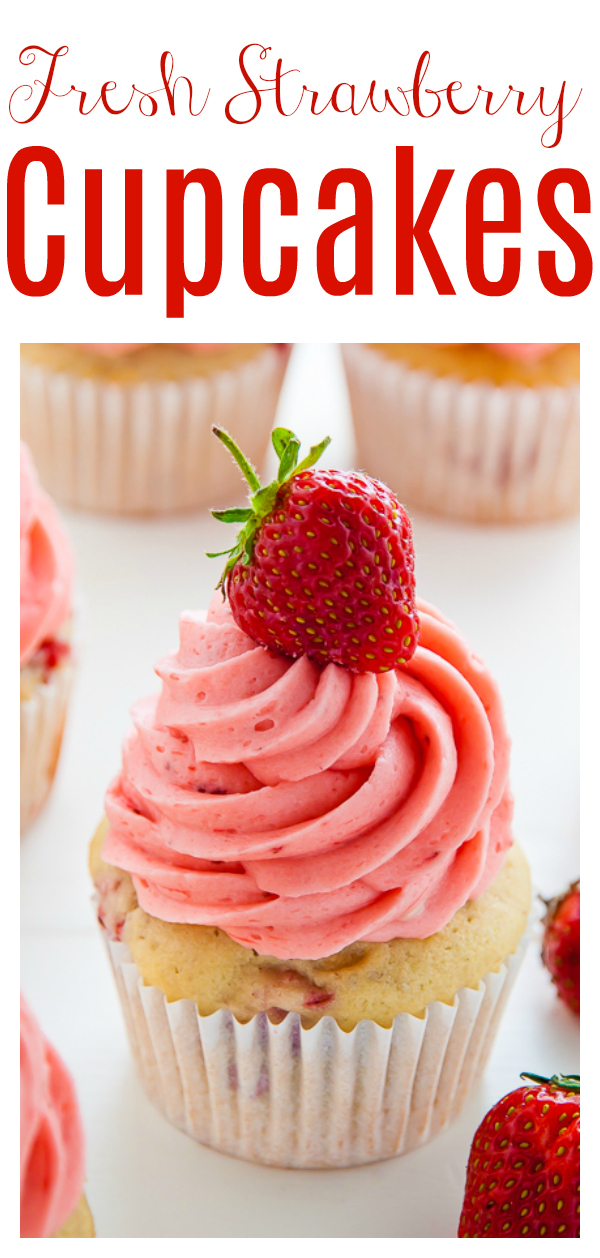 More Strawberry Recipes: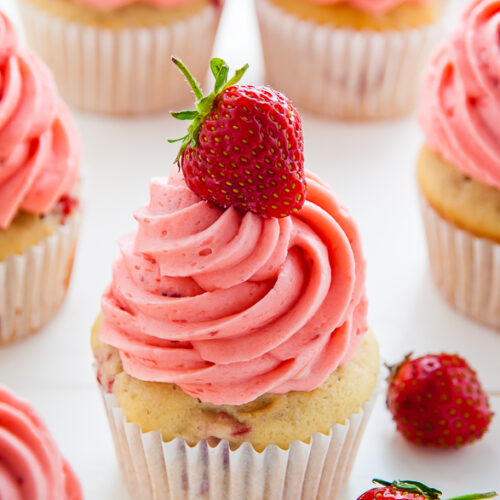 Summer Strawberry Cupcakes
Supremely moist strawberry vanilla cupcakes are topped with fresh strawberry buttercream. A wonderful way to use up sweet Summer strawberries!
Ingredients
For the Strawberry Cupcakes:
2 cups plus 2 tablespoons all-purpose flour (be sure NOT to pack your flour)
1 teaspoon baking powder
1/2 teaspoon baking soda
1/2 teaspoon salt
1/2 cup whole milk
1/2 cup full-fat sour cream
1 stick unsalted butter, at room temperature
1 cup granulated sugar
2 large eggs plus one large egg yolk, at room temperature
1/4 cup boiling hot water (should be very hot, and poured into measuring cup right after boiled)
3/4 cup fresh strawberries, diced into 1/4" pieces
For the Fresh Strawberry Frosting:
1 cup fresh strawberries (frozen will also work; do not thaw first), roughly chopped
1 and 1/2 tablespoons fresh lemon juice
2 sticks (8 ounces) unsalted butter, VERY soft
1/2 teaspoon salt
3 1/2 cups confectioners sugar (more if needed), sifted
1 tablespoon heavy cream (more if needed)
12 small fresh strawberries, for decorating (optional)
Instructions
For the Strawberry Cupcakes:
Preheat oven to 350 degrees (F). Line a 12-mold cupcake tin with paper liners and lightly spray the liners with non-stick spray, set aside. In a large bowl combine 2 cups of the flour, baking powder, baking soda and salt; set aside. In a small bowl combine the milk and sour cream, mix well to combine and set aside. In a large bowl using a handheld electric mixer (or a stand mixer fitted with the paddle attachment) beat the butter and sugar until light and fluffy; about 4 minutes (don't skimp on time here!). Beat in the eggs and egg yolk, one at a time, beating well after each addition. Reduce mixer speed to low and gradually add in flour mixture in 2 additions, alternating with sour cream/milk mixture, beginning and ending with the flour. Stir in the hot water, beating just until combined; set aside.

Place diced strawberries and remaining flour in a small bowl; toss well to coat, being sure each piece is completely covered in flour. Fold strawberries and any remaining flour into batter, stirring just until combined.

Fill the prepared cupcake tins 3/4 of the way full. Bake in preheated oven for 20-22 minutes, or until a toothpick inserted into the center of a cupcake comes out clean. Allow cupcakes to cool in the pan for 10 minutes before transferring them to a cooling rack to cool completely. In the meantime, make your frosting.
For the Fresh Strawberry Frosting:
Combine the strawberries and lemon juice in a small saucepan; bring to a simmer over medium heat. Once simmering, stir the mixture occasionally, breaking up the berries with a wooden spoon, until the strawberries have become soft enough to mash effortlessly. It will look like thick strawberry jam. Once the mixture can coat a spoon (you should have about 1/4 cup of strawberry puree) remove from heat. Allow mixture to cool completely before using. <<< That part is SUPER important!
When ready to make buttercream:
Place the softened butter in a large bowl or in the body of a stand mixer. With a handheld mixer, or with the paddle attachment on your stand mixer, beat butter on medium-speed (scraping down the sides as needed) until completely smooth; about 2 minutes. Add in 3 tablespoons of the strawberry puree and beat until completely combined; about 1 minute (don't worry if the mixture looks weird at this point). Add in the confectioners sugar, one cup at a time, on low speed. Once all of the sugar has been added, add in the cream and salt, then beat on high-speed for a full 2 minutes - this thickens up the frosting and makes it nice and fluffy. Frost cooled cupcakes as desired and top with a fresh strawberry, if using.
Notes
Strawberry puree may be made up to three days ahead and stored in the fridge, covered, until needed. Strawberry puree must be completely cooled before use. Cupcakes are best eaten the day they are made but will keep, covered and stored in the fridge, for 3 days. Bring back to room temperature before serving. You will have enough batter to make 16 cupcakes.