Melt-in-your-mouth Kahlua Chocolate Truffles are made with just 5 ingredients. Made with high-quality chocolate and coffee-flavored liqueur, they're a great gift to give during the holiday season! And so easy, too!
[adthrive-in-post-video-player video-id="QTuNQaMj" upload-date="2017-11-01T14:23:16.000Z" name="Kahlua Chocolate Truffles" description="Melt-in-your-mouth Kahlua Chocolate Truffles are made with just 5 ingredients."]
Easy Kahlua Chocolate Truffle Recipe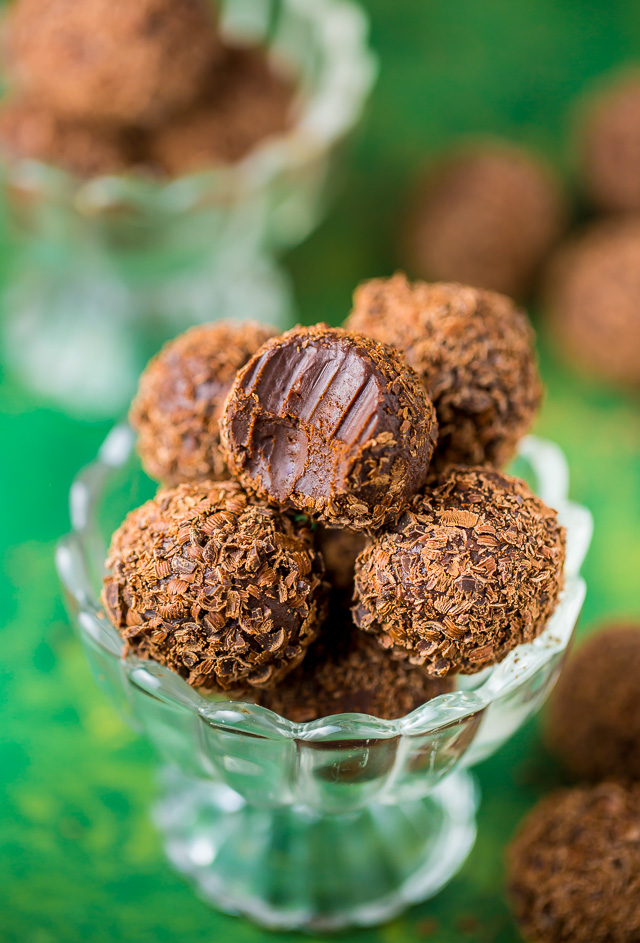 Kahlua Chocolate Truffles Recipe
Sorry to tempt you like this so early in the morning… but I just couldn't resist sharing these decadent Kahlua Chocolate Truffles with you right now. Did you see me make them on Instagram stories yesterday? So much fun.
This luxurious chocolate recipe is rich, decadent, and so perfect for the upcoming holiday season! Trust me when I say these kahlua spiked truffles are going to make great gifts for all of the chocolate lovers in your life. In fact, I just packed up a few boxes to bring with me to Pennsylvania. My sister brought twins into the world last night, so I'm off to spoil and pamper her with plenty of love and chocolate! But first, let's dig into these beauties together.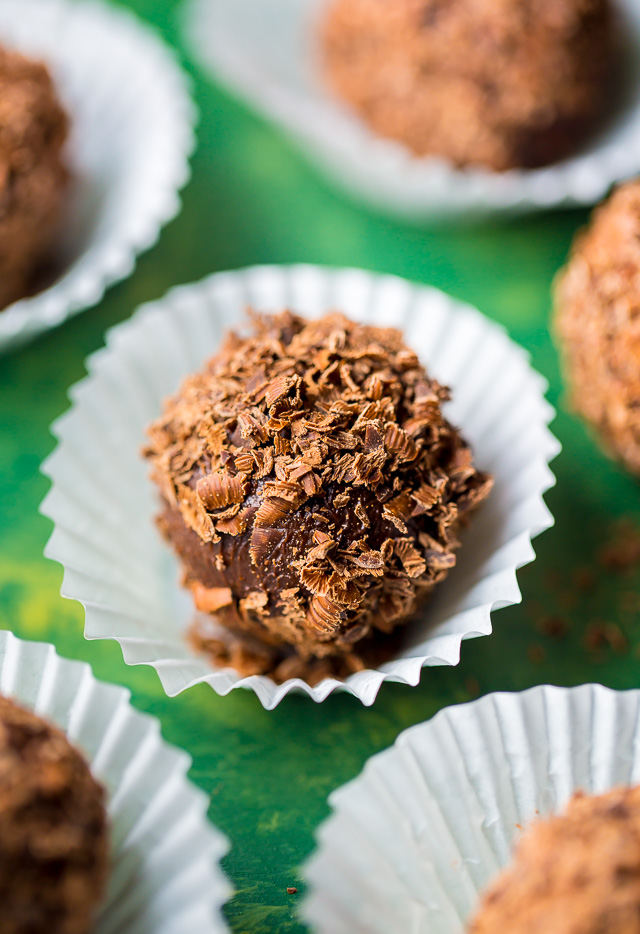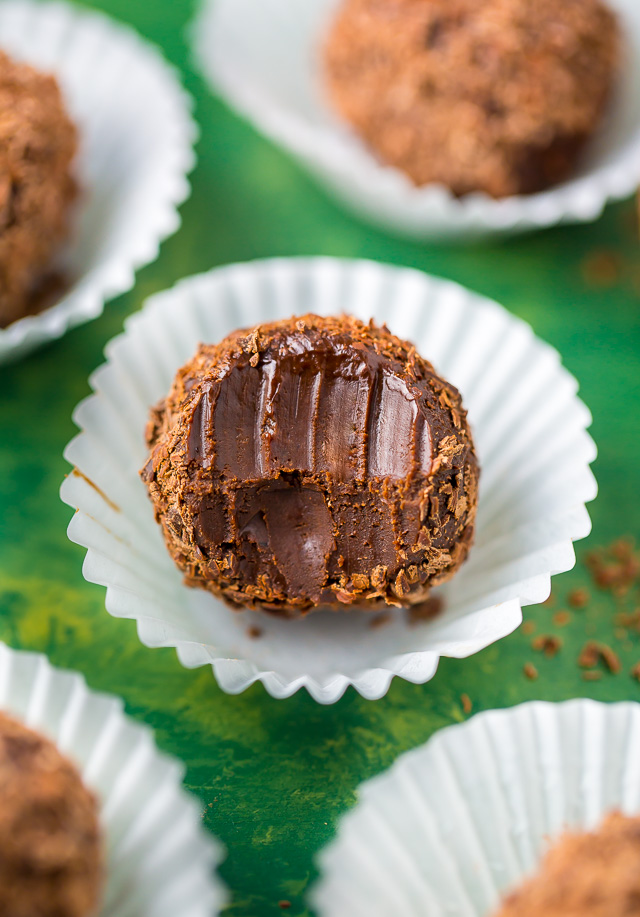 If you've never made homemade chocolate truffles before, you're in for a treat! I have a pretty good variety of truffle recipes hiding in the archives (including oreo truffles, grand marnier truffles, and salted peanut butter truffles) but let's be serious – can one ever have too many truffle recipes?! Obviously we both know the answer to that is NO. So when a reader (Hi Liz!) requested Kahlua Chocolate Truffles, I was all over it. Since Kahlua is a coffee liqueur, and coffee plays so well with chocolate, I just knew this flavor combination would be a hit. I also added a teaspoon of espresso powder to really amp up the flavor and balance out the sweetness. You can find espresso powder at most grocery stores, or order it online! I definitely don't recommend skipping it, because it adds a great flavor!
As an avid coffee + chocolate lover, I had the hardest time not eating this entire bowl of truffles during the photo shoot ↓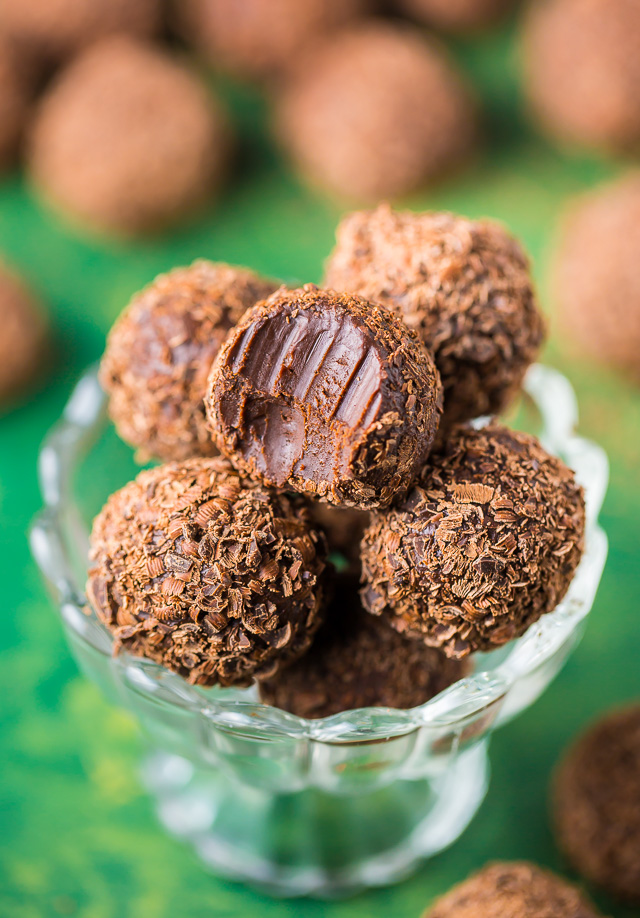 How to make Kahlua Truffles
Tips and Tricks for Recipe Success:
As briefly mentioned above, Kahlua is a rich coffee liqueur made from Mexican coffee, spirits, and vanilla. You should have no problem finding it at your local liquor store, and most carry mini-bottles, in case you don't want to invest in the full-sized varieties. You'll only need one tablespoon for this recipe.
Don't skip the espresso powder! It helps enhance the flavor of the chocolate without adding an intense coffee flavor. If you're on the market for a new jar, I highly recommend King Arthur Flour Espresso Powder, which is what I use in all of my chocolate desserts.
I recommend using high-quality chocolate for this recipe. Since there are only a few ingredients, each one really shines through. I used Ghirardelli semi-sweet chocolate bars, but use any brand you enjoy. Just be sure not to use chocolate chips, which have inferior flavor and texture for a recipe like this.
You must allow the truffle mixture to cool for at least 4 hours, or until it's solid enough to scoop. You can use a regular spoon for this step, but a cookie dough scoop like this will make it much easier.
Due to the nature of chocolate, I recommend keeping these chocolate truffles in the fridge until needed. They'll be ok at room temperature for a few hours, but I wouldn't suggest keeping them out longer than that. If you plan on gifting them, simply let the lucky recipient know to keep them cold. I do not suggest mailing these.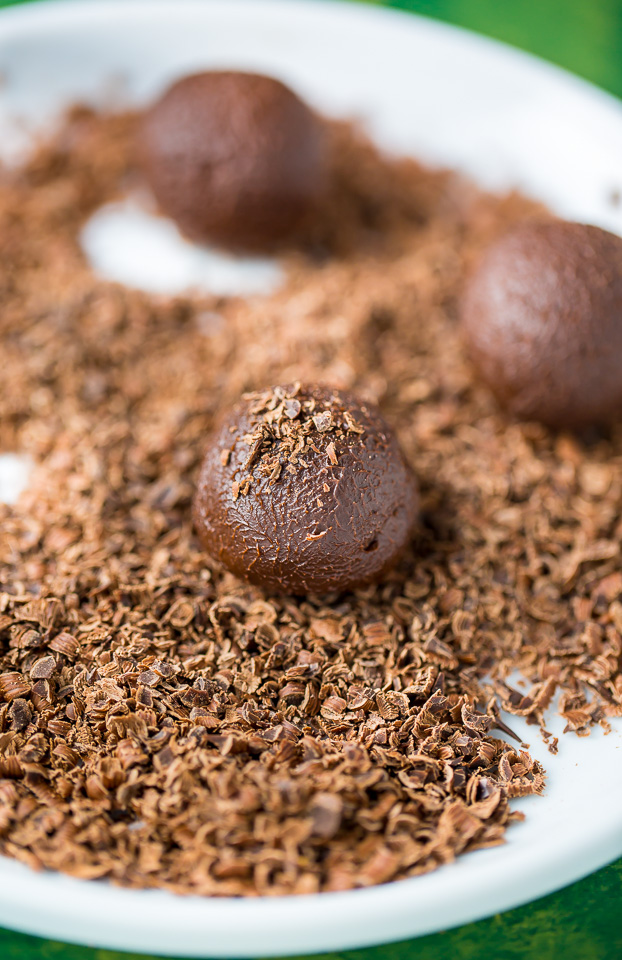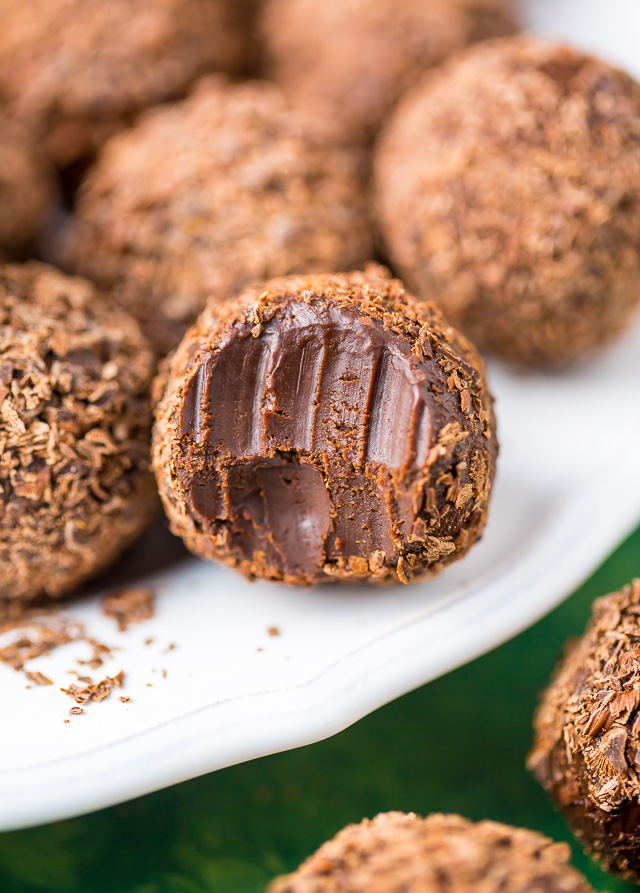 Alright! Time to edit some pumpkin pie photos for you, then I'm off to meet my new niece and nephew. Hope you treat yourself to some Kahlua Chocolate Candy SOON.
If you try this recipe, let me know! Leave a comment below and don't forget to snap a pic and tag it #bakerbynature on instagram! Seeing your kitchen creations makes my day.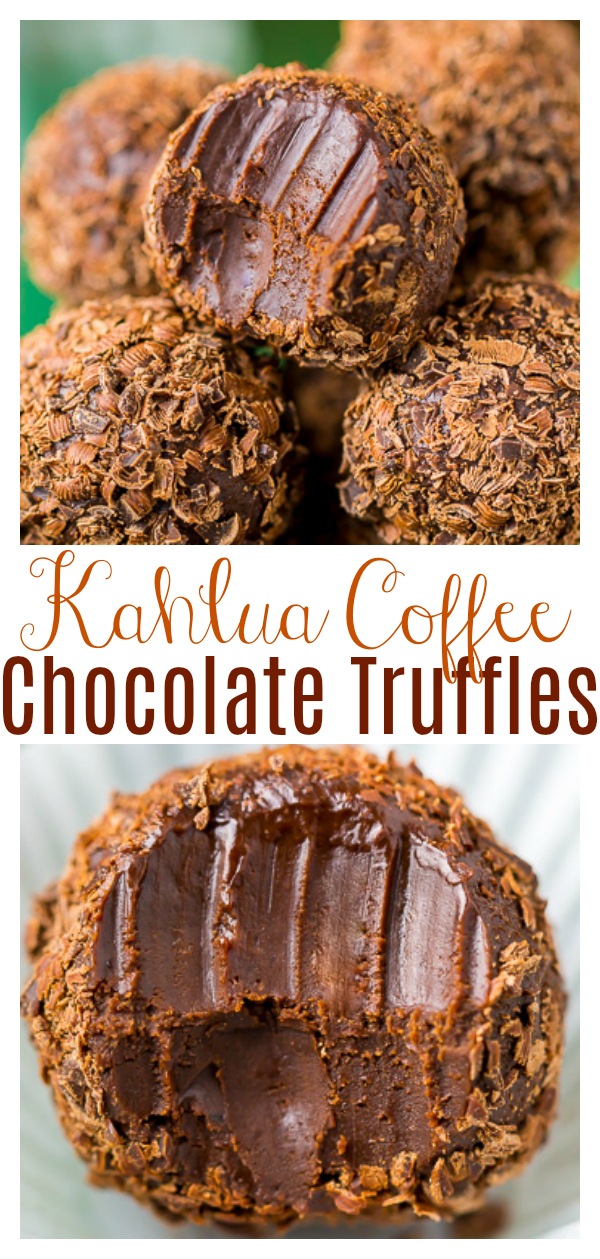 More Kahlua Chocolate Recipes: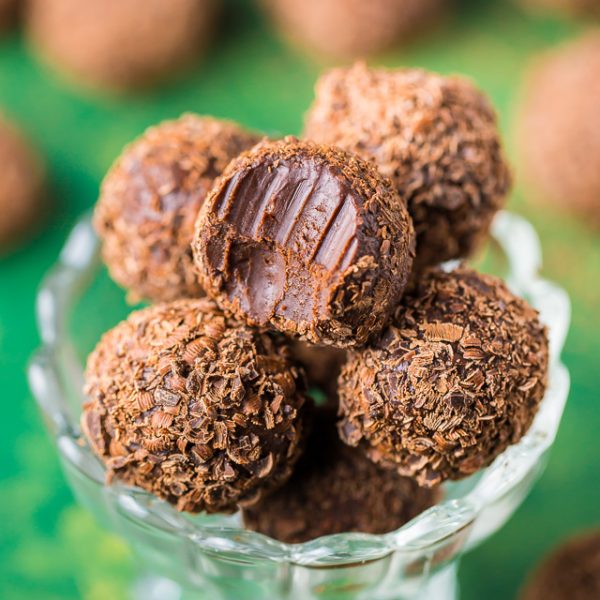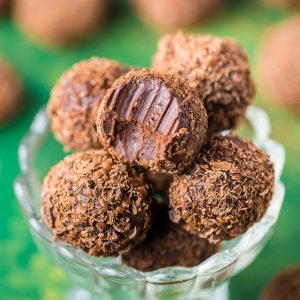 Kahlua Chocolate Truffles
Melt-in-your-mouth Kahlua Chocolate Truffles are made with just 5 simple ingredients.
Ingredients
For the kahlua chocolate truffles:
14 ounces semisweet chocolate, chopped
1 cup heavy whipping cream
1 teaspoon espresso powder
5 and 1/2 tablespoons unsalted butter, cut into cubes and at room temperature
1 tablespoon Kahlua liqueur
For the chocolate coating:
4 ounces semi-seet chocolate grated or finely chopped
Instructions
Chop the chocolate and set aside. In a saucepan over low heat, warm the cream until small bubbles begin to form around the sides of the pan. Remove cream from the heat; add in espresso powder and chopped chocolate, and whisk smooth. Cool for 5 minutes. then stir in butter and Kahlua.

Cool to room temperature, then cover tightly and refrigerate for at least 4 hours, or until firm enough to scoop.
For the chocolate coating:
Grate chocolate using the course side of a grater, or finely chop it if you don't own a grater. Transfer grated chocolate into a wide, shallow dish and set aside.
Assembly:
Line a large baking sheet with wax paper; set aside.

Scoop out a tablespoon sized round of the chilled chocolate and use your hands to shape it into a ball. Roll the truffle in the grated chocolate, then transfer to the prepared baking sheet. Repeat until there's not chocolate truffle mixture left. Store the truffles in an airtight container, in the refrigerator, for up to two weeks.