My lemon ricotta scones are soft, fluffy, and sweet as sunshine. Flavored with tons of real lemon flavor and topped with a sweet lemon glaze, these flaky scones make any morning a little brighter! Delicious with a cup of coffee or tea!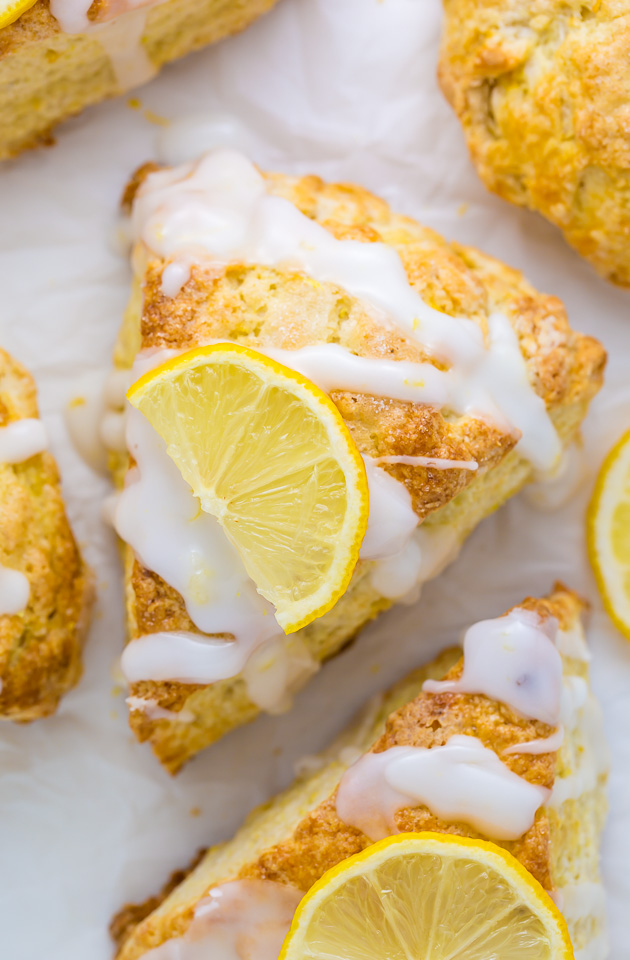 Lemon Ricotta Scone Recipe
It's no secret Summer is my favorite time of year. I love the slower pace of life. The lazy mornings and long nights. Friends and family visit in flocks. The lively buzz of bees, the song of birds and the sight of blossoms blooming. But it's standing on the shore… salty skin and hair blowing in the wind… toes in the sand and eyes fixed on the ocean… that brings me the most joy. It's my happy place, and I always walk away with a fresh spring in my step.
After spending 3 luxurious days at the beach I arrived home with a full heart… and an empty fridge. I wanted to bake something that embodied the feeling of Summer, but also had ZERO desire to jump back in the car and drive to the store. So I did what I do best…
I scrounged through the fruit bowl, dug deep in the fridge, and searched my soul for inspiration. And just like that, with a half carton of ricotta, a handful of sorry looking lemons… and little luck,  these STUNNING bakery-quality scones were born. Each bite like a ray of sunshine. Mission completed!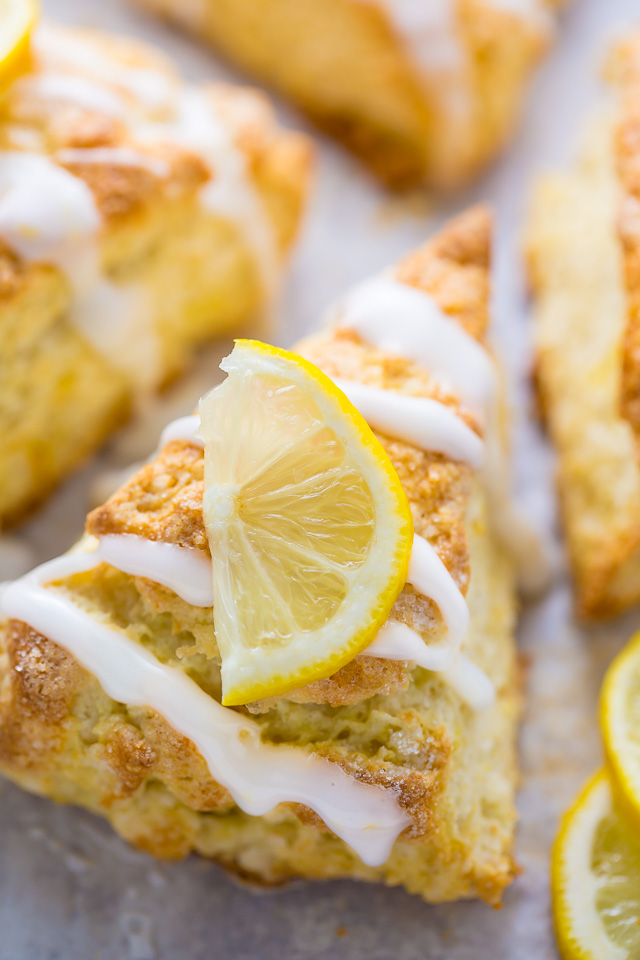 This recipe was adapted from my very popular blueberry ricotta scones. I ditched the blueberries, increased the amount of lemon zest, added fresh lemon juice and lemon extract to the batter, and topped them with an irresistible lemon glaze.
If you're a lemon purist, you're going to LOVE these lemon ricotta scones. You can quote me on that 😉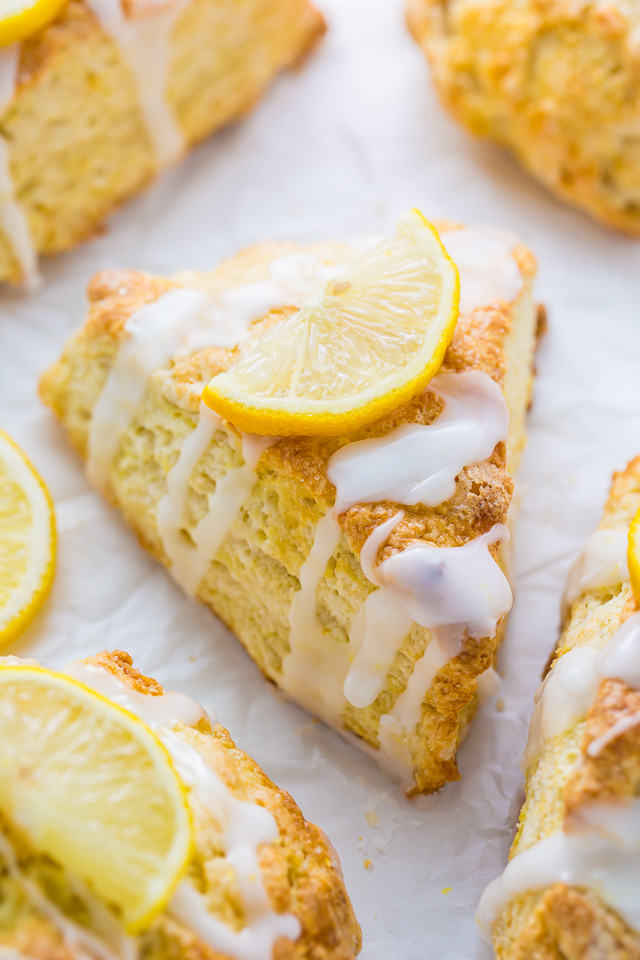 If you've never made homemade scones before, or worse – have and failed – don't fret! I've included everything you need below! I highly suggest reading over the tips included in this post as well as the full recipe below. That way you have everything you need before you get started.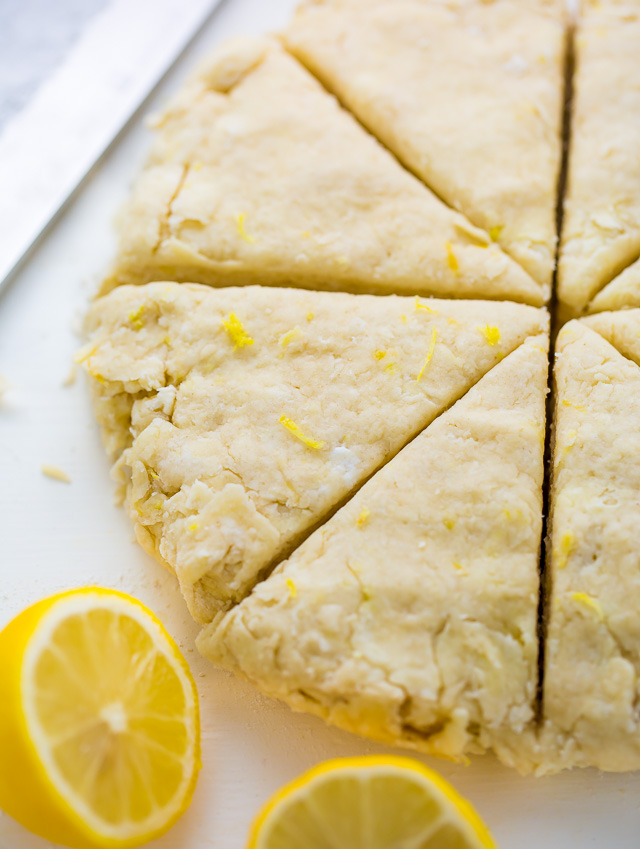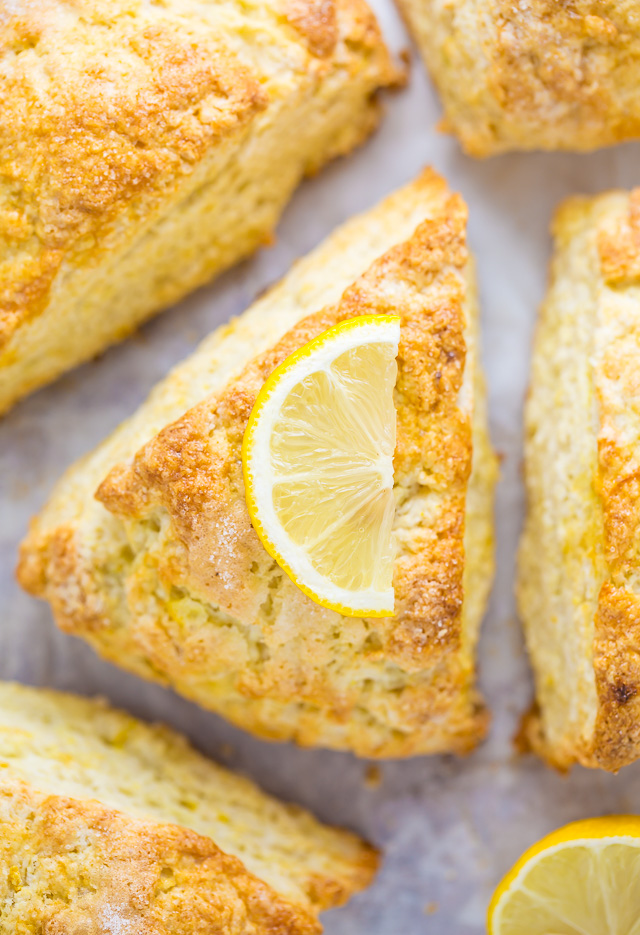 Tips and Tricks for Recipe Success:
 The key to tender, flaky, bakery-style scones is COLD BUTTER. Chilled butter is essential in achieving that flaky, slightly crumbly, tender scone texture we all know and love. I suggest popping your butter in the freezer for about 5 minutes before cutting it into cubes.
When it comes time to add the butter into the dough, you should resist working with your hands if possible, since body heat will quickly melt the butter. Instead, use a pastry cutter, two forks, or try my favorite method: coarsely grate the butter with a shredder then quickly working it into the dough with two forks.
Traditional lemons and Meyer lemons both work beautifully in this recipe! Use what you can find. Just be sure to use fresh lemon juice – not bottled! Bottled juice will not provide the same flavor!
If you want a very strong lemon flavor, don't skip the lemon extract! If you're new to baking with lemon extract, I highly recommend – and absolutely LOVE – Watkins pure lemon extract; it's 100% natural, doesn't contain any yucky artificial flavors, colors, or additives, and actually tastes like real lemons!
Cutting the scones is as simple as grabbing a large knife and slicing the circle into 8 even triangles. And remember, scones are forgiving treats, so don't get down on yourself if they look a little… rustic. This happens to me, too! The key is to work quickly and try not to handle the dough too much. If you find your dough is warm or sticky, place it in the fridge or freezer for a few minutes and let it chill, then get back to work.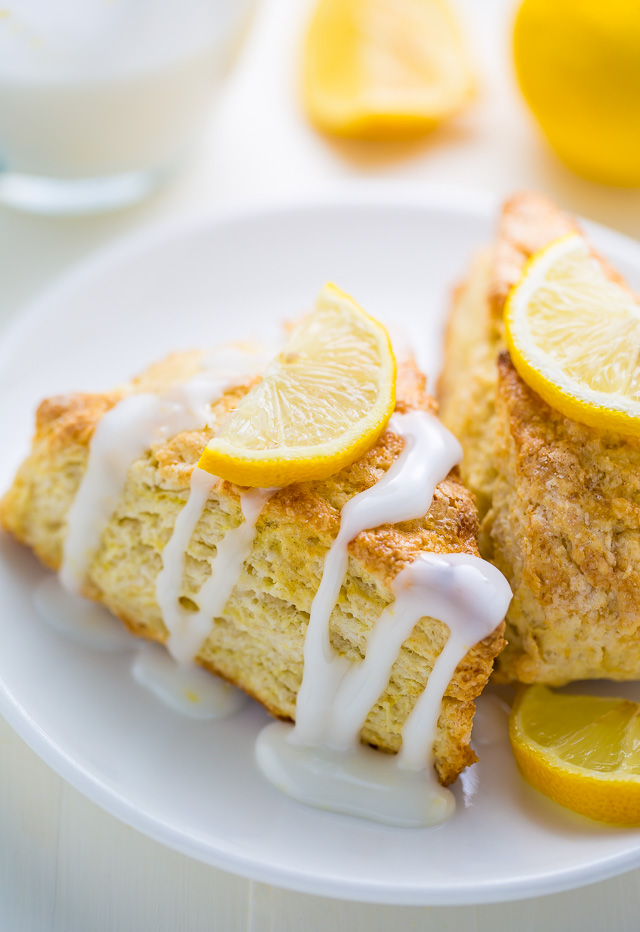 My lemon ricotta scones are perfect for breakfast, brunch, or your next picnic! Make them for the lemon lover in your life 😉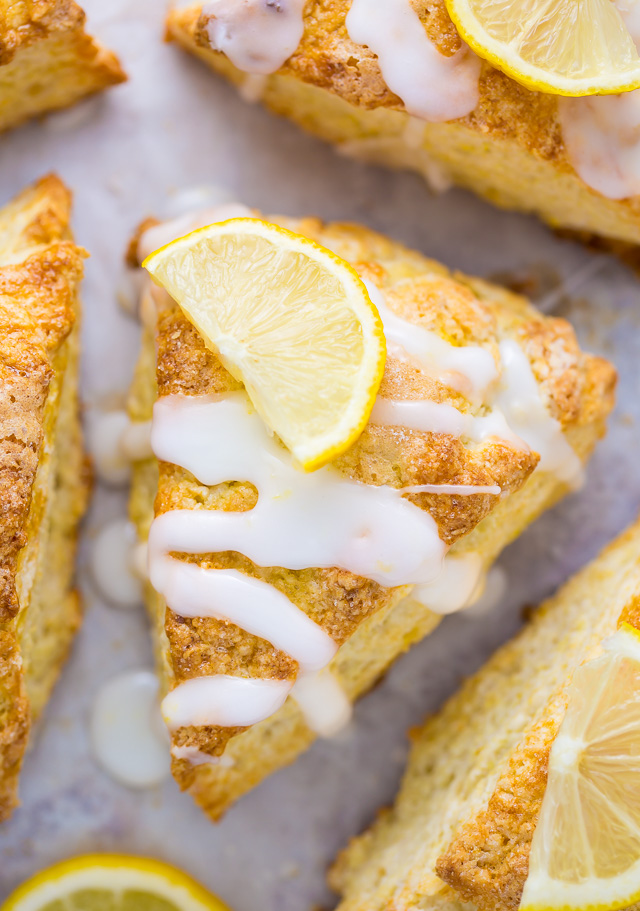 If you try this recipe, let me know what you think! Leave a comment below, and don't forget to snap a pic and tag it #bakerbynature on instagram! Seeing your creations makes my day.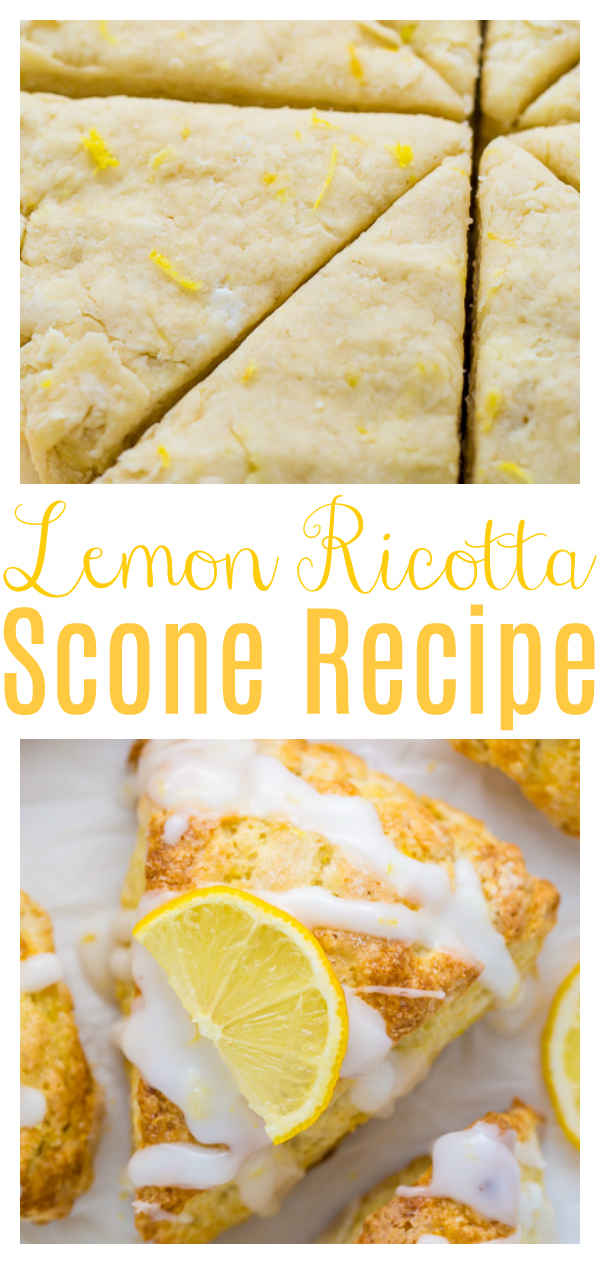 More Lemon Ricotta Recipes: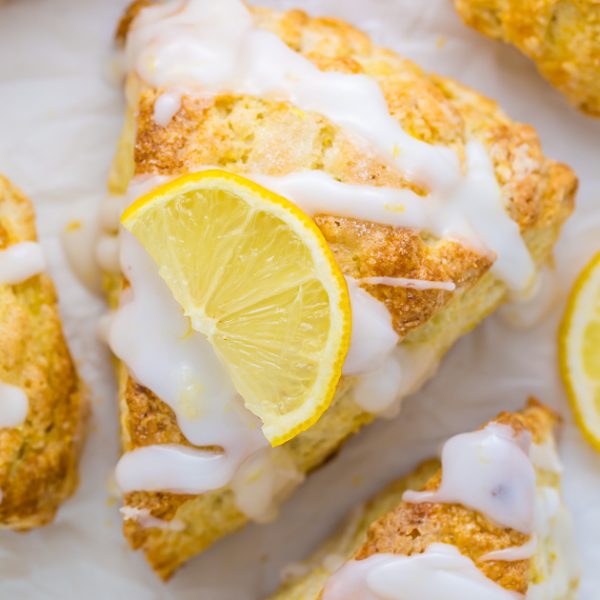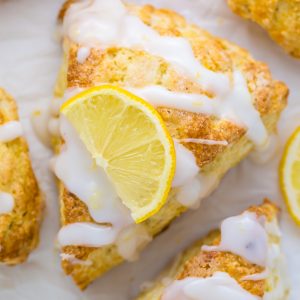 Lemon Ricotta Scones
Soft and fluffy Lemon Ricotta Scones! Perfect for breakfast.
Ingredients
For the egg wash:
1 large egg, beaten
1 teaspoon milk or water
2 teaspoons granulated sugar
For the lemon ricotta scones:
2 and 1/2 cups all-purpose flour
1/2 teaspoon salt (kosher or table salt is fine)
1 tablespoon baking powder
1/2 teaspoon baking soda
1/3 cup granulated sugar
2 teaspoons lemon zest
1 stick (4 ounces) unsalted butter, VERY cold and cut into tiny pieces
1 large egg, lightly beaten
1/2 cup (Whole Milk) ricotta cheese
3 tablespoons fresh lemon juice
1/2 teaspoon lemon extract (optional, but amps up the lemon flavor)
2 tablespoons sugar, for sprinkling
For the lemon glaze:
2 tablespoons fresh lemon juice
1 teaspoon lemon zest
3/4 cup confectioners sugar
Instructions
For the egg wash:
Preheat oven to 400°(F). Line a large baking sheet with parchment paper; set aside.

In a large bowl mix together flour, salt, baking powder, baking soda, sugar and lemon zest.

Cut the butter into small cubes then quickly work it into the mixture (using two forks or a pastry cutter) until lit resembles a coarse meal.

In a small bowl whisk together the egg, ricotta cheese, lemon juice and lemon extract (if using), then add to flour and butter mixture. Use a fork to stir everything together until just moistened. Don't worry if it looks clumpy at this point!

Pour the shaggy dough out onto a clean, lightly floured work surface and shape the dough into an 8-inch circle. Cut the dough into 8 wedges and carefully transfer to the prepared sheet.

Lightly brush each scone with the egg wash, then sprinkle the top of each scone with sugar.

Bake for 18-20 minutes, or until the tops are lightly golden brown.

Cool for 10 minutes on the baking sheet. In the meantime, make your glaze.
For the lemon glaze:
In a small bowl whisk together the lemon juice and confectioners sugar. Drizzle over warm scones and serve at once.
Notes
Scones may be frozen, without the glaze, for 2 months. Store in an airtight container in the freezer.