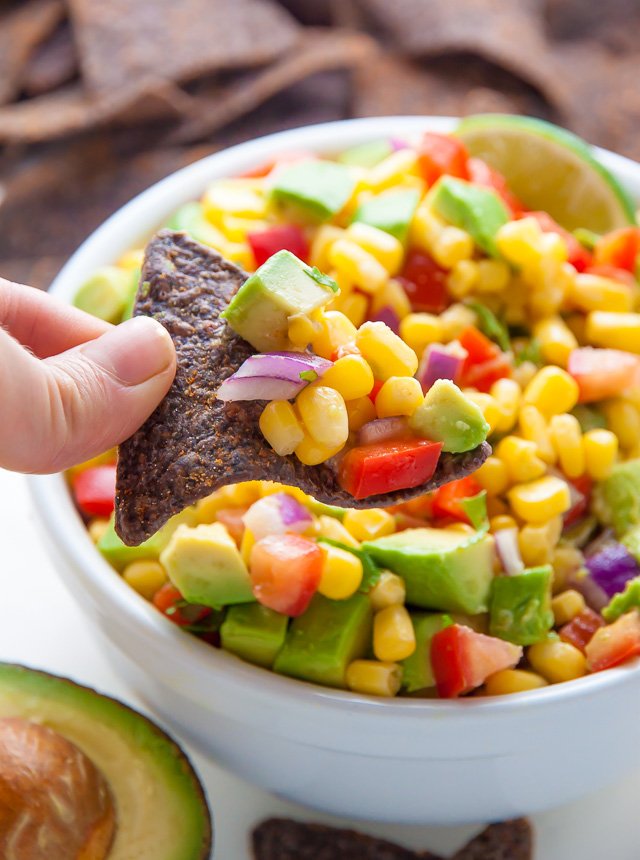 My Favorite Avocado Salsa
Fresh and flavorful, this avocado salsa is perfect with tortilla chips, tacos, and so much more!
Ingredients
2 cups frozen corn, thawed (feel free to use an equal amount of fresh shucked cooked corn in its place!)
1 red bell pepper, seeded and chopped
2 Roma tomatoes, chopped
1 jalapeno pepper, seeded and chopped
1 small red onion, chopped
3 garlic cloves, minced
1/4 cup olive oil
1/4 cup fresh lime juice
2 tablespoons fresh lemon juice
3/4 teaspoon salt, more to taste
1/2 teaspoon ground cumin, more to taste
4 medium ripe avocados, peeled (see post for tips on picking ripe avocados)
1/4 cup fresh cilantro, chopped
Instructions
In a large bowl combine the corn, red pepper, tomatoes, jalapeno, and onion; set aside. In a small bowl add the garlic, olive oil, lime juice, lemon juice, salt and cumin; whisk well to combine. Pour over vegetable mixture and toss to coat. Cover and refrigerate for at least 4 hours and up to 3 days.
Just before serving, chop avocados and cilantro and stir into salsa.
Courses Dinner
Cuisine Mexican
Amount Per Serving
% Daily Value
Recipe by Baker by Nature at https://bakerbynature.com/my-favorite-avocado-salsa/