Move over standard salsa, My Favorite Avocado Salsa is here and it's incredible!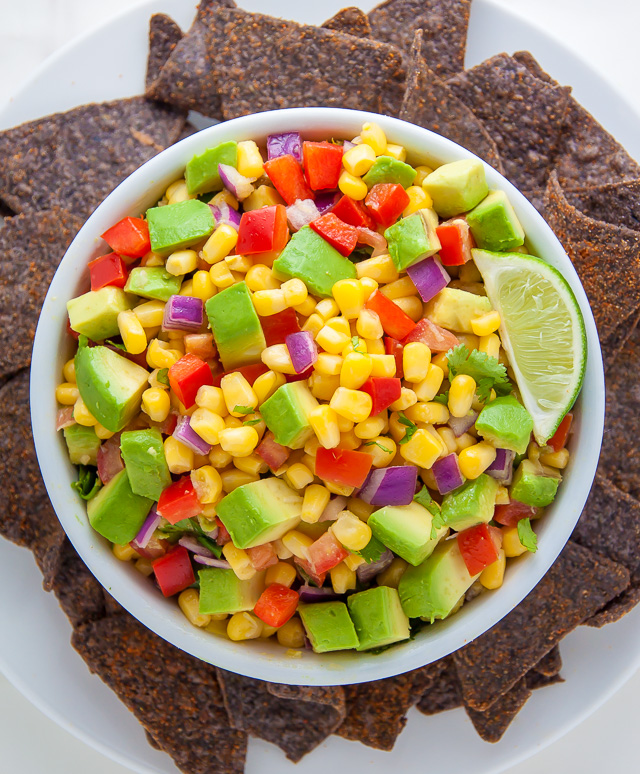 It's almost May, which means it's almost Cinco de Mayo, which means it's almost time to feast on tons homemade TACOS, frosty margaritas, creamy guacamole, and fresh salsa. I'll also take a slice of strawberry margarita sheet cake, thank you very much.
The past few months I've been having a blast sharing some of my favorite recipes with you; these are the recipes I really make week in and week out. We started out with my favorite morning glory muffins, then there was my favorite buttermilk pancakes, and today, I give you my holy grail of favorites: fresh avocado salsa.
Any fellow avocado fanatics out there?! If your hand is in the air, know that this one is dedicated to you ♥
What I love about this recipe is how simple and foolproof it is. Just a handful of fresh ingredients tossed together and generously seasoned – how can you go wrong?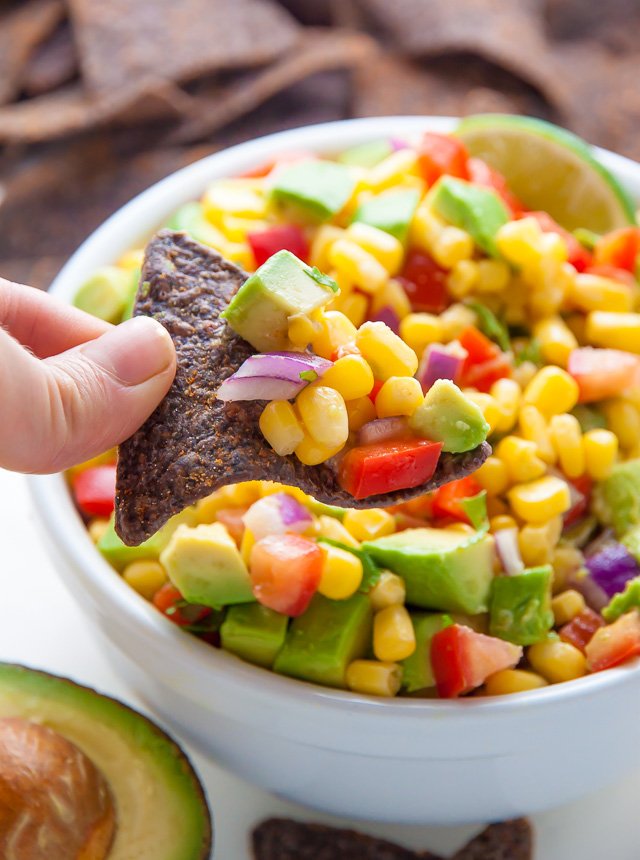 Tips and Tricks for Recipe Success:
Be sure your avocados are nice and ripe before cutting into them. Here's a trick to use at the grocery store next time you're shopping for avocados: loosen the top stem and check the color it reveals; if it's pure green, your avocado will be green and creamy on the inside; if it's brown and spotty, your avocado will likely be brown and spotty on the inside. If the stem doesn't come off easily, don't fight it, this just means the fruit is not yet ripe enough to use.
Use fresh lemon and lime juice! Bottled just isn't the same…
Make it ahead of time! The bulk of this salsa can be made up to 3 days in advance. Doubt it'll last that long, though 😉
Play around with the flavors to make it your favorite avocado salsa! Add a little more lime juice, or cumin, or jalapeno… whatever floats your boat! I've even added grilled shrimp to this salsa.
Serve with tortilla chips, tacos, quesadillas, or casseroles! My mom loves putting a big dollop of this avocado salsa on her eggs and I finally tried it last week – omg sooooooo good.
Dip, devour, repeat. Hope you love this one!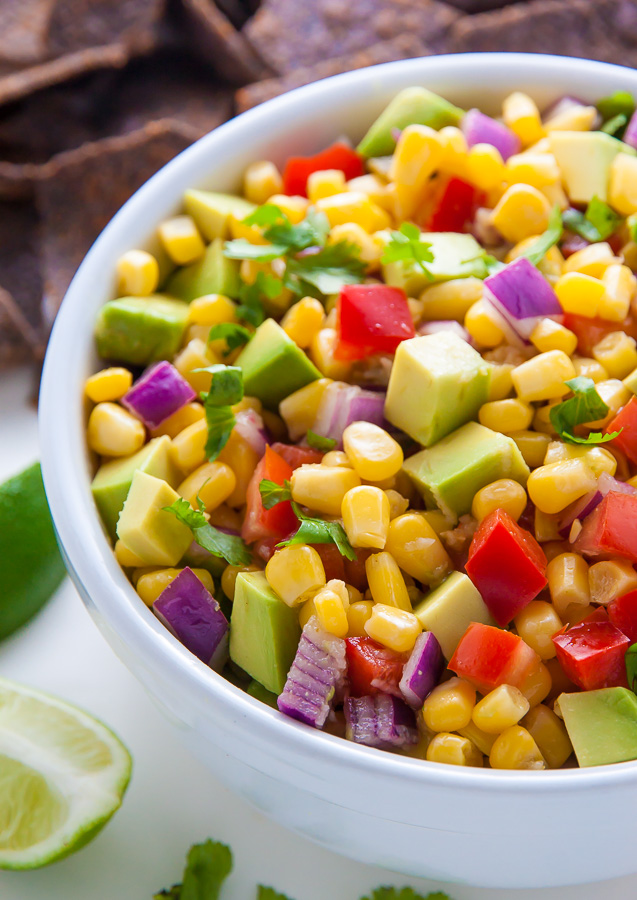 If you try this recipe, let me know! Leave a comment below and don't forget to snap a pic and tag it #bakerbynature on Instagram! Seeing your kitchen creations makes my day. ♥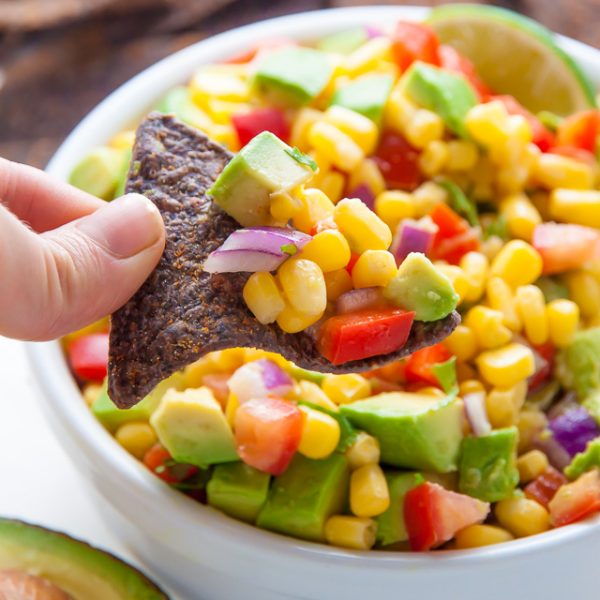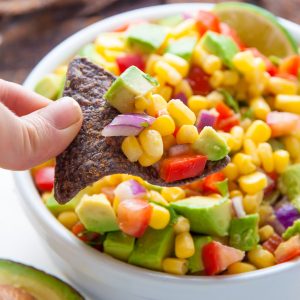 My Favorite Avocado Salsa
Fresh and flavorful, this avocado salsa is perfect with tortilla chips, tacos, and so much more!
Ingredients
2 cups frozen corn, thawed (feel free to use an equal amount of fresh shucked cooked corn in its place!)
1 red bell pepper, seeded and chopped
2 Roma tomatoes, chopped
1 jalapeno pepper, seeded and chopped
1 small red onion, chopped
3 garlic cloves, minced
1/4 cup olive oil
1/4 cup fresh lime juice
2 tablespoons fresh lemon juice
3/4 teaspoon salt, more to taste
1/2 teaspoon ground cumin, more to taste
4 medium ripe avocados, peeled (see post for tips on picking ripe avocados)
1/4 cup fresh cilantro, chopped
Instructions
In a large bowl combine the corn, red pepper, tomatoes, jalapeno, and onion; set aside. In a small bowl add the garlic, olive oil, lime juice, lemon juice, salt and cumin; whisk well to combine. Pour over vegetable mixture and toss to coat. Cover and refrigerate for at least 4 hours and up to 3 days.

Just before serving, chop avocados and cilantro and stir into salsa.