Super easy One-Bowl Lemon Ricotta Cupcakes are moist and sunshiny sweet! Made in just one bowl, this is an easy recipe with minimal cleanup. A must try for lemon lovers!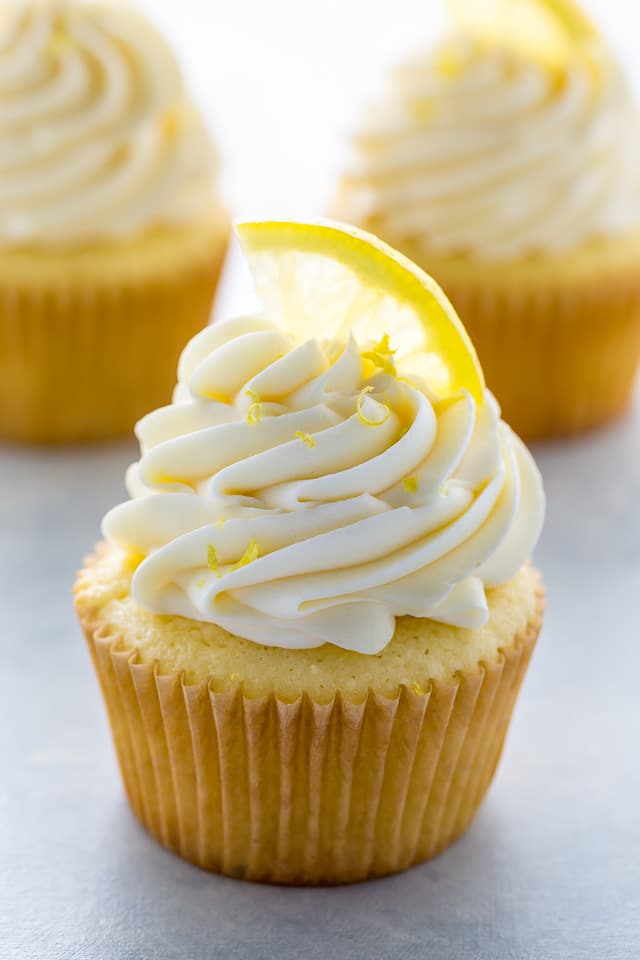 Lemon Ricotta Cupcakes Recipe
As someone who grew up in a traditional Italian family, baking with ricotta cheese has always been second nature to me. My grandmother used it in everything from lasagna to cookies to crumb cake. And my mother was the one who encouraged me to make this outrageously amazing pumpkin ricotta cheesecake. A few weeks ago we celebrated my sister's 40th birthday (where do the years go?!) and I wanted to make a dessert that honored our Italian roots as well as her favorite flavor – lemon. My original plan was to make a dramatic layer cake, but after some deep thought, I decided the best way to feed 60 people dessert was in cupcake form.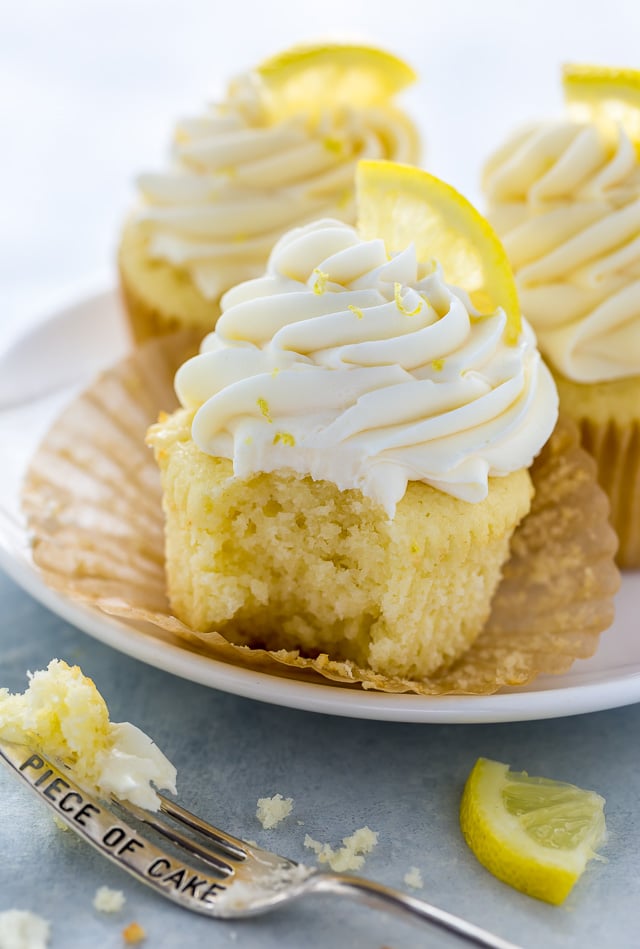 Lemon Ricotta Cheese Cupcakes
These lemon ricotta cupcakes are deeply inspired by two recipes already on my blog: My Perfect One-Bowl Vanilla Cupcakes with Vanilla Buttercream Frosting & Light and Lovely Lemon Cupcakes. Those recipes are total rock stars in their own right, but I wanted, no… needed, something new and special to celebrate my big sis. I also needed the recipe to be a one-bowl situation because um, remember when I said 60 people?! Don't get me wrong! I love baking, but I also love enjoying the party with a calm mind and a glass of champagne in my hand 😉
And thanks to this recipe, the party went flawlessly! Not even one little hiccup. My sister loved her cupcakes, my grandmother gave me the nod of approval, and I got to enjoy the evening stress and mess free. My mom and brother made most of the food food for the event, but I made these Smoked Salmon and Cream Cheese Cucumber Bites and they seriously were gone in seconds. Just in case you're in the market for a new appetizer recipe.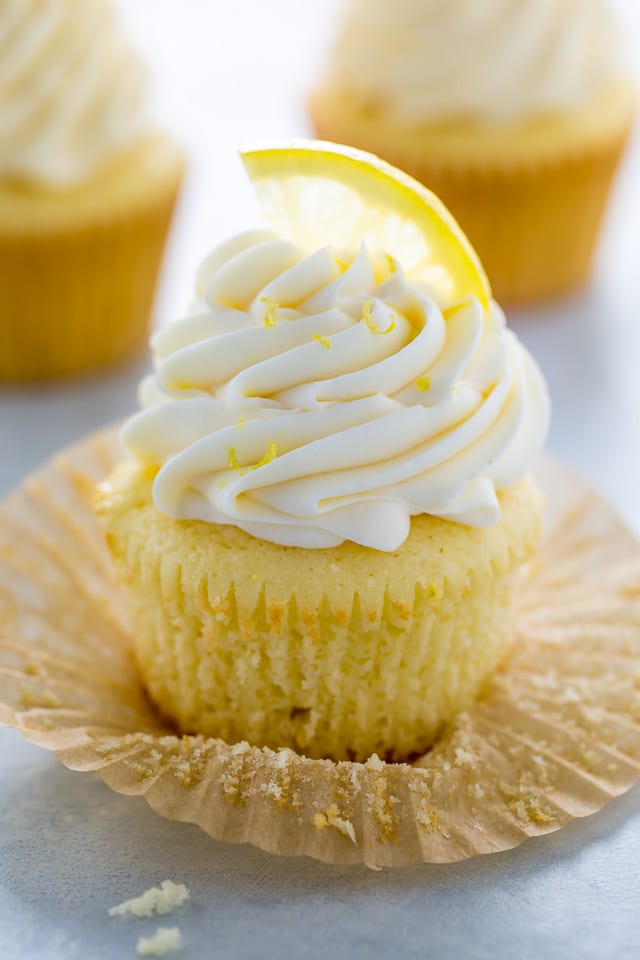 After 6 hours of eating, dancing, and sipping champagne, I was full, happy, and so ready for bed. Wanna know what I was thinking of the entire drive home? YOU! I knew I needed to grab a giant tub of ricotta and make these cupcakes for you asap.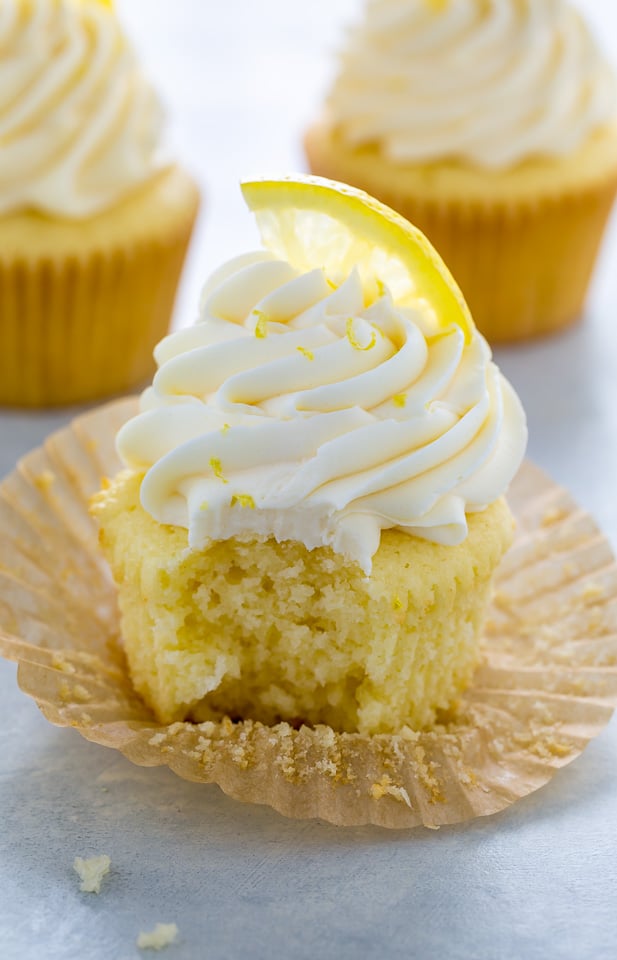 And that is just what I did. I actually had C stop at the store on the drive home so I could run in and grab ingredients. Seriously, do I love you guys or what?
Since we're on the topic of ingredients, let's talk about what you need to make these stellar cupcakes in your very own kitchen. For the dry ingredients you're going to need cake flour, granulated sugar, baking powder, salt, and lemon zest. Please, please, please do not try using all-purpose flour in place of the cake flour. Cake flour is an essential ingredient and is what gives these cupcakes their luxuriously soft texture. Can't find cake flour at the grocery store? Make your own! All you do is sift together 3/4 cup + 2 tablespoons of all-purpose flour with 2 tablespoons of cornstarch for every cup of cake flour called for.
For the wet ingredients you're going to need butter, ricotta cheese, eggs, whole milk, lemon juice, and vanilla. The butter needs to be really really soft, so I suggest placing it out on the counter a good hour or two before you intend on baking. I use fresh lemon juice when available, but when I find myself without it, this DELALLO 100% lemon juice works like a charm! (Not sponsored!!!)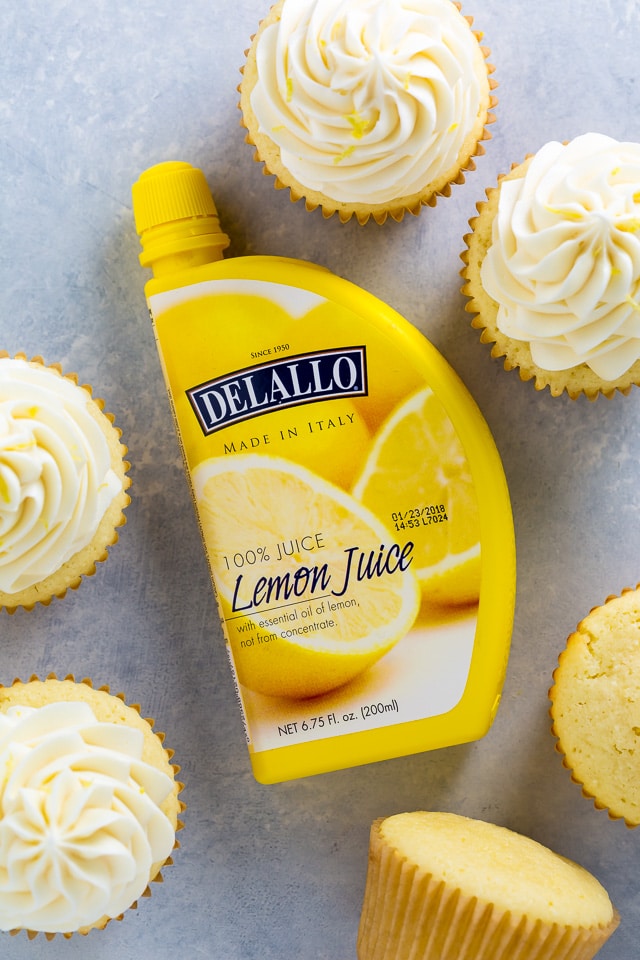 This recipe yields 12 fat and fluffy cupcakes, but I know – for a fact – the recipe can easily be doubled if you need 24. You also may want to double the frosting recipe if you're going to swirl it on high and heavy like me. If you're just going for a simple slather, though, you'll have plenty with a single batch.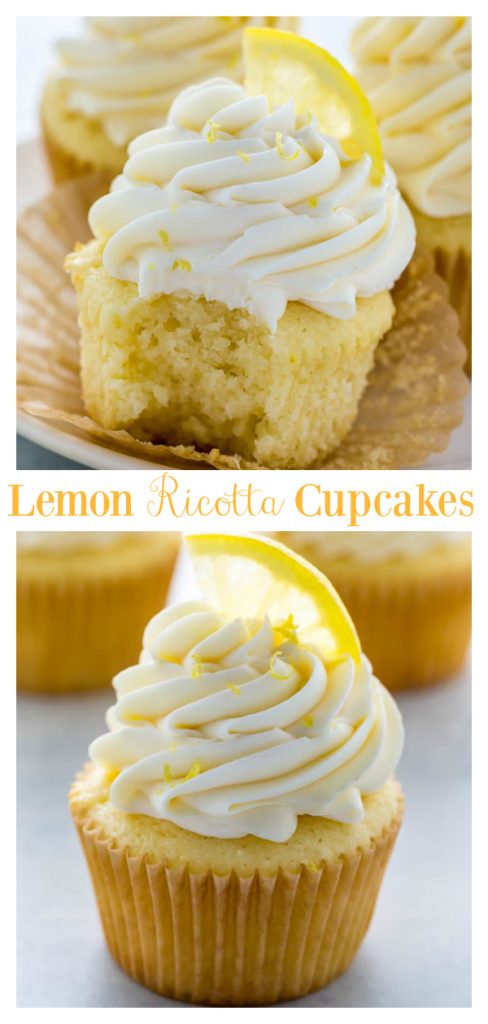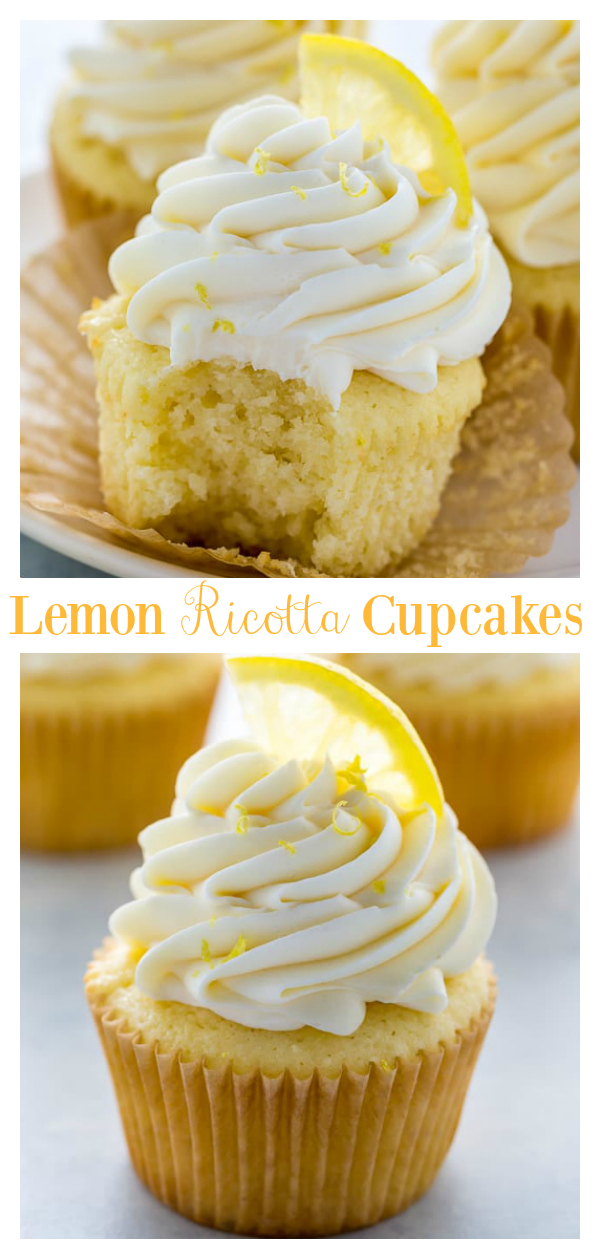 More Ricotta Recipes:
I hope you get a chance to whip up these cupcakes and enjoy them with some people you love!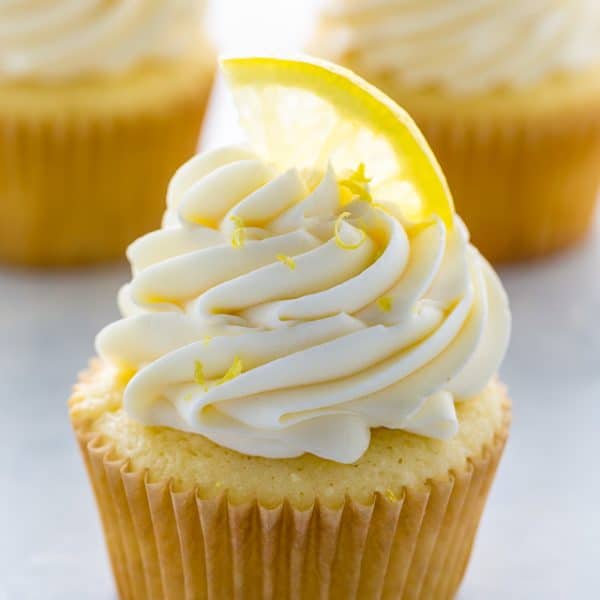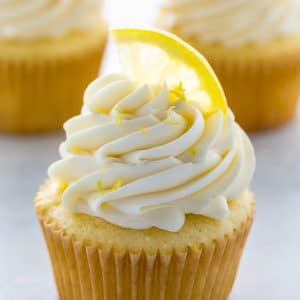 One-Bowl Lemon Ricotta Cupcakes
Soft and incredibly flavorful Lemon Ricotta Cupcakes are topped with Lemon Ricotta Frosting.
Ingredients
1 and 1/2 cups cake flour
1 cup granulated sugar
2 teaspoons lemon zest
2 teaspoons baking powder
1/4 teaspoon salt
1 sticks (4 ounces) unsalted butter, very soft
1/2 tablespoon vanilla
2 large eggs, at room temperature
1/2 cup whole milk ricotta cheese
1/4 cup whole milk
1 and 1/2 tablespoons lemon juice (fresh or 100% juice not from concentrate)
Lemon Ricotta Frosting
1 stick (4 ounces) unsalted butter, very soft
2 to 3 cups confectioners sugar, sifted
3 tablespoons whole milk ricotta cheese
1 tablespoon lemon juice (fresh or 100% juice not from concentrate)
1 teaspoon lemon zest (optional)
Instructions
For the cupcakes:
Preheat oven to 350 degrees (F). Line or grease cupcake tin and set aside.

Mix all of the dry ingredients together in a large bowl. Add the softened butter and vanilla, mix until the batter resembles a course meal. Add the eggs, one at a time, beating well with each new addition. Add ricotta, milk, and lemon juice and mix until combined.

Spoon prepared batter into cupcake cups (filling about 1/2 way each) and bake for 16-20 minutes, or until a toothpick inserted in the center of a cupcakes comes out clean or with just a few moist crumbs attached. Allow cupcakes to cool completely before frosting.
For the Lemon Ricotta Frosting:
In a stand mixer or large bowl using an electric handheld mixer, beat the butter and confectioners sugar together until smooth. With the mixer speed on low, add in a 1/2 cup of confectioners' sugar at a time, beating until it's to your desired sweetness and texture. Slowly mix in ricotta cheese, then quickly add in lemon juice and zest. Increase speed to medium-high and beat for 2 minutes. Refrigerate frosting for 10 minutes then frost cooled cupcakes.
Notes
Keep cupcakes stored in the refrigerator until needed. I recommend bringing the cupcakes to room temperature before serving. To do this, simply remove cupcakes from the fridge 30-45 minutes prior to serving.