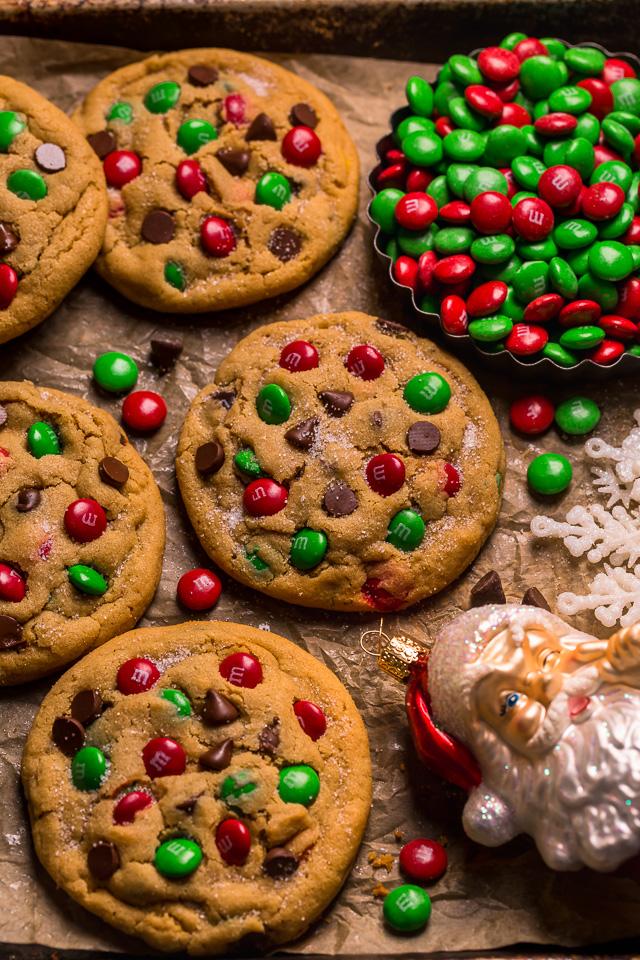 Santa's Favorite Peanut Butter M&M Cookies
Yield 2 dozen cookies
Santa's Favorite Peanut Butter M&M Cookies are thick, soft, and chewy! Loaded with peanut butter, M&Ms, and gooey milk chocolate chips! A crowd-pleasing cookie recipe that's loved equally by kiddos and adults!
Ingredients
1 cup (8 ounces) unsalted butter, at room temperature
1 cup creamy peanut butter, at room temperature
2 teaspoons pure vanilla extract
1 and 1/2 cups dark brown sugar, packed
1/2 cup granulated sugar
2 large eggs, at room temperature
2 and 1/2 cups all-purpose flour
1 teaspoon baking soda
1 and 1/2 teaspoons baking powder
1/2 teaspoon salt 
1 and 1/2 cups holiday M&Ms, plus extras for decorating 
1 cup semi-sweet or milk chocolate chips, plus extras for decorating 
1 teaspoon flaky sea salt or granulated sugar, for sprinkling, optional 
Instructions
In the bowl of a stand mixer fitted with the paddle attachment, or in a large bowl using a handheld electric mixer, beat the butter until smooth and creamy. Add in the peanut butter and beat until well combined.
Next add in both sugars and beat until light and fluffy, scraping down the sides and bottom of the bowl as needed, about 2 minutes.
Add in the eggs, one at a time, beating well after each addition. Add in the vanilla. Turn mixer off.
Add in the flour, baking soda, baking powder, and salt. Whisk the ingredients together lightly before turning the mixer back on low and mixing in the dry ingredients until just combined. Be sure not to over mix here.
Fold in the holiday M&Ms and chocolate chips and mix until just combined. 
Cover the bowl and place it in the fridge for 30 minutes, or up to 2 days. If you refrigerate the cookie dough for more than 30 minutes, you will need to bring it back to room temperature before baking.
When ready to bake:
Preheat oven to 350 degrees (F). Line two large baking sheets with parchment paper.
Using a large cookie scoop, divide the dough into 3-tablespoon sized balls, and place onto prepared baking sheets, leaving about 3-inches between each ball of dough for spreading.
Bake for 12 to 14 minutes, or until the edges are golden and the centers have set. Press extra chocolate chips and M&Ms on top of warm cookies, and sprinkle with sugar or sea salt, if desired.
Cool cookies on the baking sheet for 15 minutes, before transferring them to a cooling rack.
Notes
Be sure not to pack your flour! To measure correctly, first fluff your flour up in the bag, then lightly spoon the flour into the measuring cup until it's overflowing, then use the flat edge of a knife to level it off. Packed flour will cause the cookies to come out puffy!
Courses Dessert
Cuisine American
Recipe by Baker by Nature at https://bakerbynature.com/santas-favorite-peanut-butter-mm-cookies/