Bruschetta with Rosemary, Roasted Tomatoes, Ricotta, and Prosciutto make a wonderful appetizer for Summer parties!!! Easy to assemble and serves a crowd!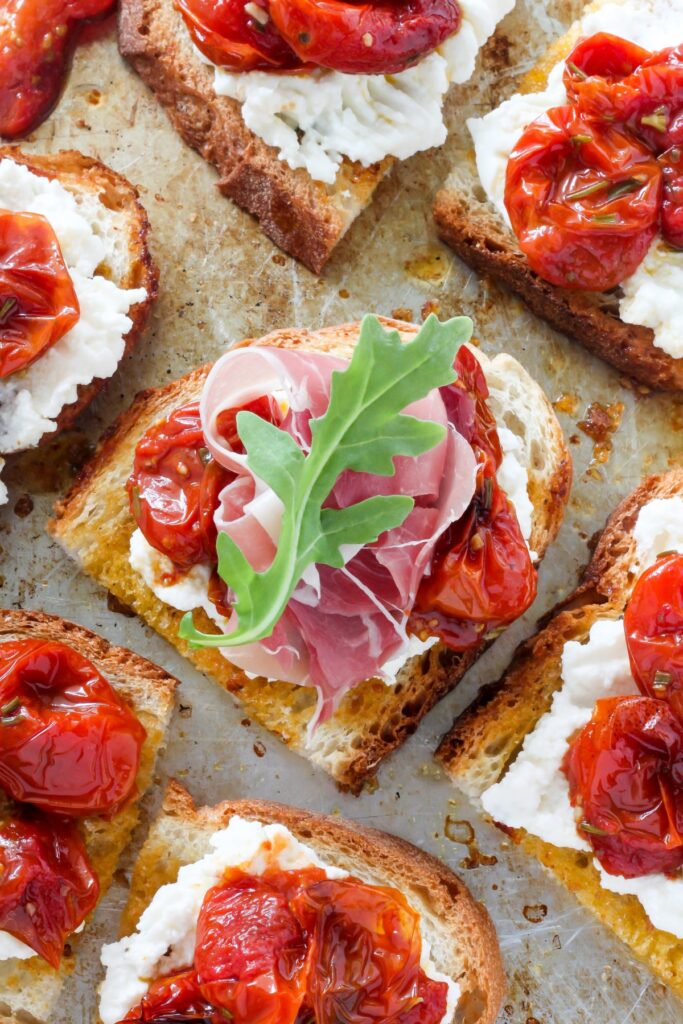 Prosciutto Bruschetta
I'm hiding in my room from the mess that lingers of last night. I keep hoping the dish fairy will just pop in and make everything sparkle and shine. That I will walk out of my room and into a spotless oasis of sparkling cleanliness.
I can dream, right? Here's the reality… the counters are sticky with sugar and rum; mint sprigs are popping up everywhere; the sink is a graveyard of bottle caps and lime wedges buried beneath a large body of dirty dishes.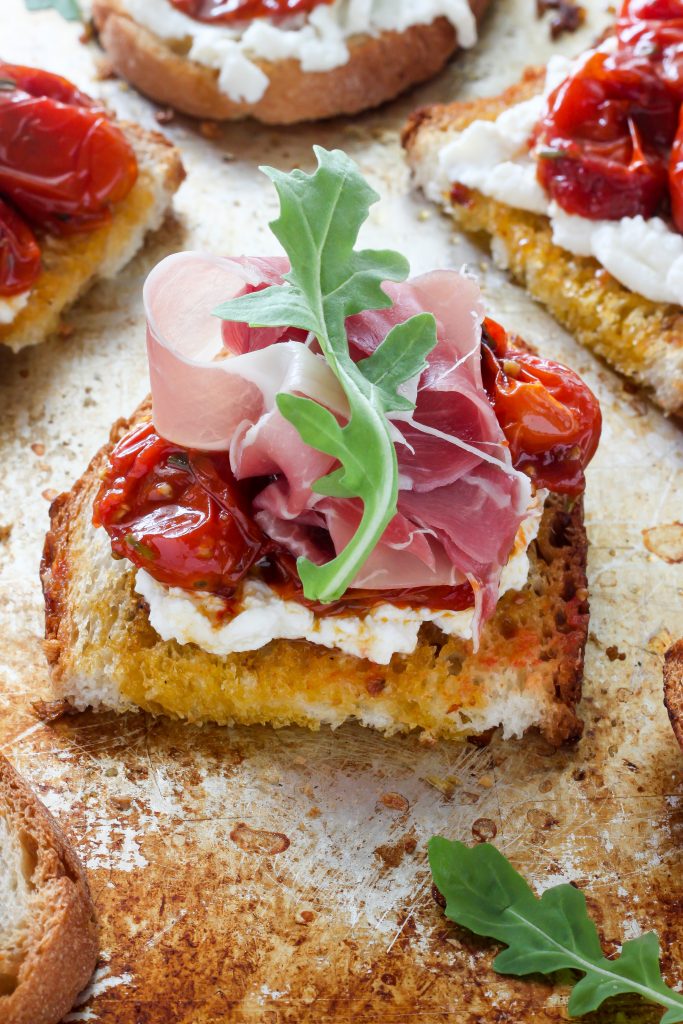 Yes, I threw a party. Just a tiny one; I wish you were there. It was a wild welcome back shin dig for my dear friend Jeff, who is just returning from a 5 month stint teaching philosophy in Beijing. Jeff – we're so happy you're home, babe!
So let's talk about what I made for said party. I went crazy with the appetizer spread. I love appetizers. Finger food is great! Less dishes = happy baker!
This bruschetta was on the menu and everyone loved it! Each bite is just divine. It will be made again. Maybe tomorrow…
The tomatoes were bursting with flavor from being roasted in a marinade of fresh rosemary, garlic, and olive oil. The ricotta was a creamy pillow for the buttery prosciutto. A little arugula sprinkled on top gives these dreamy treats a peppery kick and welcomed freshness.
The only thing I would change is slicing the baguette a bit thinner, that way you can eat it pretty. The baguette this time was cut way wider then the mouth can stretch, and that leads to some not so neat and tidy eating. Make these next time you want a snack with wine or a great appetizer for those friends coming over; I promise you will get rave reviews.
More Bruschetta Recipes: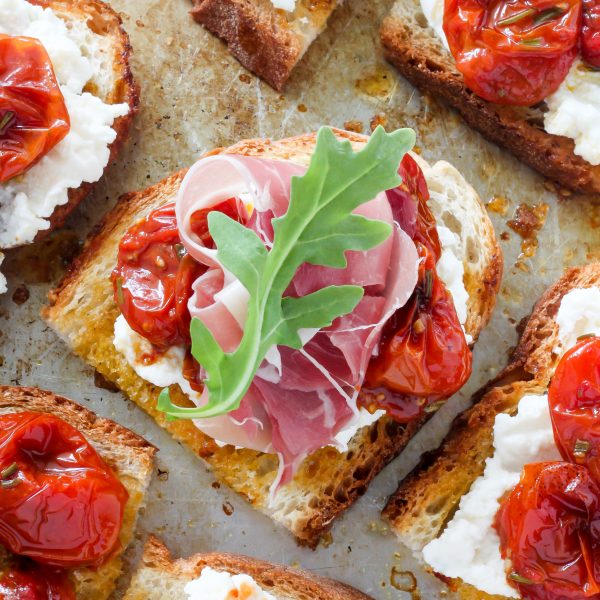 Bruschetta with Rosemary, Roasted Tomatoes, Ricotta, and Prosciutto
Flavorful bruschetta is loaded with rosemary roasted tomatoes, creamy ricotta cheese, and salty prosciutto. These are always a hit!
Ingredients
6 tablespoons plus 1 teaspoon extra-virgin olive oil
2 large garlic cloves, minced
2 teaspoons finely chopped fresh rosemary
1 teaspoon coarse kosher salt
1 teaspoon freshly ground black pepper
6 large plum tomatoes (about 1 1/2 pounds), quartered lengthwise
12 1/2- inch-thick diagonally cut baguette slices (each 3 to 4 inches long)
12 tablespoons ricotta cheese, divided
6 thin prosciutto slices, cut in half crosswise
1 teaspoon fresh lemon juice
1 cup microgreens or baby arugula
Instructions
Preheat oven to 425°F. Stir 6 tablespoons oil, garlic, rosemary, 1 teaspoon coarse salt, and 1 teaspoon pepper in large bowl to blend. Add tomato quarters and stir to coat. Let stand 5 minutes. Line rimmed baking sheet with foil. Lift tomatoes from marinade and arrange, cut side down, on prepared baking sheet (reserve marinade for toasts).

Roast tomatoes until skin is browned and blistered and tomatoes are very tender, about 35 minutes. Cool tomatoes on sheet. Maintain oven temperature.

Meanwhile, arrange bread slices on another rimmed baking sheet. Brush top of each with reserved marinade (including garlic and rosemary bits).

Roast bread until top is golden, 10 to 12 minutes. Cool toasts on sheet.

Spread 1 tablespoon ricotta cheese on each toast; sprinkle with pepper. Fold prosciutto halves over and place on ricotta. Arrange 2 tomato quarters atop prosciutto. Whisk lemon juice and remaining 1 teaspoon oil in medium bowl to blend; season with salt and pepper. Add microgreens and toss to coat. Top bruschetta with microgreens. Arrange on platter and serve.
Notes
Recipe adapted from Bon Appetit Magazine